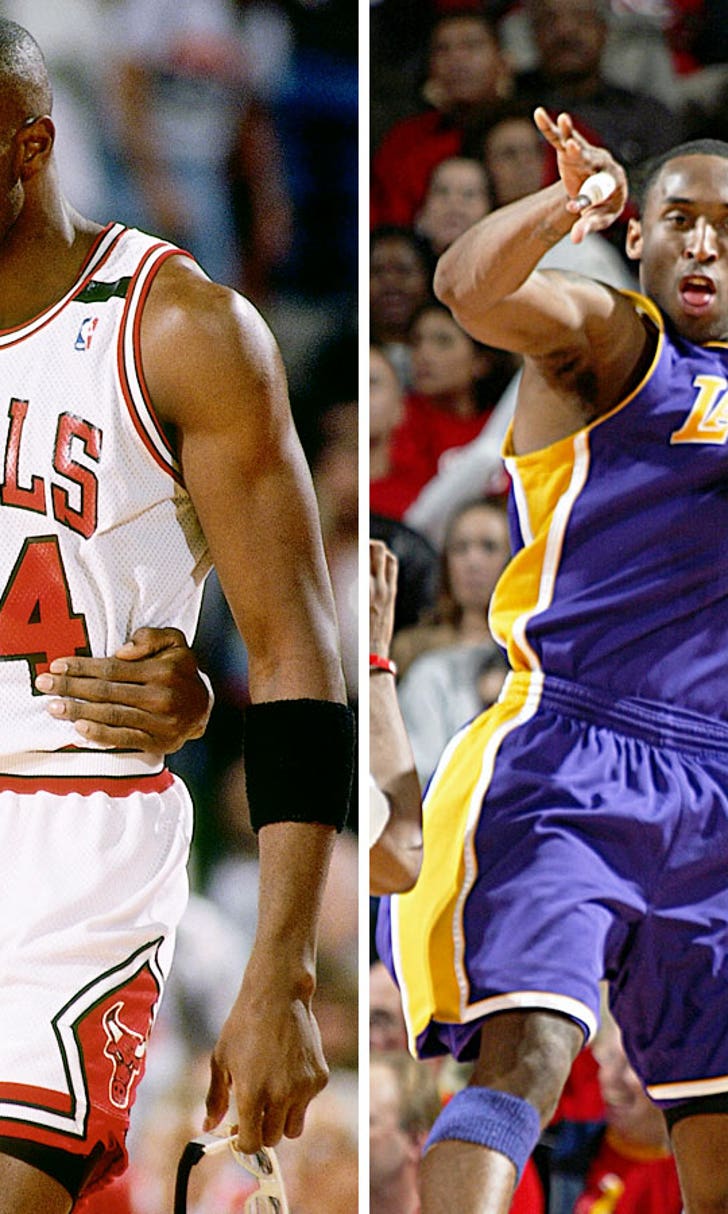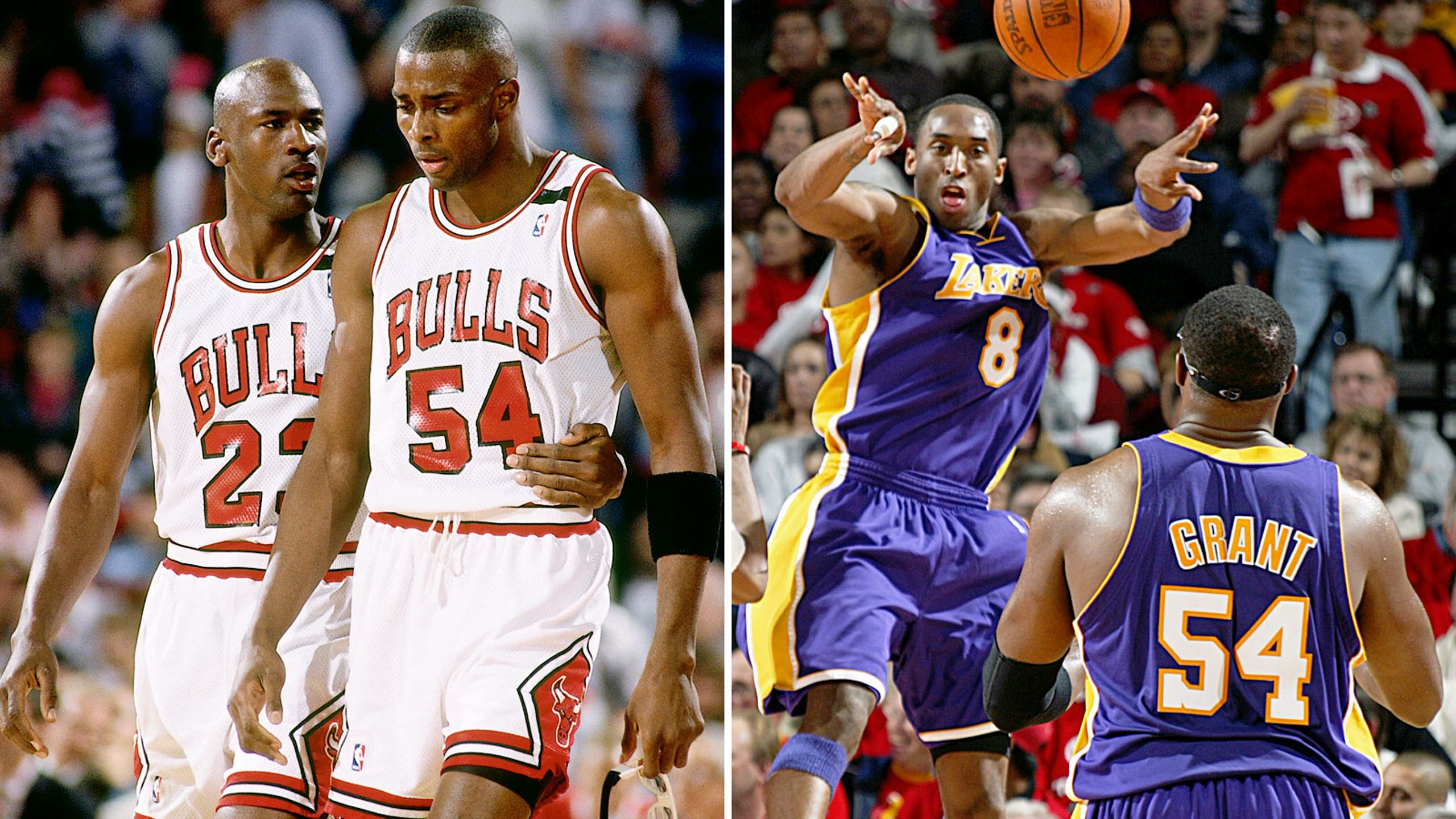 With milestone near, former teammate Grant celebrates greatness of MJ, Kobe
BY Sam Gardner • December 10, 2014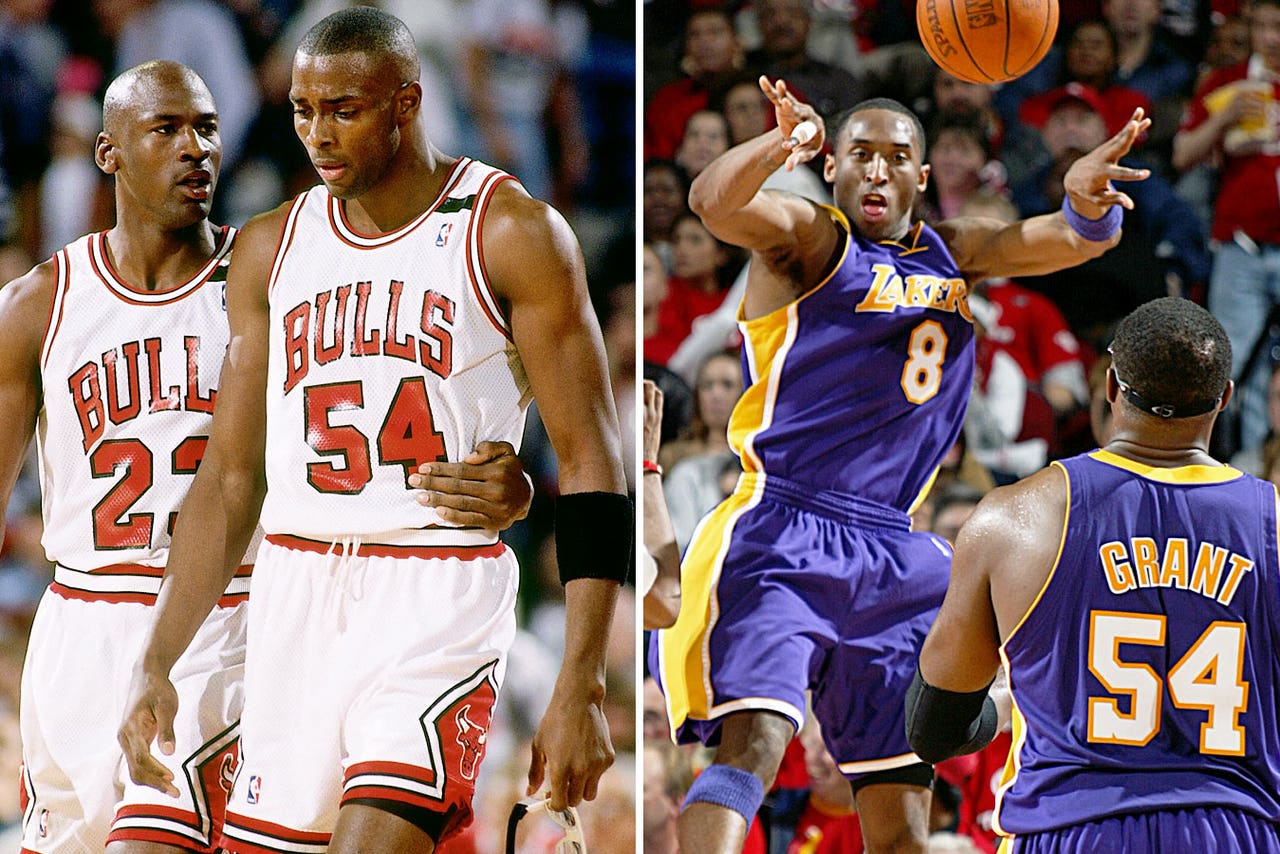 Someday in the near future — perhaps as soon as Friday in San Antonio — Kobe Bryant is going to pass Michael Jordan to move into third place on the NBA's all-time scoring list.
It's no small feat, of course, to score more than 32,292 points in a career, and the names that surround Jordan and Bryant among the all-time leaders, from Kareem and Karl Malone ahead of them to Wilt and Dr. J behind, are a testament to how rare the air atop a list like that truly is.
But there's something special about Kobe and MJ, specifically, that stands out above all the rest — a win-at-all-costs attitude, a feel for the game and an unteachable relentlessness that are only found in a select few in league history.
Horace Grant played and won championships with both Kobe and Michael in his 17-year career, earning three straight rings with Jordan in the early '90s and a fourth with Bryant in 2001, and he's seen firsthand the impact that both superstars had on the players around them. Though each player's individual numbers can't be denied, Grant says he remembers both more for their influence on their teammates than their presence in the box score.
"You could put any offense in front of Michael Jordan and he could give you 35 to 45 points a night," Grant told FOX Sports in a phone interview Tuesday. "I mean, that was a given, if he needed to do that. But Michael trusted in his teammates, and each and every year in my career playing with him, he just made me, personally, a better player."
Particularly, Grant says, Jordan's work ethic was unmatched and was a large part of why the Bulls were able to become the dynasty they were under Phil Jackson in the 1990s after failing to shake the Detroit Pistons in the late '80s.
"When you have a leader like that working every single day in practice, it was contagious," said Grant, who estimates that Jordan could have averaged 35 to 40 points a night in his prime had he played with today's rules.
"There's no way that the other 12 or 13 guys were not going to work because they saw their leader working his butt off to make himself a better player and us a better team. And he gave me confidence throughout my seven years there because you knew your leader had your back, no matter what."
And when Grant arrived in Los Angeles via a trade from Seattle in the summer of 2000, he found a strikingly similar attitude from Bryant, then a 22-year-old star in the making, about to enter his fifth year in the league. By now, everyone has heard stories of Kobe's almost maniacal approach to training, but Grant says it's something different altogether to witness it firsthand.
"I didn't know what to expect," Grant said of his reaction to his initial impression of Bryant. "Of course, I played against Kobe and had seen him play, and I thought he was a phenomenal talent, but when I got there and I saw this young man's work ethic on and off the floor — meaning, after practices and during the summertime — I thought I was looking at MJ again."
There's a common delusion applied to both Jordan and Bryant -- that they play a me-first style of basketball that, at times, hurts the team, but Grant contends that was never an issue with Jordan during his days with the Bulls.
"There's such a misconception there in terms of him being, 'the ball hog,'" Grant said. "No, no — we needed Michael 98 or 99 percent of the time to score like he did. If Michael doesn't score like he did, we don't win championships, we don't win games. We truly didn't care if he took 40 shots, the only thing we cared about as a team was the W."
Grant also says he finds himself bothered by the "selfish" label that has been placed on Bryant over the years — one that has only been magnified this season, as Kobe has taken an average of 22 shots per game despite shooting below 40 percent for the first time in his career, while the Lakers are off to a 6-16 start.
"I mean, if Kobe doesn't shoot the ball, the Lakers don't have a chance of winning," Grant said. "If Kobe doesn't play the defense he's been playing, the Lakers don't have a chance to win. It's quite unfair the criticism he's gotten. Michael got the same criticism in terms of not passing the ball, but we all knew that he needed to score for us to have any chance."
Further, Grant says he's frustrated by the argument that Bryant's upcoming milestone is somehow invalid because of the nearly five seasons Jordan spent away from the game. (Bryant was not a starter his first two years in the league, and both players missed the better part of a season due to injury during their careers.)
"I'm a little disturbed that people are taking away from what this man is going to accomplish very soon, in terms of passing arguably the greatest player who ever played the game," Grant said. "What he's going to accomplish, it is truly, truly amazing, and it tells you what type of player Kobe Bryant is. It's not just passing Michael Jordan. I've seen it firsthand, the work ethic that this young man has put into his career. It's unbelievable."
In fact, Grant goes as far as to say that there's not a player in the league today other than Kobe whose legacy can or will rival Jordan's.
"They'll shake your hand, but while they're shaking your hand, they're thinking about — for lack of a better phrase — cutting your throat out there on the basketball court," Grant said of Kobe and MJ. "That separates them from even the stars of today. These guys, meaning Michael and Kobe, their will to win, I haven't seen it (from anyone else).
"From the standpoint of the passion, the tenacity, the nastiness of being a competitor and willing their team to victory, in terms of having a team down and putting their feet on that team's neck and crushing them — not taking anything away from the great players like LeBron and KD and Russell Westbrook, Kevin Love, 'Melo, and on and on, but I don't see that within the next 10 years. Guys like that only come around so often."
That said, Grant understands that Kobe passing Jordan on the all-time scoring list will do little to quell the eternal debate about who's truly the better scorer or bigger legend. After all, it's a question Grant can't answer himself.
Grant wouldn't say who he thought was the better player — it's hard to blame him; no one would want to end up on either guy's bad side — but when asked to describe what a 1-on-1 game between Kobe and MJ, each in their prime, might have looked like, Grant's answer told you everything you need to know.
"I'm pretty sure they would still be playing right now," Grant said with a hearty laugh. "Because they would not want to lose a series with each other. I'm serious, the lights would have gone out, it would have been another Ice Age, and those guys would have still been playing in the gym. It would have been epic.
"We'd have to probably give one of them CPR or something because those two guys do not like to lose. They'd have said, 'OK, best out of seven,' and once one of them won four games, the loser would say, 'No, I said best out of 15.' "
You can follow Sam Gardner on Twitter or email him at samgardnerfox@gmail.com.
---
---