National Basketball Association
National Basketball Association
Which superstar will ascend to throne?
Published
May. 19, 2011 1:00 a.m. ET

With Kobe Bryant dethroned, there are four surviving presumptive heirs vying for the one and only available crown: Derrick Rose, Kevin Durant, Dirk Nowitzki and LeBron James.
None has won a ring yet, but next month one of them will earn his first. So which of these kingly players has the best chance to lead his subjects to glory? Which have too many imperfections, making success unlikely?
DERRICK ROSE
At 22, the youngest candidate (by a week over Durant) has a potent upside: his quick crossovers, fire-flash speed, long last step, power, ability to finish and rapidly improving jumpers. He's a worthy MVP who almost single-handedly led the Bulls to the league's best record.
However, Rose's downside is likewise considerable. When Miami's paint-jamming defense denied Rose easy access to the rim in Game 1, he was able to knock down several long-range bombs. But when the Heat applied more pressure on his perimeter movements in Game 2, Rose's erratic springers hit air and the rim more than the net. Given that Rose is the only Bull whose handle can routinely create his own shots, his streaky shooting is a huge deficit.
Even worse, Rose tends to over-handle, force shots in rush-hour traffic, and makes an abundance of rookie mistakes with the ball.
As wondrous as he is, Rose needs more help from his teammates than do the other remaining members of the NBA's royalty.
KEVIN DURANT

The most successful kings are said to rule with an iron hand that's covered with a velvet glove. There's no question that Durant is a dangerous shooter with astounding range and remarkable mobility. At the same time, he makes shots he should miss and misses many he should make.
Shooting isn't Durant's only skill. He's also a swift and creative penetrator, as well as an accurate and willing passer capable of running and gunning with anybody. Even so, there's too much velvet and not enough iron in his game.
Since KD lacks the mass to be an effective low-post threat, he must initiate most of his scoring opportunities from the outskirts of the attack zone. This gives defenses more time to rotate. Even worse, getting Bogarted by stronger defenders often causes Durant to lose his focus and disappear altogether. Which is exactly what happened late in Game 2, when Jason Kidd virtually made Durant a spectator. Fortunately for the Thunder, James Harden took over the game, but Durant's failure to demand the ball when a game is on the line bodes ill for OKC's immediate future.
At the other end of the court, Durant's defense starts and ends with his quickness and his length, but he's extremely susceptible to being bullied into disadvantageous positions.
In sum, KD is a deluxe shooter who conducts himself with a maturity that's far beyond his years. But, for the most part, he's an explosive long-distance dialer who can win numerous battles but who probably lacks the strength and endurance to win the ultimate war.
DIRK NOWITZKI
Coaches of young players should forbid them from watching Nowitzki lest the hooplings try to imitate his wrong-footed, off-balance, step-back shot releases. However unconventional his launches might be, Nowitzki's routinely spectacular jumpers are impossible for any current NBA player to defend. Only by channeling the likes of Bill Russell, Dennis Rodman, Dave DeBusschere or Gus Johnson could Nowitzki be controlled by any individual defender.
And the key to Nowitzki's domination of any given game is the accuracy of his jumpers. When he's splashing the ball through the net, defenders must necessarily play him chest-to-chest, giving Nowitzki optimal opportunities to drive — which he does with more success going left than right. Erstwhile defenders are further flummoxed by Nowitzki's utterly convincing head-and-shoulder fakes.
The main knock on Nowitzki, though, is his history of folding in the clutch. Apparently this perceived shortcoming was temporarily dissipated by his cold-blooded destruction of the Thunder in Game 1. It's hard to fault Nowitzki for bagging 33 of the 34 free throws he's taken so far, but the one he missed in the waning seconds of Game 2 failed to reduce the Mavs' deficit to a one-possession situation and was therefore extremely damaging.
Another choke? Perhaps.
The only certainty is that Nowitzki couldn't be expected to duplicate the 12-for-15 shooting that he registered to open the current series. For sure, he did tally 29 points on 10-for-17 shooting as the Mavs lost Game 2 — but Nowitzki's encore was somewhat out of whack.
He was essentially passive until the fourth quarter, perhaps because of Nick Collison's aggressive defense that was augmented by weakside help being only a few steps away.
To combat this adjustment, Nowitzki generally made appropriate out-passes, but he also forsook the jumpers that had thoroughly demoralized the Thunder in Game 1 in favor of consistently trying to attack the hoop.
The effectiveness of Collison's chest-to-chest (and occasionally fronting) defense was maximized because Nowitzki doesn't move very well or very often without the ball. A down-screen is designed to create sufficient space to allow Nowitzki to receive the ball above the stripe. Otherwise, he's so stationary that the ball has to come to him. Unless his off-balance jumpers are consistently on target, Nowitzki has to grunt and grind too much to generate the kind of shots he wants.
Nowitzki's help defense is alert, but his straight-up capabilities are somewhat limited. And as he rapidly approaches the ripe old age of 33, Nowitzki's rebounding prowess has been diminished because he's much slower off the floor than ever before.
If his shot releases are unpredictable, the places where Nowitzki is enjoined to receive entry passes are not. Rick Carlisle has to vary the Mavs' half-court sets so that his star player is presented with more weakside, cross and back screens, plus opportunities to execute back-cuts — all with the purpose of reducing Nowitzki's work load.

Still, Dallas's immediate future entirely depends on Nowitzki's taking and making a royal share of his uncanny jumpers. Too bad teams that live by the jump shot all too often die by the jump shot.
LEBRON JAMES
Forget about the benefit of his new playmates, the biggest difference in LeBron's game is the dramatic improvement in his shooting. Indeed, past opponents have played him loosely, thereby letting him shoot as many jumpers as his heart desired. But with his newfound range and touch, LBJ has elevated himself into bona-fide super-duper status. Plus, as demonstrated by his late-game heroics in Miami's victory in Game 2, James has also become an effective closer.
Of course, none of his peers can match his particular combination of size, strength, quickness, speed and awesome talent. LeBron can drive right or left with equal success, and has also developed a stunning variety of on-the-move flippers and floaters.
Does this already self-proclaimed king have any flaws?
Absolutely.
He tends to force in-close shots in the teeth of collapsing defenses, especially when he drives left along the baseline. The same sagging defenses are surprisingly effective at poaching his dribblings. LeBron's two-game totals of 11 assists against nine turnovers are alarming. To say nothing of the several shots that were swatted.
Otherwise, LBJ's most glaring deficiency is the inordinate time he takes before making his moves — which, far more often than not, makes his teammates act as though they were standing around while waiting for a bus. Compare this habitual ball-massaging to Dwyane Wade's super-quick decision-making.
James is a merely adequate defender when confronted with fleet-footed opponents. It's his relentless hustle and off-the-ball defense that makes LBJ such an influential presence on defense.
But it all comes down to this: If LeBron can continue bagging his 3-balls, then his ascendancy to the vacant throne may be inevitable.
---
---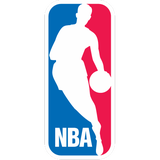 Get more from National Basketball Association
Follow your favorites to get information about games, news and more
---