National Basketball Association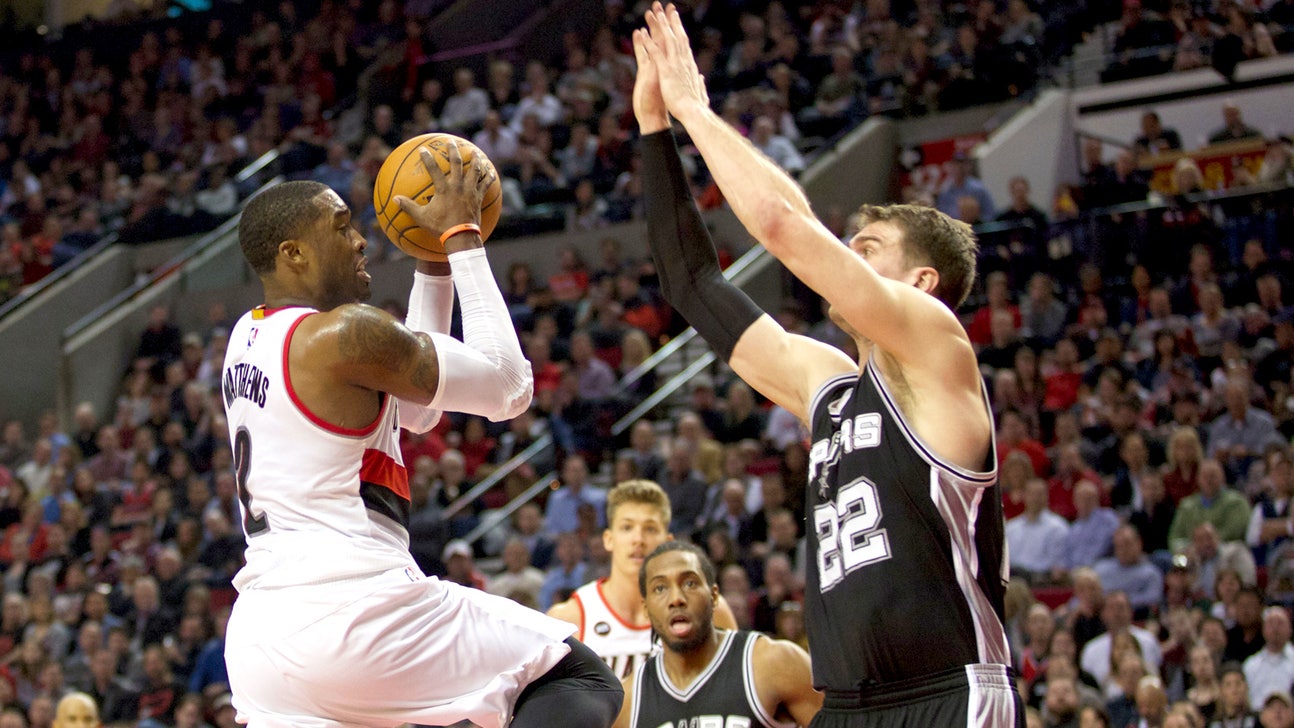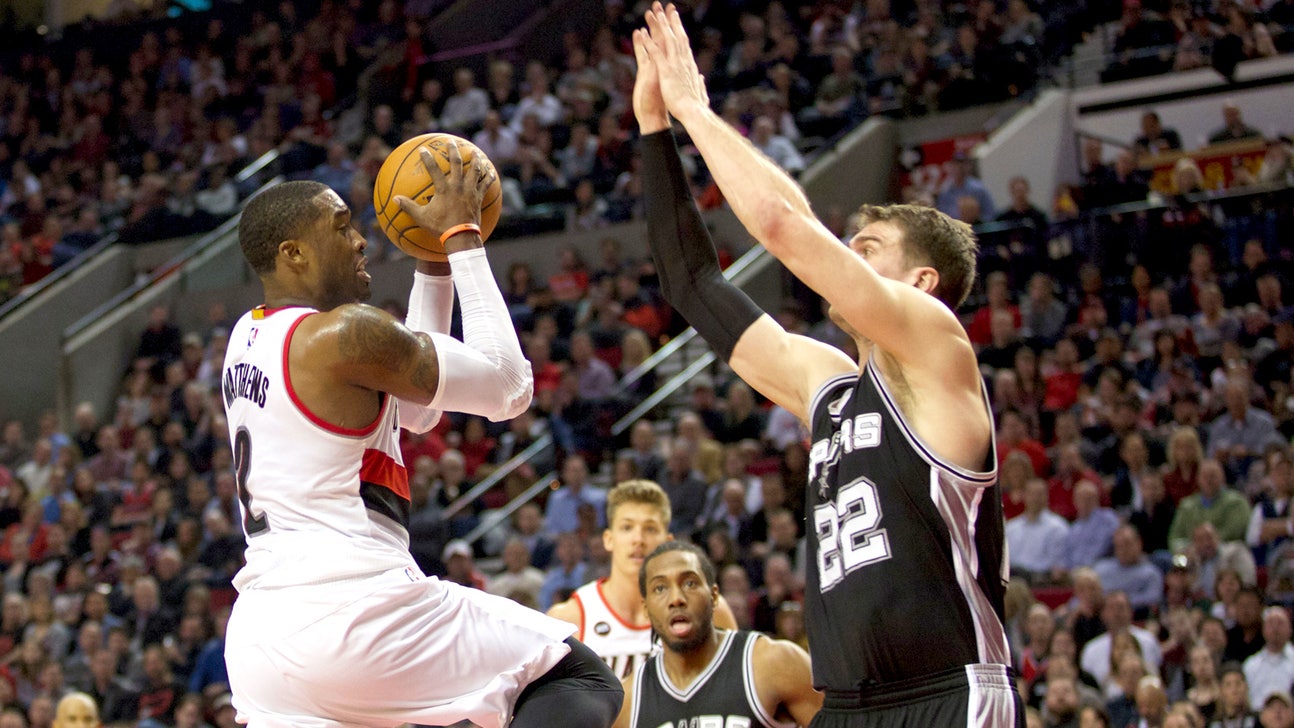 National Basketball Association
Wesley Matthews scores 31 as Blazers hand Spurs 4th straight loss
Published
Feb. 26, 2015 1:30 a.m. ET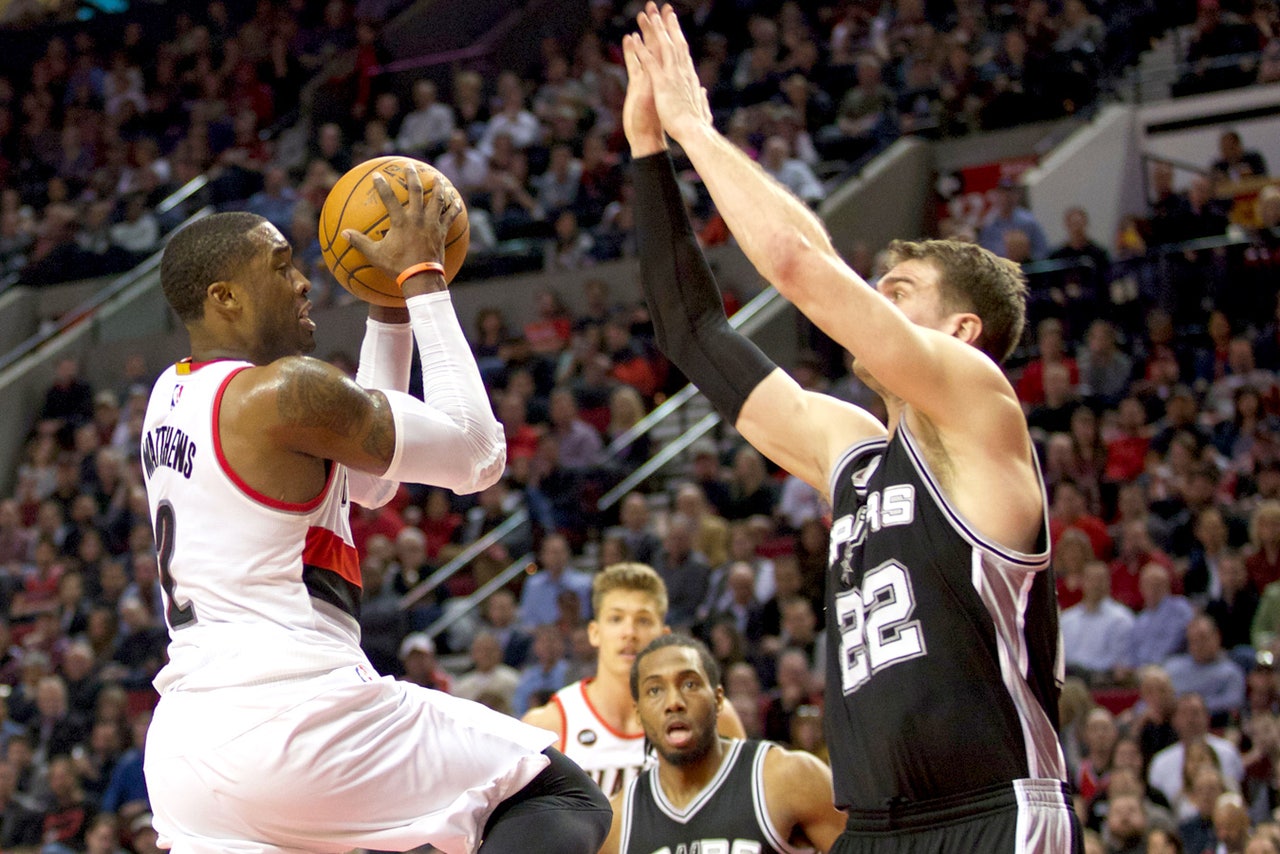 Wesley Matthews and the Portland Trail Blazers hope they put their recent fourth-quarter woes behind them Wednesday night.
Matthews scored 31 points, LaMarcus Aldridge had 11 points and 13 rebounds, and Portland beat the slumping San Antonio Spurs 111-95 for its first victory since the All-Star break.
The Trail Blazers are 25-4 when leading after three quarters, but all four losses have come in the past 10 games. The most glaring flop was Sunday, when Portland blew a 13-point lead as Memphis outscored the Blazers 34-15 during the fourth period.
Portland had an 81-71 lead heading into the fourth quarter against the Spurs, and the home crowd had reason to gasp when San Antonio opened the period with consecutive 3-pointers by Danny Green and Tony Parker that sliced the margin to four.
But in a matter of 3 minutes, Portland ended the drama by blitzing San Antonio with a 14-2 run that made it 95-79.
"Tonight, everyone was locked in," Blazers guard Damian Lillard said. "We know how it felt ... last game against Memphis when we played so well to let it slip away. We didn't want that feeling again, so everybody came out and did whatever we needed to do for our team to pull it out."
At the forefront of Portland's decisive surge was Matthews, who went 4 for 4 from 3-point range in the fourth quarter.
"We knew we couldn't give them any life. We knew that we had to come out with that urgency because we needed it. We needed to play urgent," Matthews said.
Portland coach Terry Stotts didn't sound overly concerned about the recent fourth-quarter falloffs -- not that he wanted his team to blow another one.
"It's important to play, in this league, to play well in the fourth quarter," Stotts said. "It's easy to remember the games you don't play in the fourth quarter. They stick out."
Six players scored in double figures for Portland, which ended a two-game skid. Lillard had 18 points and Nicolas Batum added 15.
Tim Duncan shot 9 of 12 and scored 20 points to lead San Antonio, which lost its fourth consecutive game. Danny Green had 17 points for the defending NBA champions.
Duncan said the reeling Spurs aren't playing with any consistency.
"It's very frustrating. We're not used to losing like this -- games that we could've and should've probably won. So that in itself is bothersome, but nothing we can do about it. We'll take some positives from tonight," he said.
Portland shot 13 of 26 from 3-point range, the first time in 25 games the Blazers have shot at least 50 percent from behind the arc.
The Blazers led 51-50 at halftime after the first two quarters were decidedly one-sided.
Portland dominated the first quarter, hitting 13 of 22 shots to take a 32-16 lead. Robin Lopez scored four points during a 10-0 run that helped the Blazers take control.
Portland led by as many as 19 early in the second quarter when momentum completely shifted in San Antonio's direction. The Spurs, who made 13 of 20 shots during the second quarter, put together a 16-2 run late in the period and pulled even at 48 on Aron Baynes' layup.
Portland re-established itself early in the third quarter, when Lillard scored six points during an 11-0 run that gave the Blazers a 67-54 lead. San Antonio responded with six quick points, but Portland quickly halted the Spurs' momentum by scoring nine of the next 11 to take a 76-62 lead.
TIP-INS
Spurs: Duncan scored San Antonio's first 10 points, going 5 of 5 to start the game. The rest of the Spurs went 0 for 7 and didn't produce their first basket until Manu Ginobili scored with 5:01 left in the first quarter. ... San Antonio has scored fewer than 100 points in 10 of its past 14 games. ... The Spurs have games remaining at Sacramento and Phoenix on their nine-game, 20-day road trip. They are 2-5 on the swing. ... Since 2008, San Antonio is 2-11 in Portland.
Trail Blazers: Since the All-Star break, Batum is shooting 61.5 percent (16 of 26) from the floor. ... Matthews has 55 3-pointers in the fourth quarter this season, 13 more than any other player in the NBA. ... Portland won the season series, 3-1. ... Since 2009, the Blazers are 16-7 against San Antonio.
NOT MUCH OF A SLUMP
Matthews went 0 for 7 from the field Sunday but rebounded by making 11 of 18 shots against San Antonio. It was the eighth 30-point game of his career, and first since Nov. 23, 2012. "It took a while, but you've got to keep shooting it. My teammates were finding me and had confidence in me, and my confidence never wavered," Matthews said.
ALDRIDGE RETURNS
Aldridge missed Sunday's game against Memphis with a right thumb injury, but it wasn't a factor against the Spurs. He played 29 minutes and led all players with 13 rebounds. Aldridge became the first NBA player this season to score at least 1,100 points and grab 500 rebounds. 
---
---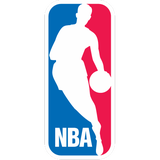 Get more from National Basketball Association
Follow your favorites to get information about games, news and more
---