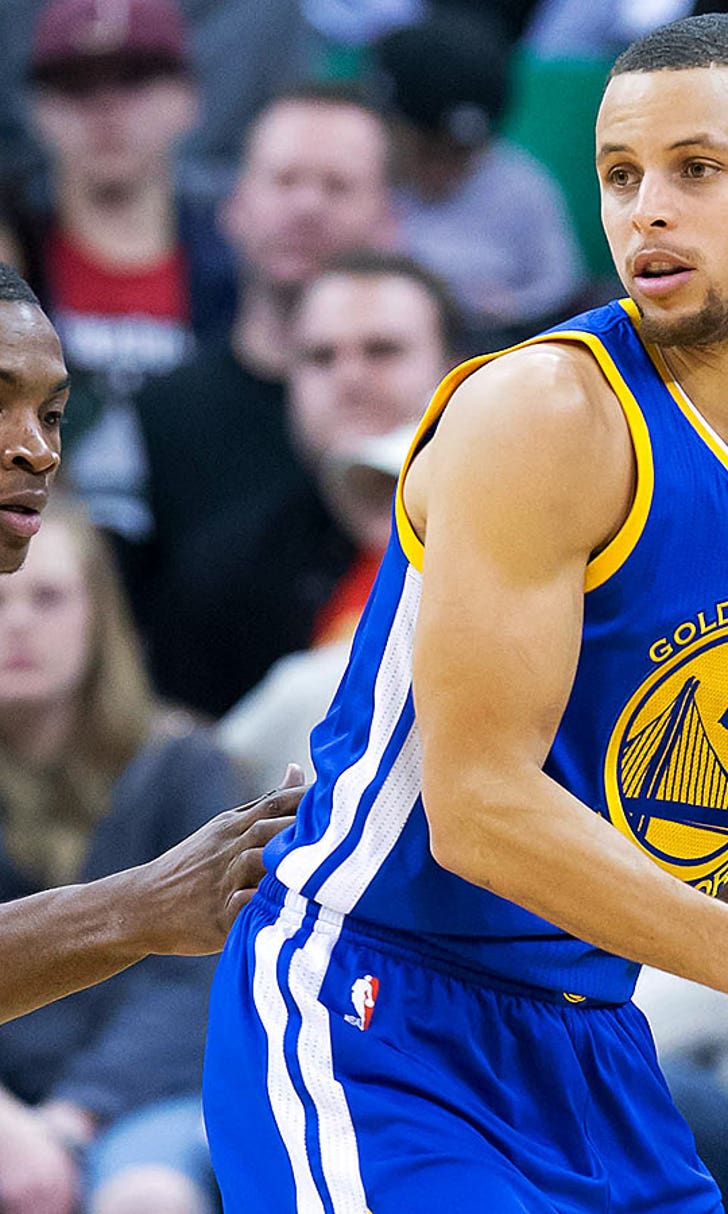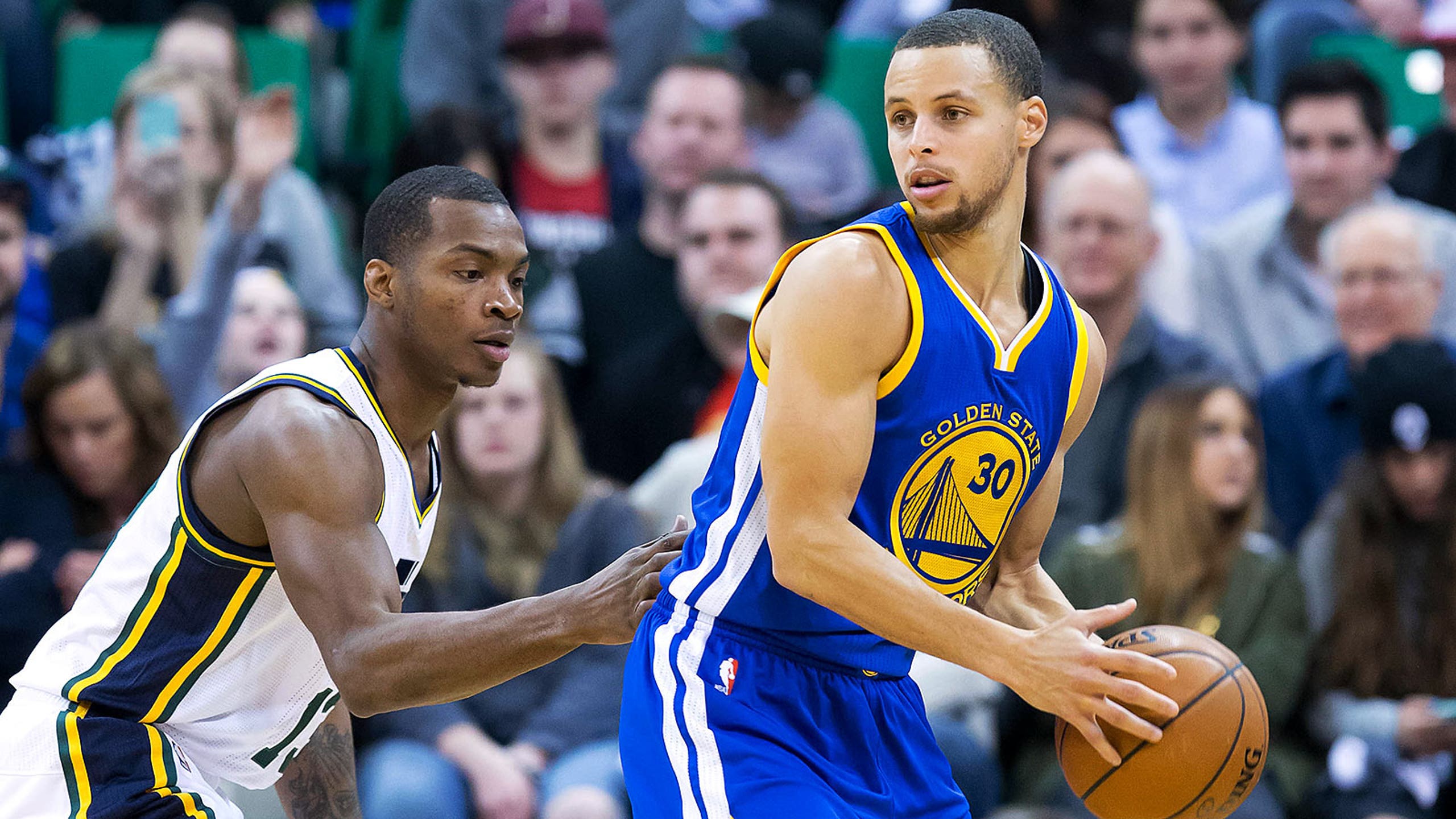 Warriors stand 30-5 after Stephen Curry sparks victory over Jazz
BY foxsports • January 14, 2015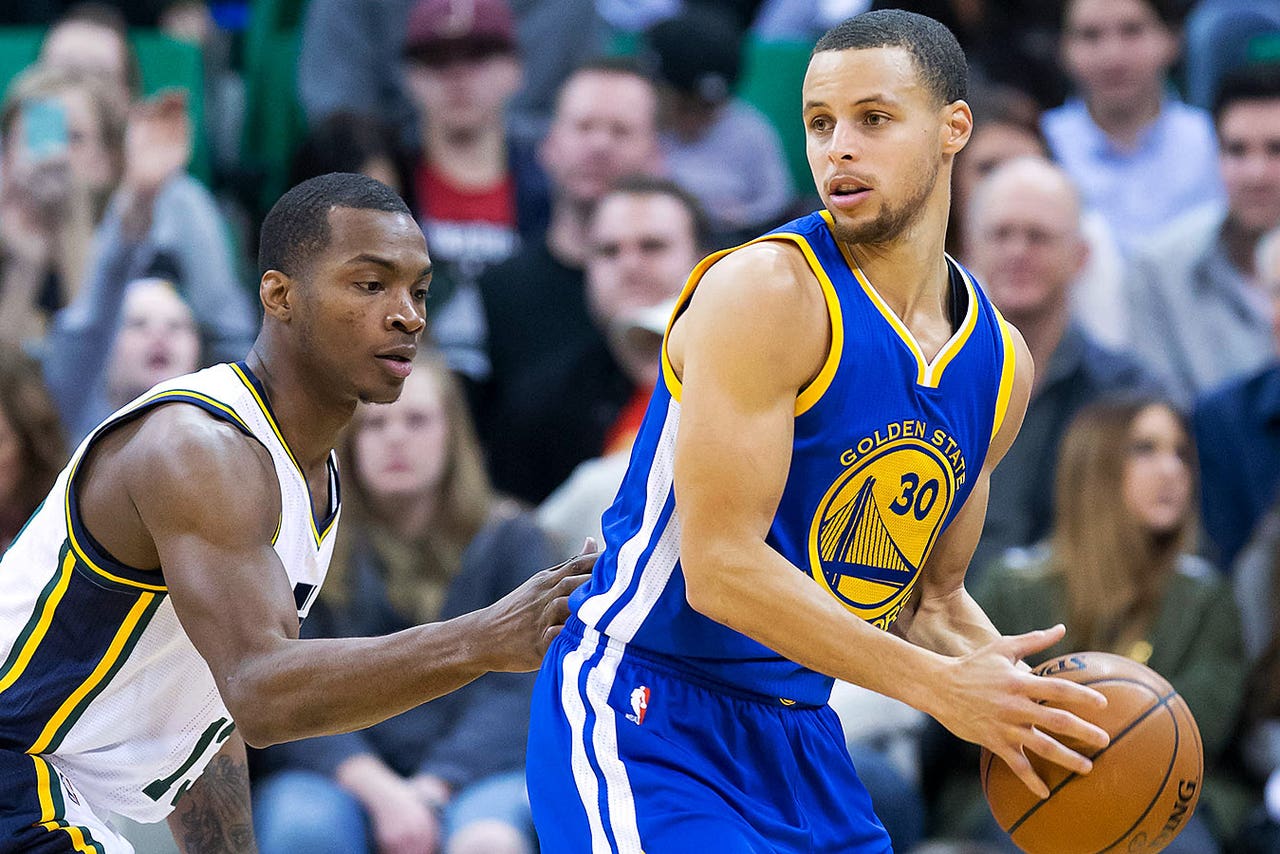 Scattered chants of "MVP! MVP!" rained down on Stephen Curry as he put the finishing touches on a second-half scoring burst.
He probably locked up the Utah Jazz vote with his latest performance.
Curry scored 27 points, had 11 assists and ignited a decisive third-quarter run to lead the Golden State Warriors to a 116-105 victory over the Jazz on Tuesday night.
"It's a special feeling," said Curry, who had his 11th double-double this season. "You got to stay in the moment obviously, but you appreciate that kind of support coming into Utah and, on the other team's home floor, getting those chants."
Draymond Green scored 15 points while Harrison Barnes and Klay Thompson added 12 apiece to lift the Warriors (30-5) to their franchise-best seventh consecutive victory by double figures.
Golden State had six players score in double figures and all but one player scored at least eight points. Such depth is one of the reasons the Warriors own the league's best overall record.
It's also making everything fun from one game to the next.
"Everybody is contributing," Curry said. "That's the big part about it. You look at the stat sheet and 10 guys played -- all no more than 30 minutes. Everybody is contributing and getting a chance to go out and show what they can do and help the team win. We have fun winning and learning lessons in the process."
Derrick Favors had 22 points and 11 rebounds for the Jazz. Gordon Hayward scored 17 points while Enes Kanter and Rudy Gobert each added a double-double for Utah. Kanter finished with 13 points and 10 rebounds, while Gobert had 16 points, 11 rebounds and three blocked shots off the bench.
Utah (13-26) could not overcome blistering third-quarter shooting by Golden State. The Jazz allowed 44 points on 16-of-26 shooting in that period - including 8-of-11 shooting from 3-point range.
After not leading the entire second quarter, Golden State broke the game wide open with hot shooting from the perimeter right after halftime. The Warriors made five straight 3-pointers over the first 4 minutes of the period to take control.
Curry started the onslaught with a pair of 3-pointers sandwiching a driving jumper over four possessions. By the time Barnes finished off the spurt with his own basket from behind the arc, the Warriors held a 76-63 lead.
Utah cut the deficit to six on a pair of baskets from Trey Burke and free throws from Hayward and Gobert. No comeback truly materialized as Golden State stayed hot from outside.
Curry drained a long jumper to start a 12-2 run that gave the Warriors an 88-72 lead with 2:52 left in the quarter. Golden State made its eighth 3-pointer of the quarter when Marreese Speights beat the buzzer to give the Warriors a 97-80 lead.
The Jazz trailed by double digits throughout the fourth quarter and never really recovered from losing control of the game defensively a quarter earlier.
"They just started making tough shots," Favors said. "We were playing good defense, but they started making tough shots."
Golden State shot 58.5 percent (24 of 42) from the field before halftime and had 19 assists on 24 baskets. It didn't stop the Jazz from charging in front and staying there for much of the half before Barnes' layup with 24 seconds to go left things tied at 53.
TIP-INS
Warriors: The Warriors lead the NBA in both field goal percentage (.484) and opponents' field goal percentage (.420). The last team to lead in both categories over a full season was the Philadelphia 76ers in 1980-81. ... Golden State leads the league in assists and has dished out at least 30 assists 14 times this season. The Warriors finished with 32 assists against Utah.
Jazz: Favors recorded his 13th double-double of the season, while Kanter notched his 8th and Gobert his 5th. . Utah allowed a season-high 44 points in the third quarter. Previous high was 32 against Houston on Saturday. . Jazz fell to 0-6 this season when allowing more than 110 points.
STRONG DEBUT
Golden State coach Steve Kerr is the only rookie NBA coach to notch 30 wins in his first 35 games. The start is also the best for the Warriors through 35 games in their 69-year franchise history.
"We expected to be really good this year," Curry said. "We didn't know how it was going to play out." 
---
---