Warriors could make big changes after NBA Finals loss
Published
Jun. 20, 2016 11:18 a.m. ET

The Golden State Warriors didn't repeat as champions, and therefore, despite a record 73-win regular season, they failed to achieve their goal this season.
But the Warriors are well positioned to contend for championships for years to come -- their three best players, Stephen Curry, Klay Thompson, and Draymond Green -- are all young (28, 26, and 26, respectively) and are perfectly suited to succeed in an NBA that is rapidly evolving towards more pacing and shooting.
The Warriors have almost no threat of losing any of those three core players either: Green has four years remaining on his contract, Thompson has three years left on his team-friendly deal, and Curry is poised to receive a max deal next summer when the salary cap is expected to go above $100 million.
The Warriors' core is set, but given the disappointment of the worst NBA Finals collapse in history, big moves might be on the horizon -- perhaps even a move that would add another start to the team's already packed lineup.
The main target is one that, if the Warriors signed him, would turn the league upside down: Kevin Durant.
The Durant-to-Golden State talk has died down significantly in recent weeks, following the Warriors and Thunder's amazing seven-game Western Conference Finals series, but it has not exited the realm of possibility.
It's hard not to immediately think of Durant when Warriors' owner Joe Lacob says that his team will be "very aggressive" when he's asked what's next for his team.
But to bring in Durant would require the Warriors to break up the starting lineup of the greatest regular-season team in NBA history.
That's because the only way Golden State -- which will have roughly $75 million committed to next year (not including cap holds) against a $94 million cap -- can make a move to sign a big-name free agent is to move on from Harrison Barnes.
The Warriors wing turned down a $64 million deal from the Warriors before the season started, and while he's expected to fetch far more than that in an offer sheet this summer, Barnes' poor performances in the final three games of the Finals will leave a sour taste in many mouths. The Warriors might feel inclined to move on from Barnes, especially considering there's almost no way he returns to the Warriors next year without being the team's highest-paid player. The Warriors have a strong locker room, but it's probably not that strong.
Whether Durant is coming or not, the Warriors might opt to move on from Barnes.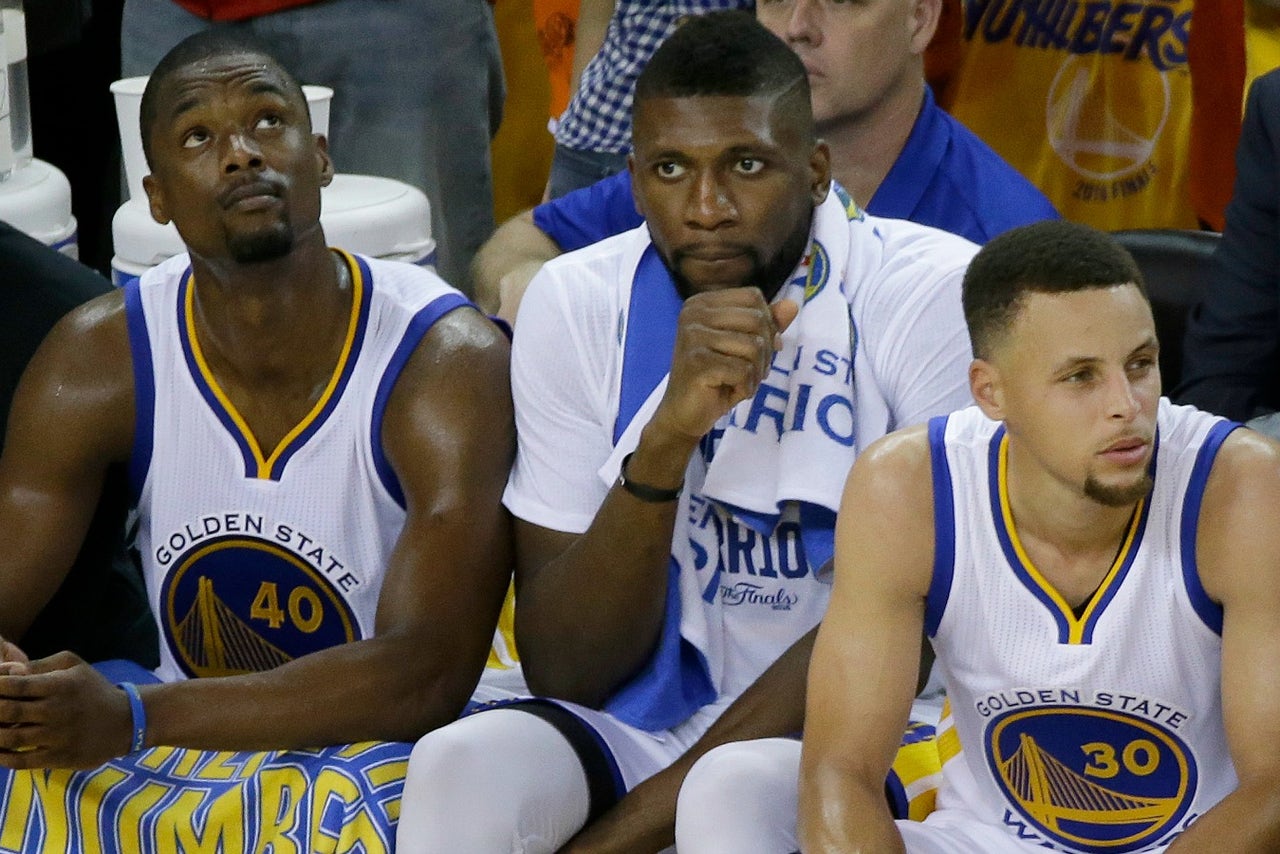 The Warriors will also have to make a decision on restricted free agent Festus Ezeli. Despite the backup center's poor turn as a starter in Game 7 of the Finals, Ezeli was an improved performer for the Warriors this season, and his size, defensive abilities, and the increase in the cap (which makes putting in big offer sheets to RFAs much easier) will make him a viable candidate to land a big sheet. The Warriors can match with relative impunity (same goes for Barnes) but will Golden State want to jeopardize their future salary cap flexibility to sign a mercurial player (or two)?
The Warriors could maintain some of that salary cap flexibility, even if they sign both Ezeli and Barnes to new-cap-sized deals, by trading Andrew Bogut ($12.6 million, entering last year of contract) or Andre Iguodala ($11 million, entering last year of contract.)
Either option is less than advantageous, as it jettisons the better player at the position to keep a younger option. It's a big bet on Barnes and Ezeli -- similar to the bet the Warriors made in Game 7 of the NBA Finals. Those bets did not pay out.
There are only three players who should be expected to get a max offer on the free agent market this summer, but the Warriors could be interested in two. Durant is a well-discussed given. The other is center Al Horford.
Coming from "Spurs East" in Atlanta, Horford's style of play would fit the Warriors exceptionally, and his personality is such that it's unlikely he'd have any problem being the fourth or fifth option in the Warriors' best lineup. The league might be moving to smallball, but the 6-foot-6 Green cannot play center for 40 minutes a night. Outside of Karl Towns and DeMarcus Cousins, Horford, who hit 88 3-pointers this season, might be the best-suited big man for the modern game.
To make Horford work, the Warriors would almost certainly have to move Bogut, and seeing as free agency will be happening while the Australian big man is recovering from a knee sprain, that might be a tough sell.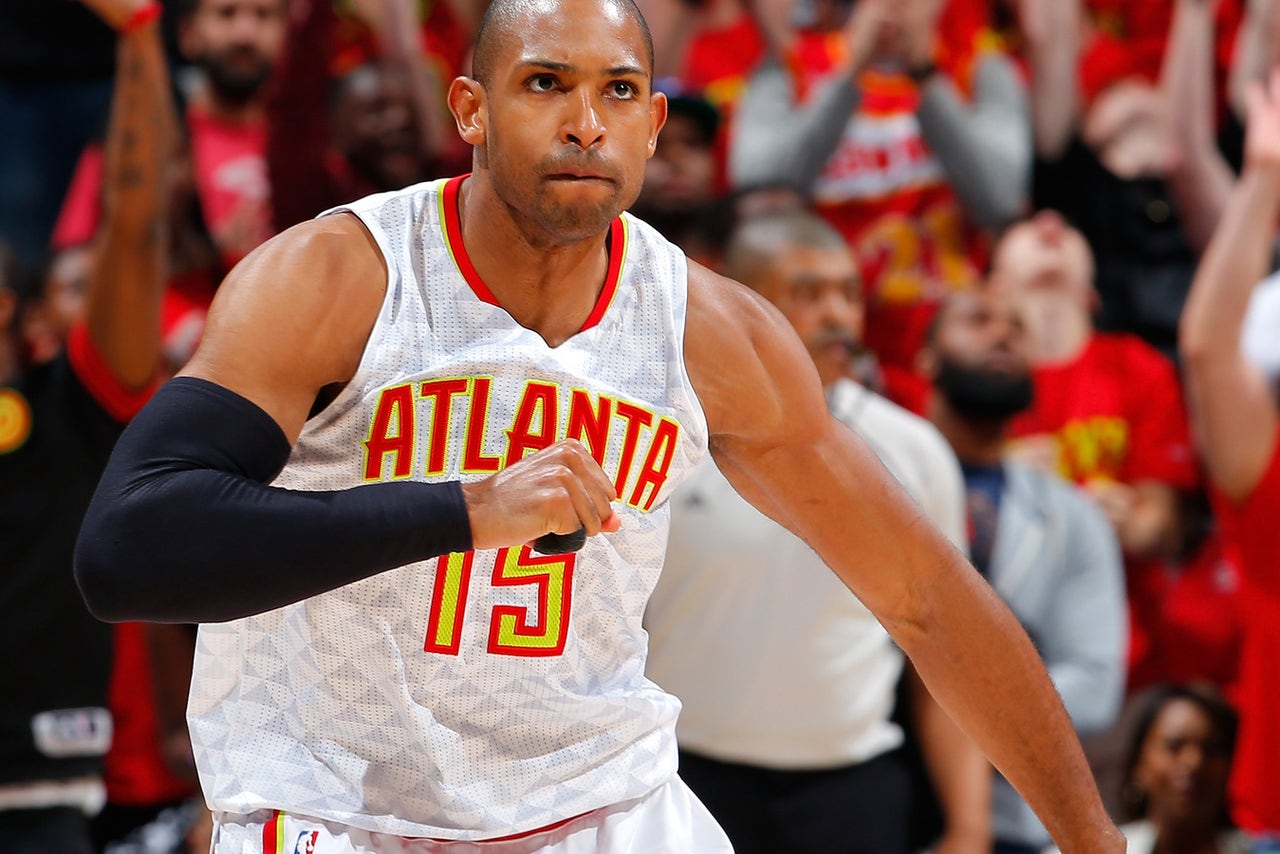 Horford will have plenty of suitors on the free agent market this summer, but it's hard to see places where Dwight Howard would be wanted. Surely the former Houston Rockets big man will not be receiving a max deal from the open market.
The Warriors were keen to sign Howard the last time he was a free agent, and while things have changed a lot for him and league-wide since then, there is admiration for what Howard can be inside the Golden State front office.
Howard needs to revamp his career in a big way, and there few organizations better than the Warriors to do that. (The Warriors might be the only worthwhile organization willing to take him on, as well.)
If the Warriors can get Howard to sign a below-market-value deal, they would likely let Ezeli walk and be able to keep Barnes in the process. Bogut would serve as the backup to Howard for a year -- or the other way around -- and then have his contract expire at the end of the 2017 season.
The Warriors are perfectly suited to be successful for years to come because of their core and creative general managing which keeps them as flexible as any title-contending team has been in years. There's only one question after a conflating season, where both success and disappointment are the main takeaways -- do they stay the course or flex their muscle?
---
---