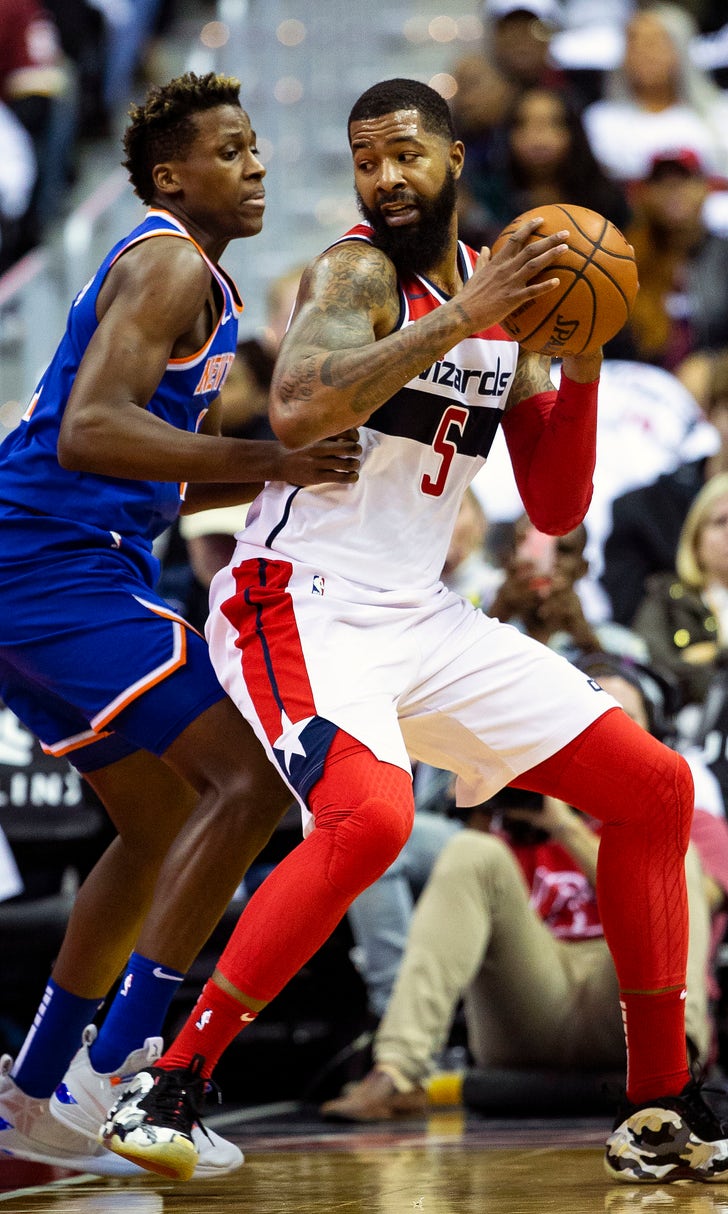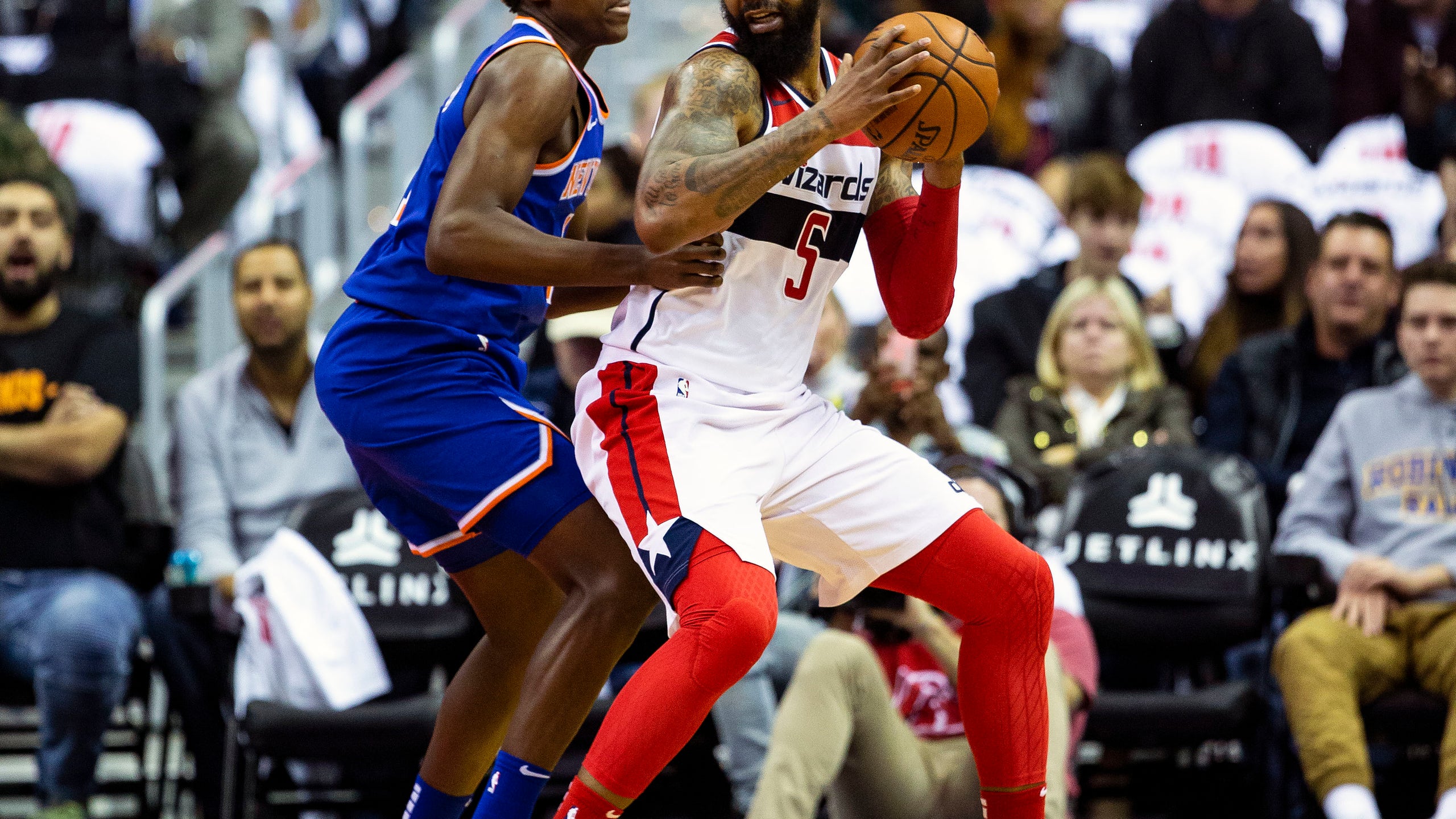 Wall, Beal help Wizards snap 5-game skid, top Knicks 108-95
November 4, 2018
WASHINGTON (AP) — The Washington Wizards entered their game against the New York Knicks with the NBA's worst defense and mired in a five-game losing streak. In eight games, the Wizards had given up an average of nearly 124 points.
That led Washington coach Scott Brooks to make a wry observation: "We're leading a lot of the categories in the wrong way."
Things turned around on Sunday as John Wall scored 26 points, Bradley Beal added 22 and the Wizards defeated the Knicks 108-95.
The win left Brooks sounding a bit more upbeat when asked what he most liked about the game.
"That I didn't see triple digits," Brooks said. "It was nice to see it below 100."
After the Knicks cut a 13-point third quarter lead and tied the score for the third time at 86-all with 9:13 to play, Washington held New York to just nine points.
Markieff Morris had 16 points and Jeff Green scored 14 for Washington, which won for the second time in nine games.
"I don't know what sparked it, but that's what we needed," Beal said. "It was put together for the whole 48 minutes for the first time. In games past, we'd play a good first half or a good second half."
The Knicks, who fell to 3-7, were led by Enes Kanter's 18 points and 12 rebounds. Trey Burke had 13 points.
Washington forced 20 New York turnovers. That was a season high for the Wizards.
"We were very careless with the ball tonight, and they deserve a lot of credit for that," Knicks coach David Fizdale said.
TIP INS
Knicks: F Kevin Knox missed his seventh game with a sprained left ankle. Knox thinks he's ready to play. Fizdale isn't so sure. "He's not making the diagnosis — my 19-year-old rookie. I told him I want him to play 5-on-5 first. I know he feels great, but at the same time we have to be sure." ... G Courtney Lee has yet to play this year with neck spasms. "I couldn't (give an estimate)," Fizdale said. "I have no idea. I'm hoping soon, just for his sake. He's been such a pro, and he's been really engaged, but I know it's killing him." . G Tim Hardaway was held to seven points in 24 minutes. He suffered a back injury in the first quarter, but returned to the game.
Wizards: F Otto Porter was out with a bruised left big toe. Brooks said the injury was day-to-day and didn't know if Porter would practice Monday. ...Wall hit three 3-pointers. He has 500 in his career. ... C Dwight Howard was assessed a Flagrant-1 foul, when he attempted to block Kanter's shot midway through the second quarter.
SMILING HOWARD
Howard scored 10 points and had 10 rebounds in 31 minutes in his second game. He missed the first seven games with a sore backside.
"If you want me to judge him after two games, he did pretty good," Brooks said. "I like his enthusiasm. I like his smile. He's a good-looking guy, and he uses it all the time."
Howard said the smiling was a sign of weakness. "I was smiling because I was saying, 'Damn, I can't get off the ground tonight.'"
Brooks called a play for Howard to catch a lob.
"I was like, 'Coach, my legs are not there, yet, so I have to keep smiling my way through it.'
TECH TALK
Besides Howard's flagrant, New York C Mitchell Robinson was called for a technical. Wall and Knicks G Allonzo Trier were called for a double technical.
"It's important that they're not going to back down from anybody," Hardaway said.
"They don't care who it is. I'm happy they did that. If I was in that situation, I probably would have gotten thrown out the game."
3-POINT WOES
Washington limited New York to 5-for-27 shooting on 3-pointers (18.5 percent). In their first eight games, the Wizards gave up at least 10 3's.
"We treated everybody as a hot player, no matter who he was," Brooks said.
UP NEXT
Knicks: Host the Bulls on Monday
Wizards: At the Mavericks on Tuesday
---
---