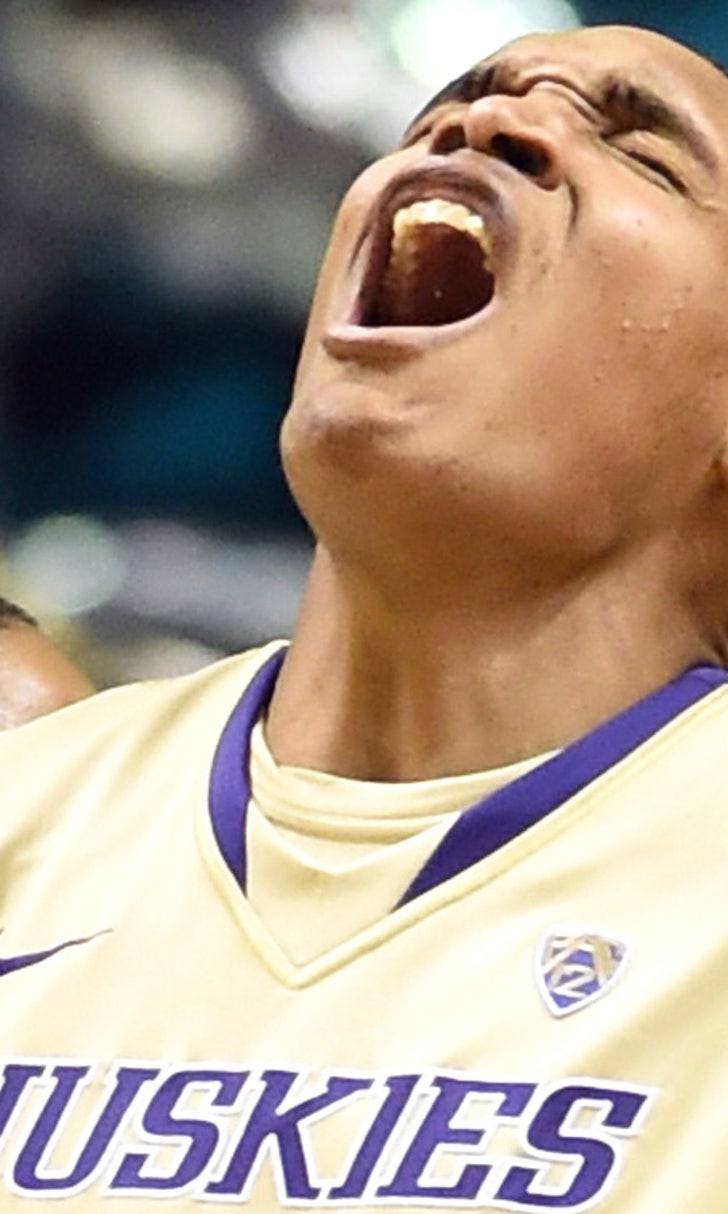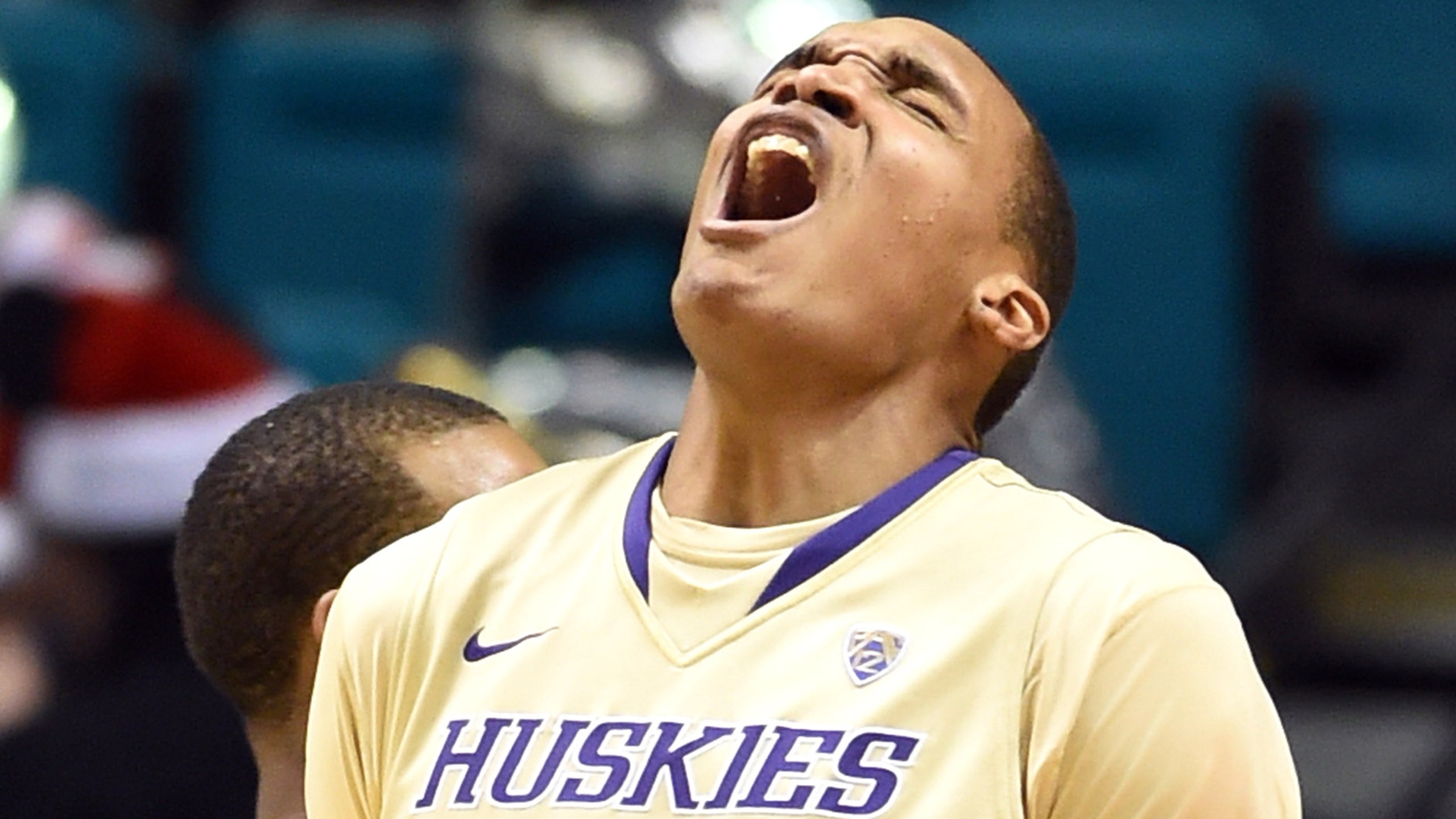 Upshaw believes he's worth the risk, but will NBA teams?
BY Reid Forgrave • June 19, 2015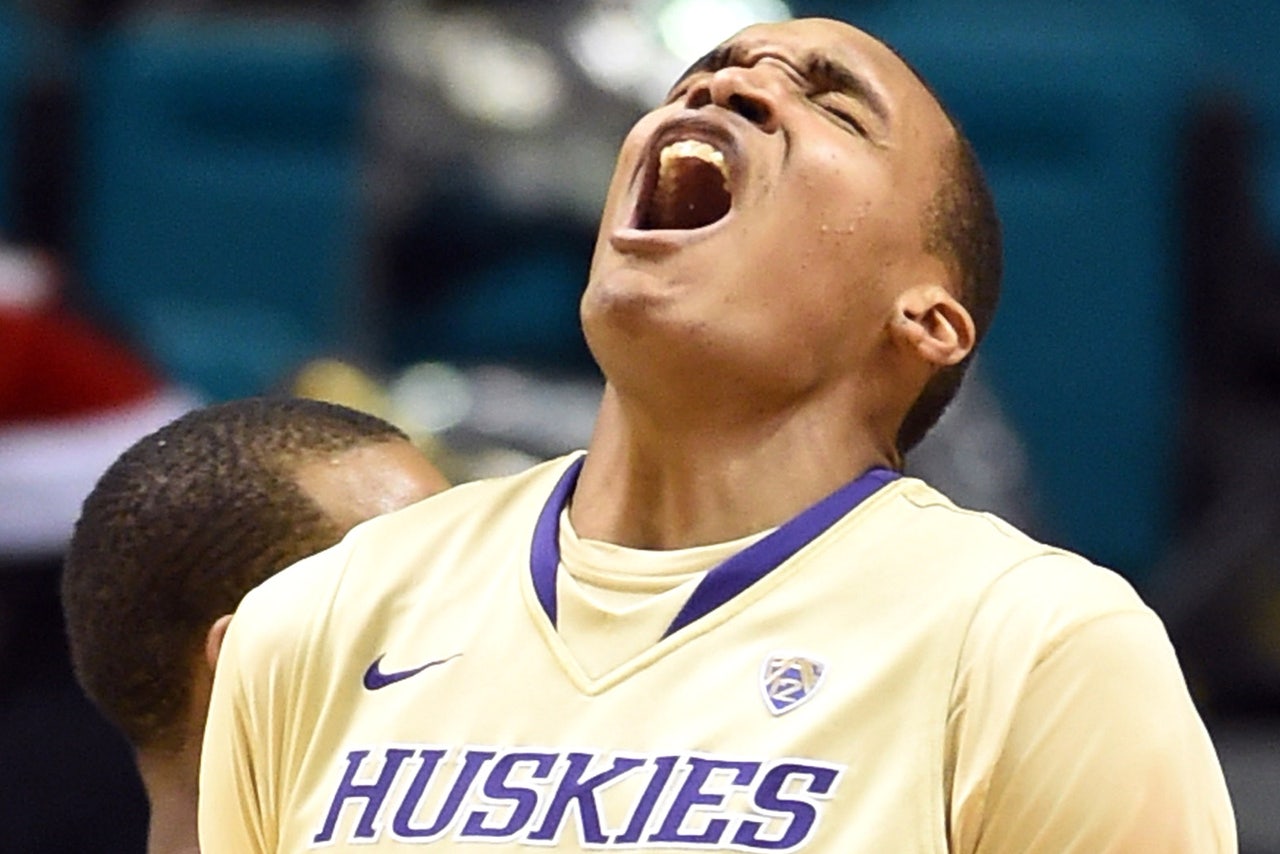 For as long as he can remember, Robert Upshaw, the 7-foot University of Washington shot-blocking savant who has the biggest boom-bust potential in the 2015 NBA Draft, has been big.
He remembers in first grade, when he was the same height as his teacher. He remembers later in elementary school, when his size started getting him in trouble. It was always on Fridays. The night before, his classmates watched WWE Thursday night "SmackDown", and on Fridays kids would roughhouse on the playground. Rob didn't know his own strength. He'd get in trouble for hurting other kids when he was just playing around. He remembers being 6-foot-7 in middle school and having everyone steer him toward basketball.
And maybe, if you're looking for the root of what became a full-fledged drug addiction that helped Upshaw get kicked out of two college basketball programs, that's when it all began: Always being too big, and always having a feeling of never quite fitting in. Seven-footers are a unique breed, often odd birds, which may be the natural result of spending a lifetime trying to fit in when they're always a head or two taller than everyone else.
Robert Upshaw may be the most divisive player in this year's NBA Draft. No one disputes his talent. He's a guy most people agree has star potential, who his college coach says could lead the NBA in blocked shots if he stays on track. Yet he's also a perceived problem child who some scouts consider undraftable and who one scout told me will not get drafted in the first round because that would mean a guaranteed contract, and owners don't want to risk a guaranteed contract on someone whose past is littered with problems.
Maybe Upshaw's problems began in high school, when the role models he chose nudged him toward the edges: "As a kid I saw all these players smoking weed and driving Bentleys, and I thought, 'This is the lifestyle,' " Upshaw told me. "That's what I was exposed to. I wasn't exposed to guys like LeBron James. I followed the flashy guys."
Or maybe the problems began when he went off to college, and the shackles of a strict childhood came off.
"It wasn't like he was a latchkey kid, but he couldn't do a lot," said Upshaw's high school coach, Arturo Ormond. "If he wasn't at home, he was with me at the gym. He wasn't a street kid. That's not where he comes from. It was a baton: a handoff from his mom to me, then from me to mom."
Then Upshaw went to college, and he tasted freedom, and the big guy with the big personality started getting into big trouble. He never smoked pot until he was in college. And even then, Upshaw says, his drug use was confined to hanging out with friends. Then it became more. And more. And eventually it led to Upshaw, this extraordinary talent, getting kicked out of two schools and being considered one of the most radioactive prospects in next week's NBA Draft.
"I didn't think anything of it at first," Upshaw told me recently. "It didn't come to a bad habit until on down the line. It led to stress, anxiety, depression -- all self-destructive stuff. But I'm not out here raping women, beating women. I'm not driving drunk. I'm not causing a ruckus with the police. I'm in the safety of my own home. So I thought everybody was blowing it out of proportion."
But since his head coach at Washington, Lorenzo Romar, kicked him off the team in January, Upshaw says he's changed his life. It was the final wakeup call. Now, he refers to his drug problems as an "addiction." He has surrounded himself with therapists. He went to rehab. He attends meetings.
He says he's straight. So now it's up to an NBA team to decide whether they believe him.
If Upshaw were a fringe talent, this wouldn't even be a discussion. He'd be off the radars of NBA teams in their draft discussions. But based solely on potential, Upshaw is a prodigy. In a draft that could be historic in the amount and the variety of big men -- Duke's Jahlil Okafor, Wisconsin's Frank Kaminsky, Kentucky's Karl-Anthony Towns and Willie Cauley-Stein and Texas' Myles Turner -- Upshaw stands out. His block percentage was 17.4 percent last season, according to KenPom.com, which would have been the best in college hoops -- a full five percentage points higher than Towns and Turner, the perceived top shot-blockers in this draft -- if only Upshaw had played enough minutes to qualify. At the NBA Draft Combine last month, Upshaw measured as one of the tallest players, with the largest hands and the largest wingspan. Yes, his free-throw shooting is awful, but he's the top shot-blocker and rebounder in this draft, and his offensive skills are steadily improving.
And yet the most important part of Upshaw's pre-draft process hasn't had anything to do with basketball. First was the medical testing. He was flagged for a possible heart condition at the combine. He suspended his workouts, though last week he was cleared by doctors and has since worked out for the Houston Rockets and Dallas Mavericks.
Most important of all, though, is his mental state: where he's at with his addiction, and whether he's truly committed to reform. Whichever NBA team ends up taking him will know they are taking a risk along the lines of a Major League Baseball team that signs Josh Hamilton, especially if the team gives Upshaw a guaranteed contract.
And yet, after speaking extensively with Upshaw and people close to him, I've come to believe he's absolutely a risk worth taking. But only for the type of team that's willing to swing for the fences -- and risk striking out.
Of all I've learned about Upshaw, perhaps the most telling was what Romar, the University of Washington coach who kicked him off his team, told me.
"He's a guy that at heart wants to do the right thing," Romar said. "I am rooting for him 100 percent. I do not want to see him fail. It just so happened that I was in charge, and I had to make decisions."
Over the years I've spoken with so many coaches whose players have gotten in trouble. Hardly ever does a coach want to talk on the record about a troubled player; it reflects poorly on the program. And when you delve into off-the-record talk, a coach often will throw a troubled player under the bus.
Which made my talk with Romar especially striking.
Romar described Upshaw as a kid who made mistakes -- €"those self-destructive mistakes common with addicts -- but who remained a good kid deep down. Romar told of times when Upshaw ran into some extra money, like when a check for a Pell Grant came through, and he'd go buy food and give it to homeless people. That was something he'd do on his own, without telling people. When the team had community service events, Upshaw was the first one to want to go, and would end up becoming the star of the event. He's a big man with a big personality.
"The fact he wasn't able to finish at two universities, I don't know what category people place him in there, but he's not a thug," Romar told me. "He's not that. He has a lot of gifts. And they're not all on the basketball floor. He's engaging. He has a great sense of humor. That's why, as frustrating as this situation can get, and as frustrated as we were at times with him, that's why you're still able to root for him."
That reputation precedes Upshaw, and for good reason. Getting kicked out of two college programs is not an easy thing to do. And yet when you talk with the kid, you don't get the impression of a punk. You hear a 21-year-old kid who came close to blowing his big chance, and who wants to make up for it.
"You talk to him, and you know he isn't a street guy," said Ormond, his college coach. "You don't get any of that from him. It kind of throws you off. He's a resilient enough kid to deal with it, to come through and be successful, to blossom from it and learn from it and become better because of it. He just has to work twice as hard to prove he's doing things the right way."
For his mother, Ceylon Sherman, the past few years have been an emotional rollercoaster. She wondered what she'd done wrong as a parent. She wondered how it came to be that her NBA-bound son was heading to rehab.
"I was heartbroken," she told me. "I really couldn't understand what had just happened. When I got that phone call -- Jan. 26 at 12:21 p.m. -- I remember it like it was yesterday. All I could say to him was, 'OK, baby, we're here, it's going to be OK.' What else could I say? Washington was very patient with Rob. They did their best. But he continued to surround himself with an environment that was unhealthy for him."
"He's a work in progress," she continued. "He understands more now, how crucial it is not to use drugs. He understands now that he has no more chances, that he needs to make better decisions, that he needs to stay focused and do the right things."
Doing the right things has meant rehab, and intense therapy and committing himself to beating an addiction that's often got the best of him. But no matter how much Upshaw speaks about walking the good and righteous path, spending a draft pick on him is a risk.
"The idea of addiction to me is there's a lot of decisions you make that are conscious -- you know what you're doing, you know the risk you're taking," Upshaw said. "But with an addiction, even though you think your mind might control it, your hand still goes for it.
"I've got a lot of help in the last three months," Upshaw continued. "Mentally. With everything. I got a lot of education about alcohol and drugs. I changed my ways. I had never really gotten the help before. Once I got that, I'm trying to set myself straight. I've kept it honest (since getting kicked off the team), and I continue to keep it honest with everything throughout this process."
Email Reid Forgrave at reidforgrave@gmail.com, or follow him on Twitter @reidforgrave.
---
---