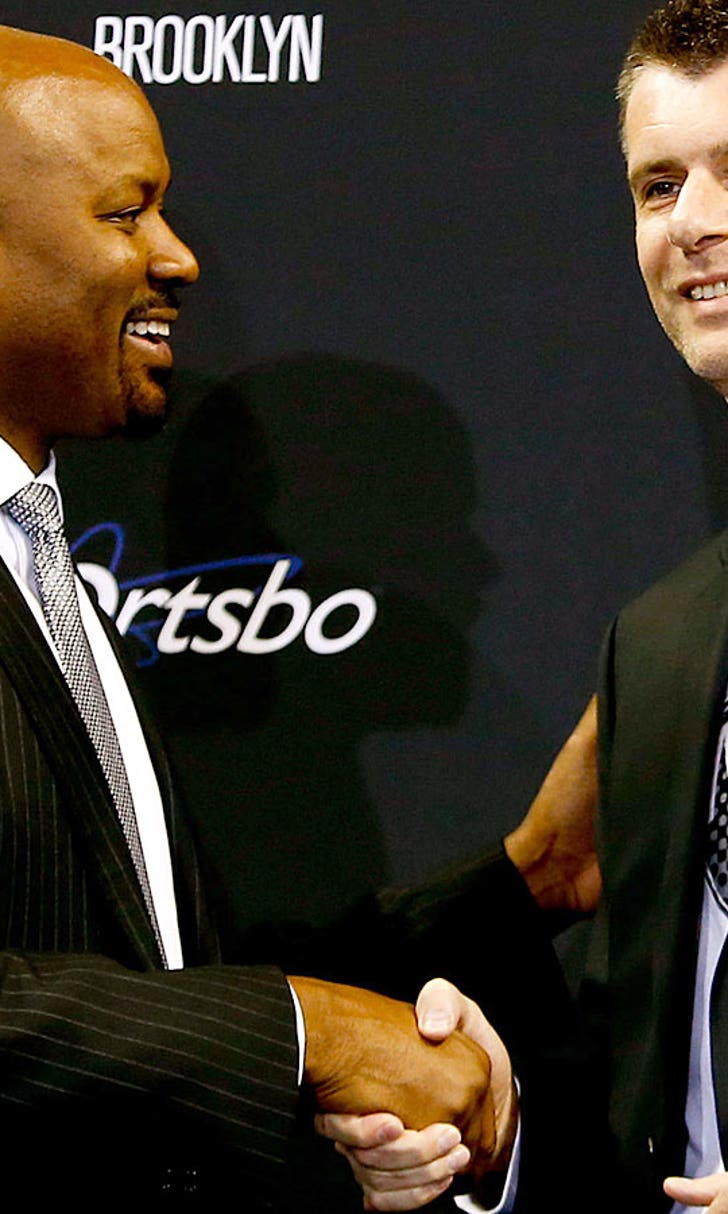 To beat the Knicks, rock-bottom Nets must ignore the Knicks
BY foxsports • January 11, 2016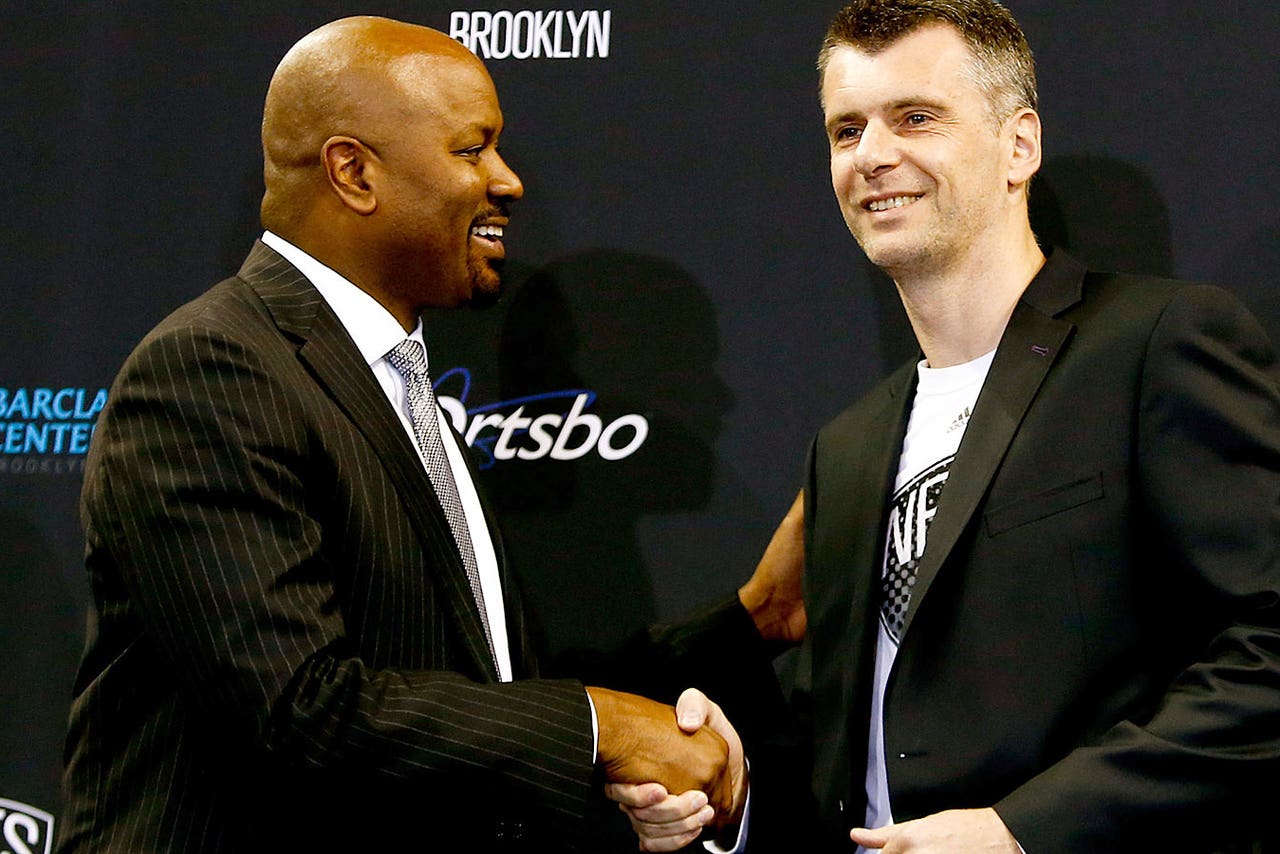 One word summed up newly minted Nets interim coach Tony Brown's introductory press conference Monday: Fun. Unfortunately for Brooklyn, it's probably too late.
At 10-27 and without a contracted head coach or general manager, the Nets haven't just hit rock bottom. They're living under the rock that's at the bottom. When you get that low and become so blinded on the way down, desperation sinks in and perspective disappears.
"I think we have been really bold, and we did our best in order to reach a championship," Nets owner Mikhail Prokhorov surmised in a meeting with media at Barclays Center as Brown was introduced. "And I still believe with some luck our results might have been more promising."
But luck is the residue of design, and there's no plan in Brooklyn. Throwing money and draft picks around hasn't worked for the Nets, who will likely see their win total decrease for the third consecutive year by season's end. And the kicker? As the Nets sink to the bottom, their in-city rivals, the New York Knicks, find themselves streaking to the surface, buoyed by Kristaps Porzingis and the evolved version of Carmelo Anthony.
The Knicks have more fans — way more fans — in New York. They always have. And they probably always will. Those are the facts that drove Brooklyn's decision-making in the past, fostering the type of popularity-driven mentality, which allowed for the Kevin Garnett/Paul Pierce trade or the at-the-time seemingly inconsequential pick swaps with Atlanta in the Joe Johnson deal.
And years later, things are worse. The city is wholeheartedly behind the Knicks, thanks to Porzingis-mania. Meanwhile, on Jan. 11, 2016, Prokhorov is once again starting from scratch, and he's lacking many of the ingredients he possessed when he first started the recipe. 
People will point to the KG/Pierce deal that mortgaged Brooklyn's future, or the Johnson one that did the same thing, but those weren't the only near-sighted moves the Nets made under King and Prokhrov. What those same people often forget is the Gerald Wallace swap, the one that brought the impending free agent to Brooklyn in February of 2012 for a top-three protected first-rounder, which ended up turning into Damian Lillard. The Nets compounded the mistake by giving Wallace a four-year, $40 million that summer which they later had to give up another pick just to unload. Added all up, it points to an overwhelming sentiment in the organization:
Win now. Get fans now. Create a brand now. 
Now. Now. Now. Now. Now. The pressure of living in the shadow of the Knicks is always present for the Nets, and partly because of that, ridiculous expectations have followed the calls for patience. 
"For us, what is important is that through this position, it needs to fit our strategy," Prohorov said of his GM search, keeping what that strategy was to himself. "This is very important. So, it takes time. That's why I don't want to be in a hurry."
That's a reasonable assertion, until you follow it with something like this: "I'm sure next season, we'll be, I hope, [a] championship contender," Prokhorov said.
"Next season" hasn't come for the Nets so far under Prokhorov. And if "next season" means turning the corner as a contender, the sun might not rise for a while. After all, the forlorn Nets don't have control of their own first-round pick until 2019.
It might not rise at all if the Nets continue on the same trajectory and make some sort of historic offer to convince John Calipari to leave the University of Kentucky and run the organization, continuing to make cosmetic moves instead of foundational ones.
"I criticize myself a lot inside," Prokhorov said. "Some lessons I have already mentioned. Trust me, I have tortured myself more than you."
No one could argue that case with Prokhorov. Given the amount of money he's poured into this team, it's hard to argue he doesn't care. Yet that sense of torture permeates the franchise as a whole and trickles down to the fans. There is no fun to be had in Brooklyn, not to this point. And until there is fun, the Nets can't possibly hope to compete with the Knicks for a single heart in New York. If you can't be good, give your fans something to root for. Brooklyn has neither.
Hopefully, the current state of the organization has taught Prokhorov to loosen the grip, to steer away from a high-profile PR move or a shuffling of deck chairs. But devotion doesn't always lead to the greatest of circumstances. Sometimes, you can squeeze too tight. 
The Nets could bring in every young, cheap free agent and hope one of them sticks. They could welcome a coach known for development and pray he can carry the team back to competence — and certainly, there are coaches out there who fit that description. (Scott Brooks, anybody?) Along the way, they should be resisting every urge to turn the way of the flashy, yet unsuccessful Knicks of recent history, an opposite of what we've seen from the 2015-16 orange and blue.

In the end, the Nets don't need a person. They may lack a GM and a coach, but what Brooklyn should crave is perspective — and some fun couldn't hurt, either.
Fred Katz covers the NBA for FOX Sports. Follow him on Twitter: @FredKatz. 
---
---