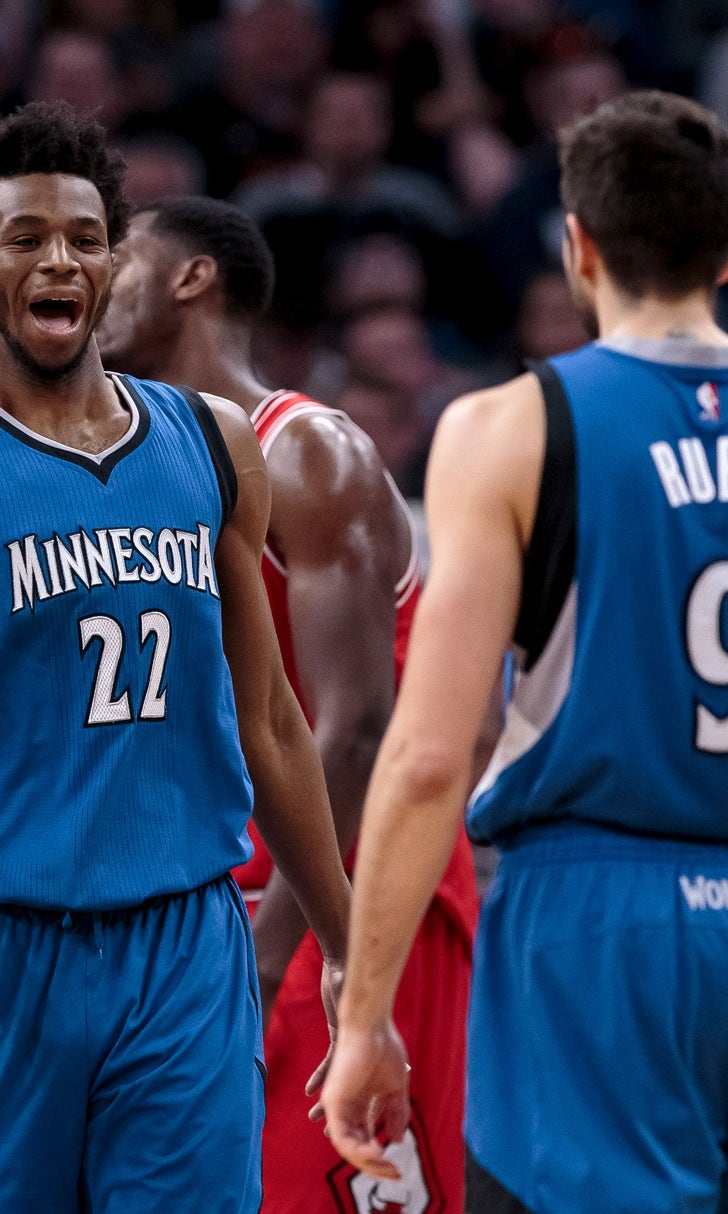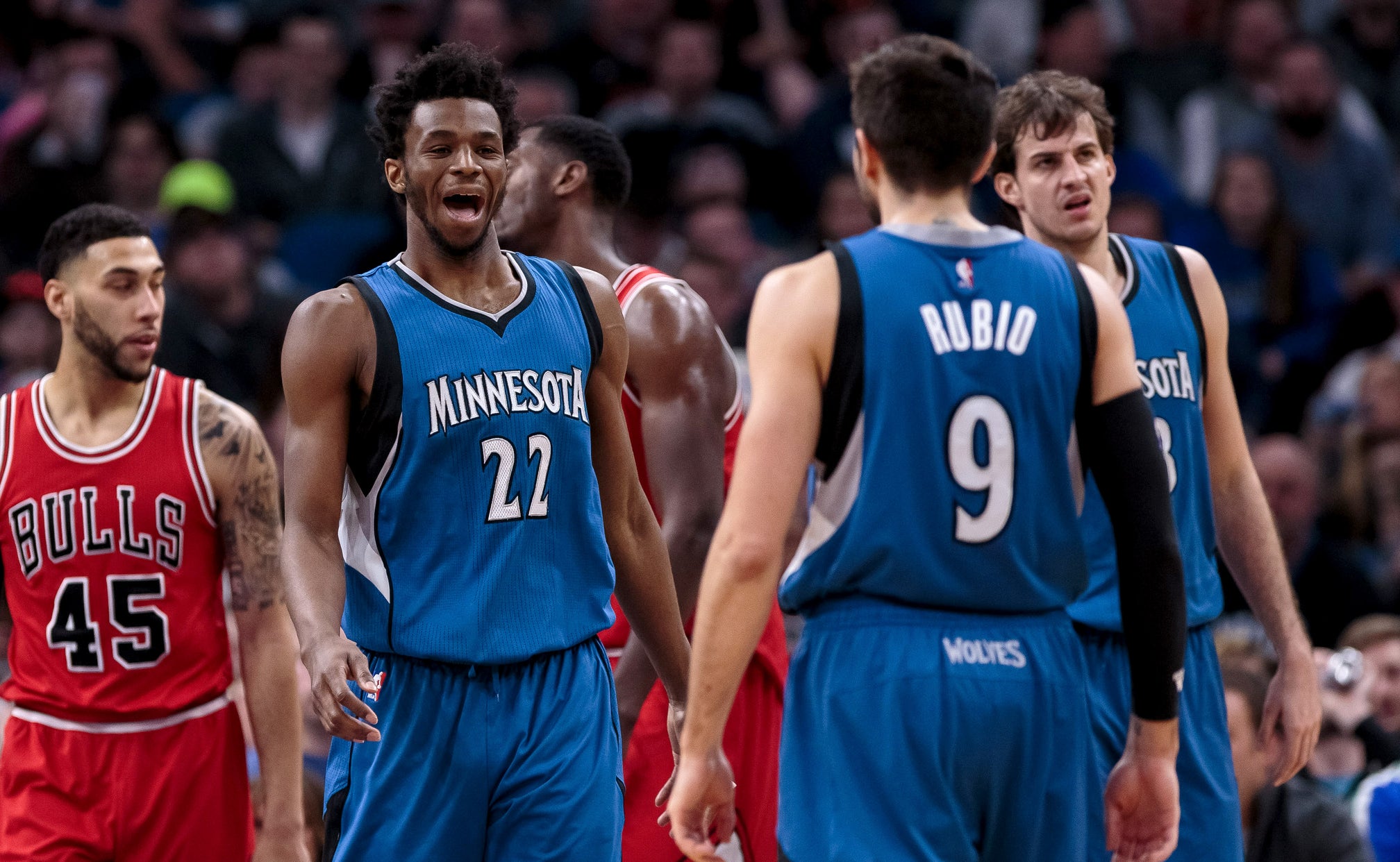 Timberwolves Wrap: A comfortable victory over short-handed Bulls
BY Fansided and Vilius Andrulionis/FanSided via Dunking with Wolves • June 30, 2017
After coming from behind and emphatically taking the victory in Chicago, the Wolves delivered to their fans at Target Center by leaving absolutely no chance for the visitors, winning by a final score of 117-89.
MinnesotaTimberwolves117
ChicagoBulls89
First Half
The Bulls are a team that scores a lot in the paint and with two of their key players out, it was evident that big guys like Taj Gibson and Robin Lopez would carry an even bigger offensive load. That means even more than usual attacks close to the basket, hence defending the paint was absolutely vital.
Double teams and help when containing both Gibson and Lopez worked very effectively from the start. Furthermore, that was combined with skillful sticky perimeter defense — especially by Ricky Rubio — essentially forcing Chicago into taking long bad shots.
On the other end, sharing the ball, fast breaks and smart offensive plays helped Minnesota build a substantial lead. Once again, lots of points came after marvelous passes by Rubio while both shot-fakes and pick-and-rolls effectively terrorized Bulls on countless possessions.
Just before the end of the first, the Wolves gained their biggest lead of the game at 34-17. Andrew Wiggins led the team with 14 points, but the real star of the period was Rubio. He scored nine points and dished out four assists while his prolific defense often caught opposing players off-guard. In the first, Ricky looked like a true floor general, doing it all.
Even with substitutes on the floor at the start of the second period, Timberwolves continued to increase their lead. Shabazz Muhammad once again lead the reserves in scoring, but everyone contributed to successful plays. Newcomer Lance Stephenson showed that he can also be efficient in pick-and-rolls while Nemanja Bjelica and Muhammad effectively made use of one-on-one mismatches.
When the lead got to the highest difference in the contest at 45-19, Chicago attempted a small run of 6-0. Led by similar two-on-two plays between Rajon Rondo and Chicago's big men, the Bulls finally managed to find holes in Minnesota's paint-defense.
At that point, Minnesota's starters came back and everything fell back to its places for a few minutes – same double teams in the paint, forcing difficult contested shots held Chicago scoreless for a while. Similarly, on offense Rubio – Towns duo worked exceptionally well on the same plays as six unanswered points gave Wolves their biggest lead back 51-25. After the teams exchanged two baskets each with the score at 55-29, Wolves fell into somewhat of a hole on both ends. A few shots inside, couple three-pointers and by the end of the quarter Bulls managed to get Minnesota's lead back to 17 at 57-40.
More from Dunking with Wolves
Excluding several minor mistakes, a good defense of the paint was the key for Minnesota's uplifting performance. Wolves managed to outscore Chicago in points in the paint by a tally of 30-20, something they failed to deliver on during the first encounter between the two teams. On the offensive end, ball movement and 13 fast-break points were the difference, as for the most part it made Chicago's players look totally lost and disoriented on defense.
Second Half
The second half started off slowly as the first points were scored by Wiggins from the free-throw line with nearly two minutes in. The Wolves then got back into rhythm and quickly increased their lead once again. After an and-one by Rubio, Minnesota led by a score of 66-41.
Chicago then attempted what was their most successful run of the game and after a 10-0 push led by Doug McDermott, drew to within 15. Due to Minnesota's significantly deteriorated perimeter defense and unusually accurate shooting from beyond the arc, the Bulls managed to hold the margin at roughly the same level for a while and cut it to 13 at one point. However, that was the most Bulls could accomplish. Timberwolves went on a 9-1 streak and rebuilt their lead once again. The difference between the teams after four increased slightly with Timberwolves ahead 84-65.
The fourth quarter started off with a couple of sparks from Rondo, but Wolves didn't have many problems holding on to the lead. Once again, after a a couple of fast breaks, Rubio's court vision, unselfish ball sharing, the Wolves eventually found themselves up by 28. After a yet another simple pick-and-pop play by Rubio and Bjelica, the latter sank a three-pointer and puts the final nail in Chicago's coffin.
The final six minutes of the game were virtually a formality, although Bjelica did play with the same effort as if the score was even. Wolves ended up winning easily 117-89 and sweeping the Bulls for a second year in a row.
Positive Takeaways
All-around performance. I doubt there have been many performances this season in which the Timberwolves managed to do almost everything flawlessly. From the biggest issue in the first encounter – post-defense – to impressive offense – the players executed perfectly on almost every nuance. If Minnesota could play at least 70-75 percent as good, as they did today, on every occasion, they would definitely be in a playoff spot right now. Let's hope this game won't be just a rare spark and the performances will remain at a similar level from now on.
Negative Takeaways
Perimeter Defense in the third quarter. If we want to be picky, the only minor detail that could have been done better was perimeter defense after halftime. While the Bulls are one of the worst three-point shooting teams in the league, they are all professional players with some great snipers. Thus, leaving opponents absolutely open behind the line will most likely result in a made basket. That's exactly what kept happening in the third quarter and what let Chicago stay in the game.
Obviously, defending the post was the most essential thing on Sunday afternoon, but that does not mean you can just allow open jump-shots. A timeout by Tom Thibodeau did fix the issue almost perfectly, which then transformed in another push by the team, one that Bulls couldn't come back from anymore.
Star of the Night
Ricky Rubio: 17 points (5-10 FG, 1-3 3P, 6-6 FT), 11 assists, 6 rebounds, 2 steals, 33 minutes
While both Towns and Wiggins scored more points, it was Rubio who made it look easy for everyone around him. He willingly took shots himself, made countless amazing passes, ran the court faster than anyone else and looked like an elite defender for pretty much all the time he spent on the floor.
This was perfectly illustrated in the end of third quarter. The Bulls went on a fast-break, having an advantage of 4-on-1 Rubio. Not only did the Spanish guard managed to defend his basket, he also forced Chicago to commit a turnover in that situation. And, does 11 assists look like a lot? Well, that is obviously a very good number. Yet, if the teammates would have made use of all the chances created by Ricky, that number could have reached the 20s.
Stat of the Night
Points in the paint — the same as in the last encounter between the two teams. However, there is a huge difference. While in Chicago the Timberwolves managed to win despite scoring 20 points less in the paint, this time they absolutely dominated the post on both ends. Minnesota scored 56 themselves, holding Bulls to merely 38. Against a team that thrives in scoring from just a few feet from the basket, that is a wonderful accomplishment.
Notable Timberwolves Lines
Who's Up Next?
Minnesota now won't play until Tuesday when they host defending champions Cavaliers for the second game of this season's series. After a disappointing performance just a couple of weeks ago in Cleveland Wolves will need to play as well, as they did today if they are thinking about a victory. A lot will depend on Rubio's ability to handle the team against a much tougher opponent than the short-handed Bulls.
This article originally appeared on
---
---