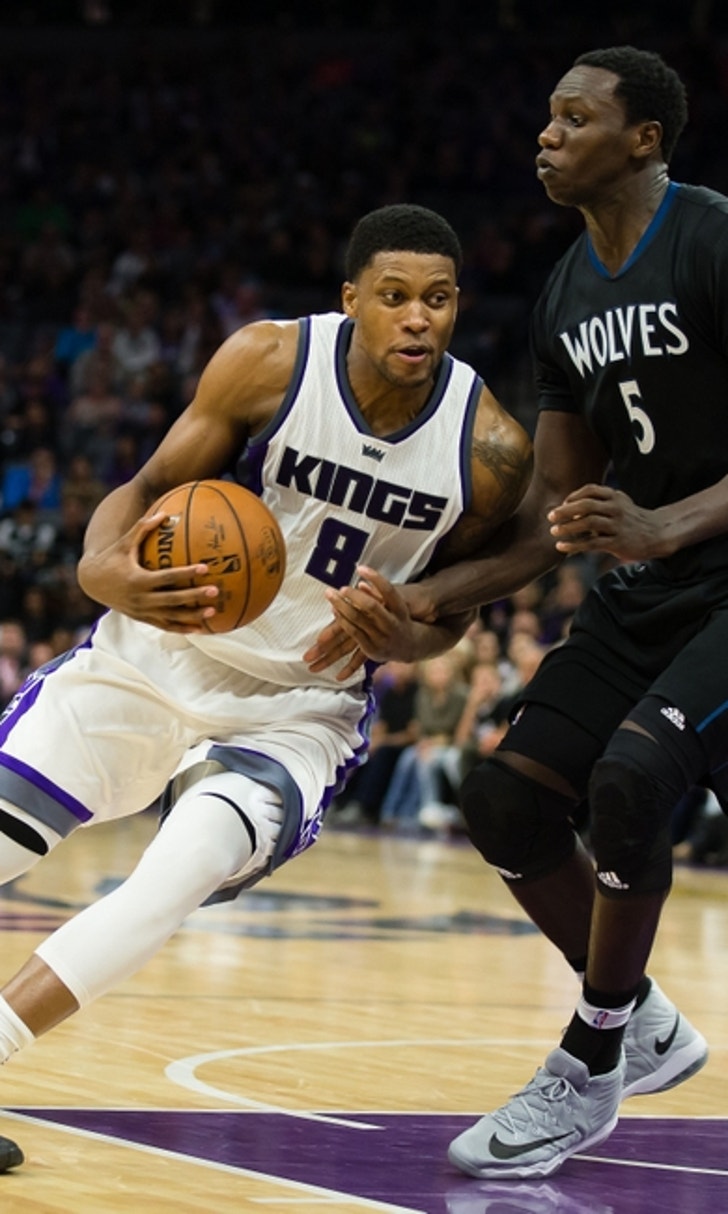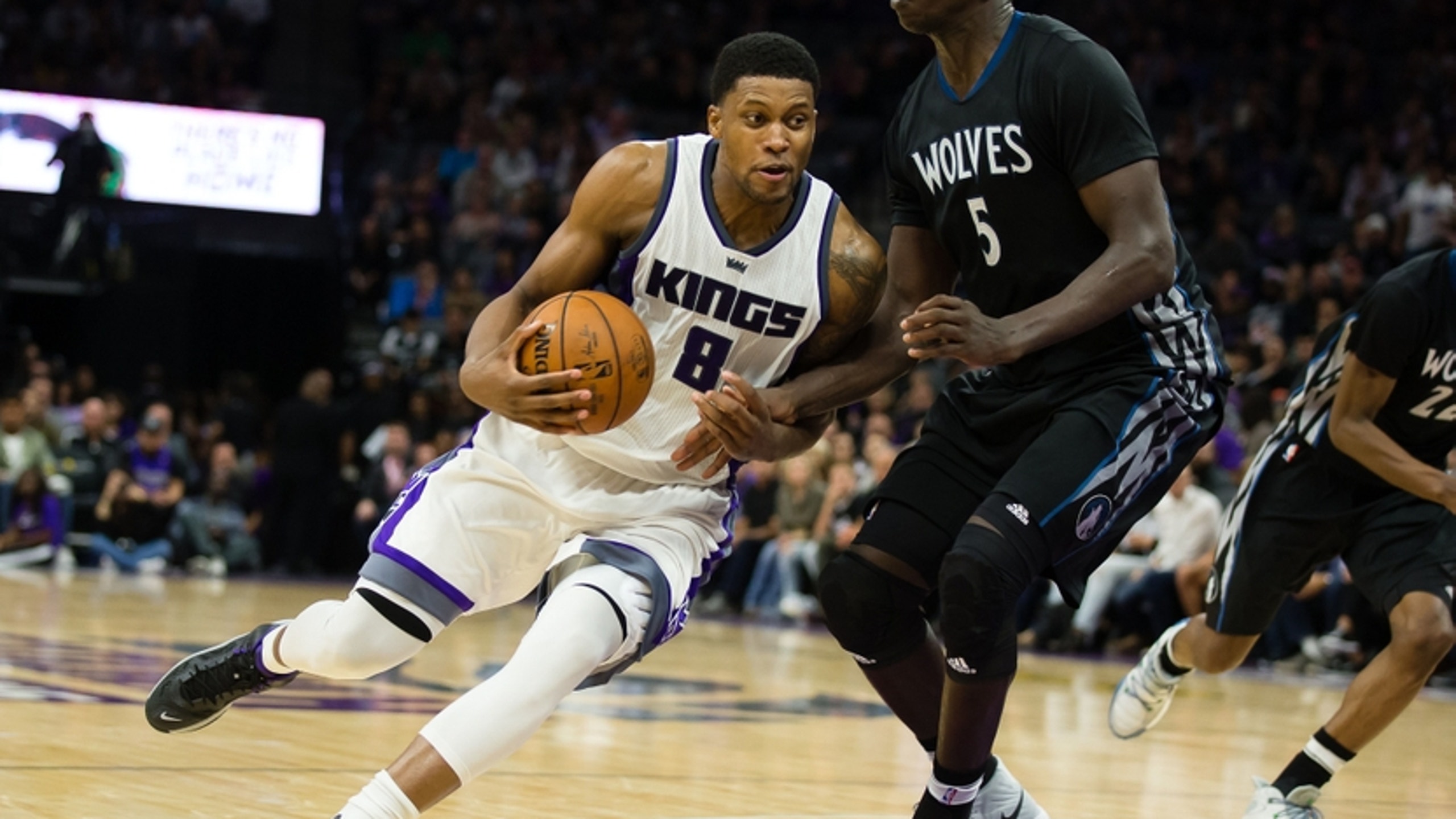 Timberwolves vs. Kings: Looking for three straight...
BY Fansided and Ben Beecken/FanSided via Dunking with Wolves • December 23, 2016
Oct 29, 2016; Sacramento, CA, USA; Sacramento Kings forward Rudy Gay (8) dribbles the ball around Minnesota Timberwolves center Gorgui Dieng (5) during the fourth quarter at Golden 1 Center. The Kings won 106-103. Mandatory Credit: Kelley L Cox-USA TODAY Sports
The Timberwolves have finally won two consecutive games, and making it three in a row would be huge — especially against one of the teams standing between them and a playoff spot.
Somehow, the Timberwolves managed to go until the week of Christmas without a winning streak of even the most modest proportions. And now, suddenly, they have a real shot at winning three straight and four out of five, with a near miss in that fifth game (yes, the collapse against Houston).
The Wolves return home from Atlanta after an impressive road win against a solid Hawks team to host the Sacramento Kings, owners of a 12-17 record.
Minnesota lost to the Kings way back on October 29th in the second game of the season. It was a frustrating three-point loss after dropping the opener in Memphis by four points, and was part of the hideous 1-5 start that was endured.
In theory, the Wolves should match-up nicely with the Kings. With a day's rest, a bit of momentum, and the game being played at Target Center, Minnesota is in a good spot to expand their winning streak.
Apr 7, 2016; Sacramento, CA, USA; Minnesota Timberwolves center Karl-Anthony Towns (32) is fouled by Sacramento Kings forward Rudy Gay (8) in the first quarter at Sleep Train Arena. Mandatory Credit: Neville E. Guard-USA TODAY Sports
Minnesota Timberwolves Preview
Record: 9-19 (4-10 home, 5-9 road)
Starting Lineup
PG – Ricky Rubio (7.1 PPG, 6.9 APG, 4.1 RPG, 1.5 SPG)
SG – Zach LaVine (20.7 PPG, 3.1 APG, 3.1 RPG)
SF – Andrew Wiggins (21.9 PPG, 4.4 RPG, 2.4 APG)
PF – Gorgui Dieng (10.4 PPG, 8 RPG, 1.3 BPG)
C – Karl Anthony-Towns (22.1 PPG, 11.4 RPG, 1.4 BPG)
Key Reserves
The Timberwolves bench continues to have a minimal impact on games. It's due in part to the inconsistent and largely shoddy play that we've seen from the reserves, but they're also hardly playing.
Tom Thibodeau is holding true to form, as Zach LaVine leads the NBA in minutes played and Andrew Wiggins is also in the top-five. On the one hand, it sure seems as though Thibodeau can't afford to leave the likes of Shabazz Muhammad, Nemanja Bjelica, and Kris Dunn on the floor for all too long if he wants to win, but…they've absolutely played better of late.
At some point, the bench has to play more minutes. As we see Dunn improve and Muhammad assert himself a bit more (and probably, eventually, be traded), the Wolves bench should become at least moderately more effective.
Oct 29, 2016; Sacramento, CA, USA; Sacramento Kings guard Ty Lawson (10) scores against Minnesota Timberwolves forward Karl-Anthony Towns (32) during the fourth quarter at Golden 1 Center. The Kings won 106-103. Mandatory Credit: Kelley L Cox-USA TODAY Sports
Sacramento Kings Preview
Record: 12-17 (6-6 home, 6-11 road)
Starting Lineup
PG – Darren Collison (12.5 PPG, 4.3 APG, 2 RPG)
SG – Ben McLemore (6.2 PPG, 1.4 RPG, 0.7 APG)
SF – Rudy Gay (18.6 PPG, 6.2 RPG, 3 APG)
PF – DeMarcus Cousins (29 PPG, 10.7 RPG, 3.3 APG, 1.5 BPG)
C – Kosta Koufos  (5.7 PPG, 5.8 RPG, 0.6 BPG)
Key Reserves
Rudy Gay has missed the past five games due to a hip injury and Matt Barnes has started in his place, but there's a solid chance that he returns to the starting lineup on Friday night.
Cousins was the only member of the starting lineup to reach double-figures in the scoring column last time out as part of an impressive road win over the Jazz. The bench has been solid, with Barnes, Ty Lawson, and Garrett Temple providing the greatest impact.
Omri Casspi is also a key member of the reserve unit, although he's missed the past few games due to an illness.
All things considered, it's a deeper team than the Wolves, and a coach in Dave Joerger who is much more willing to use his bench, as there are eight Kings players averaging north of 20 minutes per game.
Oct 29, 2016; Sacramento, CA, USA; Minnesota Timberwolves forward Andrew Wiggins (22) controls the ball against Sacramento Kings forward Rudy Gay (8) during the first quarter at Golden 1 Center. Mandatory Credit: Kelley L Cox-USA TODAY Sports
Three Things To Watch
1. Dealing with Cousins. When the Wolves traveled to Sacramento way back in October, Cousins tallied what is now almost exactly his per-game averages: 29 points, seven rebounds, four assists, and a steal.
Karl-Anthony Towns was quiet, putting up just 15 points on 12 shot attempts, six rebounds, four assists, two steals, and a block.
They won't always be matched up with each other (Cousins will probably see a lot of Gorgui Dieng), but if the Wolves can slow Cousins down, they'll be in a great position to win on Friday night.
2. The Wiggins Resurgence. Andrew Wiggins followed up an amazing start to the season with a horrific stretch, as we've noted, debated, and discussed many times already here at Dunking With Wolves.
More from Dunking with Wolves
But of late, Wiggins has been solid once again. Over the first 10 games in the month of December, the third-year wing is averaging 20.6 points, 4.8 rebounds, and 2.5 assists per game on 47 percent shooting from the field. While he's still shooting just 28.1 from beyond the arc since that point, he's shooting 5.1 free throws per game and has generally taken better shots within the flow of the offense.
If the Wolves are going to win their third straight game, Wiggins needs to continue to trend upwards.
3.  The battle of momentum. While the Timberwolves are looking for their fourth win in five games amidst a stretch of impressive play, the Kings have won two in a row and four out of their last six, including a win in Salt Lake City on Wednesday night.
Their other recent wins have been solid, too: at home against Portland and at Memphis among them.
The Wolves, on the other hand, have won in Chicago and Atlanta and home against Phoenix — with an initially impressive yet ultimately devastating overtime home loss to Houston mixed in. Which team can keep up the momentum on Friday in Minneapolis?
Dec 21, 2016; Atlanta, GA, USA; Minnesota Timberwolves head coach Tom Thibodeau reacts to a call during the game against the Atlanta Hawks during the first half at Philips Arena. Mandatory Credit: Dale Zanine-USA TODAY Sports
Game Prediction
The Timberwolves should win this game — a dangerous observation, I know. But they match-up well enough with the Kings, should be a better team to begin with, and have been playing better of late.
But Cousins has given the Wolves a lot of trouble over the past few years, save for a handful of games in which Nikola Pekovic handed the Kings' big man his lunch. Towns and Dieng struggled with him last year and again early in the season. We'll see if Thibodeau has a different plan for slowing down the dominant All-Star.
The Wolves will win this one, and after a close game through three quarters, Minnesota will finally pull away from what should be an inferior team in the final frame and win comfortably, 109-98.
---
---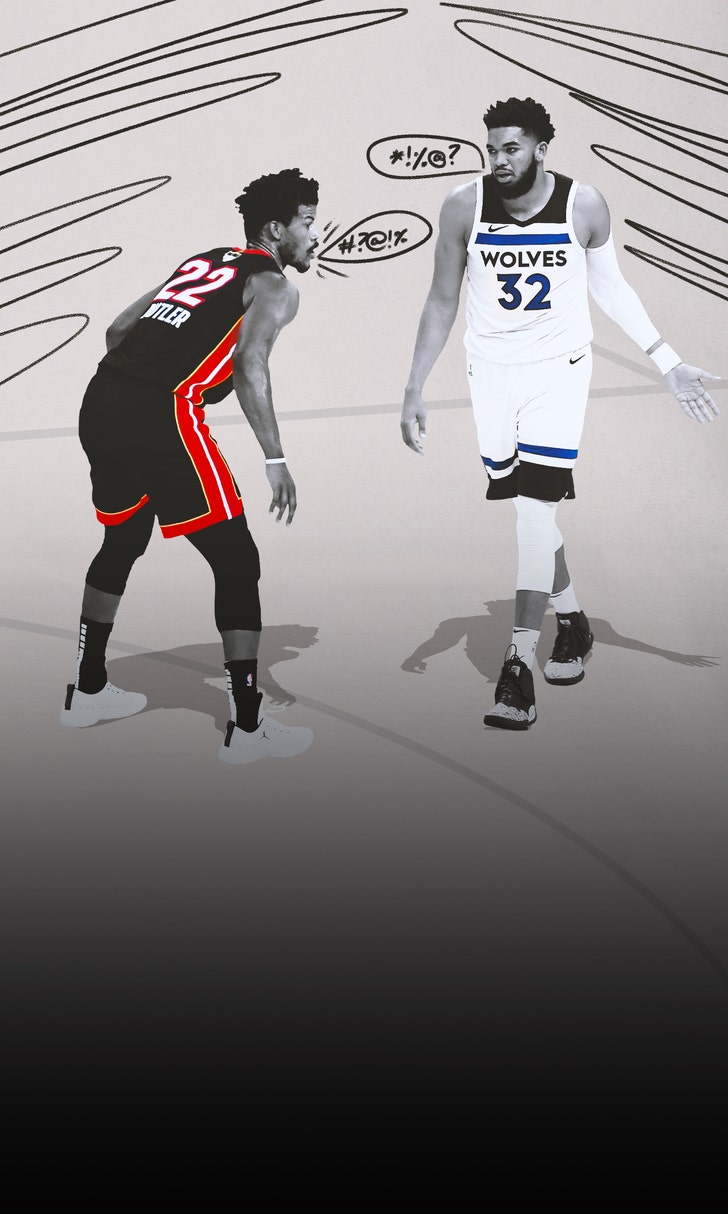 National Basketball Association
Heated History
Heated History
The feud between Jimmy Butler and Karl-Anthony Towns hasn't cooled a bit, as evidenced by their Friday night clash.