Blake Griffin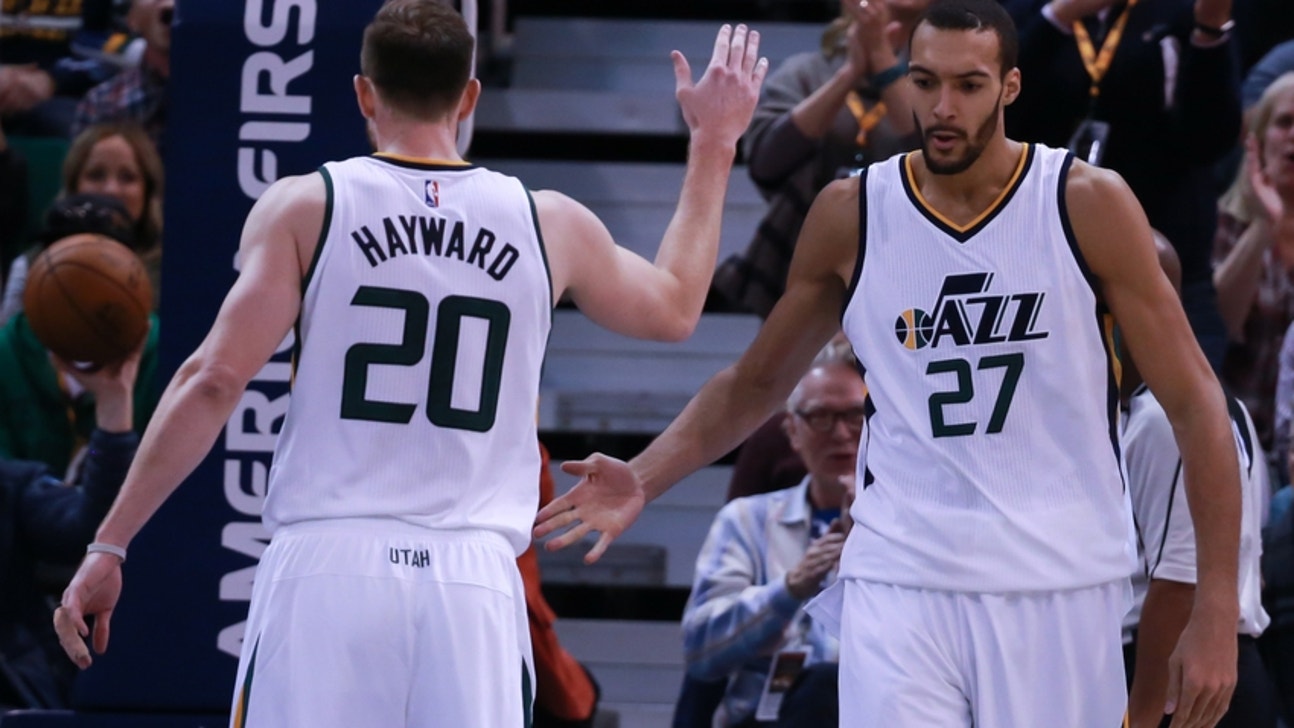 Blake Griffin
Three Utah Jazz Christmas Day Match-Ups We'd Like to See
Updated
Mar. 5, 2020 2:07 a.m. ET

Fansided, Jared Woodcox/FanSided via Purple and Blues
Dec 21, 2016; Salt Lake City, UT, USA; Utah Jazz forward Gordon Hayward (20) reacts after missing a basket in the final seconds of the game against the Sacramento Kings at Vivint Smart Home Arena. The Sacramento Kings defeated the Utah Jazz 94-93. Mandatory Credit: Jeff Swinger-USA TODAY Sports
While several of the 2016 NBA Christmas Day games left a lot to be desired, here's a look at three match-ups featuring the Utah Jazz that could have been a lot more entertaining.
Yet another basketball-filled Christmas Day has come and gone. And while the games always tend to feature big market teams and high-profile players, it doesn't always mean there are going to be great results. With the teams being selected well before the season starts, sometimes a supposed marquee match-up turns out to be a pretty lopsided and boring game.
Of course, it comes as no surprise to Utah Jazz fans that their team wasn't slotted to play on the day. Not only are the Jazz still trying to solidify themselves as a legit playoff contender in the West, but they don't have a large national following, boast no headline super star and also haven't appeared in a Christmas Day game since 1997 where they defeated the Houston Rockets 107-103.
Nevertheless, while this year wasn't Utah's year to receive the Christmas spotlight, their continued improvement may turn some heads and put them in a good spot to receive such a recognition in the near future. To be completely honest, with how fun the Jazz have been to watch this year, it's not unreasonable to say that featuring them in the right match-up would have likely made for a much more exciting outcome than some of the ones we got in Sunday's contests.
Of the five games, the Knicks vs. Celtics game at least had a relatively exciting finish and the Cavs vs. Warriors game was undoubtedly the most thrilling of the bunch and really the only true marquee game of the day. However, the other three contests – Spurs vs. Bulls, Thunder vs. T-Wolves and the Lakers vs. a Chris Paul and Blake Griffin-less Clippers team – didn't exactly make up for the most thrilling of contests.
Therefore, with three mediocre contests in yesterday's slate, here's a look at three potential match-ups involving the Utah Jazz that would have made for more exciting games, not only for Utah fans, but for NBA fans around the world.
Nov 29, 2016; Salt Lake City, UT, USA; Utah Jazz center Rudy Gobert (27) tries to get past Houston Rockets center Nene Hilario (42) and to the basket during the third quarter at Vivint Smart Home Arena. Utah Jazz win 120-101. Mandatory Credit: Chris Nicoll-USA TODAY Sports
Utah Jazz & Houston Rockets
As I alluded to previously, the Houston Rockets were Utah's opponent the last time they played on Christmas Day nearly 20 years ago and it was a good one. In a game that featured the likes of John Stockton, Karl Malone and Jeff Hornacek against Clyde Drexler and Charles Barkley, the Rockets got off to a fast start, but the Jazz outscored them by 10 points in the middle two quarters to pull out a four-point victory in the end.
Stockton scored 24 points while Malone and Hornacek each added 20. Ah, those were the days.
But enough of the reminiscing, the Jazz and Rockets have had a lot of history with one another, from the Stockton-Malone days to the battles in the Western Conference playoffs between D-Will and Co. against Tracy McGrady's Houston team to last year's hotly contested games and a neck-and-neck playoff race which eventually saw Utah fall one game short.
Yes, these two teams have certainly been at each other for years. There's even a Wikipedia page entitled Jazz-Rockets rivalry. If that doesn't make things real, I don't know what would.
And both this year and last, the games between Utah and Houston have been some of the most exciting of the season. In four games last season, three of them were decided by three points or less with one going to overtime. With both of these teams grappling for a playoff spot, each time they took the court it felt like a playoff game in and of itself.
So far this year the games haven't been quite as tightly contested as the home team has come away with a relatively easy victory in both games, but history suggests that these two teams would provide a great match-up for basketball fans on the NBA's marquee day.
Plus besides, this time around both the Jazz and Rockets are in the thick of the Western Conference standings, so this game would certainly hold a lot more meaning than it might have in recent years.
So this is my top Utah Jazz-featuring option that could have easily replaced one of the 2016 Christmas Day doozies such as the Spurs vs. Bulls game that really wasn't that close of a contest or ever that intriguing of a match-up.
December 20, 2016; Oakland, CA, USA; Utah Jazz guard Dante Exum (11) dribbles the basketball against Golden State Warriors guard Stephen Curry (30) during the third quarter at Oracle Arena. The Warriors defeated the Jazz 104-74. Mandatory Credit: Kyle Terada-USA TODAY Sports
Utah Jazz & Golden State Warriors (In SLC Only)
I know what you're thinking. The Cavs vs. Warriors game was the real treat of Christmas Day and just days before that contest, Utah was dismantled by the Warriors in embarrassing fashion. Nevertheless, if the defending conference champions hadn't been matched up, it would have been hard to find a better match-up to intrigue fans than a game against the Warriors.
If it took place in Salt Lake City that is.
Since the 2014-15 season, the Jazz have been manhandled by the Warriors on the road, losing to them by an average of 19.4 points in five contests at Oracle Arena. However at home it's been an entirely different story. In five games, the Jazz have only lost to the Warriors by an average of 3.6 points which included a win (in 2014-15), a miss at the buzzer and an overtime contest (both in 2015-16).
Thus while the Jazz have looked hapless at Golden State, they have challenged the Warriors in a big way within Vivint Smart Home Arena over the past couple years. And as the Warriors bandwagon keeps on rolling, more and more people are also jumping onto the anti-Warriors bandwagon as well and relish in every Golden State loss.
And what better way for them to celebrate Christmas than to watch a hotly contested match-up between the Warriors and the irritating underdog Jazz who have continued to give Golden State a run for their money in Salt Lake City. The Jazz probably wouldn't win this contest (at least not this year) but it would still likely make for an exciting game.
And given that the Jazz were beat out for a Christmas Day game by two other small market teams in the Oklahoma City Thunder and the Minnesota Timberwolves who, by the way, gave us one of the least exciting match-ups of the day, I don't have a hard time speculating that Jazz vs. Warriors in SLC would have been a bit more interesting.
I'm perfectly fine with OKC playing on Christmas, because Russell Westbrook has a knack of making any game exciting. However, given the fact that even prior to the season, it was quite apparent that Minnesota was still a couple years behind the Jazz in terms of development and progression, I'm disappointed that they would earn a Christmas Day bid based nearly entirely on unproven hype.
Of course the Jazz still have plenty to prove themselves, but if Minnesota can supposedly earn a selection, I'd like to think there's no reason why Utah can't be the next small market team to do so.
Particularly as they continue to improve, there's no reason why this or any other match-up against the Jazz couldn't provide a thrilling Christmas Day contest for fans everywhere.
Oct 25, 2016; Portland, OR, USA; Utah Jazz center Rudy Gobert (27) reacts after dunking against the Portland Trail Blazers in the second half at Moda Center at the Rose Quarter. Mandatory Credit: Jaime Valdez-USA TODAY Sports
Utah Jazz & Portland Trail Blazers
Although the Portland Trail Blazers haven't exactly been monumental this season and actually find themselves a game out of the playoff picture, they are still a longtime division rival of the Utah Jazz and the two teams have given basketball fans some extremely entertaining and tense games over the past few seasons.
In 2014-15, three of the teams' four contests were decided by five or fewer points and the games have gone both ways with Utah coming out on top in some and Portland stealing the win in others.
Plus the divisional rivalry of these two opponents always seems to create a fun atmosphere as both squads are quite familiar with one another. Also, while Portland may be out of the playoff picture for the moment, with studs such as Damian Lillard and C.J. McCollum on their team, I fully expect them to get things turned around and once they do, the Jazz and Blazers could be in fierce contention for playoff seeding late in the season.
Setting up that intensity with a Christmas Day game would likely result in an exhilarating match-up for all kinds of basketball fans. Much more exhilarating, anyway, than watching a struggling Lakers team take on a Clippers team missing its best two players in Chris Paul and Blake Griffin, which is what we got this year.
While the injuries obviously couldn't have been foreseen and the LA match-up definitely attracted a lot of eyeballs from a big market, if we're strictly speaking quality of basketball, then I think there's plenty of folks who would agree with me that featuring the Jazz would lead to a much more competitive game than what the Lakers typically could have mustered against a full-strength Clippers squad.
More from Purple and Blues
So while it comes as no surprise, it's still somewhat disappointing that the Utah Jazz once again weren't featured among the Christmas Day games despite working to prove themselves as a top Western Conference team and one of the more enjoyable and competitive squads to watch.
It's an uphill battle if the small market Utah team is determined to get a chance to play on Christmas, but I don't think it's much of a stretch at all to say that these three match-ups featuring the Jazz that I mentioned would have been significantly more exciting than three of the five games we were treated to on Christmas Day.
Hopefully, a good second half of the season and a strong playoff push will transfer the Jazz over to the "Nice List" for next year and they can finally find themselves once again taking the national stage among the NBA's marquee Christmas games.
---
---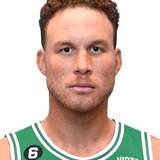 Get more from Blake Griffin
Follow your favorites to get information about games, news and more
---