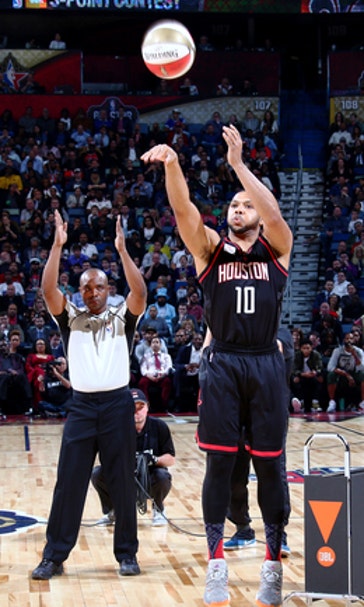 The Latest: Robinson wins dunk contest, caps Saturday events
February 18, 2017

NEW ORLEANS (AP) The Latest on Saturday's NBA All-Star events (all times local):
9:25 p.m.
Glenn Robinson III of the Indiana Pacers is the All-Star slam dunk champion.
Robinson beat Derrick Jones Jr. of the Phoenix Suns in the final round. Robinson clinched the win with a perfect 50 on the final dunk of the night - going over three people for a reverse dunk and nearly touching his head on the rim in the process.
Robinson and Jones embraced when it was over, and Robinson went over to shake hands with judges.
''This is just the beginning for me,'' Robinson said.
Robinson started with a dunk where he leaped over Indiana teammate Paul George, grabbing the ball from the All-Star before his slam that merited 44 points.
Jones failed to go over three people - or rather, one man, one Suns dancer and Suns' mascot The Gorilla - and get a dunk down in his first attempt of the finals, yet got 37 points. His second attempt, an off-the-bounce, between-the-legs slam, was a perfect 50.
DeAndre Jordan of the Los Angeles Clippers and Aaron Gordon of the Orlando Magic were eliminated in the first round. Gordon finished second to Minnesota's Zach LaVine in last year's contest.
---
9:05 p.m.
The dunk contest is underway, and the props are out.
DeAndre Jordan jumped over a turntable, and DJ Khaled - who, of course, captured the whole thing on his Snapchat. Derrick Jones Jr. jumped over four teammates, though got a boost from the shoulder of one of them. Glenn Robinson III went over two people, one on the shoulders of the other and pulled off easily the best dunk of Round 1.
As for the pre-contest favorite, Aaron Gordon?
He broke out a drone.
Gordon needed three tries before getting a ball-dropped-from-drone, take it off the bounce, between the legs dunk down. The judges weren't impressed, and he trails after Round 1.
---
8:45 p.m.
With some long-range shots and a Shaq-aided slam, the SagerStrong Foundation has received a $500,000 donation.
Following a tribute to Craig Sager after the 3-point contest, TNT broadcaster Ernie Johnson came onto the court with champion Eric Gordon and finalists Kyrie Irving and Kemba Walker. Johnson said $10,000 would be donated to the charity for each shot they made in a minute.
Then TNT analyst Reggie Miller, one of the great 3-point shooters in NBA history, said he wanted to get involved, bringing with him onto the court All-Stars James Harden and DeMar DeRozan, WNBA champion Candace Parker and actors, including Anthony Anderson and Michael B. Jordan.
They combined for 13 makes for $130,000, and Johnson then offered to raise it to $500,000 if two-time MVP Stephen Curry could make a halfcourt shot. Curry missed his attempts, but Shaquille O'Neal then hoisted Sager's youngest son, Ryan, up so he could dunk to earn the total.
Craig Sager died in December at 65 after battling a form of cancer. He was announced earlier Saturday as a Curt Gowdy Media Award winner by the Naismith Memorial Basketball Hall of Fame.
---
8:25 p.m.
Houston's Eric Gordon has dethroned Golden State splash brother Klay Thompson as the NBA All-Star 3-point contest champion.
And he did it in New Orleans, where he played the previous five seasons before leaving last summer in free agency.
Gordon's score of 21 in a final-round tie-breaker defeated Cleveland's Kyrie Irving, the 2013 winner who had 18. The pair had each finished with a score of 20 in the final round, meaning they each had to shoot 25 more balls to decide it.
Thompson was stunningly eliminated in the first round, missing a final shot from the corner that could have put him through ahead of Walker.
---
7:40 p.m.
Big men continue to reign supreme in the NBA All-Star Saturday night skills competition.
New York Knicks 7-foot-3 forward Kristaps Prozingis won it, beating Utah's Gordon Hayward in the finals.
Those vanquished in earlier rounds included guards John Wall of Washington and Isaiah Thomas of Boston, both because they couldn't make their initial 3-pointers required to close out the course before Hayward did.
Porzingis emerged from the big-men's division that included the Pelicans' Anthony Davis and Denver's Nikola Jokic.
Porzingis and Hayward were neck and neck until the end of the course, but Porzingis hit his 3 first to end it.
The three-round, obstacle-course competition tests dribbling, passing, agility and shooting skills.
---
6:25 p.m.
NBA Commissioner Adam Silver says the league remains in a very good place, citing the continued international growth of the game and successes from a business standpoint.
Silver gave his annual All-Star Saturday night address, saying ''the state of the league is as good as it's ever been.''
A new seven-year collective bargaining agreement that assures labor peace for the foreseeable future is completed, the league is making forays into the eSports world and there's never been more international players in the NBA than there are now.
Silver says about 25 percent of the NBA's players were born outside of the U.S., up about 5 percent from recent years and predicted that number will continue rising.
He also lauded the way New Orleans was able to arrange to host All-Star weekend on relatively short notice. This weekend's events were to be held in Charlotte, before they were moved in response to the state's law regarding protections for the LGBT community. New Orleans was introduced as the new host in August.
---
5:20 p.m.
New Orleans is a happening place this weekend.
There's the All-Star festivities - around a little thing called Mardi Gras. Some of the streets around the Superdome and the Smoothie King Center, the two primary All-Star event venues, were blocked off Saturday afternoon for parades. And there were a couple of fairly large conventions in New Orleans in recent days, so hotels have been busy.
Other streets in the area have been closed since Thursday, to help both residents and visitors figure out different traffic patterns needed to help accommodate two major simultaneous events.
New Orleans center Anthony Davis offered his fellow All-Stars a tongue-in-cheek suggestion on how to handle Mardi Gras and the big crowds: Stay away, he said.
He wasn't serious, and Los Angeles Clippers center DeAndre Jordan wasn't deterred, either.
''I probably won't listen to him,'' Jordan said.
---
4:10 p.m.
Behind MVP Quinn Cook, the East team edged the West 105-100 in the NBA D-League All-Star game at the Superdome.
Cook, the former Duke standout playing for the Canton Charge, led all scorers with 18 points on 7 of 10 shooting, including 4 for 6 from 3-point range. He also had a game-high 12 assists.
Alfonzo McKinnie of Chicago's Windy City Bulls scored 16 points for the East, and Edy Tavares of Raptors 905 - Toronto's affiliate - led all rebounders with 11.
Justin Harper of the Los Angeles D-Fenders paced the West with 17 points. Vander Blue of the D-Fenders scored 15.
In the D-League skills competition, guard Scott Wood of the Santa Cruz Warriors won the 3-point shootout, while forward Troy Williams of the Iowa Energy took the slam dunk contest.
---
12:25 p.m.
LeBron James has arrived at All-Star weekend.
The Cleveland star and three-time NBA champion is on the floor for Eastern Conference All-Star practice. He missed Friday's All-Star events while tending to a family matter.
James tossed a T-shirt into the screaming crowd as he walked out to start practice, sending fans straining to catch the freebie. It's the 13th All-Star weekend for James, the most of anyone in Sunday night's contest.
Says East coach Brad Stevens, ''Watching these guys, everyone should love it.''
---
11:15 a.m.
Russell Westbrook and Kevin Durant are on the floor together - though they started on opposite ends.
The Western Conference All-Stars are practicing at the Superdome, and interaction between Westbrook and any of the Golden State Warriors has been limited at best. The four Golden State All-Stars started warming up at one end of the floor, while Westbrook went to the other.
Stephen Curry eventually came down to the end of the court where Westbrook was shooting, and not long after that West coach Steve Kerr of Golden State summoned the whole team to one end of the floor. He told the team to run a little bit of five-man weave, ''to pretend like we're practicing.''
---
10:25 a.m.
Rollie Massimino, who coached Villanova to the 1985 NCAA championship, and Chris Webber are among the 14 finalists for this year's Basketball Hall of Fame induction class.
Others include NBA referee Hugh Evans, Connecticut star Rebecca Lobo, two-time NBA scoring champion Tracy McGrady, five-time All-Star Sidney Moncrief, Baylor women's coach Kim Mulkey, Kansas coach Bill Self and two-time NBA champion coach Rudy Tomjanovich.
Previous finalists returning to the ballot include point guard Tim Hardaway, record-setting high school coach Robert Hughes, Notre Dame women's coach Muffet McGraw, former Wisconsin coach Bo Ryan and 10-time AAU national champion Wayland Baptist University.
Enshrinees will be announced at the Final Four on April 3. The induction ceremonies in Springfield, Massachusetts are Sept. 7-9.
---
---