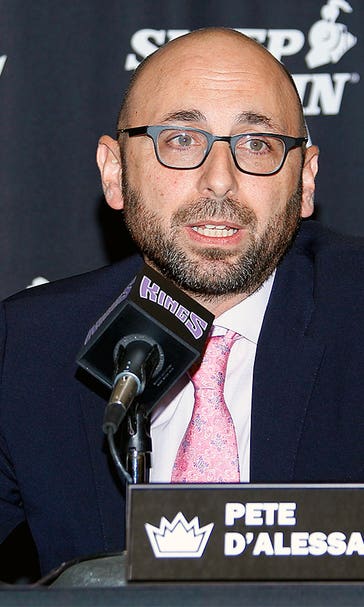 The Kings front office is so darn messy
June 11, 2015

The Kings are hardly known for stability at this point.
They went through three coaches (Mike Malone, Tyrone Corbin and George Karl) this season. They hired Chris Mullin to work in the front office a years ago. Now, he's gone. They hired Pete D'Alessandro. Now, he's gone. They've brought in Vlade Divac. We'll see how long he lasts. 
The Kings are out of control. And SB Nation's Tom Ziller says we haven't even realized the half of it:
Click here to read Ziller's full piece with loads of insight on the Kings' culture. 
What's going on in Sacramento probably starts at the top, but the front office and coaching attrition can't be an attractive trait for future potential employees of the organization.
(H/t to SB Nation's Tom Ziller.)
Photo Credit: Rocky Widner/NBAE via Getty Images
D'Alessandro is a smart, process-driven executive with a really interesting career path, but it's clear he's not cut out to thrive in a Vivek Ranadive business. The Kings' franchisee has never stopped tinkering with his front office since acquiring the team in May 2013, eventually adding enough members that no one outside the walls really knew who reported to whom. (The midseason hiring of George Karl, a known personnel meddler from the sidelines, only complicated the issue.) D'Alessandro showed his hand by offering a "no comment" when asked about Divac's arrival once it became clear Vlade would be more a decision-maker than a community ambassador.

This is the craziest thing about Divac's arrival: According to league sources, no one but Divac and Ranadive actually understood he'd be in a powerful basketball operations position until a few days after the announcement. It was assumed that because Divac has extremely limited front office experience -- one year as a scout for the Lakers -- and deep business connections, he'd be a glad-hander instead of a personnel boss. Even folks in the front office, according to sources, were unclear Divac had personnel power until the big man said as much in the media and Ranadive confirmed. Imagine getting a new boss and not realizing it until a few days after s/he arrives. That's some serious professional whiplash.

Likewise, Chris Mullin -- an adviser to Ranadive officially, and unofficially D'Alessandro's mentor as someone who knows everyone in the league -- stayed mum when Divac arrived. Eventually, Mullin bailed without fanfare to coach his alma mater, St. John's University in New York. According to Yahoo!'s Adrian Wojnarowski, D'Alessandro almost followed him to serve as athletic director.
---
---