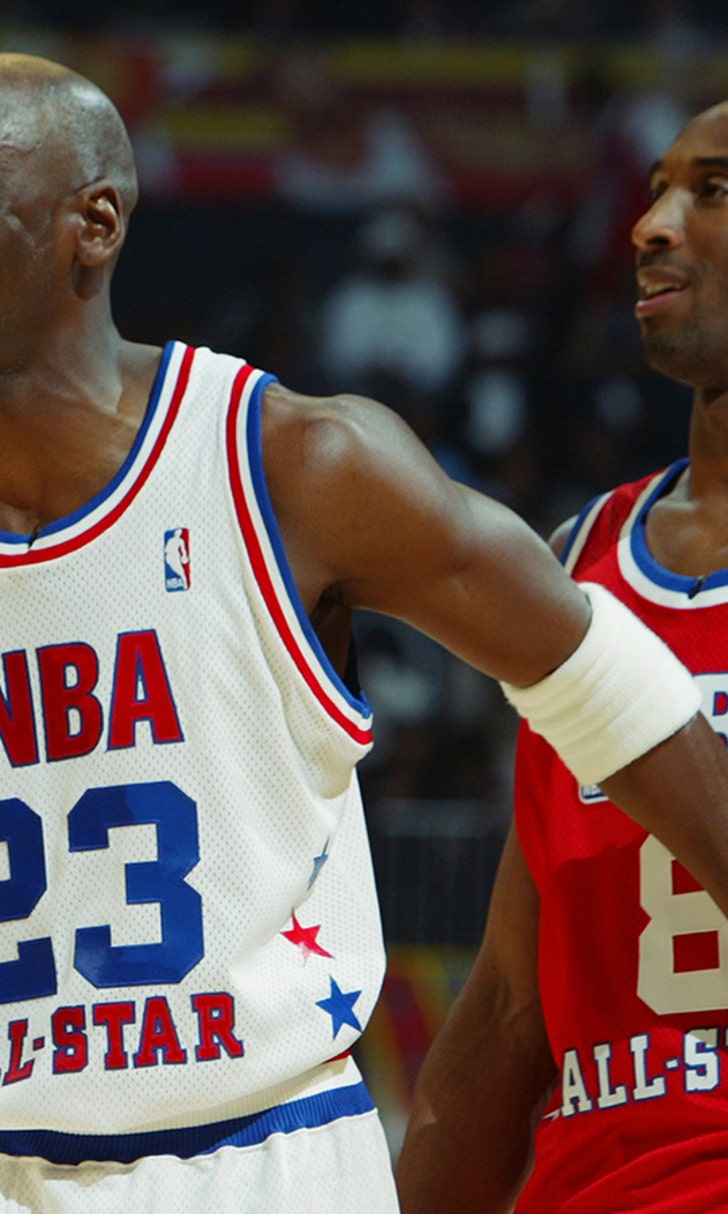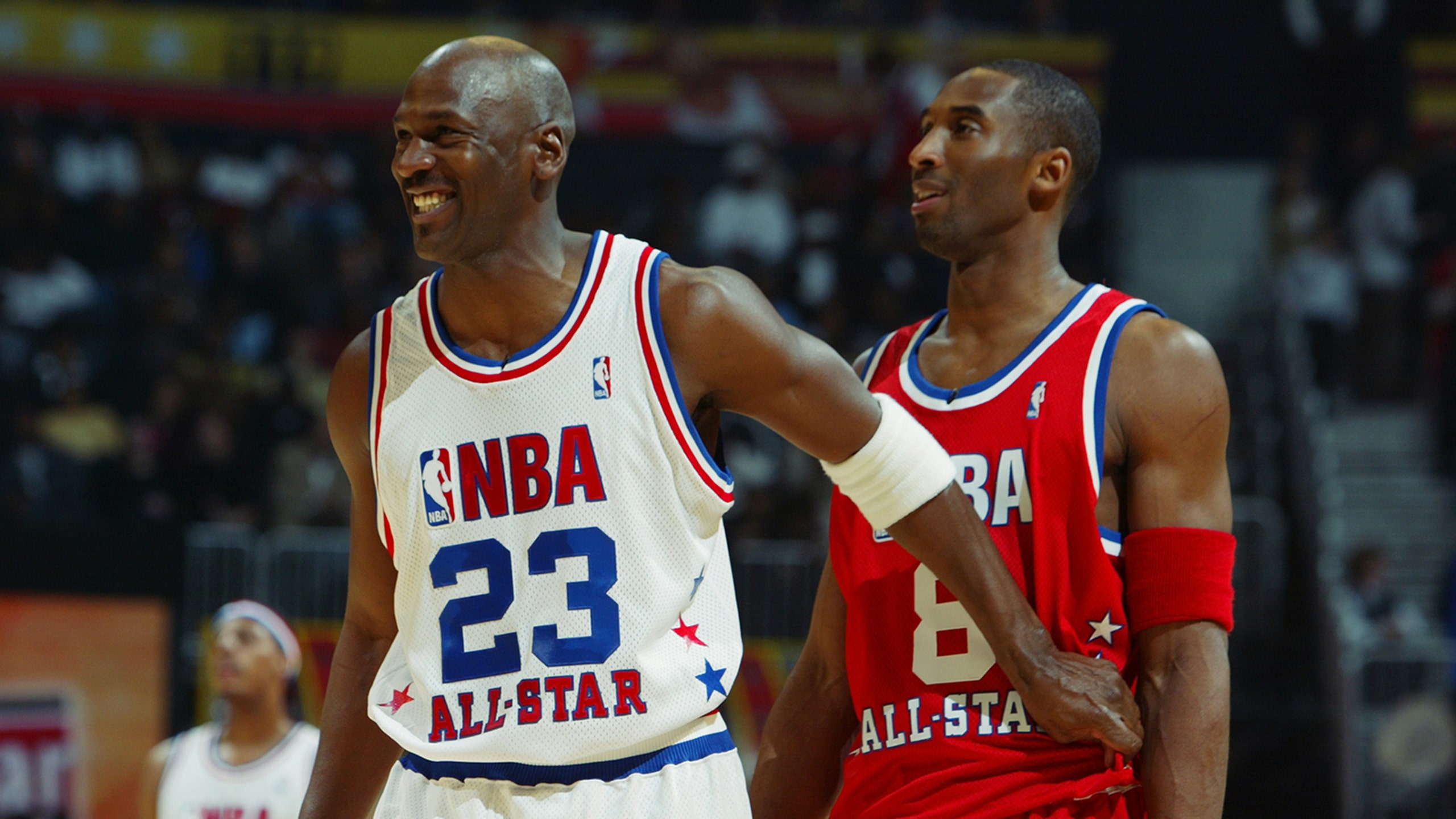 #tbt: MJ and Kobe trash-talk each other at 2003 All-Star Game
BY Jovan Buha • January 28, 2016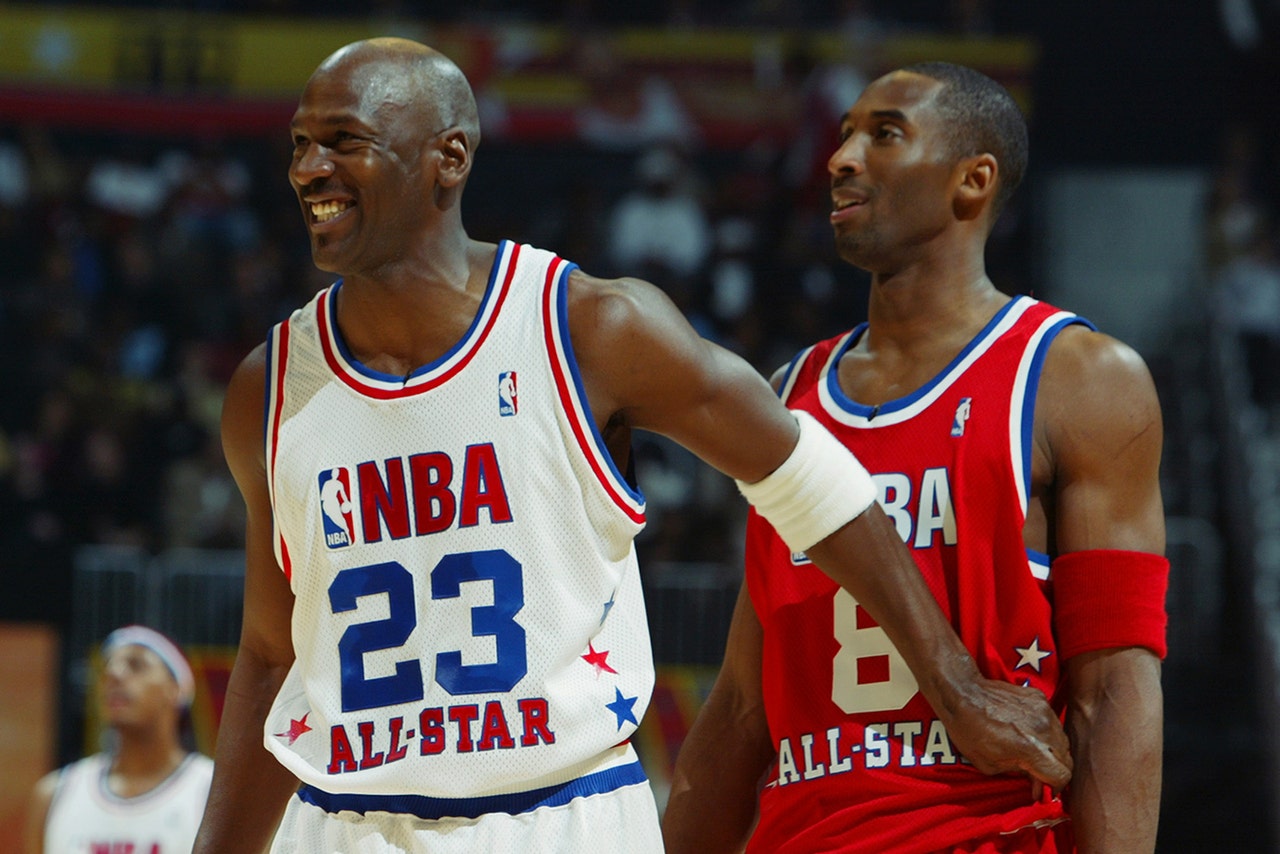 Kobe Bryant is the closest thing we've ever seen to another Michael Jordan.
From their patented fadeaway jumpers, to their historic competitive drive, to their confrontational nature with their teammates, to even the way the rest their hands on their knees and chew gum, the similarities between Jordan and Bryant are uncanny. Heck, even their heights and builds are the same.
Jordan has admitted that Bryant -- not LeBron James or any other elite player -- is the only player who deserves comparison to him. 
But with Jordan retiring from 1998 to 2001, and then again in 2003, it's frustrating we never really got a chance to see Jordan and Bryant face-off in their respective primes (Jordan was still in his in 1998, but was clearly a different -- though still elite -- player when he returned in 2001). 
All we can do is sit back and reminisce on one of their most iconic encounters: The 2003 All-Star Game in Atlanta.
The matchup was significant because it marked Jordan's final All-Star Game -- he retired for the third and final time after the 2002-03 season -- and Bryant entering his prime as the game's most devastating two-way perimeter force. 
Bryant (22 points on 8-of-17 shooting to go along with 7 rebounds and 6 assists) outplayed Jordan (20 points on 9-of-27 shooting) in the contest, but the highlight of the night was the trash-talking between the two that was subsequently released by the NBA about a decade later:
In case you couldn't make out what they were saying or wanted to read it, here is a transcript of their three recorded interactions:
"That's a foul all day long," Jordan says.

"Oh, I know you ain't talking," Bryant quips. "I know you ain't talking."

"Hey, you've only got three [championships.] I've got six. I will get that foul. You've only got three now," Jordan says.

[Bryant laughs]

***

"I know what you're doing. You've got to get up quicker," Bryant says.

"If you knew where I was going, then why did you go for the fake?" Jordan asks.

"Mike, after you fake the ball, where else are you gonna go?" Bryant replies.

"You left your feet," Jordan says.

"Yeah. But where else are you gonna go?" Bryant says.

"In the game, I'll go for you," Jordan says.

"I spun all the way around," Bryant says.

"I'll go for these ribs right here," Jordan says [points to Bryant's chest and ribs].

***

"Three. Two. One," Jordan counts down.

[Bryant nails a jumper in Jordan's grill.]

"It's alright. I shoot better with the clock going down," Bryant says.
This is everything. It's perfect. Jordan flaunting about having more rings (which will finish as a 6-5 advantage). Bryant saying he knows Jordan moves before he does them. That's the mentality that makes both players such legendary competitors. 
Bryant got the last laugh in this one, with the West defeating the East in double overtime, 155-145. But one can assume Jordan got over the loss when he went home and counted his rings.
Jovan Buha covers the NBA for FOX Sports. Follow him on Twitter at @jovanbuha.
---
---