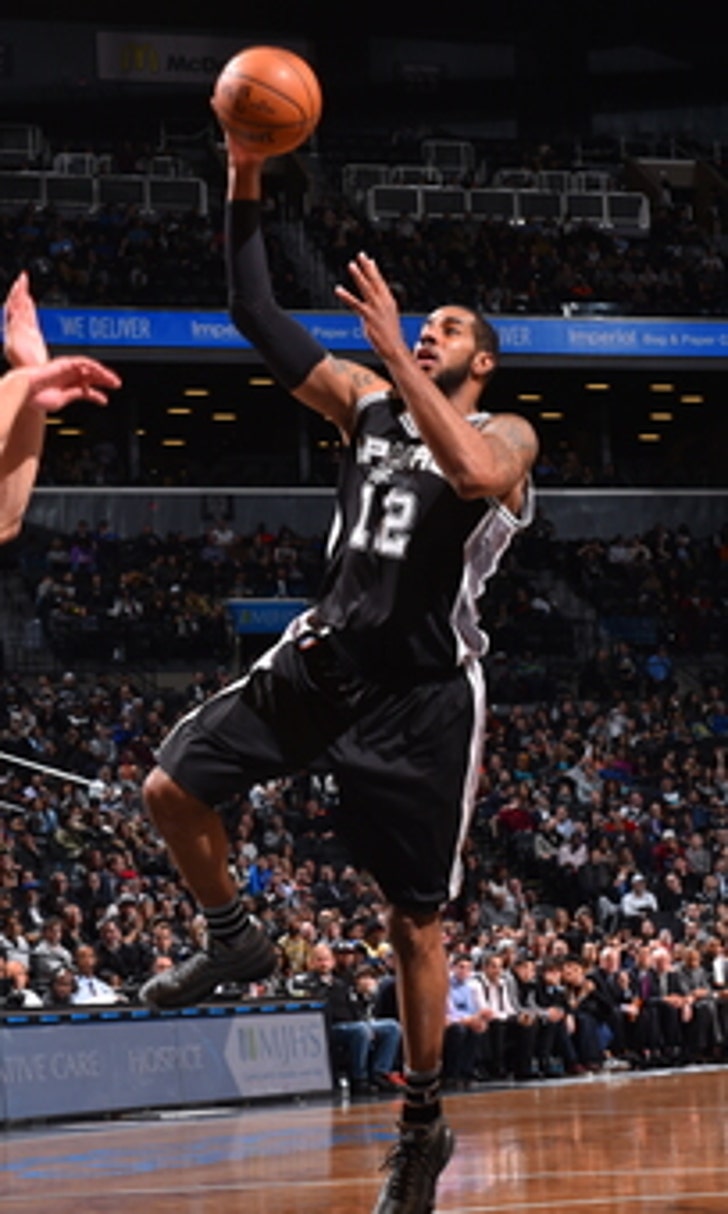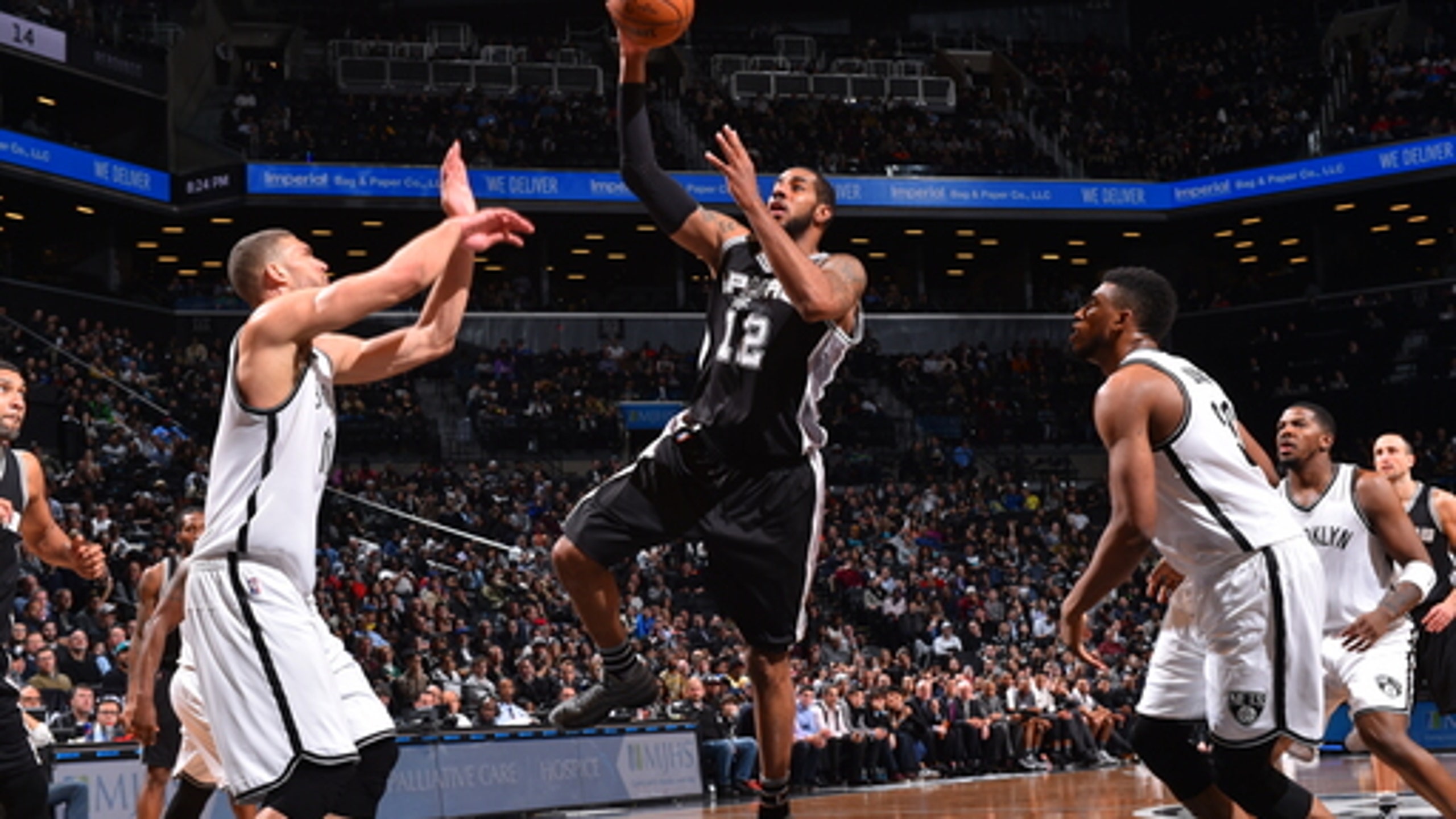 Spurs win 8th straight in Nets' first game since shake-up
BY foxsports • January 12, 2016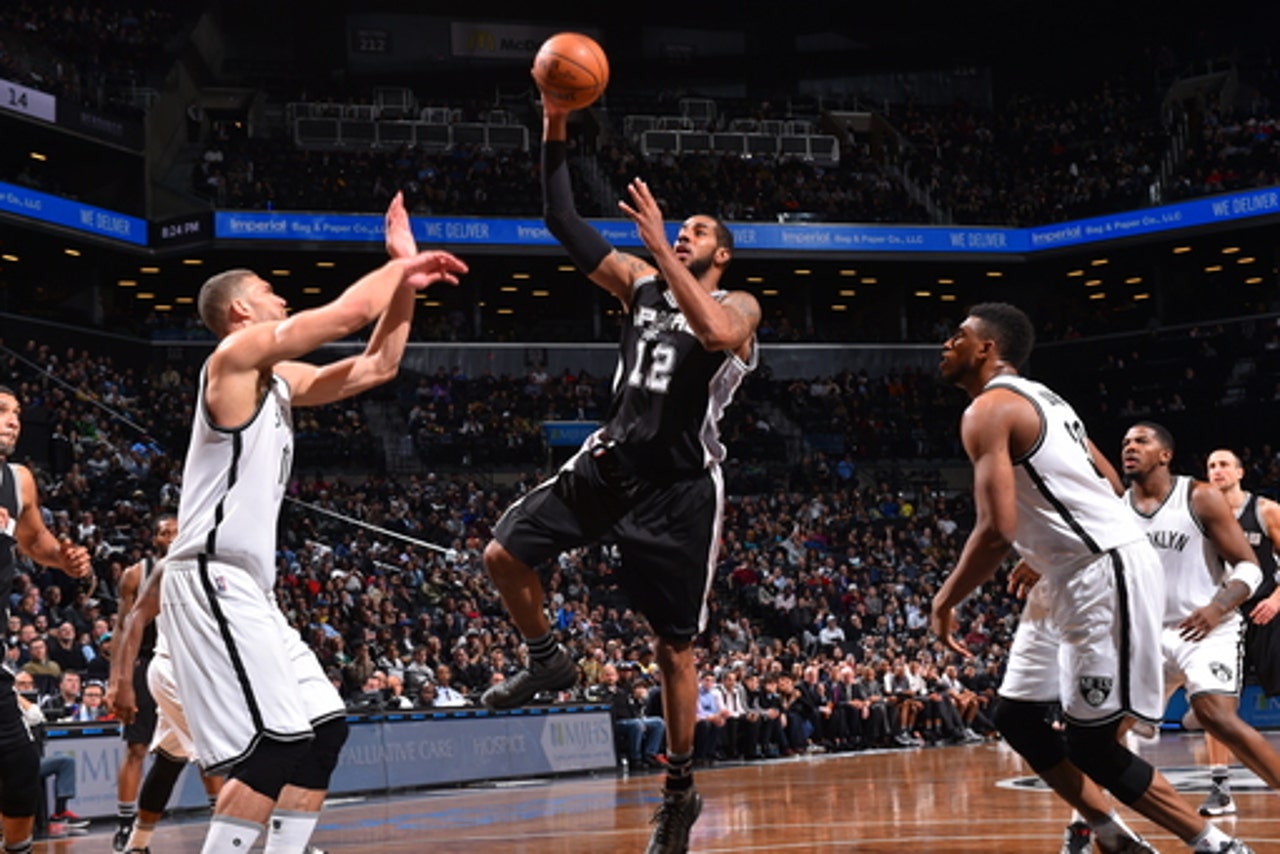 NEW YORK (AP) The Spurs are the NBA's pillar of consistency and stability, an organization these Nets could only hope to resemble - on the court and in the front office.
''San Antonio is the gold standard for the NBA,'' Nets interim coach Tony Brown said.
LaMarcus Aldridge had 25 points and 11 rebounds as the Spurs extended their winning streak to eight with a 106-79 victory Monday night over Brooklyn in the Nets' first game since an organizational shake-up.
A day after coach Lionel Hollins was fired and general manager Billy King reassigned, the Nets dropped their 10th straight at home and fifth in a row overall.
''We ran into a sledgehammer of a team,'' Brown said. ''They definitely know how to play together and that's something we're going to strive and try to do here.''
Kawhi Leonard added 17 points for the Spurs, who go to Detroit on Tuesday before putting their 31-game home winning streak on the line Thursday in a showdown with Cleveland.
The Spurs (33-6) were up seven at halftime before dominating the second half, just as they did in their 102-75 victory over the Nets on Oct. 30. Those are two of their 14 wins by 20 or more points this season, and their leadership under Gregg Popovich and general manager R.C. Buford matters just as much as the contributions of the players.
''It's consistency,'' Aldridge said. ''There's no surprises. You know what you're going to get day in and day out, game in game out, so it just makes it easier to do your job for sure.''
Brook Lopez scored 18 points and Joe Johnson had 16 for the Nets, who haven't won at home in more than a month. Brown moved guards Wayne Ellington and Donald Sloan into the starting lineup, but they combined for just 10 points on 4-of-12 shooting.
The Nets fell to 10-28, hours after owner Mikhail Prokhorov said the team needed a ''reset'' and that choosing to start it in the middle of the season was an easy decision. But no change could change things against the Spurs, the latest visiting team to win the crowd and the game in Brooklyn.
''You've got to give them a lot of credit first. They're a great, arguably the best team in this league, but you have to stay poised, you have to stick to your game plan,'' Johnson said.
''We had to do a great job for 48 minutes and obviously in the third quarter they opened it up.''
Fans cheered loudest for 7-foot-3 Serbian Boban Marjanovic, who finished with 13 points and was on the floor in the final seconds when a ''Go Spurs Go!'' chant broke out.
''This is good because if people love you, you are good,'' Marjanovic said of the cheers, ''and I feel great.''
TIP-INS
Spurs: Aldridge made his first five shots and finished 12 for 17 from the field. ... The Spurs outscored the Nets 60-28 in the second half of the first meeting and 61-41 in this one.
Nets: Sloan made his first start since Jan. 4, 2015, for Indiana against the Lakers. ... Brown had won all three games when he previously stepped in to coach, filling in for Doc Rivers once in Boston, Larry Krystkowiak in Milwaukee and Mike Dunleavy with the Clippers.
COACHING CAROUSEL
The Spurs made their fourth trip to Brooklyn and the Nets had a different coach each time: P.J. Carlesimo, Jason Kidd, Hollins and now Brown. Popovich, in his 20th season as Spurs coach, wouldn't criticize their instability on the bench - ''I don't run anybody else's business, I just participate in running our own,'' he said - but did call Hollins a ''wonderful coach.'' ''He's a good friend and a heck of a coach. Our business just sucks,'' Popovich added.
PROKHOROV'S PLAN
Brown said he spoke with Prokhorov earlier Monday and believes the Russian billionaire wants to get a longer look at some of the Nets' youth.
''I think he understands that he's got to build up the roster and it's going to take time, but let's find out what we have and let's find out if these guys can be a Net in the future,'' Brown said.
UP NEXT
Spurs: Visit Detroit on Tuesday.
Nets: Host New York on Wednesday.
---
---