Cleveland Cavaliers
Cleveland Cavaliers
Snowfall in Portland affects Cavaliers, Trail Blazers
Published
Jan. 12, 2017 12:48 a.m. ET

PORTLAND, Ore. (AP) Unusually heavy snowfall affected the Portland Trail Blazers and Cleveland Cavaliers before their game Wednesday night at the Moda Center.
With as much as 14 inches on the ground in some spots in the Portland area, the game was still scheduled to be played. It was set to be broadcast on national television.
The storm, which started Tuesday night, dumped the most snow recorded in the city since 2008, according to the National Weather Service. Gov. Kate Brown and Portland Mayor Ted Wheeler both issued a state of emergency.
The Cavaliers, who lost to the Utah Jazz 100-92 on Tuesday night, were delayed in getting to Portland but finally arrived about 3 a.m. Wednesday.
The Trail Blazers beat the Lakers in Los Angeles 108-87 on Tuesday night. They flew to Seattle, and players spent the night there. They flew into Portland by midday Wednesday and stayed at a hotel until game time.
The Blazers encouraged fans to use their best judgment about whether to attend the game, which was expected to draw a large crowd with the defending NBA champions in town.
The team said fans unable to attend the game would be allowed to exchange tickets for a comparably valued game in the future. But the policy did not include tickets purchased on the secondary market.
This past weekend, an ice storm in Portland forced the Blazers to move their game against the Pistons from Saturday to Sunday. Detroit won 125-124 in double overtime.
The last time the Blazers had to reschedule a game in Portland because of weather was in January 2005. In 2015, a Blazers game in New York against the Nets was postponed.
Cavaliers coach Tyronn Lue said before the game that he had doubts it would be played as scheduled.
''I didn't think (it would). I thought, they postponed a game for potential bad weather and then they had bad weather and they didn't cancel it. So I don't know,'' Lue said. ''Whatever, we are here so let's play the game.''
---
---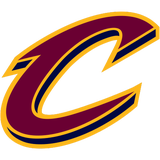 Get more from Cleveland Cavaliers
Follow your favorites to get information about games, news and more
---