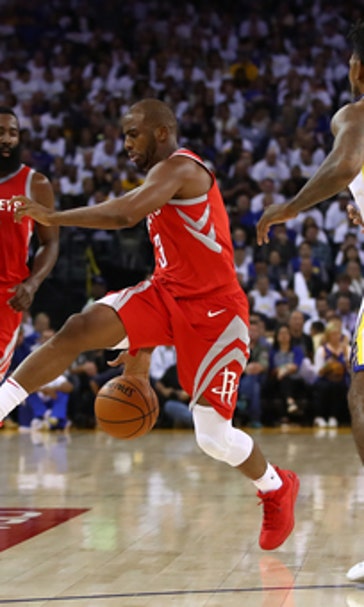 Rockets rally to spoil defending champion Warriors return (Oct 17, 2017)
October 18, 2017

OAKLAND, Calif. (AP) Confetti began to fall and the Golden State Warriors thought they had pulled off a wild opening-night win.
The Houston Rockets emphatically signaled otherwise - insisting that Kevin Durant's baseline jumper had swished through the net after the buzzer.
After one official got hurt, two remaining referees reviewed the play and ruled the Rockets had escaped with a 122-121 victory Tuesday on the night the Warriors received their championship rings.
''I thought it had a chance but I knew it was a little late. I knew I was cutting it close,'' Durant said. ''Tough loss. First game of 82, we've definitely got to move on. We've got to get better.''
The Warriors got the ball for one final chance with 10.6 seconds left and Durant came up with the ball after Stephen Curry had missed.
''I didn't think it counted,'' Golden State coach Steve Kerr said. ''When I saw it, it looked to me like it was a little late. Didn't surprise me it was overturned.''
Trevor Ariza's 3-pointer with 2:09 remaining pulled Houston within 119-118 then Patrick McCaw hit a baseline jumper immediately after Golden State's timeout. James Harden made a layup and PJ Tucker hit two free throws with 44.1 to make it 122-121.
Nick Young came off the bench to hit six 3-pointers and score 23 points in a brilliant Warriors debut, Curry scored 22 points and Durant had 20 after a slow start. Klay Thompson added 16 points.
Chris Paul had four points on 2-for-9 shooting in his Rockets debut, while Harden scored 27 points, Eric Gordon 24 and Tucker 20 for the Rockets. Houston opened the fourth with a 9-0 run to get back in it.
''It's very encouraging to be able to beat a great team like that on a huge night for them,'' Anderson said.
The Warriors found their rhythm early but couldn't close it out after an abbreviated preseason in terms of practice time given their recent trip to China for a pair of games against Minnesota.
Draymond Green exited in the second half with a strained left knee after he contributed nine points, 13 assists and 11 rebounds.
''When we're lacking conditioning like we are right now you have to have your high-energy guys,'' Kerr said. ''It doesn't matter what it's because of, we just have to get in better shape.''
Still, this opener was a far cry for the forgettable 129-100 defeat at home to San Antonio in Durant's Warriors debut a year ago when Golden State came off a record 73-win season and runner-up finish to Cleveland in the 2016 Finals.
''I just remember the last game of the season we played,'' Durant said of the Game 5 Finals clincher in June.
Young found his stroke right away, hitting his first four 3s and five shots overall. It's exactly what the Warriors want him to do: shoot every time he has a good look. His six 3-pointers set a franchise record for anyone in their Warriors debut and also in a season opener.
Durant had one spectacular sequence in the third when he blocked Anderson's shot on one end then converted a three-point play moments later on the other, slapping hands with a lucky boy fan on the baseline.
Houston acquired Paul from the Clippers to give them a 1-2 backcourt punch to try to gain ground on Golden State in the Western Conference.
''They came out and threw their best punch and it took us a while to adjust,'' Rockets coach Mike D'Antoni said. ''The last quarter we held them to 20. We're not going to do much better than that.''
RING CEREMONY
Kerr planned to pay extra attention as veterans Durant, Zaza Pachulia and David West each received a championship ring for the first time in their careers.
''Basketball accomplishments to me now are just what they are,'' Durant said after morning shootaround. ''I can kind of separate the two now. I feel like it's more so just cool as hell more than anything. It's like getting a prize possession that you're just really excited about versus getting something that's going to change your life. ... I'll be more so just really giddy and happy more so than emotional. I won't be a mess.''
BEAT-UP DUBS
Key backup and 2015 Finals MVP Andre Iguodala missed the game with a back strain, while Omri Casspi - who had been questionable with a mild right ankle sprain - appeared in his 500th career game making his debut with the Warriors. He then tweaked the ankle again.
Iguodala is expected to return for the upcoming road trip.
INJURED OFFICIAL
Referee Tre Maddox, accompanied by medical personnel, left midway through the fourth quarter after a collision with David West and hard hit. The NBA said after the game Maddox sustained an abdominal wall strain.
TIP-INS
Rockets: Tucker earned a flagrant 1 foul for his hard hit on Durant in the second. ... D'Antoni joked ''We're going to go to the In-N-Out burger'' during the pregame festivities, opting to keep his team in the locker room. ''They deserve it,'' he said. ''They won it, we didn't.'' ... The Rockets hit 22 3-pointers in three preseason games and didn't allow more than 106 points, holding opponents to 93.8. ... Houston also opened the season vs. the Warriors in 2009 and `10. ...
Warriors: The Warriors are auctioning signed shooting shirts worn for the pregame festivities to benefit fire relief efforts in the North Bay. ... Thompson has hit a 3 in 55 straight games, second-longest active streak.
UP NEXT
Rockets: At Kings on Wednesday night in Sacramento's season opener.
Warriors: At New Orleans on Friday to start a three-game road trip.
---
More AP NBA coverage: https://apnews.com/tag/NBAbasketball
---
---