Charlotte Hornets
Charlotte Hornets
REDIRECT::Thunder look for road win against Hornets
Published
Nov. 1, 2018 2:24 p.m. ET
CHARLOTTE, N.C. -- Two teams trending in a positive direction go head-to-head Thursday night when the Oklahoma City Thunder visit the Charlotte Hornets.
The teams split their two-game season series last year, each winning on the other's home court.
Oklahoma City is still looking for its first road win this season, having opened the campaign with consecutive losses at Golden State and the Los Angeles Clippers.
Those games were without star Russell Westbrook, who was still rehabbing a surgically repaired knee.
The Thunder have gone 2-2 -- all at home -- since Westbrook's return, winning their last two games against Phoenix and the Clippers by a combined 25 points.
Westbrook looked like his old self in the wins, scoring 23 and 32 points while shooting 21 for 38.
"You see him getting after it, and our job is to back him up," noted Thunder forward Paul George, who matched Westbrook's total with 32 points in Tuesday's win over the Clippers. "That's all it is. We see him turning the notch and going to a different level, our job is to match that."
Westbrook and his mates couldn't achieve that level in a 116-103 home loss to the Hornets last December. Kemba Walker had 19 points for Charlotte, which outshot Oklahoma City 53 percent to 41 and outscored the hosts 39-27 on 3-pointers, with Marvin Williams (four) and Walker (three) combining for seven of the 13 threes.
Westbrook tightened the defensive screws on Walker in the rematch a month later in Charlotte, harassing the Hornets star into 5-for-17 shooting while also finding time for 25 points, 10 rebounds and seven assists.
Charlotte was held to 40 percent shooting in the 101-91 loss.
The Hornets have demonstrated greater offensive consistency this season, scoring at least 103 points in all eight games. Their season scoring average (114.1) is up nearly six points from last season (108.2).
Newcomer Tony Parker is averaging just 9.4 points and 5.3 assists, but Charlotte coach James Borrego credits the veteran for setting a different tone this season.
"His poise, his demeanor, his pace, it just calms everybody down," the rookie head coach said to reporters. "People find the right spots. They're in rhythm. It's not helter-skelter.
"He's been doing this for 17 years. This is a pro at the highest level in big competitions. He's not fazed out there."
Parker had his best game as a Hornet -- 24 points and 11 assists -- in Tuesday's 125-113 win over Miami in the opener of a four-game homestand. The win improved the Hornets to 2-1 at home this season, with the lone loss coming by one point to Milwaukee on Opening Night.
The game pits Hornets shooting guard Jeremy Lamb against his former team, one for which he earned just eight starts in three seasons, during which he averaged 7.0 points per game.
He started just 23 games in his first three seasons with Charlotte, but has become a fulltime starter for the first time in his career this year, and has responded with 10.9 points per game, mostly on the strength of 39-percent 3-point shooting.
---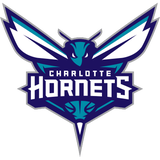 Get more from Charlotte Hornets
Follow your favorites to get information about games, news and more
---