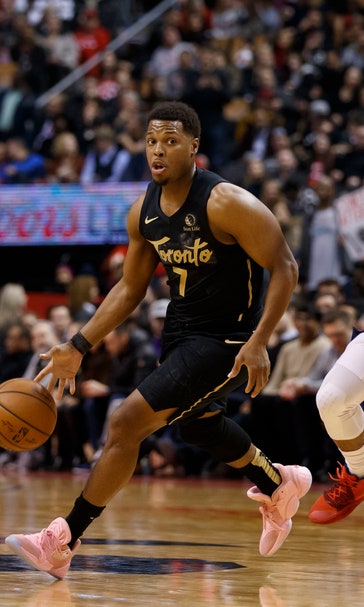 Raptors score season-high 140 points in rout of Wizards
January 18, 2020
TORONTO (AP) — Marc Gasol scored a season-high 20 points and matched his career high with six 3-pointers, Norman Powell scored 28 points and the Toronto Raptors beat the Washington Wizards 140-111 on Friday night.
Terence Davis II matched his career best with 23 points, OG Anunoby had 18 and Serge Ibaka 15 as the Raptors recorded their highest scoring game of the season and matched the franchise record for points in a game. Toronto's previous high this season was 133 points in a win over Cleveland on Dec. 16 at home.
Pascal Siakam scored 12 points and Kyle Lowry had 11 as the Raptors won their seventh consecutive game against the Wizards, and fifth straight at home. Toronto has won 17 of its past 20 regular season meetings with Washington.
Troy Brown Jr. scored 22 points, Isaac Bonga had a career-high 17 and Bradley Beal had 14 as the Wizards lost their third straight and fourth in five.
76ERS 100, BULLS 89
PHILADELPHIA (AP) — Furkan Korkmaz had six 3-pointers and a career-high 24 points, and Philadelphia beat Chicago.
Ben Simmons and Al Horford each scored 20 points for Philadelphia. Simmons had 11 rebounds and seven assists.
Zach LaVine led Chicago with 23 points, while Cody White had 14 and Luke Kornet added 13.
Korkmaz helped the 76ers take over in the third quarter after trailing 48-47 coming into the second half. He hit all four of his shots from deep in the quarter, allowing Philadelphia to surge ahead 81-71 at the end of the quarter. The Bulls never drew closer than eight in the fourth.
MAVERICKS 120, TRAIL BLAZERS 112
DALLAS (AP) — Luka Doncic scored 35 points, Tim Hardaway Jr. added 29 and Dallas beat Portland to avoid getting swept at home by the Trail Blazers.
Doncic, who drained a career-high eight 3-pointers, had eight rebounds and seven assists in the 20-year-old's first chance to tie Jason Kidd's career club record of 21 triple-doubles. Doncic has an NBA-best 12 this season.
Damian Lillard scored 34 points and Carmelo Anthony had 22 for the Blazers, who lost guard CJ McCollum to a sprained left ankle in the first half. Hassan Whiteside had 21 points and 18 rebounds.
The Mavericks were without Doncic's European sidekick, Kristaps Porzingis, for the 10th consecutive game because of right knee soreness.
PACERS 116, TIMBERWOLVES 114
INDIANAPOLIS (AP) — Malcolm Brogdon made a tiebreaking 16-footer with 18 seconds left and T.J. Warren scored 28 points night to help Indiana beat Minnesota.
Indiana has won four straight including two in the past three days against the Timberwolves, earning their first season sweep in the series since 2015-16.
Two-time All-Star center Karl-Anthony Towns had 27 points in 28 minutes after missing the previous 15 games with a sprained left knee. Andrew Wiggins added 22 points but missed two chances in the final minute to give Minnesota the lead. Shabazz Napier also came up short on a 3-pointer with 8 seconds to go as the Timberwolves lost their fourth in a row.
HAWKS 121, SPURS 120
SAN ANTONIO (AP) — Trae Young scored 31 points and Atlanta rallied from a 14-point deficit in the final quarter to stun San Antonio.
Kevin Huerter drained a 3-pointer from the left corner with 6.3 seconds remaining to complete the rally for Atlanta.
DeMar DeRozan's driving runner over three players bounded off the backboard and rim, and the final buzzer sounded before the rebound could be collected.
Hawks rookie Cam Reddish finished with 22 points. Huerter and John Collins added 18 points each for Atlanta, which has the league's second-worst record at 10-32.
LaMarcus Aldridge had 30 points and DeRozan added 24 for San Antonio, which lost for the third time in four games.
HEAT 115, THUNDER 108
OKLAHOMA CITY (AP) — Kendrick Nunn scored 22 points to help Miami top Oklahoma City.
Nunn, the two-time Eastern Conference rookie of the month, was coming off a 33-point effort Wednesday in a win over San Antonio.
Bam Adebayo had 21 points and eight rebounds to help the Heat win their second straight. Jimmy Butler added 14 points and 10 rebounds.
Danilo Gallinari scored 27 points and Shai Gilgeous-Alexander and Dennis Schroder each had 18 for the Thunder, who lost for the third time in four games.
MEMPHIS, Tenn. (AP) — Dillon Brooks scored 26 points, Ja Morant added 16 points and eight assists and Memphis survived a late Cleveland rally for its seventh straight win.
Brandon Clarke had 15 points while shooting 6 of 8 from the field, part of Memphis' 51% shooting performance for the game.
Collin Sexton led Cleveland with 28 points and six assists, while Kevin Love added 19 points. Larry Nance Jr. finished with 16 points, as the Cavaliers lost their third straight and eighth in their last 10.
---
---