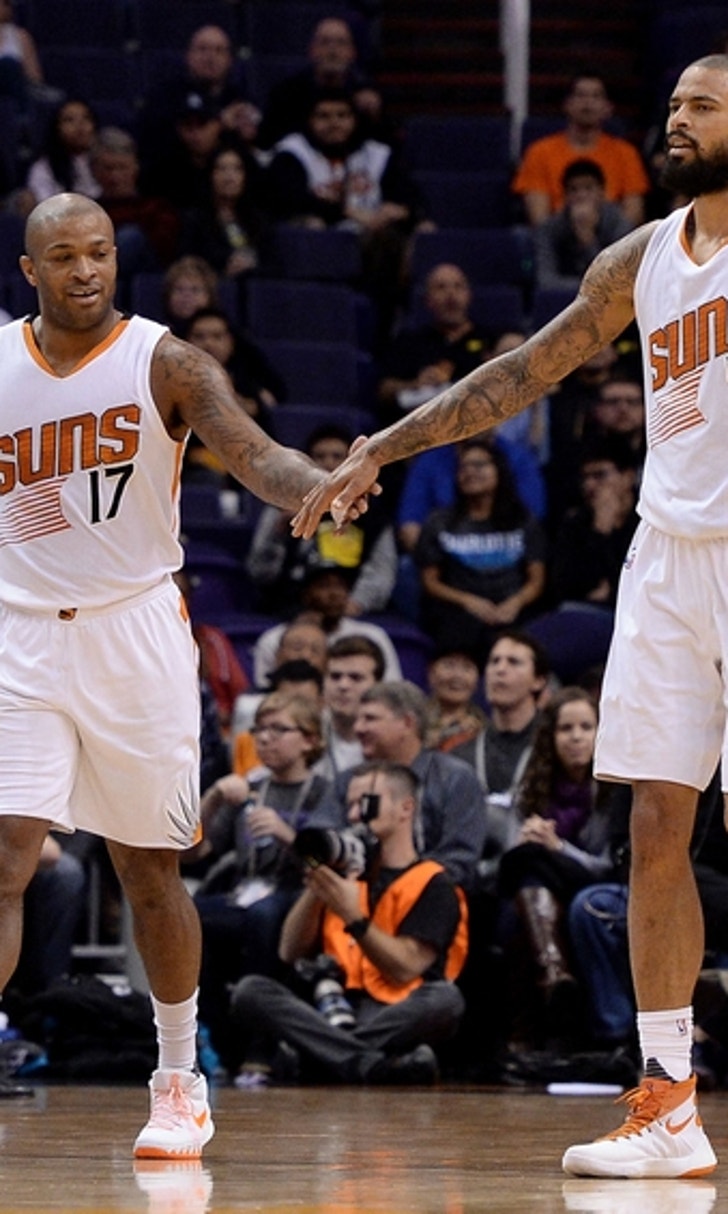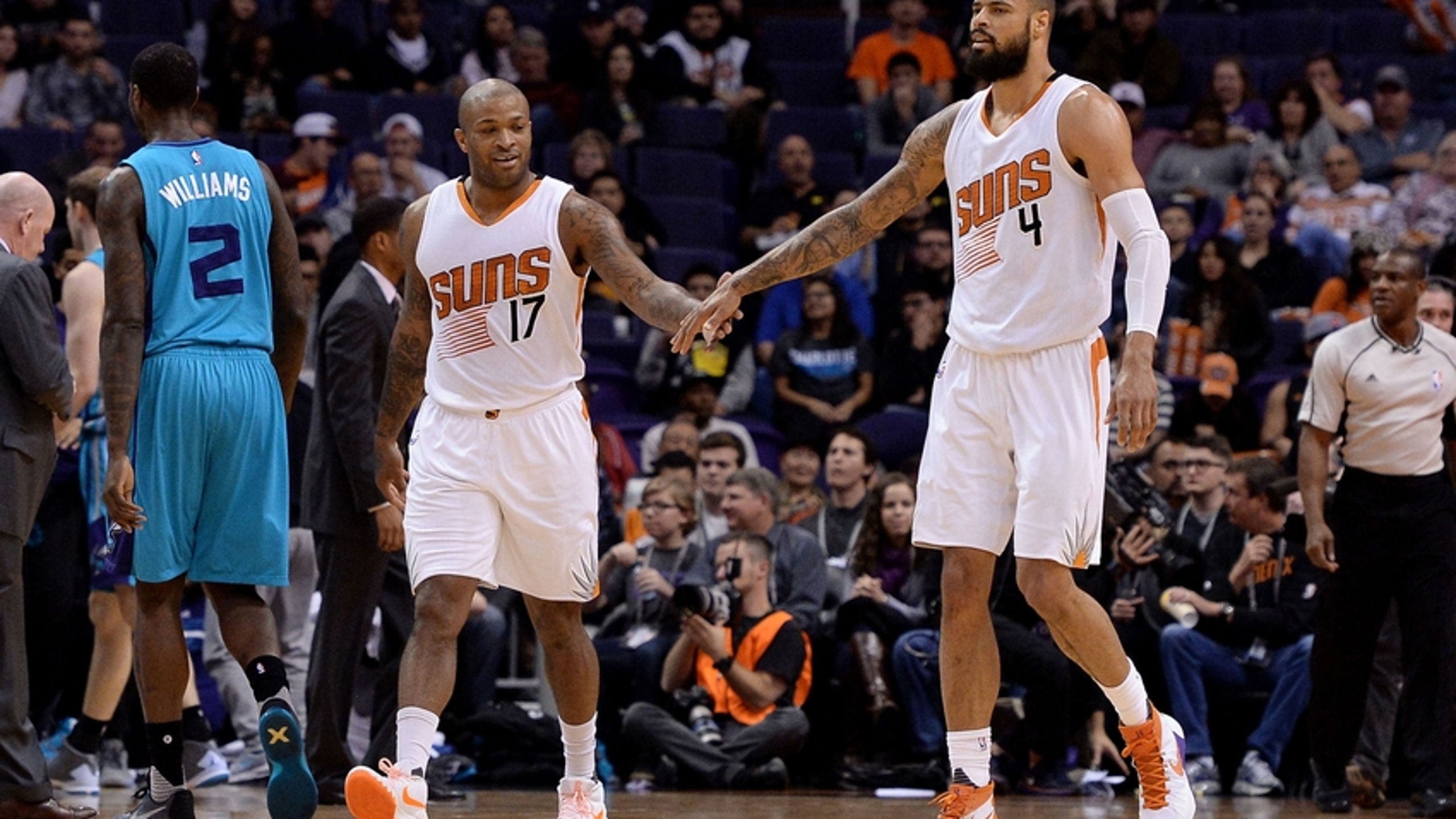 Ranking The Phoenix Suns' Best Trade Assets In 2016-17
BY Fansided and Gerald Bourguet/FanSided via Hoops Habit • December 15, 2016
The Phoenix Suns have several veteran players who might be more useful as trade assets than members of a rebuilding team. Here are their best trade assets.
Jan 6, 2016; Phoenix, AZ, USA; Phoenix Suns forward P.J. Tucker (17) and center Tyson Chandler (4) high five on the court against the Charlotte Hornets at Talking Stick Resort Arena. Mandatory Credit: Jennifer Stewart-USA TODAY Sports
At 8-17, the Phoenix Suns are still technically in the Western Conference playoff picture. They're only four games back from the eighth seed, and it was reasonable to expect so many new and young players to adjust to their different roles under head coach Earl Watson.
That being said, expecting Phoenix to snap its ongoing six-year playoff drought feels like a fool's errand, especially as the franchise looks to make the transition to a full-on rebuilding effort.
The question then becomes, what should the Suns do with some of their current talent and older veterans?
There's no question that without the team's star players and locker room leaders, the young stars of tomorrow like Devin Booker, T.J. Warren and Marquese Chriss would be lost out there. Having those players helps set an example of what it means to be a professional that lasts in this league.
That being said, the Suns really ought to consider being sellers at the 2017 NBA trade deadline, especially if their current misery continues. There's little point in scrapping for wins in a lost season while playing veterans 30+ minutes every night, be all it's doing is delaying the youth movement that's already in progress.
The Suns have a few players who are superfluous on this roster, and trading them now, while they still have value, should be on general manager Ryan McDonough's to-do list. Not all of these players can or will be dealt, but here's a look at four players Phoenix could trade, ranked in terms of their value to other teams and what they might be able to get the Suns in return.
Nov 23, 2016; Orlando, FL, USA; Phoenix Suns guard Brandon Knight (11) pounds his chest after hitting a 3 point shot during the second half of an NBA basketball game against the Orlando Magic at Amway Center. The Suns won 92-87. Mandatory Credit: Reinhold Matay-USA TODAY Sports
4. Brandon Knight
Out of all the players on the roster, the Suns probably wish that Brandon Knight was at the top of this list, because for that to happen, he'd have to possess, you know, actual value as a trade asset.
Whether the front office eventually wanted to deal Knight or enjoy him as a super sixth man, his performance in 2016-17 has been more disappointing than ever. The demotion to bench duty in favor of a 20-year-old reflected poorly enough on Knight as it was; now his play with the second unit is exacerbating the issue.
Through the first 25 games of the season, Knight is averaging 12.9 points and 2.9 assists in 24.3 minutes per game off the bench — a far cry from the 17.8 points, 5.4 assists and 4.3 rebounds per game on .435/.409/.881 shooting splits he averaged two years ago with the Milwaukee Bucks.
Not only is Knight shooting a career-worst 37.8 percent from the floor and 32.5 percent from three-point range, but he's also ranked dead-last in the NBA — out of 443 players — in total plus/minus, at -216. The remaining three years and $43.9 million remaining on his contract after this season doesn't help either.
The Suns certainly don't have Knight out there for his defense or his passing, so when his streaky shot isn't on, he's all but useless out there. At this point, he's basically earning minutes to avoid anyone's feelings getting hurt, which would threaten the team's "family first" mentality.
Games like his 32-point outburst in a loss against the Nuggets shows he has value when he's on, but as much as trading Knight would be the best-case scenario for this team's long-term future, it seems highly unlikely Phoenix will find a trade partner willing to offer anything noteworthy for his services.
Nov 27, 2016; Phoenix, AZ, USA; Phoenix Suns center Tyson Chandler (4) against the Denver Nuggets at Talking Stick Resort Arena. The Nuggets defeated the Suns 118-114. Mandatory Credit: Mark J. Rebilas-USA TODAY Sports
3. Tyson Chandler
Any teams looking like for a veteran locker room leader who can hold down the boards and protect the rim should consider picking up the phone and inquiring about Tyson Chandler's availability — especially after his last few monster games.
At age 34, what Chandler's been doing for the Suns on the glass lately is remarkable. Ranking fifth in the NBA in rebounds at 12.2 per game, the former Defensive Player of the Year has hauled in 23 and 21 boards over his last two games.
Tyson Chandler is the only player in Suns history to have consecutive 20-rebound games. And he's done it twice in 2016. #SunsVsKnicks

— Paul Coro (@paulcoro) December 14, 2016
During his 83 games in a Suns uniform, Chandler has pulled down at least 20 rebounds four times, and at least 17 rebounds 11 times. He's not the rim protector he once was, but couldn't a contender in need of frontcourt depth like the Cleveland Cavaliers, or one in need of rebounding like the Boston Celtics, use him?
The Celtics and Portland Trail Blazers have already been mentioned in conjunction with the injured Andrew Bogut, and though the Cavs would have a hard time stringing a deal together, especially as a team thriving with Tristan Thompson at the 5, not having Timofey Mozgov could matter come playoff time.
Hell, even a young team like the Minnesota Timberwolves, who are reportedly in search of frontcourt help, could be a potential candidate.
Trading Chandler would come with an obvious benefit for the Suns in what looks like another non-playoff season, giving Alex Len the starting minutes he needs before he hits restricted free agency this summer.
Averaging 7.8 points and 12.2 rebounds on 69.2 percent shooting, Chandler has managed to bump up his trade value. The only potential obstacle is the remaining two years and $26.6 million on his contract after this season. It's a small price to pay for a monster rebounder in the current market, but there is some risk in paying Chandler through his age-36 season.
Nov 27, 2016; Phoenix, AZ, USA; Denver Nuggets forward Wilson Chandler (21) controls the ball against Phoenix Suns forward P.J. Tucker at Talking Stick Resort Arena. The Nuggets defeated the Suns 118-114. Mandatory Credit: Mark J. Rebilas-USA TODAY Sports
2. P.J. Tucker
P.J. Tucker has the least impressive numbers of anyone on the list, which is saying something considering Brandon Knight's abysmal start to the 2016-17 season.
That being said, his value as a veteran, gritty defender and do-it-all garbage man cannot be overlooked.
Though he's only averaging 6.1 points and 5.7 rebounds per game, while shooting 37.6 percent from the floor and 28.1 percent from three-point range, Tucker is not really meant to be a starter in this league. He'd be far more valuable in limited minutes off the bench playing for a contender.
Over the last two games, for example, Tucker has been assigned with the Herculean tasks of guarding Anthony Davis and Carmelo Anthony.
Though his brute defense can only be given so much credit for forcing those off games, holding AD to 14 points on 4-of-17 shooting and Melo to 13 points on 3-of-15 shooting in back-to-back games is quite an accomplishment.
On the season, opponents are shooting 4.4 percent worse when defended by Tucker than they normally would, per NBA.com, and the Suns' defense is 3.7 points per 100 possessions worse with him off the floor.
He's not shooting the ball well this season, but as recently as 2013-14 — the last time Tucker was playing for a winning Suns team — he made 38.7 percent of his threes in a 3-and-D role.
On an expiring contract only worth $5.3 million, Tucker is perhaps the most likely Suns candidate for a trade. He has value around the league, and after all the hard work he's put in on losing teams, he deserves his chance to lend his hard-nosed playing style to a contender in a playoff series.
Nov 23, 2016; Orlando, FL, USA; Phoenix Suns guard Eric Bledsoe (2) dribbles the ball past Orlando Magic guard Elfrid Payton (4) during the first quarter at Amway Center. Mandatory Credit: Reinhold Matay-USA TODAY Sports
1. Eric Bledsoe
Suns fans may not like it, especially in what looks like another lost/rebuilding season, but their best trade asset — among players who aren't a part of their long-term future, at least — is their best player, Eric Bledsoe.
With Bledsoe turning 27 last week, the clock is already ticking on his time with a young core of Devin Booker, T.J. Warren, Marquese Chriss, Dragan Bender and maybe Alex Len and Tyler Ulis, who are still years away from elevating Phoenix back to playoff contention.
Rather than let such a talented player waste away on non-playoff teams for the rest of his career, both parties would be better off cashing in on his value while it's still at such a high point.
Bledsoe is averaging 20.3 points, 5.6 rebounds, 5.4 assists and 1.6 steals per game on 45.9 percent shooting from the field. He's not the distributing guard this team needs for the future, and there's no question that trading either him or Brandon Knight would free up more time for rookie Tyler Ulis.
More from Hoops Habit
As is the case with any player with an extensive injury, Bledsoe is one coal the Suns need to strike while still hot, since he missed 51 games last season and 39 games in his first season in Phoenix, both due to a torn meniscus.
Considering he also dealt with a knee injury during his early years with the Los Angeles Clippers, Bledsoe's athleticism and bullying defense would be far more useful to a more competitive team in need of a starting point guard while he's still healthy.
Losing Bledsoe would make the Suns unwatchable some nights, and it'd seem cruel to the fans to trade away the team's best player, but Bledsoe only has so many seasons left of his prime. Not only would trading Bledsoe to a contender be doing right by him, but it'd also net the Suns the most/best assets in a potential trade package.
Phoenix has plenty of guard depth, and Bledsoe is probably not a part of the team's long-term future. With only two years and $29.5 million remaining on his contract, Bledsoe's value is a steal for a potential trade partner. As difficult as it might be, the Suns need to seriously consider cashing in on Bledsoe's value before injury or declining play rob them of that opportunity.
---
---