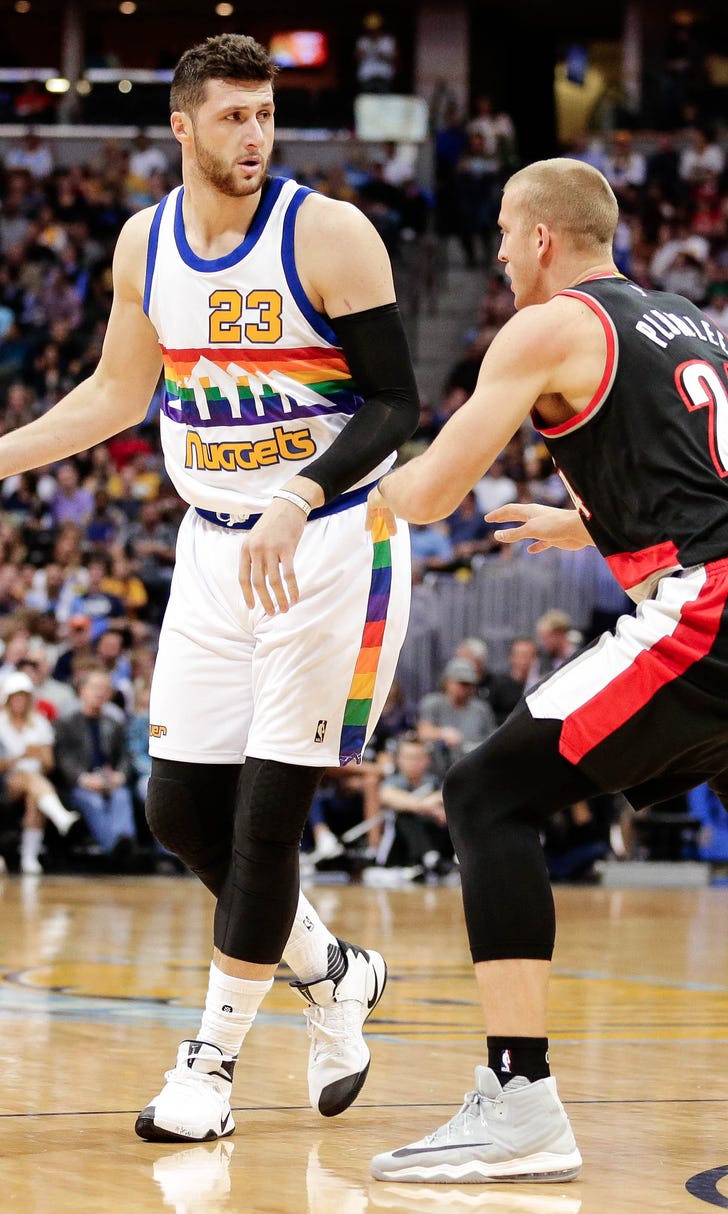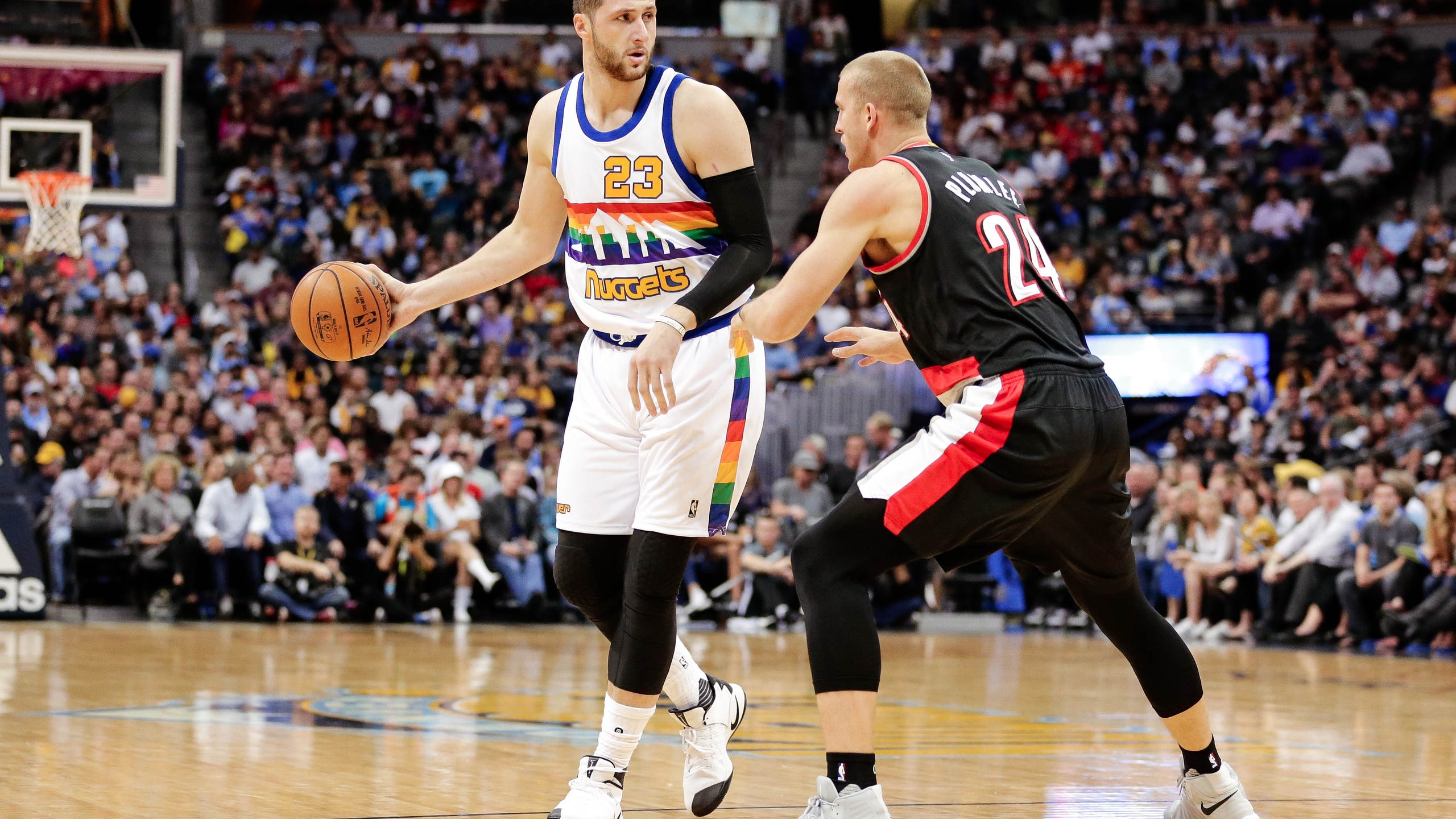 Portland Trail Blazers: Jusuf Nurkic Trade A Wise Maneuver
BY Fansided and Maxwell Ogden/FanSided via Hoops Habit • June 30, 2017
The Portland Trail Blazers have traded to acquire Jusuf Nurkic from the Denver Nuggets. It was a tremendous move by general manager Neil Olshey.
---
The Portland Trail Blazers have been one of the most disappointing teams of the 2016-17 NBA regular season. Despite making the playoffs in 2015-16 and making a splash in free agency, Portland is 23-31 through 54 games.
With the NBA trade deadline nearing, Trail Blazers general manager Neil Olshey has made a move that will help Portland in both the immediate and long-term future.
Portland has an explosive perimeter that includes stars Damian Lillard and C.J. McCollum, and quality reserves Allen Crabbe and Evan Turner. It also has high-quality defenders in Al-Farouq Aminu and Maurice Harkless, but has struggled to find stability down low.
According to Adrian Wojnarowski of The Vertical, the Trail Blazers have addressed that flaw by dealing Mason Plumlee to the Denver Nuggets for Jusuf Nurkic.
Sources on @TheVertical: Portland sends Denver center Mason Plumlee and '18 2nd-round pick for Jusuf Nurkic and '17 first-rounder (via Griz)

— Adrian Wojnarowski (@WojVerticalNBA) February 12, 2017
The Trail Blazers have thus solidified the future and improved the quality of the interior in one single trade.
Nurkic is a respected young player with upside, but Nikola Jokic overtook him as Denver's future star at center. While Nurkic was nursing an injury in 2015-16, Jokic was steadily breaking out and solidifying his place as the Nuggets' new franchise player.
As a result of this trade, both Nurkic and the Trail Blazers will have an opportunity to solidify their future.
Offensive Value
Terry Stotts' Portland Trail Blazers are a finesse team. Portland attempts to outclass its opponents by spacing the floor, trusting its stars, and playing a game that's fun to watch, but doesn't necessarily translate to the more rugged of scenarios.
By adding Jusuf Nurkic to the mix, the Trail Blazers have found a center who can provide the physicality that they've desperately needed.
When Nurkic gets the ball inside, he's comfortable putting his shoulder into defenders and finishing at the rim. His post game needs polish, but the fact that he can get the Trail Blazers an easy two points from the low block is a benefit unto itself.
Nurkic is also a strong pick and roll dive man—1.14 points per possession—who sets strong screens, has good hands, and uses the glass to finish when an opportunity to dunk isn't available to him.
Nurkic's greatest strength on offense is his overwhelming presence as an offensive rebounder. He's averaging 4.0 offensive rebounds per 36 minutes in 2016-17 and checked in at 4.1 as a rookie in 2014-15 and 4.3 in 2015-16.
Nurkic is also a quality passer, but it's his bruising interior style of play and prowess as a rebounder that will help a Portland team that ranks No. 16 in second chance points per game.
Defensive Value
Jusuf Nurkic is far from an elite defender, but he plays in a way that can help his team on defense. Foul trouble is a consistent issue for Nurkic, which is a product of his physicality and the way he attempts to block every shot that comes his way.
The Portland Trail Blazers need an enforcer who can send a message to slashers, and Nurkic is equipped to fill that role.
Nurkic's defensive value is twofold as an outstanding rebounder and quality shot-blocker. He's averaging 1.6 blocks per 36 minutes in 2016-17, but averaged 2.2 in 2014-15 and 2.9 in 2015-16—a sign that he can make a positive impact in that regard.
Even more important than the shots he blocks is the message he sends by throwing his 280-pound frame around and sending painful messages to penetrating scorers.
It's worth noting that Denver allowed an average of 108.6 points per 100 possessions with Nurkic on the floor in 2016-17. That's far from a desirable number, but the Nuggets also allowed 112.0 points per 100 possessions when Nurkic wasn't on the floor.
Nurkic needs to learn to pick his battles on the defensive end of the floor, but he's essentially Festus Ezeli with a better offensive game and more upside.
The Draft Pick
It would be fair to say that the Portland Trail Blazers got more than expected in a trade for Jusuf Nurkic. He's a 22-year-old center with upside, which is reason enough to believe the cost of Mason Plumlee and a second-round draft pick makes for something of a bargain deal.
The fact that Portland also managed to net a first-round draft pick in a deep class of 2017, however, is reason to praise Neil Olshey.
Portland already has a pair of franchise players in Damian Lillard and C.J. McCollum. It's now adding a young and promising center in Nurkic, as well as whichever players Olshey opts to select in the 2017 NBA Draft.
The Trail Blazers are now in possession of three first-round draft picks in a deep class of 2017: their own, the Memphis Grizzlies', and the Cleveland Cavaliers'.
Working with this knowledge, it stands to reason that Olshey could either solidify the roster with three first-round picks or make another high-profile trade. The 2017 draft class is garnering significant hype, and there's good reason for that.
Portland has its backcourt solidified, a center to build with, and three first-round draft picks to address the other positions of need.
With just one trade, Neil Olshey may have solidified the future of the Portland Trail Blazers.
More from Hoops Habit
This article originally appeared on
---
---