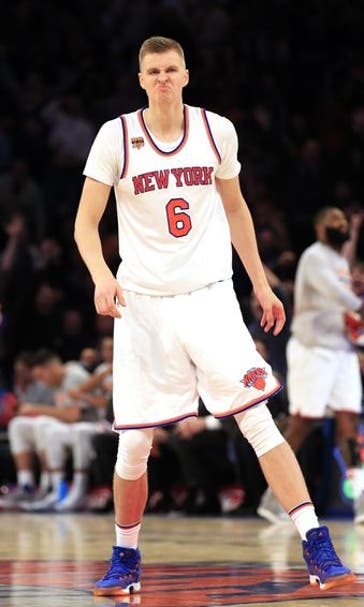 New York Knicks: Kristaps Porzingis Is A Basketball Anomaly
BY Fansided and Maxwell Ogden/FanSided via Daily Knicks • December 21, 2016
The New York Knicks may have been chided for drafting Kristaps Porzingis, but team president Phil Jackson found a basketball anomaly in the 7'3″ sensation.
---
Dec 20, 2016; New York, NY, USA; New York Knicks forward Kristaps Porzingis (6) reacts after hitting a three-point shot during the second half against the Indiana Pacers at Madison Square Garden. Mandatory Credit: Adam Hunger-USA TODAY Sports
Say what you will about Phil Jackson, but without him as team president, the New York Knicks wouldn't have Kristaps Porzingis. No one—not the fans, the media, nor the players—went into the 2015 NBA Draft asking the Knicks to select Porzingis.
Those who did call for Porzingis to be the next star of the Knicks were doing so based off of YouTube highlights and rumored measurements with minimal other data.
The fans and media had a field day when Carmelo Anthony went to a New York Yankees game with Justise Winslow. Those same individuals hypothesized that it was half past time for the Knicks to embrace the need for a star-caliber point guard and select Emmanuel Mudiay.
There were even crowds in favor of Willie Cauley-Stein, praying for Jahlil Okafor and D'Angelo Russell, and pondering whether Frank Kaminsky could be worth the reach.
Guilty as we all were—including myself, fellow writers, and the thousands of fans who booed and chastised Jacksons' pick of Porzingis—we've all come around. The decent have made their apologies and swallowed their pride.
100 games into his NBA career, Porzingis has established himself as a true basketball anomaly. Here are five examples of how he's done so.
Feb 9, 2016; New York, NY, USA; New York Knicks forward Kristaps Porzingis (6) rises up to dunk during the third quarter against the Washington Wizards at Madison Square Garden. Washington Wizards won111-108. Mandatory Credit: Anthony Gruppuso-USA TODAY Sports
Size + Athleticism + Coordination
It's rare enough to be a 7'3″ human being, let alone a basketball players. It's another marvel entirely when that 7'3″ basketball player has athletic ability and explosiveness comparable to players more than a foot shorter than them.
For those who missed it, a recent appearance on Sports Science revealed that Porzingis' agility is comparable to the 5'9″ Isaiah Thomas and 6'3″ D'Angelo Russell.
It's also worth noting that Porzingis recorded a max touch of 12'2.5″ and max vertical leap of 37.5″. For perspective on just how insane that is for a player his height, Porzingis' max vertical leap was two inches higher than that posted by Blake Griffin.
Griffin is 6'10″—five inches shorter than Porzingis—and widely regarded as one of the most explosive athletes in NBA history.
What rounds the size and athleticism out is the factor that doesn't receive enough credit: his coordination. There have been a number of elite athletes in the 7'0″ range, but it's rare that they're coordinated enough to move in ways that, simply put, aren't awkward.
Porzingis seems to have full control over his body and a strong understanding of his limitations, which he'll need to continue to display moving forward with his NBA career.
Dec 20, 2016; New York, NY, USA; New York Knicks forward Kristaps Porzingis (6) shoots over Indiana Pacers forward Thaddeus Young (21) during the second half at Madison Square Garden. Mandatory Credit: Adam Hunger-USA TODAY Sports
Tallest Sharpshooter Ever
Kristaps Porzingis is the tallest sharpshooter in NBA history. That may seem like a strange claim, but it really shouldn't be perceived in a negative light when one considers how important a player's release point is to their shooting ability.
Great shooters can get a shot off from anywhere on the court, and at 7'3″, the New York Knicks phenom undoubtedly can.
Porzingis has a smooth and quick release that looks effortless within the flow of a game. He's also improved his handles to the point of being able to cross an opponent up, step back, and knock down a shot as if he were James Harden.
That unprecedented combination of size, skill, and fluidity has enabled Porzingis to become the tallest sharpshooter of all-time.
In 2015-16, Porzingis became the tallest player in NBA history to convert at least 50 3-point field goals—and he finished with 81. Just 28 games into the 2016-17 regular season, he's already passed that mark of 50 by converting 60—good for an average of 2.1 per game.
For what it's worth, Porzingis is the only player 7'2″ or taller to convert at least 60 3-point field goals in consecutive seasons—ever.
Mar 26, 2016; New York, NY, USA; Cleveland Cavaliers small forward LeBron James (23) controls the ball against New York Knicks power forward Kristaps Porzingis (6) during the third quarter at Madison Square Garden. Mandatory Credit: Brad Penner-USA TODAY Sports
Rookie Season For The Ages
Being the tallest sharpshooter ever is reason enough to believe that Kristaps Porzingis deserves to be called unique. A a rookie, however, Porzingis proved to be far more than just a tall European player who could shoot the 3-ball.
In 2015-16, Porzingis became the first rookie in NBA history to record at least 1,000 points, 500 rebounds, 100 blocks, and 75 3-point field goals made.
Porzingis recorded 1,028 points, 526 rebounds, 134 blocks, and 81 3-point field goals made as a rookie. For perspective, only two other players recorded at least 1,000 points, 500 rebounds, 100 blocks, and 80 3-point field goals in 2015-16.
Those players were All-NBA Second Team honoree Draymond Green and All-Star big man Al Horford.
Porzingis' versatility isn't limited to being tall and shooting the 3-ball; he does just about everything at a high level. There are still areas in which he must improve, but his all-time rookie season set the stage for an all-time career.
Considering Porzingis was doing as a rookie what only All-Stars were able to do, his upside is clear and incredible.
December 11, 2016; Los Angeles, CA, USA; New York Knicks forward Kristaps Porzingis (6) celebrates the 118-112 victory against the Los Angeles Lakers at Staples Center. Mandatory Credit: Gary A. Vasquez-USA TODAY Sports
Character + Work Ethic
There have been a number of intriguing talents and tantalizing athletes in the rich history of the NBA. For every LeBron James, Michael Jordan, and Shaquille O'Neal, however, there's a Jonathan Bender, Darius Miles, and Shawn Bradley.
Rather than falling in between the legends and the underachievers, Porzingis is aiming to be one of the all-time greats—and he's willing to put the work in.
Porzingis' polished skill set is a product of how hard he's worked behind the scenes. He's a gym rat who impressed Phil Jackson enough during his pre-draft workout for the encounter to be cut short due to, "Injury."
Even more important than what happens on the practice court and in the gym, however, is the character that Porzingis continues to display.
When Porzingis was booed on draft night, he responded by praising Knicks fans for their passion. When the masses questioned whether or not Carmelo Anthony was still the best player in New York, he publicly praised 'Melo for taking pressure off of him and enabling him to score.
Porzingis is more than just a potentially great talent; he's an excellent teammate and the type of potential leader whom players can rally around.
It's hard to find the special breed that combines talent and leadership, but Phil Jackson appears to have successfully done so.
More from Daily Knicks
This article originally appeared on
---
---