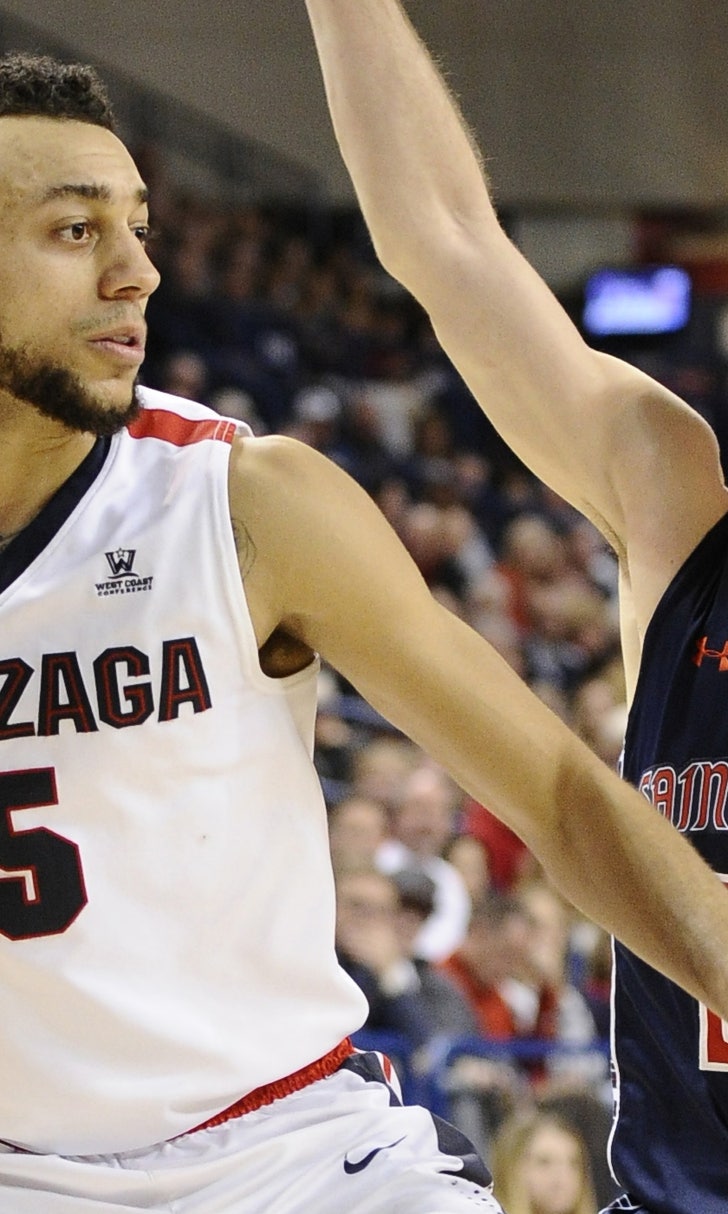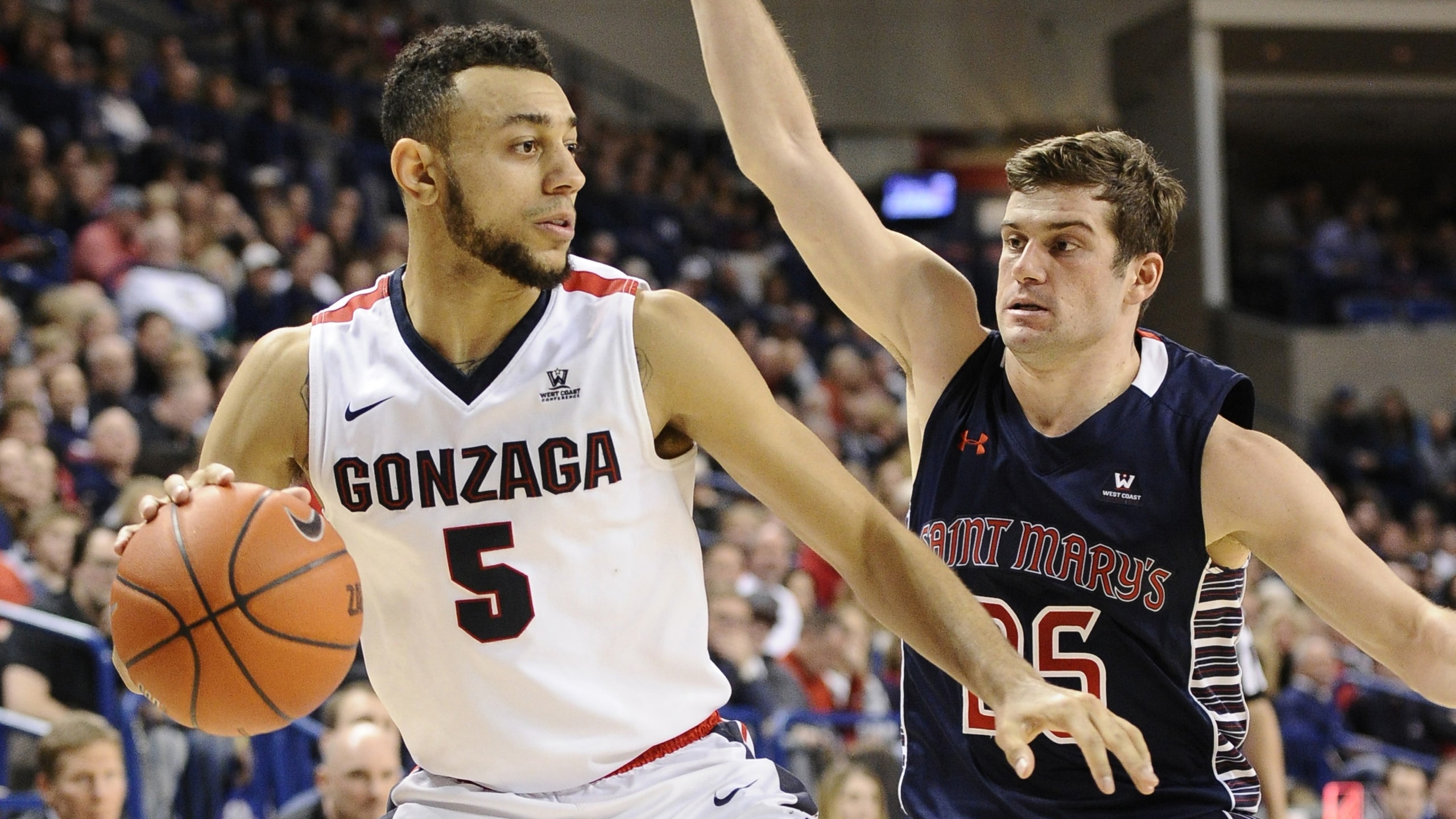 New York Knicks: 5 options for pick No. 58 in 2017 NBA Draft
BY Fansided and Ed Easton Jr./FanSided via Hoops Habit • June 30, 2017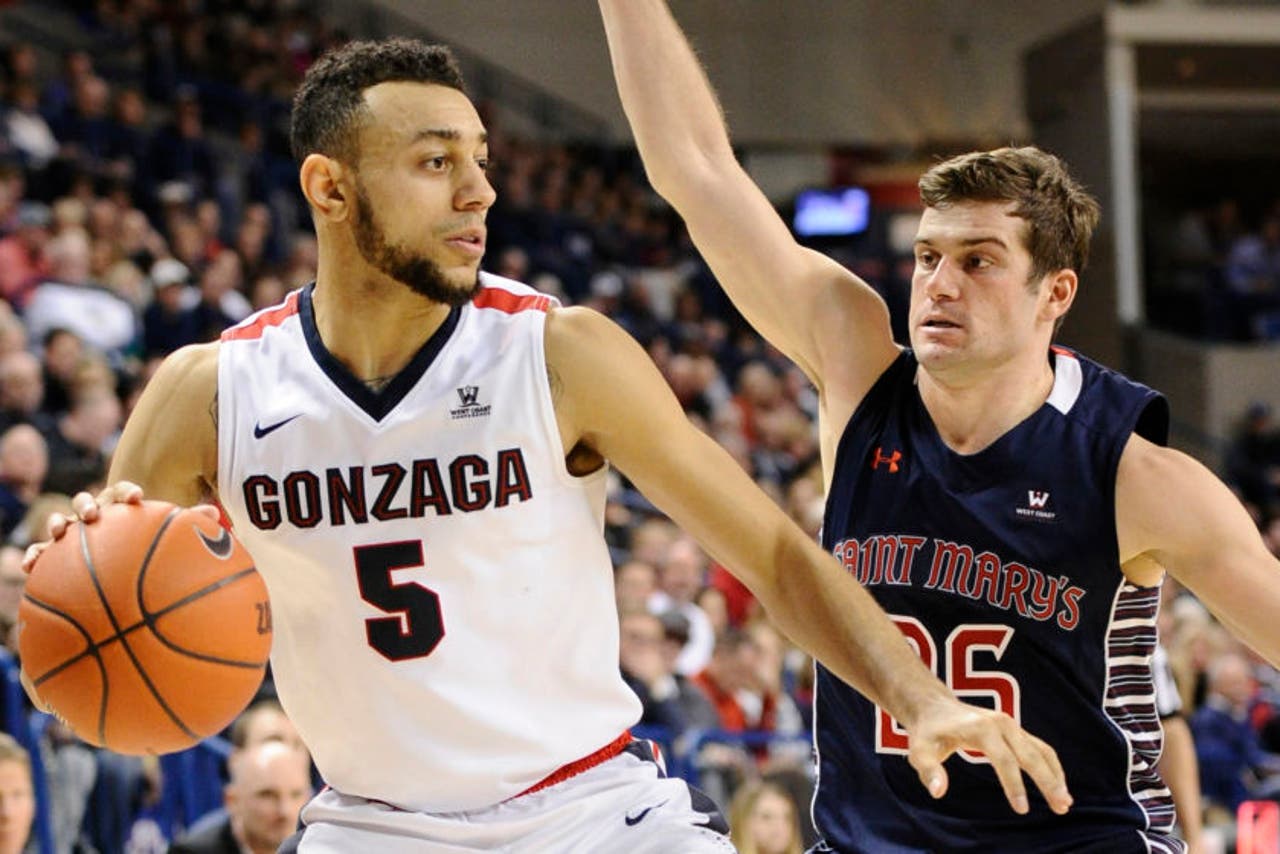 Jan 14, 2017; Spokane, WA, USA; Gonzaga Bulldogs guard Nigel Williams-Goss (5) gets by St. Mary's Gaels guard Joe Rahon (25) during the second half at McCarthey Athletic Center. The Bulldogs won 79-56. Mandatory Credit: James Snook-USA TODAY Sports
The New York Knicks have the 58th overall pick in the 2017 NBA Draft. Here are five players they should consider with that pick.
The New York Knicks are picking late into the second round for their third pick overall at the 2017 NBA Draft. It may seem as if this pick will lack any type of effectiveness on their future plans, but in a deep class like this any hidden gem is possible.
New York received the 58th overall pick from the Houston Rockets because of their trade involving Pablo Prigioni and Alexey Shved back in 2015. The goal usually with such a late pick should either be the growth of the bench depth or stashing players that may not come over immediately to save costs.
The Knicks have never picked at No. 58 but do have history on their side regarding late draft picks. Isaiah Thomas, a hidden gem as the last pick in the 2011 NBA Draft, has become one of the best guards in the league today leading the Boston Celtics to the best record in the Eastern Conference. San Antonio Spurs legend Manu Ginobili was selected 57th overall back in the 1999 NBA Draft and we all know how that great story turned out.
The plan for this spot in the draft is to either add a diamond in the rough for the bench or possibly stash/trade for future assets if the right player isn't available. The Knicks cannot afford to waste the pick in any way, so a decision will probably need to be made well before draft night in Brooklyn.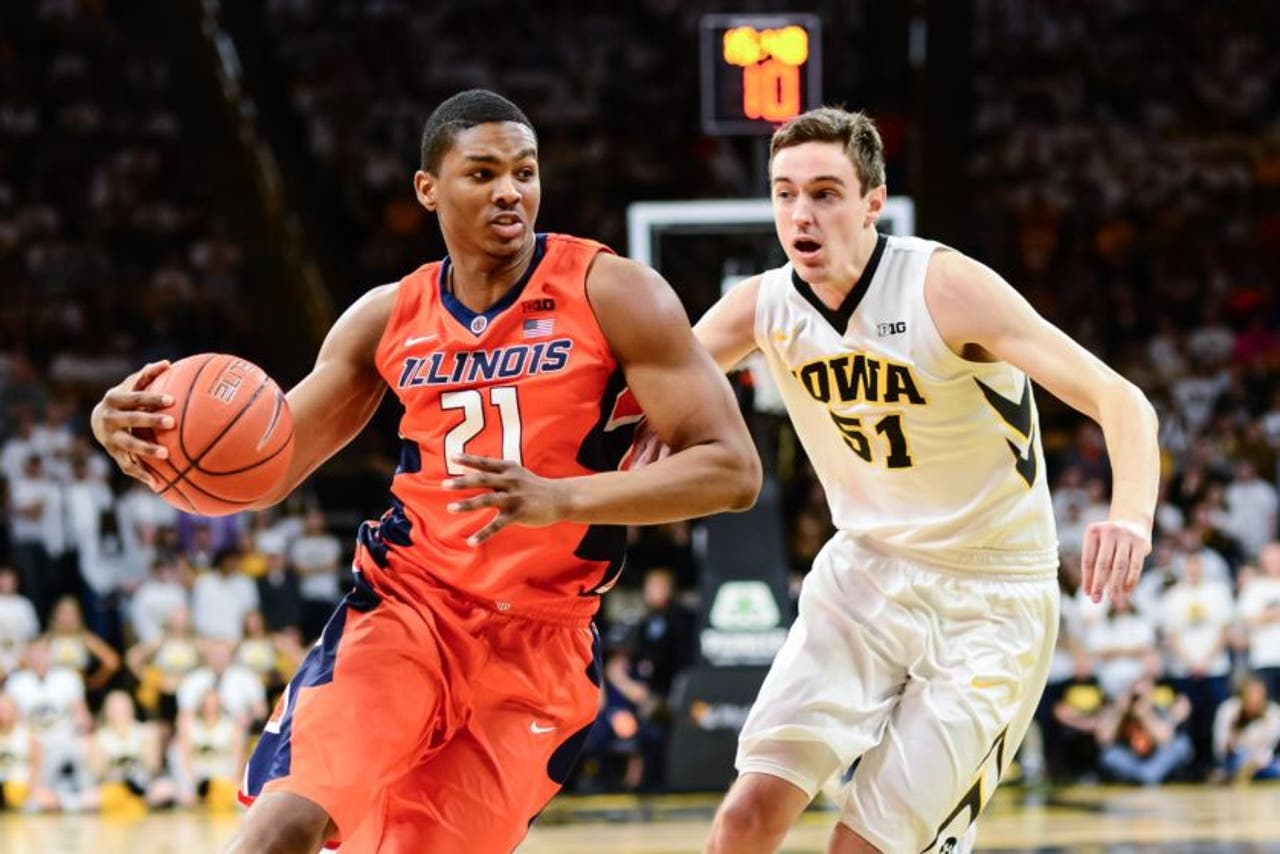 Feb 18, 2017; Iowa City, IA, USA; Illinois Fighting Illini guard Malcolm Hill (21) goes to the basket as Iowa Hawkeyes forward Nicholas Baer (51) defends during the first half at Carver-Hawkeye Arena. Illinois won 70-66. Mandatory Credit: Jeffrey Becker-USA TODAY Sports
5. Malcolm Hill, SF, Illinois
2017 statistics:  17.2 PPG, 5.1 RPG, 2.9 APG
The great thing about picking at this spot for the Knicks are the ideas that can be possibly executed with certain players. Malcolm Hill from Illinois has played every position for the fighting Illini when called upon and delivered all four years.
Hill finished his four-year collegiate career at Illinois with the third-most points produced in Big 10 history. His great all-around game measured well among the conference's leaderboard, as he ranked third in points per game, sixth in free throw percentage and ninth in field goal percentage, rebounds per game and steals. A true all-around player currently slated at the small forward position could see plenty of time in a variety of positions and remain valuable with his ability to produce on the court.
In a recent interview, Hill discussed his current draft spot projection and the amount of focus he had during the NBA Draft Combine in Chicago.
"I didn't even test the process last year so some people are going to have experience but this is going to be my first time, I think the biggest thing I'm going to take away from this is just to have fun because not everybody gets a chance to do this. A lot of people wish they were in my position so I'm just grateful to be in this position."
Hill's humble nature would be refreshing in the Knicks locker room to go along with his potent scoring ability. This could be a very nice find late in the draft assuming he's still around at No. 58 overall.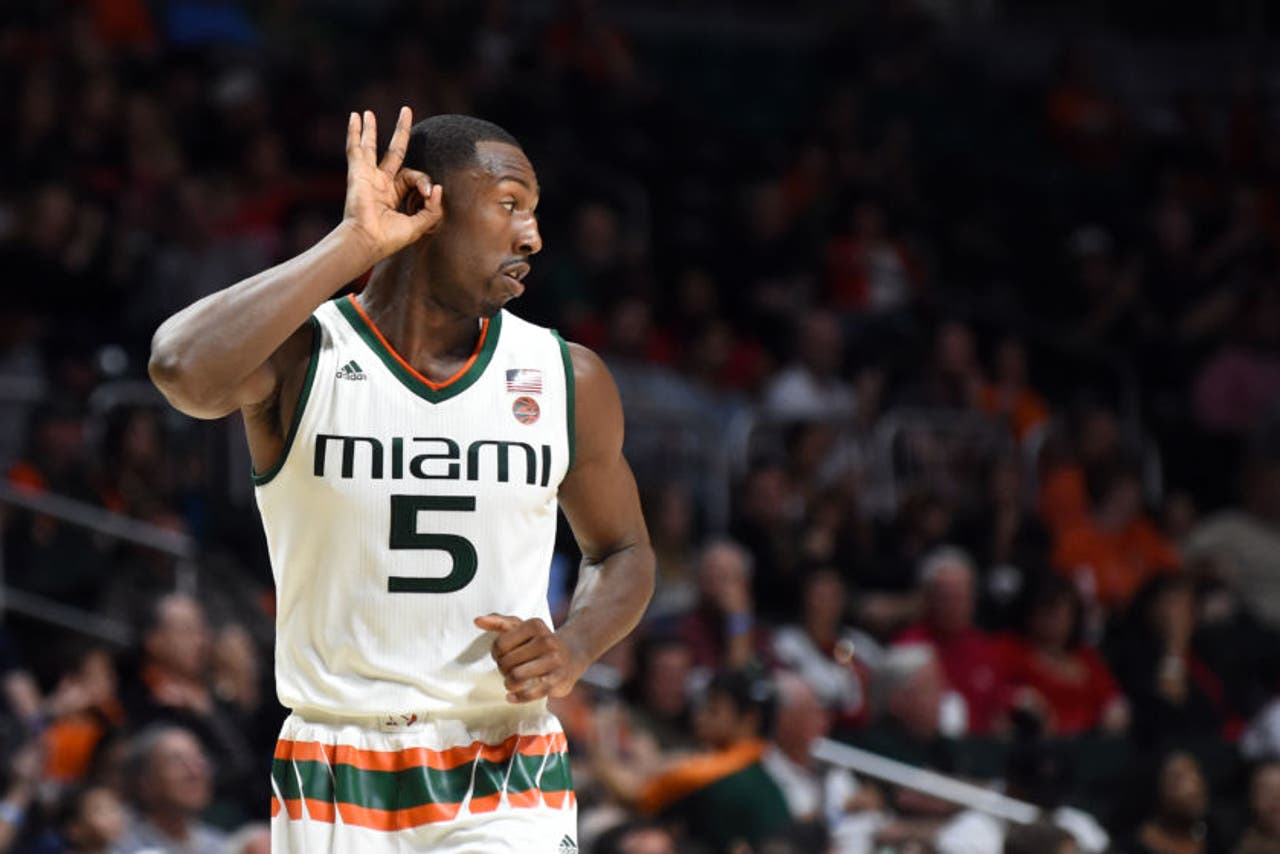 Dec 31, 2016; Coral Gables, FL, USA; Miami Hurricanes guard Davon Reed (5) reacts after making a three point basket against North Carolina State Wolfpack during the first half at Watsco Center. Mandatory Credit: Steve Mitchell-USA TODAY Sports
4. Davon Reed, SG, Miami
2017 statistics:  14.9PPG, 4.8 RPG, 2.4 APG
The chance of taking Davon Reed at this spot is possible for New York as the team is in need of better depth at the shooting guard position. Reed was a key catalyst for the Miami Hurricane basketball program, helping them reach the NCAA tournament this past season.
Reed's season was tremendous in not only his play on the court but his focus in the class room. The All-ACC, Third Team, and All-ACC Defensive Team, selection this past season also was the recipient of the ACC's Skip Prosser Award as the ACC's top men's basketball scholar-athlete.
This intangible speaks more to Reed's character and maturity balancing his play with the everyday distractions that will occur in the NBA. At 6'6″ and 220 pounds, Reed is good enough to play either shooting guard or small forward because of his quickness and strength.
Reed spoke about his impressive combine work out last month with he Miami Herald showing no worries about who gets drafted before or after him.
"I'm not worrying about who gets drafted ahead of me. It's just my job to continue to show being in college for four years, my experience, I'm ready to play now. Hopefully teams can see that. I feel like some teams are beginning to see that not just from myself, but all the other upperclassmen. If I can continue to improve and show the things, my chances (to play in NBA) are good."
Reed would be an ideal replacement for Justin Holiday, who hits the free agency market this summer and has a great upside considering his work ethic.
3. Aleksandar Vezenko, SF/PF, Cyprus
2017 statistics:  N/A
The constant question regarding talented forward Aleksandar Vezenko from Barcelona is whether or not he's gonna remain in the draft? Vezenko is a 21-year-old star in Barcelona and could possibly become the first Cyprus-born player in the NBA.
Vezenko will remind most Knicks fans of current small forward Mindaugas Kuzminskas, just a little younger and possibly a better perimeter shooter.  An aggressive scoring mindset has made the Bulgarian native such a hot topic the last two years around the NBA Draft. It seems as if he will be sticking around to be selected, and the possibility of landing a first round talent at the end of the draft is too precious to ignore.
Jonathan Givony of Draft Express shared his thoughts on Vezenko adjusting to the NBA game as opposed to the competition he faced in the Greek league.
"A major question mark is how Vezenkov's scoring prowess will translate to higher levels of competition, as he's a below average athlete by NBA standards, playing almost entirely below the rim. The Greek league, while still strong with domestic players, and generally at the top, is not what it used to be due to financial problems in the country as a whole."
Vezenko could quite easily be a stash pick for New York that may not be available until the following season. The possibility of gaining a talent like this could definitely be worth it in the long run for the Knicks if patience is understood by management.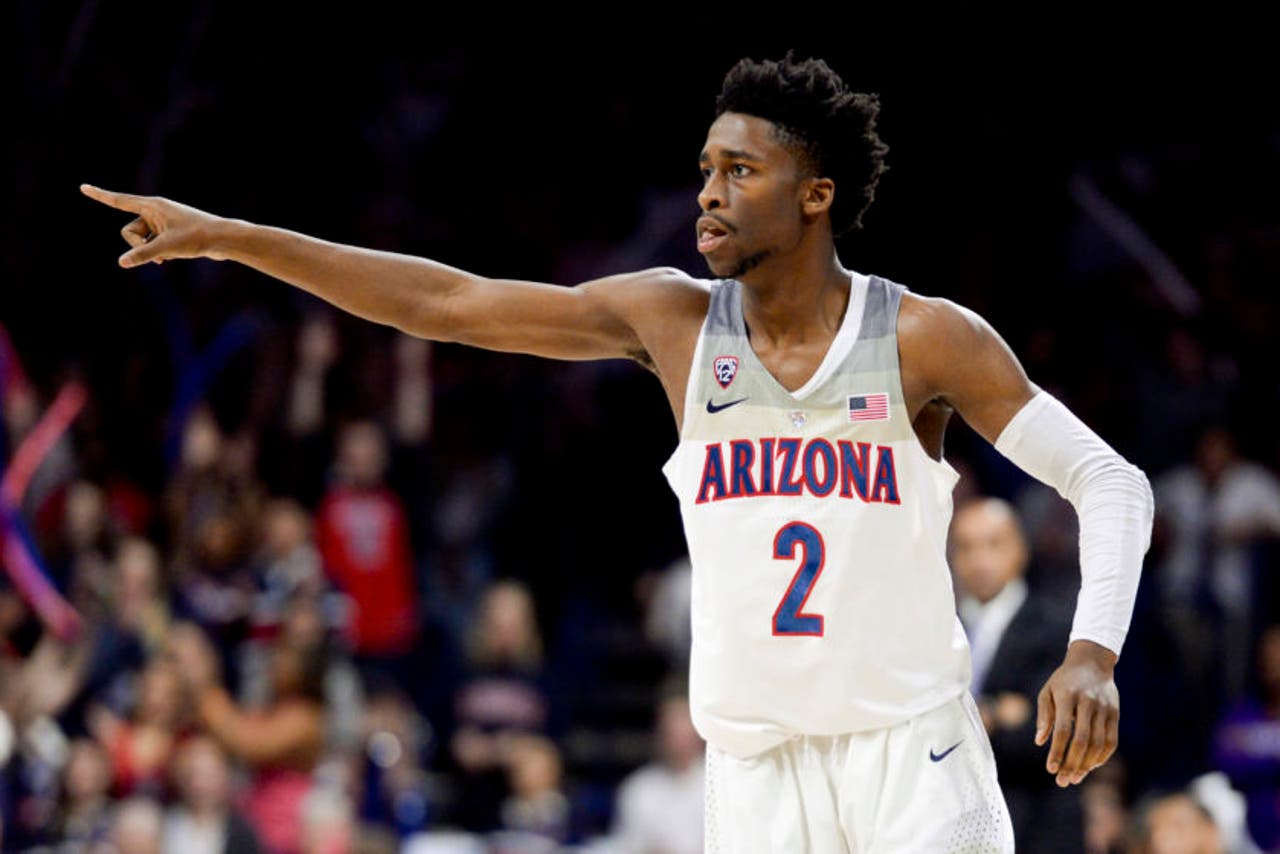 Mandatory Credit: Casey Sapio-USA TODAY Sports
2. Kobi Simmons, PG, Arizona
2017 statistics:  8.7 PPG, 1.6 RPG, 2.0 APG
A talented and quite possibly misunderstood guard from the Arizona Wildcats in Kobi Simmons could be exactly what the Knicks are missing off the bench. Being a true scorer with great ball handling ability are tough components to teach, and Simmons has all the makings of an aggressive player that will make opposing defenses tremble.
The value for a player like Simmons isn't really displayed via his stats last season considering he had fallen out for favor with the Wildcats coaching staff cutting his minutes. At 6'4″ and 170-pounds, Simmons possesses enough height to see over smaller point guards, mixed with exceptional quickness. He will eventually need to bulk up as he desires to remain just a point guard could see his value increase if open to combo guard roles at the professional level.
Simmons didn't hold back while talking to reporters during his NBA Draft Combine workouts last month in Chicago. He expressed his strong desire to play the point guard position in the NBA instead of the role he had at Arizona.
"I say I'm a point guard, I can play off the ball. I can play combo guard. But primarily I definitely am a point guard. … I'm showing them I can play point guard and I can guard my position. I can push the pace and run the team. In school, I played the two so they definitely see I can play off the ball. But I'm definitely a point guard."
Simmons' could be a very nice young project to work with the Knicks in regards to what they see in the future for both guard positions. If he has the attitude of current guard Ron Baker, willing to take any opportunity, he could be a key asset for New York.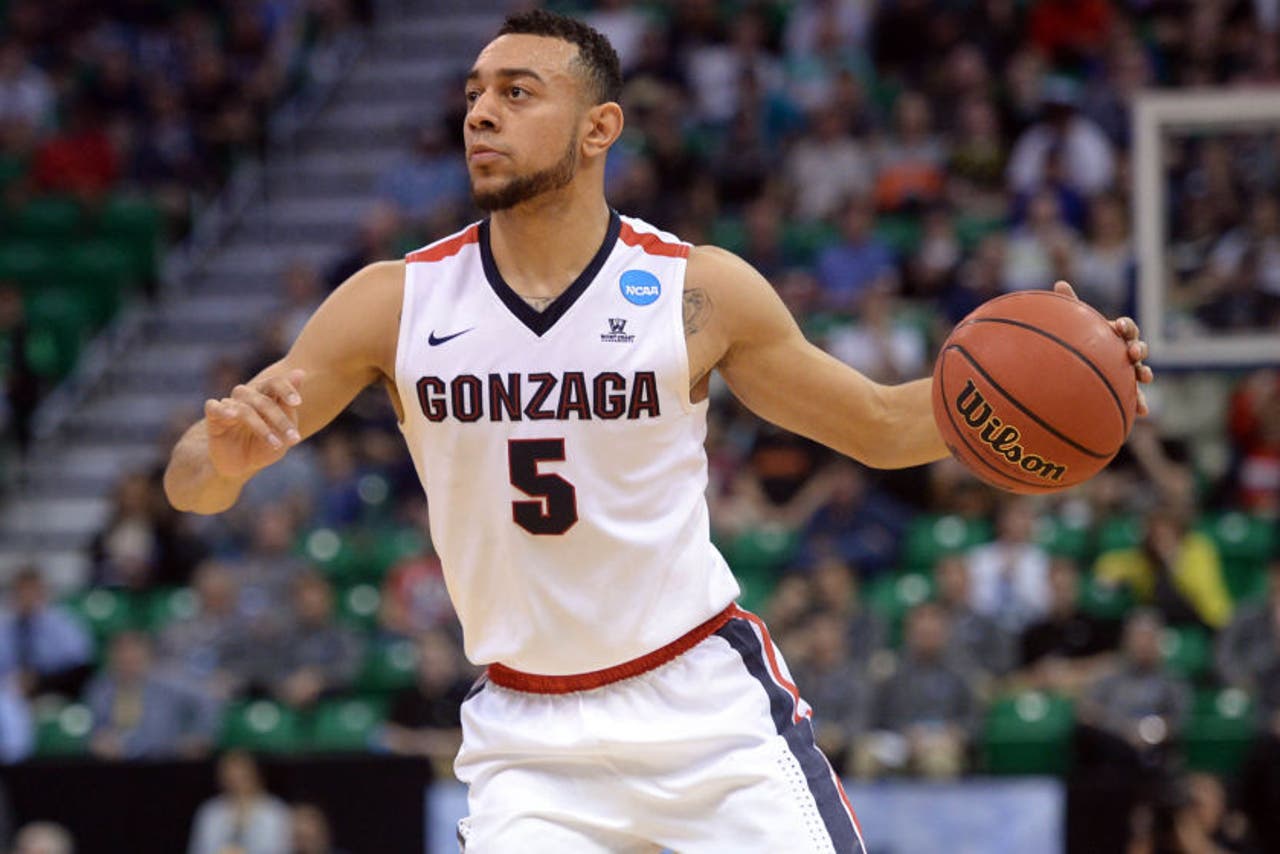 March 16, 2017; Salt Lake City, UT, USA; Gonzaga Bulldogs guard Nigel Williams-Goss (5) controls the ball against the South Dakota State Jackrabbits during the first half of the first round of the NCAA tournament at Vivint Smart Home Arena. Mandatory Credit: Joe Camporeale-USA TODAY Sports
1. Nigel Williams-Gross, PG, Gonzaga
2017 statistics:  16.8 PPG, 6.0 RPG, 4.7 APG
The options at point guard on the Knicks' wish list don't need to all be can't miss prospects as in the case with Gonzaga's Nigel Williams-Gross. The talented guard orchestrated the Bulldogs' impressive run to the NCAA national championship game only to be knocked off barely by North Carolina.
The 6'3″ and 190-pound point guard led the charge for Gonzaga during their impressive run last season. His decision-making and elite lateral quickness have made him a possible gem late in the draft for team's needing point guard depth.  Williams-Goss finished the 2016-17 college basketball season with averages of 16.8 points, 6.0 rebounds, 4.7 assists, 1.7 steals, and 1.1 three-point field goals made per game.
Williams-Gross reflected on his desire to play basketball at a high level during an interview earlier this year focusing on his determination to play against better talent.
"My dad and Coach Beno (Kumbeno) were always pushing me to be better, and they knew looking down the road that it would be beneficial to me playing against seniors in high school and even vets who were in college. That was a huge learning experience for me."
Williams-Gross has all the great leadership skills that can lift a bench or possibly lead into the Knicks starting lineup.
The winning attitude cultivated from his time at Gonzaga would hope to be infectious for the rest of the team.
More from Hoops Habit
This article originally appeared on
---
---