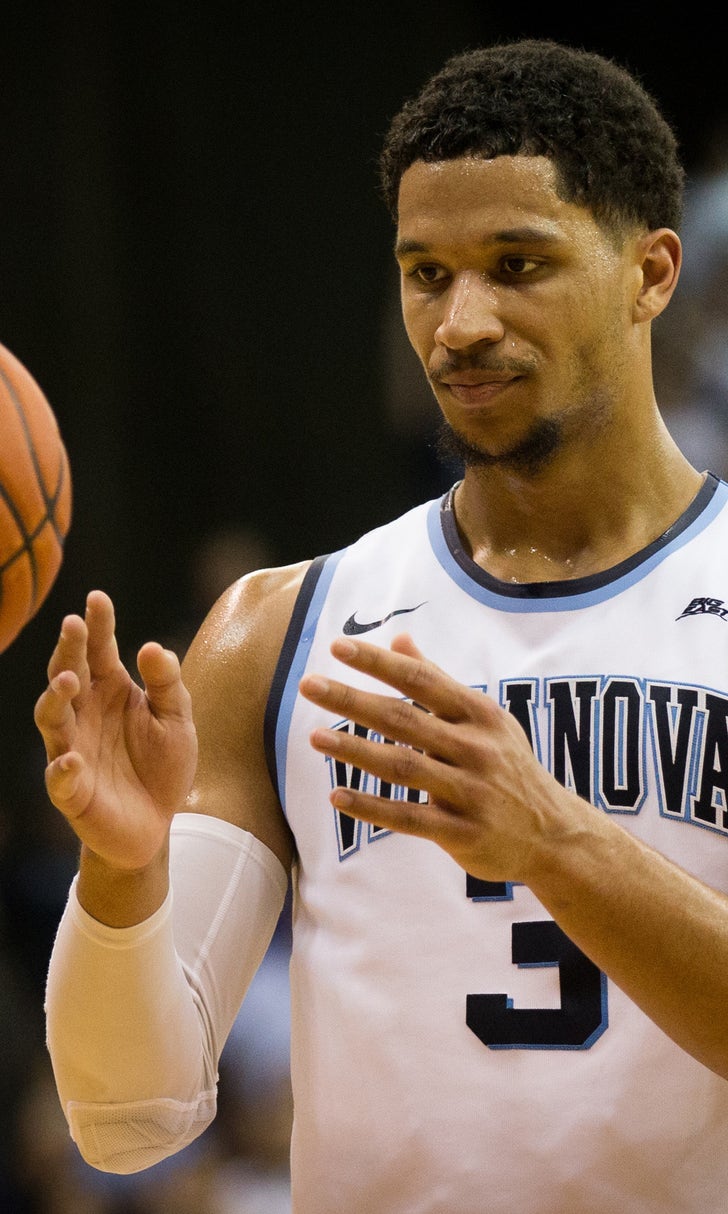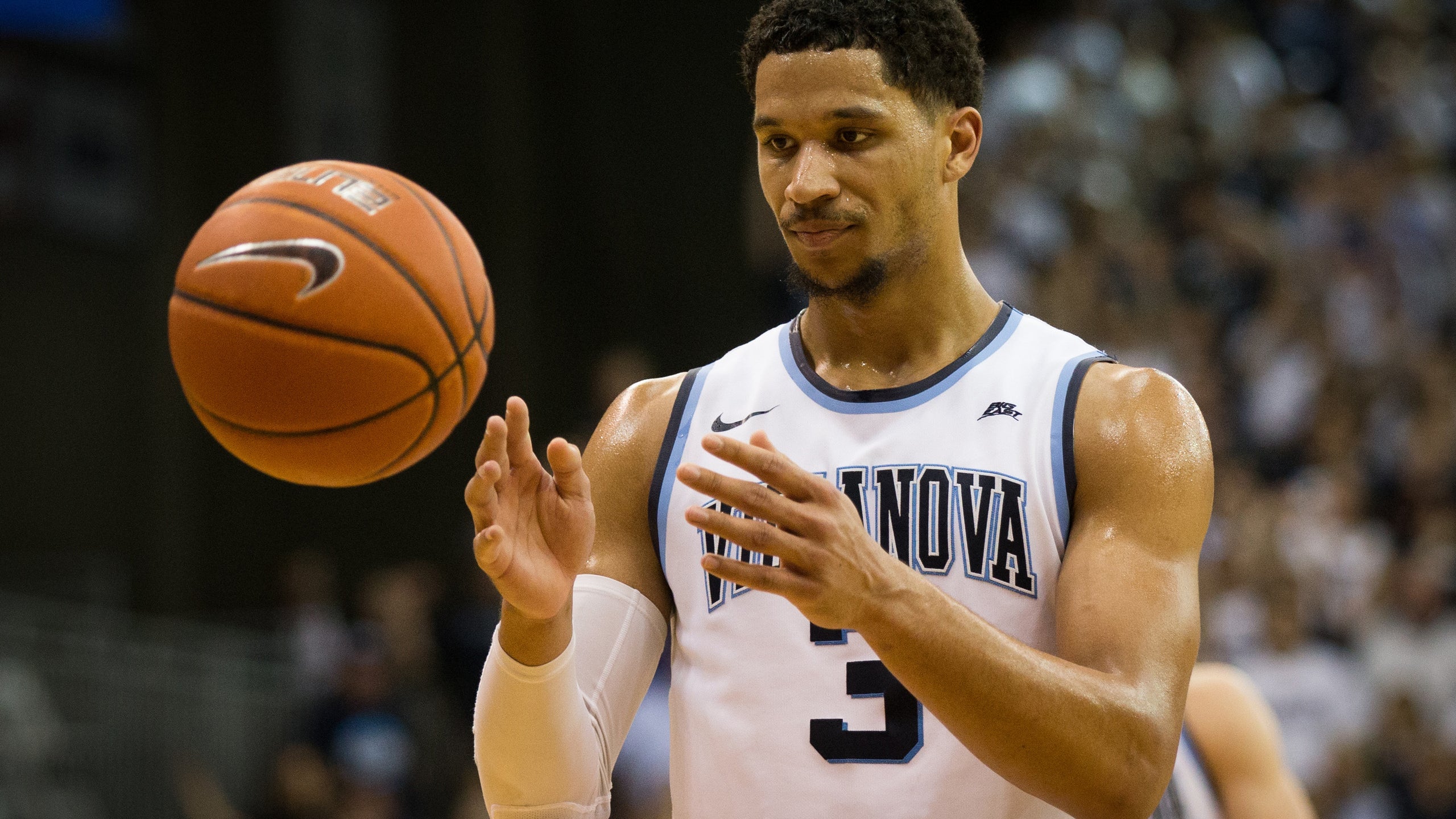 New York Knicks: 5 options for pick No. 44 in 2017 NBA Draft
BY Fansided and Ed Easton Jr./FanSided via Hoops Habit • June 30, 2017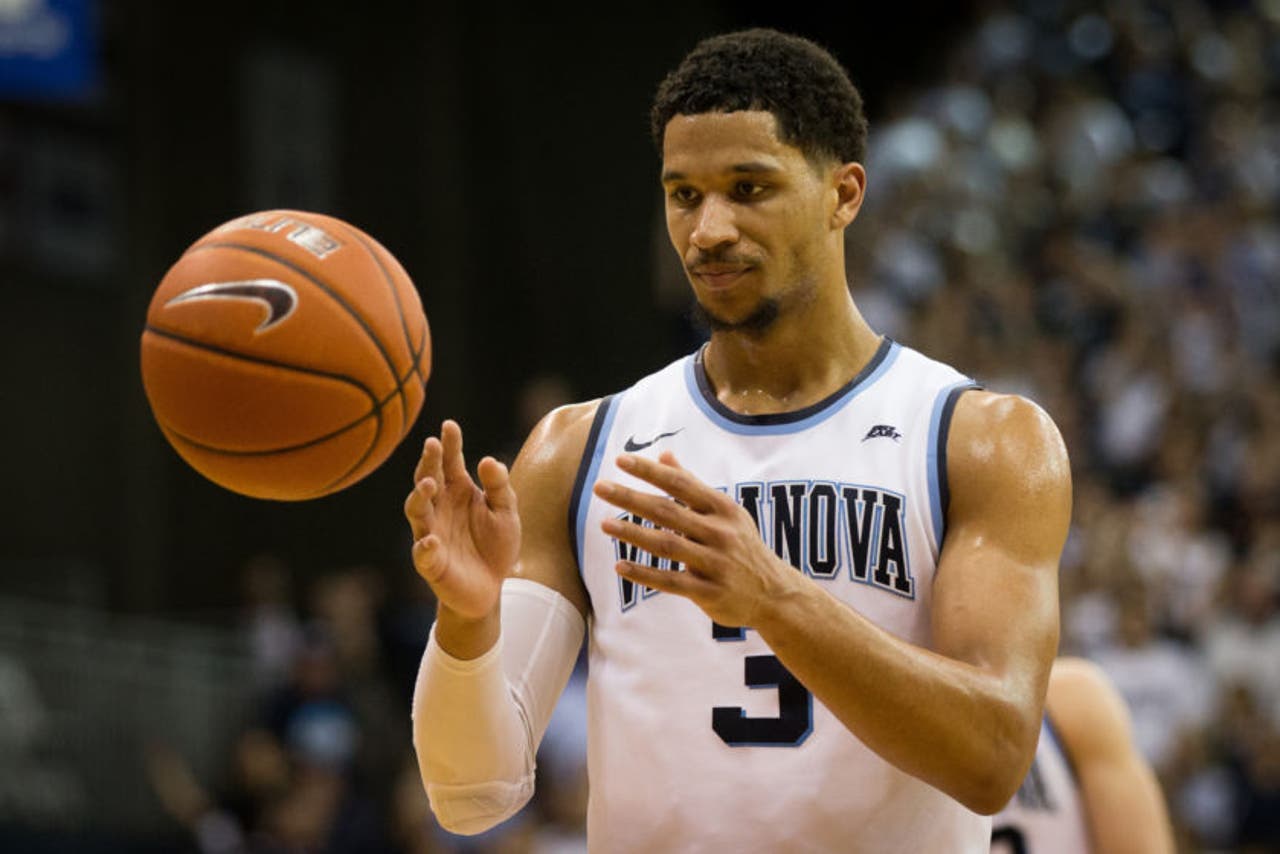 Feb 22, 2017; Villanova, PA, USA; Villanova Wildcats guard Josh Hart (3) takes the ball for a foul shot against the Butler Bulldogs during the second half at The Pavilion. Butler won 74-66. Mandatory Credit: Bill Streicher-USA TODAY Sports
The New York Knicks have the No. 44 overall pick in the 2017 NBA Draft. Here are five players they should consider with that pick.
The New York Knicks are in a rare position by their standards in regard to having several second round draft picks. In past seasons, the Knicks would've been lucky to just have one pick total, but this year the second round is in their immediate favor.
New York received the 44th overall pick from the Chicago Bulls this past summer as part of the Derrick Rose trade. As the first round pick will likely be used to feature a future starting point guard, team president Phil Jackson will look to acquire either talented young big men or more depth at the wing position.
The possible destinations of Carmelo Anthony and Derrick Rose in the upcoming weeks may also help determine this pick's ultimate value.
The Knicks do have positive history from the second round as Trevor Ariza was selected by New York in the 2004 NBA Draft at 44th overall, though he only played one season with the franchise. The current Houston Rockets swingman has been a constant contributor for several teams, including a championship season with the Los Angeles Lakers in 2009.
The plan for this current crop of players is to be as effective as Ariza, just for a much longer period of time. It's quite possible another diamond in the rough could just be the spark a franchise dealing with a few consecutive seasons of disappointment.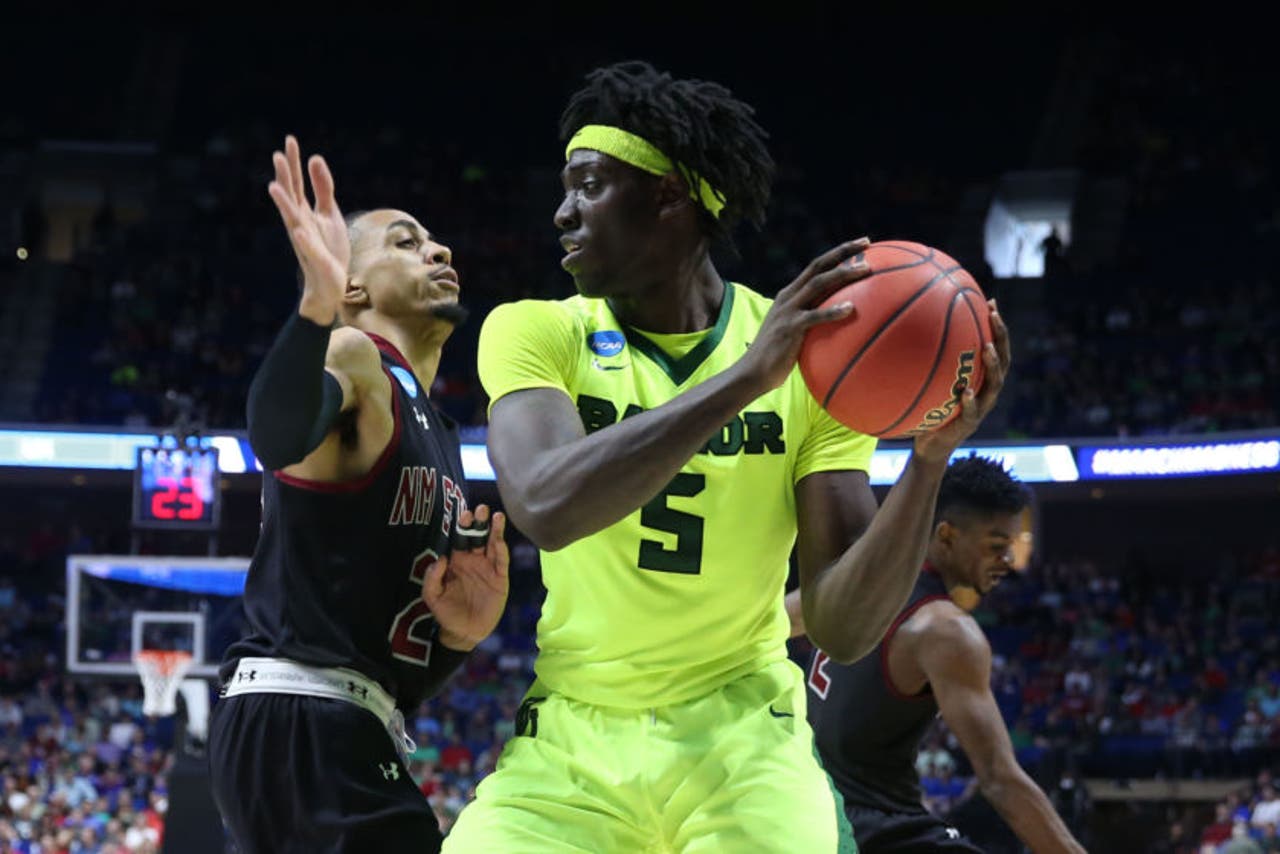 Mar 17, 2017; Tulsa, OK, USA; Baylor Bears forward Johnathan Motley (5) works around New Mexico State Aggies guard Matt Taylor (24) during the second half in the first round of the 2017 NCAA Tournament at BOK Center. Mandatory Credit: Kevin Jairaj-USA TODAY Sports
5. Johnathan Motley, PF, Baylor
2017 statistics:  17.3 PPG, 9.9 RPG, 2.3 APG
If you're looking for a big man, why not start with a beastly power forward from Baylor named Jonathan Motley? A tenacious rebounder and low post scorer, Motley was the central factor behind Baylor's success the past few seasons.
At 6'9″, 230 pounds, Motley is a decent build for the NBA power forward position and his active body can cause problems for opponents on the glass similar, to Kenneth Faried of the Denver Nuggets.
Motley's efficient per 40 minute averages of 22.4 points, 12.8 rebounds and 1.5 blocks earned him First-Team All-Conference honors in the Big 12. His 7'4″ wingspan makes up for most of his raw offensive skill that will require plenty of work and attention from NBA coaching staffs.
Motley is also recovering from a torn meniscus he suffered in Baylor's season-ending loss, causing some concern heading into draft night. The red shirt junior would have probably been a sure late first round pick before the injury, but now is possibly in play for New York at this spot.
Mar 19, 2017; Tulsa, OK, USA; Kansas Jayhawks guard Frank Mason III (0) reacts during the first half against the Michigan State Spartans in the second round of the 2017 NCAA Tournament at BOK Center. Mandatory Credit: Kevin Jairaj-USA TODAY Sports
4. Frank Mason III, PG, Kansas
2017 statistics:  20.9 PPG, 4.2 RPG, 5.2 APG
The days of avoiding a short point guard may be well into the past thanks to the emergence of Boston Celtics' star Isaiah Thomas. Frank Mason III is another example of big plays coming out of small packages, as he hopes to take his offensive excellence to the next level.
Mason, who stands at 6'0″ feet in shoes and sports a 6'3″ wingspan, still found ways to lead a powerhouse Kansas program to deep runs in the NCAA tournament with his scoring.
He accomplished almost every major individual goal in the college game last year, taking home the John R. Wooden Award, Associated Press Player of the Year, Big 12 Player of the Year and Citizen Naismith Trophy, just to name a few. New York could always use an extra scoring punch off the bench, especially if the possibility of getting Ricky Rubio remains on the team's radar.
Mason spoke very openly with USA TODAY last month regarding his draft status and whether his college success will translate into the NBA.
"I'm used to it. Ever since high school, I never really got the respect I deserved. I never really paid attention to that because I knew what I was capable of and who I was. So now, I just focus on what I can control. At every level, you have to go out there and prove yourself."
3. Anzejs Pasecniks, C, Latvia
2017 statistics:  N/A
Anzejs Pasecniks' name is quickly rising up the NBA draft boards very similar to his fellow Latvian countryman before him, Kristaps Porzingis. Pasecniks brings great size and mobility to the center position, drawing plenty of comparisons to Porzingis in regard to unexpected athleticism.
Pasecniks posted modest averages of 7.2 points and 3.0 rebounds in 46 appearances with Gran Canaria in Europe this season. At 21 years old, he has plenty of potential but many experts believe he will be more of a project and could be drafted without actually joining the team for a year or two.
Teams will be lining up to take him for the draft-and-stash possibilities and if the Knicks are not planning to play him much this upcoming season, it may not be a bad deal moving forward with Joakim Noah and Willy Hernangomez.
ESPN's international player expert Fran Fraschilla spoke to the New York Post last month regarding Pasecniks' potential, even making a comparison to Porzingis.
"He's a late bloomer. He's coming on. He's going to sneak into the first [round]. He's not as athletic as Porzingis, but he's just more of a late bloomer than Porzingis. He's coming on quick, he's going to play himself into the first round. He's a reasonably good athlete for 7'2″, he can run and jump."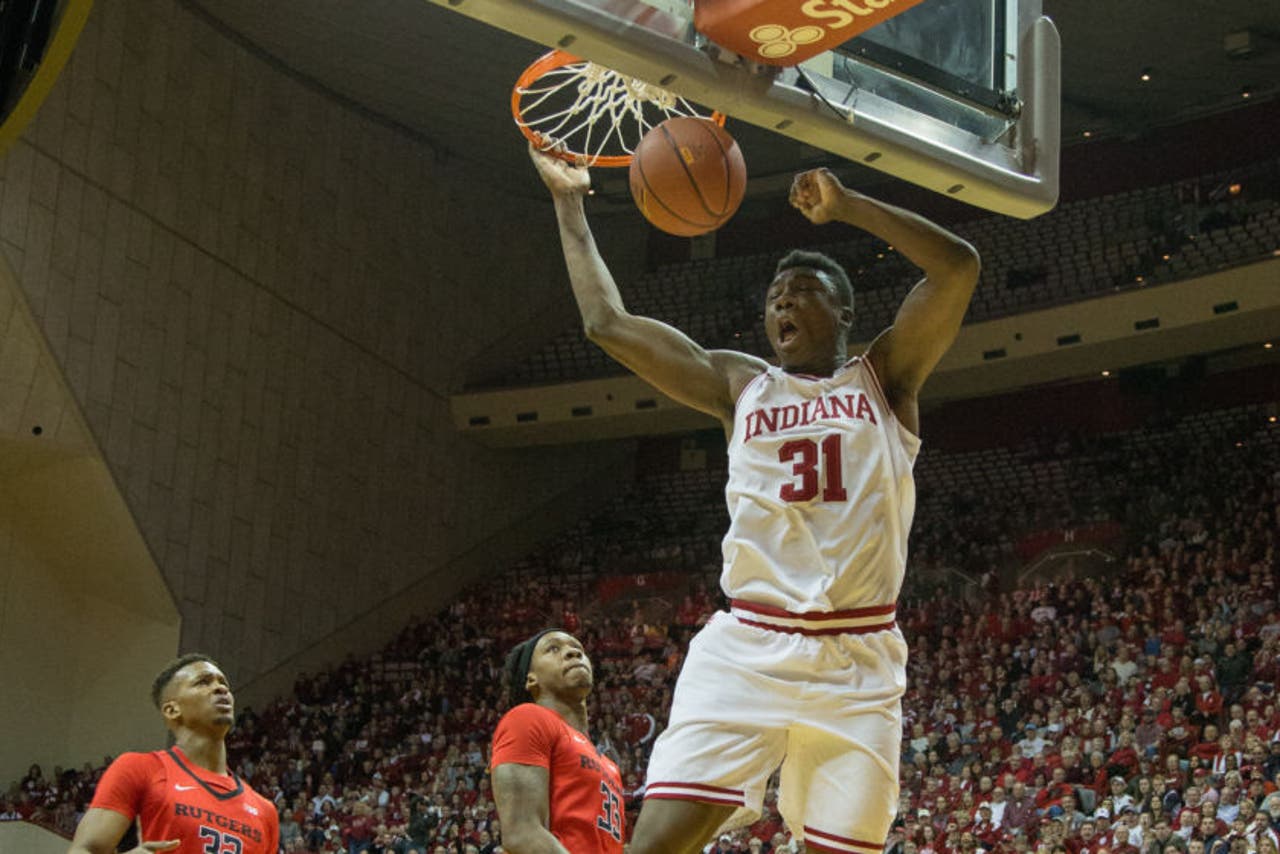 Jan 15, 2017; Bloomington, IN, USA; Indiana Hoosiers center Thomas Bryant (31) dunks the ball in the first half of the game against the Rutgers Scarlet Knights at Assembly Hall. Mandatory Credit: Trevor Ruszkowski-USA TODAY Sports
2. Thomas Bryant, C, Indiana
2017 statistics:  12.6 PPG, 6.6 RPG, 1.5 APG
The true definition of going big is Indiana University's Thomas Bryant because of the depth he can provide at center. The 6'10", 250-pound Bryant boasts a 7'6″ wingspan, making him a huge barrier in the paint and potential defensive standout in the pro ranks.
Bryant may not have the greatest of resumes heading into the draft, but he does bring the size factor that can't be taught and the ability to finish at the basket. The Rochester, NY native finished third in the NCAA in field goal percentage as a freshman and was a key reason behind Indiana's run to the Sweet 16 in 2016.
Bryant's three-point percentage also rose to 38.3 percent on 2.5 attempts per game this past season, making him a legit threat from the outside.
The major flaw in Bryant's game is his carelessness with the basketball, as he occasionally gets caught holding the ball too low for smaller defenders to steal, leading to many turnovers.
Bryant opened up in an interview with 1070 The Fan recently about his current draft status and the different teams he's been working with lately.
"I felt like I was mentally ready and physically ready. Just being able to have that confidence to take that next step forward and be 100 percent confident in my decision. I felt like it was the right choice. They're still looking at me. I'm just out there showing the versatility, athleticism, communication out there. They're saying it's really good to see that from somebody that's so young and coming out early."
2017 NCAA Tournament: 5 Players To Watch For In East Region
Mar 11, 2017; New York, NY, USA; Villanova Wildcats guard Josh Hart (3) watches his shot during the first half of the Big East Conference Tournament final game against the Creighton Bluejays at Madison Square Garden. Mandatory Credit: Adam Hunger-USA TODAY Sports
1. Josh Hart, SG, Villanova
2017 statistics:  18.7 PPG, 6.4 RPG, 2.9 APG
If the goal is to build a championship team, it only makes sense to look at a guy who was a key contributor on a title-winning team. The player in this case is senior Josh Hart from Villanova, who was a member of the 2016 NCAA national championship team that shocked North Carolina.
At 6'6″ and slightly over 200 pounds, Hart is the ideal size for a shooting guard in the league today, making him a sleeper pick in the second round.
Hart helped to lead the Wildcats to impressive seasons throughout his tenure and added to his list of personal accomplishments with Big East Player of the Year, Defensive Player of the Year honors and becoming a consensus First Team All-American.
A player that isn't afraid of the big moment, Hart makes sense for New York in need of young scoring, mixed with a winning pedigree to help change the locker room culture.
Hart shared his thoughts with reporters on being a four-year college player and its positive impact at the next level, even including Rookie of the Year candidate Malcolm Brogdon of the Milwaukee Bucks as an example.
"When you have four-year guys definitely like Malcolm, who had a heck of a year, I'm rooting for him. When you come from great spots like Virginia and Villanova, when you come from programs like that, you know how to play basketball."
More from Hoops Habit
This article originally appeared on
---
---