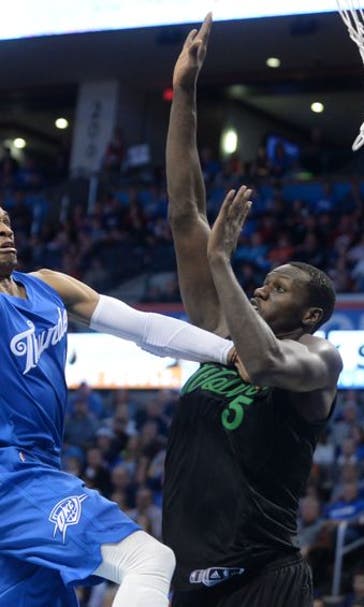 NBA Week 9 Power Ranking – Where National Scribes Rank OKC Thunder
December 28, 2016

Fansided, Cole Hixon/FanSided via Thunderous Intentions
The past week was a good one for the Thunder as they went 3-1, with their one loss coming in a nail biter to Atlanta. The loss also had two crucial missed no calls in the final seconds that would have sent Russell Westbrook to the line to tie or win. It's the NBA, it happens.
With Victor Oladipo and Cameron Payne still out the Thunder have held their head above water. They will soon need both of them back as their schedule gets much harder. They are scheduled to have 14 of their next 18 games on the road.
With that in mind, here's how the National pundits ranked the OKC Thunder:
Sports Illustrated – Jeremy Woo
Jeremy had little to say about the Thunder last week, letting Westbrook's shammgod say all that needed to be said. This week he had more to say as he moved the Thunder up four spots to number six in his rankings saying:
Westbrook is Westbrook, but the Thunder's bench has begun to play better and there's an identity here. There are definite positive spins to be had. But, yeah, most of them involve Russ.
NBA.com – John Schuhmann
Schuhmann moved the Thunder up two spots in his rankings putting them at number seven.
The Thunder have been generally terrible (getting outscored by 10.8 points per 100 possessions) with Russell Westbrook off the floor, something that's extra concerning with Victor Oladipo (who usually plays with the second unit) still out with a sprained wrist. So when a reserve has a break-out game, like Alex Abrines' 18 points (5-for-11 from 3-point range) in New Orleans on Wednesday, it's a huge lift. Westbrook is recording the highest usage rate we've ever seen and may slow down at some point, but 31 games in, he's still averaging a triple-double (31.7, 10.4 and 10.9) and only ranks 19th in minutes per game at 35.0.
ESPN – Marc Stein
Marc Stein who was highest on the Thunder last week, kept the Thunder at the same number eight spot in his rankings, saying:
Maybe you feel as though you've already gorged yourself on too much Russell Westbrook this holiday season. Perhaps your wish to Santa was more variety in the Thunder comment section of these rankings from the Committee. We're truly sorry. We'd like to oblige. But how do we break the habit when he goes to Boston and savages the Celtics for 45, 11 and 11? Or when he follows that up by hitting poor Minnesota with just the third 30-point, 15-assist game in Christmas Day history? Only Oscar Robertson (22) and Wilt Chamberlain (seven) have more career triple-doubles featuring 40-plus points than Westbrook's six. Only Robertson and Tiny Archibald, meanwhile, had previously managed 30-and-15 games on Christmas.
RELATED STORY: Analyzing why trading Westbrook may be best for Thunder's future
CBS – Matt Moore
Moore also decided to move the Thunder further up the ladder in his rankings, moving them up two spots to number six.
A three-game winning streak including a quality win vs. the Celtics and the Thunder are now top-15 in offense and defense. More importantly, they've stopped playing down to bad teams with double-digit wins vs. inferior teams. The Thunder are getting their head screwed on more and more as the year goes on.
RELATED  STORY: T.I. Christmas Round Table
Coming off an impressive Christmas Day performance, the Thunder have a short week with only three games @ MIA, @ MEM, vs. LAC. After playing the abysmal Heat Tuesday, they have two tough games against Memphis and the Clippers both of whom are fighting for playoff seeding with. Check Thunderous Intentions next week to see how they did.
Get ahead of the game by adding the FanSided app and selecting Thunderous Intentions and be alerted the second our articles are posted.  Visit the app store or link here.
More from Thunderous Intentions
This article originally appeared on
---
---