National Basketball Association
National Basketball Association
NBA stars channeling inner nerds
Published
Jun. 15, 2012 1:00 a.m. ET

There's no such thing as court vision during this year's NBA playoffs.
Non-prescription specs, both with lenses and without, are all the rage, especially with the stars of the NBA Finals — Dwyane Wade, LeBron James, Kevin Durant and Russell Westbrook.
Welcome to the age of "nerd glasses."
"I love it. I think it's great they're having fun with it," Wade's stylist, Calyann Barnett, told The Daily. "They're trying something different."
It's all a part of players transforming into preppies, though some experiments simply don't work — just Google "Russell Westbrook fish hook shirt" to see what he paired with his signature pair of red glasses.
Barnett first saw the glass-less glasses in designer Tom Ford's advertisements three years ago. But she thought the style went as far back as the 1980s, when legendary hip-hop group Run-D.M.C. sported them.
Wade is just as mystified by the explosion as the general public.
"I don't know what the statement is," Wade told the South Florida Sun-Sentinel. "Everybody wants to look smarter than what they are, I guess."
While working with Wade in Phoenix for the 2009 NBA All-Star Game, Barnett gave him a pair to go along with an outfit that included a bow-tie and blazer.
Eagle-eyed NBA fans will notice players switch off between glasses with lenses or just the frames. For Wade, that's by design.
"We have to keep his looks fresh and new so no one really knows what to expect," said Barnett, whose list of NBA clientele also includes Celtics guard Rajon Rondo.
"Also, we like to keep the lens in for the first few wears. Then when he feels like it he pops them out and says 'the lens had go.' Then we get a new pair."
There is slight danger, according to Dr. Ronald Hopping, the president-elect of the American Optometric Association, who hasn't heard patients mention NBA stars sporting frames.
"My only real concern would be that it is a medical device and needs to be prescribed correctly," Dr. Hopping said. "While I understand the concept, the important factor is that people wear the right glasses. If you wear an unapproved or knockoff pair, they break more easily and can damage the eye."
Ultimately, Hopping focused on the positives.
"I think it makes it OK for kids to wear glasses," he said. "[There's] the age-old saying of, 'Guys don't make passes at girls who wear glasses.' That image has changed over the years, and I think NBA players are helping. It becomes a lot more acceptable to wear them."
---
---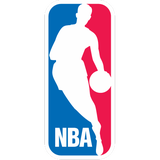 Get more from National Basketball Association
Follow your favorites to get information about games, news and more
---