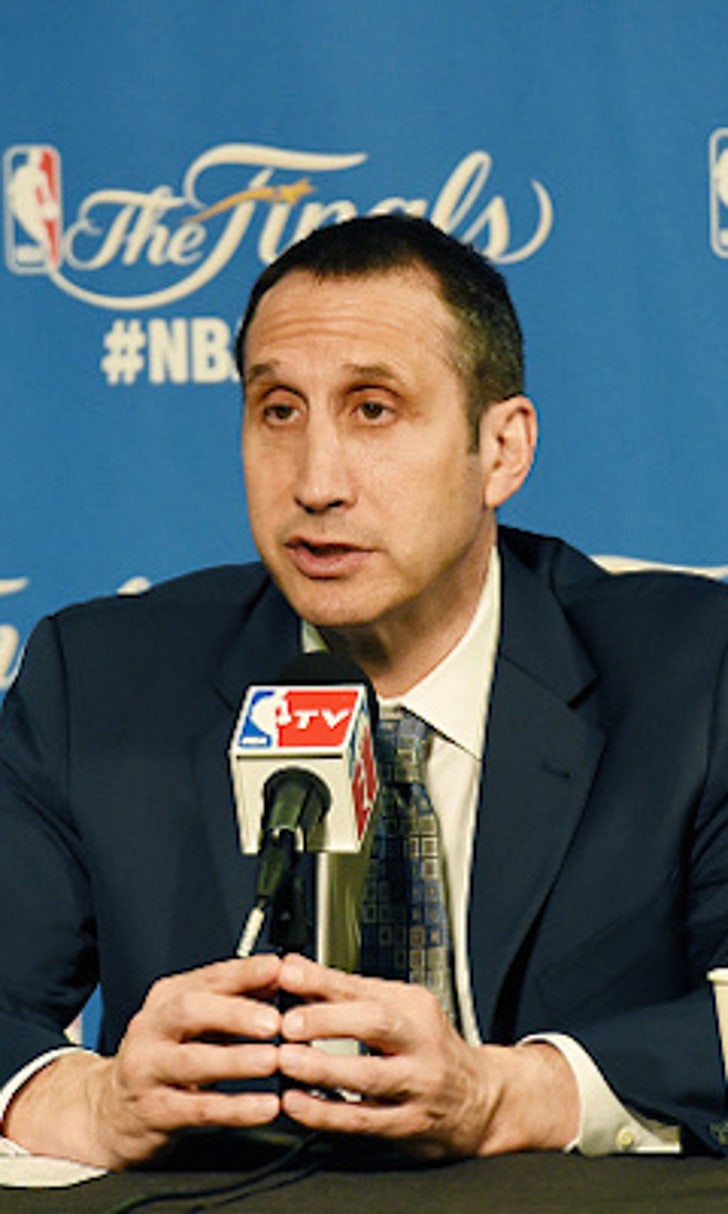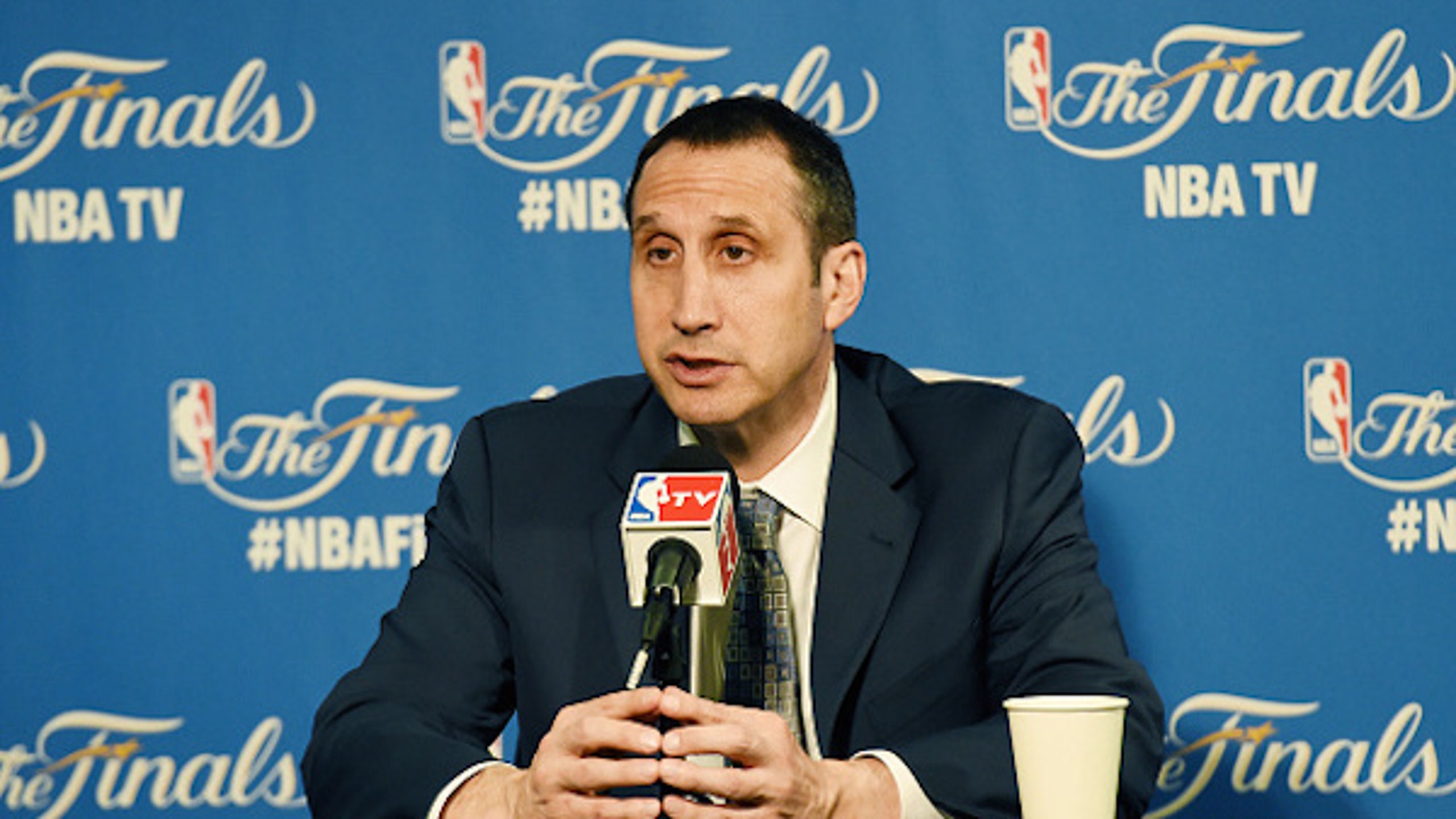 NBA Finals Game 5: It's a small world after all
BY foxsports • June 15, 2015
By John Cannon
Last October, the San Francisco Bay Area hosted Game 5 of a world championship series on a Sunday evening. It was a night dominated by a bunch of Giants, who took a 3-2 lead in the 2014 World Series against the Kansas City Royals.
Eight months later, the Bay Area hosted another Game 5 of a 2-2 world championship series against a Midwestern opponent. There should have been a sign at the entrance to Oracle Arena in Oakland: "Giants need not apply."
My colleagues Matt Zemek and Joe Nardone have very capably covered the major angles of NBA Finals Game 5, which frees me up to take on what seemed to be the biggest topic of conversation after the game, Cavaliers' coach David Blatt's decision to "go small."
Blatt's postgame press conference was unlike any I've ever seen, and I've seen plenty in my day. The questions were contentious, and most of them were asking the coach basically the same question, which is "How could a guy who scored 28 points in Game 4 play only nine minutes in Game 5?"
Blatt, who has plenty of experience being criticized by the media, stood his ground. He got a little frustrated, however, when his answer wasn't accepted by the room. Basically, his response was to remind everyone that the game was close with five minutes to go, it was a one-point game, and therefore, his small-ball experiment was a success.
Blatt's arrogance notwithstanding, he has an argument. While Mozgov was effective individually in Game 4, the Cavs were not nearly as competitive. They trailed by seven after one quarter, 12 at the half, and the Warriors won going away. In Game 5, Cleveland led for much of the first half, and didn't lose contact with the Warriors until the last three minutes of the game.
In addition, there's this set of cold, hard facts: Mozgov played two stints in the game, which added up to 9 minutes. He scored no points. He had no rebounds. He turned the ball over twice. He committed two fouls. He started the game, and the Warriors had changed their tactics, doubling Mozgov as soon as he touched the ball. He didn't handle it well. Blatt took him out with the score 8-2 in favor of the Warriors.  He re-entered the game with 37 seconds to go in the third quarter, and immediately was called for a blocking foul on Leandro Barbosa. After the quarter break, Mozgov set a good screen that led to a basket for LeBron James, but followed that up with a brutal turnover where he put the ball on the floor … and then had to chase it when it popped loose. He then was dunked on by Harrison Barnes, and spent a couple of minutes running up and down the floor watching LeBron do his thing. When the horn sounded at the 8:02 mark of the fourth quarter, he was out, not to be seen again.
The primary complaint from the media was that the Warriors got several offensive rebounds on critical possessions in the fourth quarter, which, theoretically, would have fallen into Mozgov's hands were he in the game. Cleveland out-rebounded Golden State, 49-44, but the Warriors had a 9-3 margin in rebounds from the point where they led 85-84 with 5:10 to play to when they led by nine with 1:38 to play. Blatt, and James in his press conference, were insistent that the lack of the enormous Russian had nothing to do with Cleveland's problems on the glass. Whatever, coach.
The biggest problem for Mozgov when the Warriors are small is that he will need to guard someone on the perimeter. This is almost a cartoonish event, and the Warriors took full advantage when he was in the game. The media rarely thinks about how the matchups will work on the defense end, but you could clearly see that Stephen Curry has fundamentally solved the puzzle of how to get free for open shots. There were times when Matthew Dellavedova kept him under wraps in the first three quarters on Sunday, but when bigs got switched onto him, Curry torched them. Blatt saw this, and when he stayed small, Cleveland's defensive integrity on the perimeter became noticeably better.
David Blatt has been combative with the press for much of the season, but that doesn't excuse the extent to which various questioners refused to accept his answers from the podium on Sunday night after Game 5. Cleveland was much more competitive in Game 5 than it was in Game 4, and its perimeter defense was much better when Mozgov sat on the bench. Cleveland's also an undermanned team, but if an NBA Finals game is lost, it's automatically the coach's fault for many people with press credentials.
I have to say that it's amazing to me that a coach whose team is given zero chance to win the series is being critiqued so heavily.
Is the team good? No? Well, then the coach must be doing something right, yes? No?
It's confusing to me.
I'm with Blatt on this one. If he uses Mozgov for more than a token appearance in Game 6 against the Warriors' small lineup I will be very surprised.
Notes from Game 5
The Warriors got their best possible outcome in Game 5, and I'm not just talking about the "W." LeBron was, in his own words, "gassed" at the end of Game 4, due in no small part to the fact that he had played 46 pretty stressful minutes in Game 3. You'll remember that Cleveland led by 20 points in the third quarter of Game 3. I mentioned in my Game 3 articlethat I thought one of the most important things in that game was that the Warriors came back, forcing James to stay on the floor (and play really hard) until the bitter end. He could have logged 12 or more minutes of rest had Golden State folded up the tent and gone home.
In Game 4, we saw LeBron on one day of rest, playing his third game in five days while carrying a massive workload. He looked almost human. He shot 7-of-22 from the field, which resembled his numbers from earlier in the playoffs before the 8-day layoff prior to the Finals. My theory is that the Warriors needed to win Game 5 in such a way that James had to remain engaged the whole game, which they did. A blowout, whichever way it turned out, would have benefited the Cavs because they could have shelved LeBron very early.
I said before the series started that I thought Harrison Barnes was the most important player for the Warriors. I was taking Steph Curry, Klay Thompson and Draymond Green for granted. Barnes is the guy who has to hit the corner 3 and be active on the boards for the Warriors to run at peak efficiency. Well, his shot is AWOL, but he was incredible on the offensive board Sunday night and finished with 10 rebounds.
Remember Andre Iguodala's bucket to put Golden State up by seven inside the four-minute mark? Harrison Barnes gained an offensive rebound of a Klay Thompson miss to set up that basket. Later, when Blatt went to the "Hack-An-Iggy" strategy just outside the two-minute mark, Barnes rebounded one of Igoudala's missed free throws to buy the Warriors a little more time… and give Iguodala a chance to make at least one foul shot with 2:14 left.
The essential — and highly admirable — virtue Harrison Barnes displayed Sunday night was this: He played through pressure by working harder and finding a way to make himself useful. He did not trust his jumper, but knowing that, he clearly made a much greater commitment to attack the glass and get his hands on loose balls.
Late in Game 2, the Warriors lost a game they could have won because Klay Thompson did not box out Matthew Dellavedova in the final 10 seconds of overtime. Golden State, through most of the first three games, did not match Cleveland's energy on the boards. Barnes changed that equation in Game 5, and he did so by displaying a level of wisdom well beyond his 23 years (and he just turned 23, by the way — he won't turn 24 until next May).
Klay Thompson said after the game that the Warriors are approaching Game 6 like it's Game 7. For their sakes, I hope they do, because should the Cavs pull this game out and return for a Game 7, their confidence will be sky-high.
They will also have two full days of rest, since the return to the 2-2-1-1-1 format for the Finals (which began last year) was accompanied by a two-day break before Game 7.
I wouldn't want to take on a rested LeBron James in a Game 7, whether it was played at my place, or his place, or Mars.
More from Crossover Chronicles:
---
---