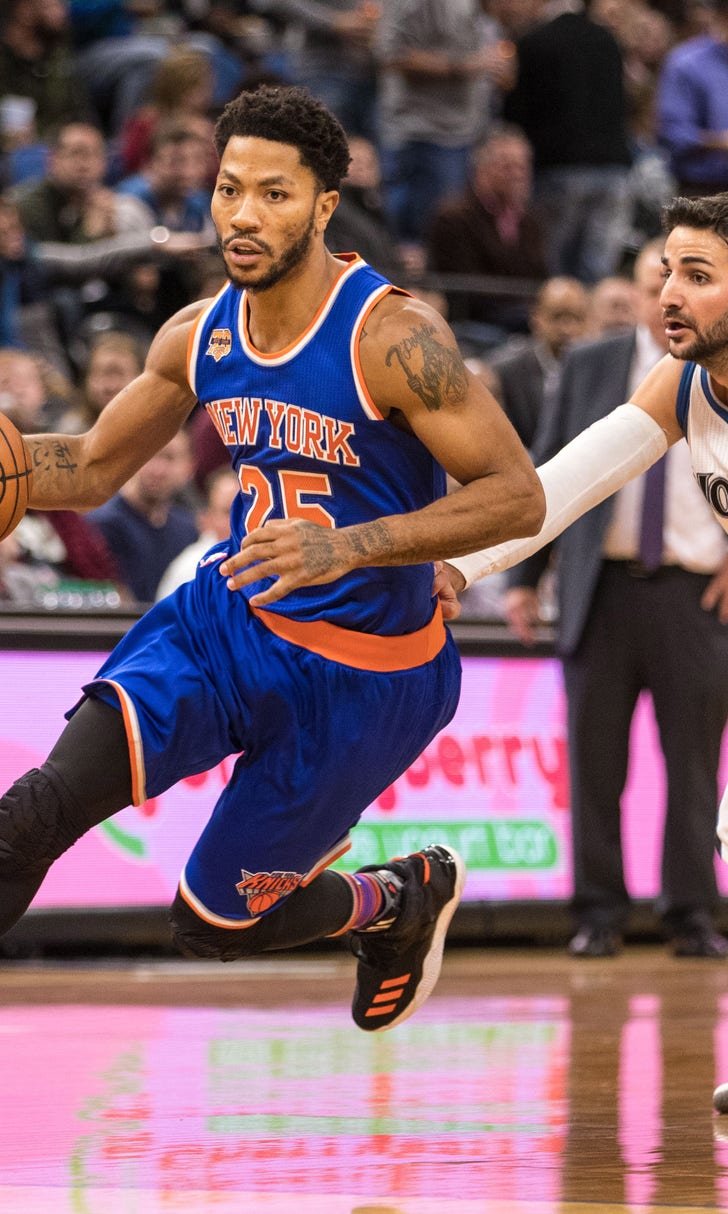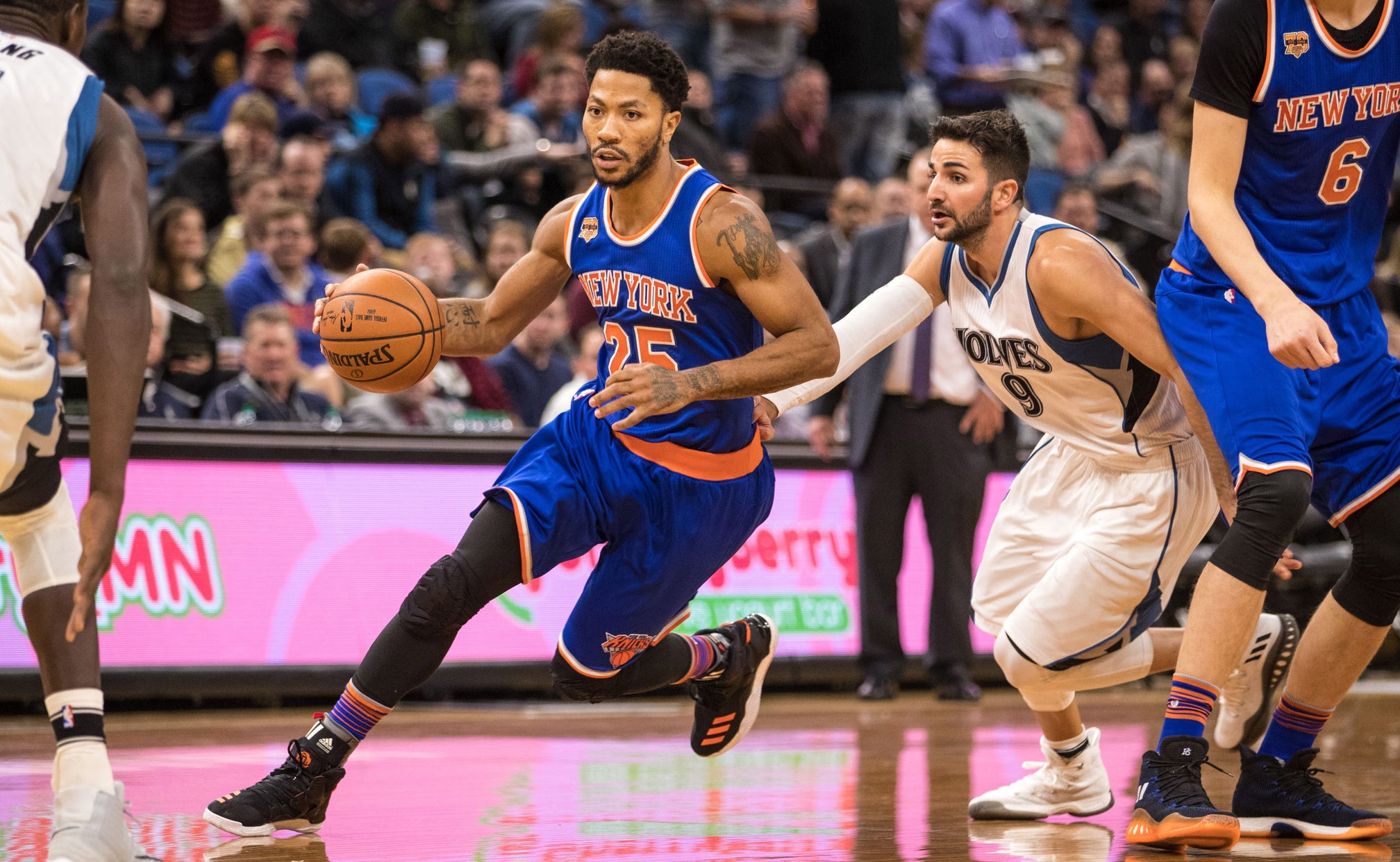 Minnesota Timberwolves Were Right To Hold Back On Ricky Rubio Trade
BY Fansided and Justin Rowan/FanSided via Hoops Habit • June 30, 2017
The Minnesota Timberwolves made the right decision by not swapping Ricky Rubio for Derrick Rose.
One of the bigger shocks of the 2017 trade deadline is that neither Ricky Rubio nor Derrick Rose were traded. The Minnesota Timberwolves and New York Knicks were said to be engaged in trade talks to swap their starting point guards.
Yet as the deadline passed, both point guards stayed put.
The move would have meant a reunion for Tom Thibodeau and Rose. Rose, of course, had his MVP season under the coaching of Thibodeau and the team would be banking on a resurgence to help power them into the playoffs.
Even though that connection exists, Thibodeau still ultimately decided to pass on Rose.
In fact, it sounds as though the decision was made at the last minute. Here's what ESPN's Marc Stein had to say:
On one hand, this trade could have made sense for both teams. Neither point guard is a capable shooter from the outside, making their fit in a modern offense difficult. With that in mind, neither team would really lose any spacing for their offenses that are already lacking spacing.
timberwolves
Hoops Habit 1 dMinnesota Timberwolves: 5 Bold Predictions After The All-Star Break
More headlines around FanSided:
2d - Timberwolves Rumors: Is the Rose-for-Rubio trade happening?2d - Report: Washington Wizards Showing Interest In Shabazz Muhammad2d - Why Would The Minnesota Timberwolves Want Derrick Rose?2d - NBA Trade Rumors: Predicting Seven Deadline Day Landing Spots2d - Washington Wizards NBA Trade Deadline 2017: Wizards Interested In Shabazz MuhammadMore News at Dunking with Wolves

Rubio would give the Knicks a talented young player with a pass-first mentality to help Kristaps Porzingis develop.
For the Wolves, the true value of the deal wouldn't really come from Rose. While Rubio's contract is reasonable a player his caliber, it runs until 2019.
With possible max extensions coming for Karl-Anthony Towns, Andrew Wiggins and even Zach LaVine, the team needs to assemble a supporting cast before they lose flexibility.
It's clear that Rubio is not part of the future plans for this team. Even if Kris Dunn doesn't blossom into a starter, the team would need to look to the draft or free agency to fill their need at that position. In today's NBA having multiple players that can score and create for others is essential.
You can't be stuck playing four-on-five offensively, as the Wolves so frequently are with Rubio. These issues become even more glaring in the playoffs, where teams can scheme to take away other options.
Adding Rose's expiring deal would allow the Wolves to pursue a point guard in free agency. While the point guard market is thin, viable options like Jrue Holiday and George Hill are available.
Even though this opportunity has passed, with two years left on his deal, Rubio can still can be moved later this summer.
If the New York Knicks were unwilling to attach a pick or other assets to Rose, the Wolves made the right decision by refusing to swap point guards.
Rubio makes the Wolves a better team this season, as they chase their unlikely goal of a playoff spot. In addition to that, the Wolves will undoubtedly at least receive a draft pick in return for him this summer if they choose to shop him.
More from Hoops Habit
Moving Rubio for an expiring contract is poor asset management. If there is no value added to the deal, the move would become baffling for the Wolves. If the intention was to sign Rose beyond this season, the move would become even sillier.
While signing Rose would be a poor decision, if the team really wanted to go that route they could trade Rubio this summer and sign Rose. The future of the Timberwolves at point guard is not with either of these point guards.
The Wolves made a smart, calculated decision to hold on to Rubio and assess his market at a later date.
While this is far from a ringing endorsement for either player, the inaction should be comforting for Wolves fans. Even if you're attached to Rubio and don't want the team to move on from him, holding out for more value should be encouraging.
Asset management is incredibly important in the NBA. With the talented core Minnesota has, they must maximize all of their resources to help them become a contender. The Wolves, like any team are bound to make some mistakes along the way.
But what they can't do is give up an asset like Rubio solely for cap flexibility.
---
---