Chicago Bulls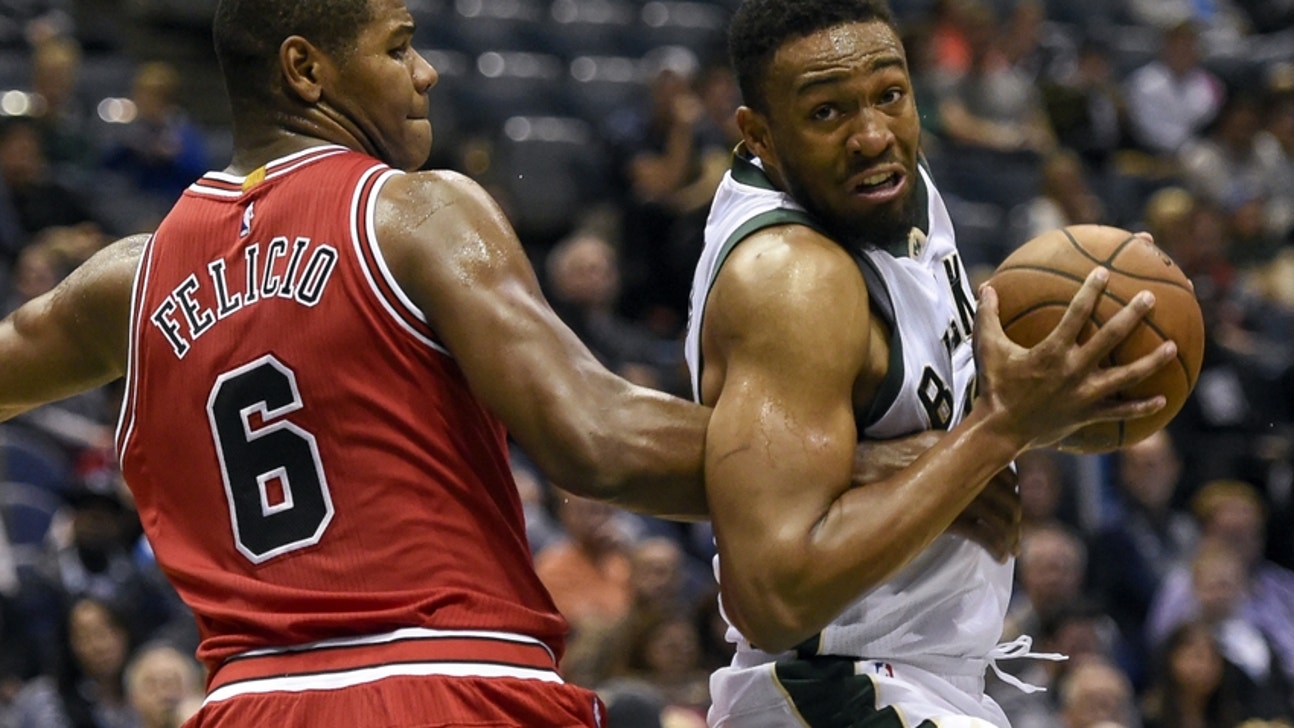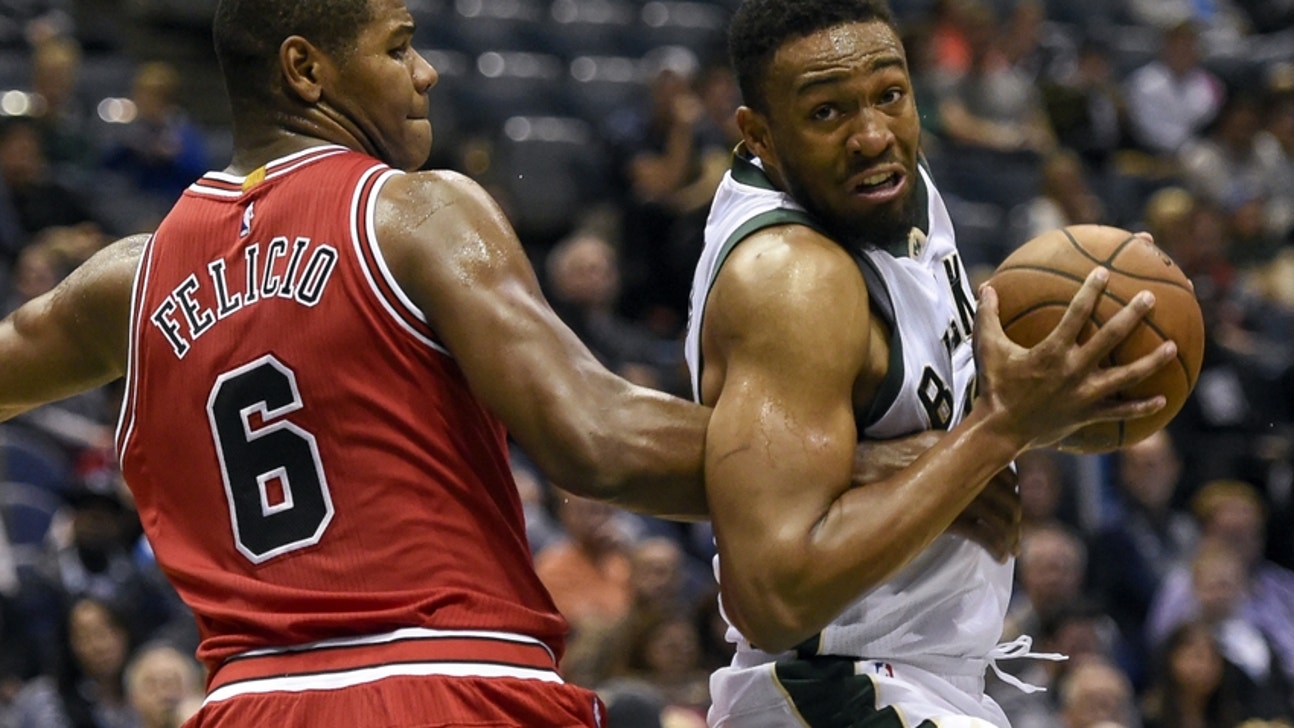 Chicago Bulls
Milwaukee Bucks Game Preview: Dec. 15 vs Chicago Bulls
Updated
Mar. 4, 2020 3:35 p.m. ET

Fansided, Ti Windisch/FanSided via Behind the Buck Pass
The Milwaukee Bucks losing streak stands at three as the Chicago Bulls visit on Thursday to take on the Bucks on national television.
Oct 15, 2016; Milwaukee, WI, USA; Milwaukee Bucks forward Jabari Parker (12) looks for a shot against Chicago Bulls forward Cristiano Felicio (6) in the third quarter at BMO Harris Bradley Center. Mandatory Credit: Benny Sieu-USA TODAY Sports
The Milwaukee Bucks need a shot in the arm. Hopefully the chance to play in front of millions on national television suffices, because that's what the Bucks will be doing on Thursday night.
The Chicago Bulls are in town, and the very next game will also feature these two teams, but in Chicago. It'd be nice for Milwaukee to win this one, to ensure the Bulls don't grab two wins in a row over the Bucks.
Nothing would be worse than a five-game losing streak that features Bulls victories as the fourth and fifth loss. Nothing. Even if there's a fire.
The Bucks should have a shot to win both of these games, though. The Bulls just suffered a rough defeat at the hands of the Minnesota Timberwolves, who are currently sitting at 7-18 through their first 25 games.
With Dwyane Wade and Jimmy Butler running the show in Chicago, the Bulls have a chance every single night. It'll be fun to watch those two face off with Giannis Antetokounmpo, Jabari Parker and the rest of the Bucks on Thursday.
To see how each team could win, we'll look at major keys for both of them and also highlight a Bull to watch. After that, it's time for our predictions!
Oct 12, 2016; Evansville, IN, USA; Indiana Pacers forward Lavoy Allen (5) and Milwaukee Bucks forward Michael Beasley (9) wait for a free throw at Ford Center. Mandatory Credit: James Brosher-USA TODAY Sports
Major Key For Milwaukee: Get To The Line
This is a major key for every team on every night, but it's been especially important for the Milwaukee Bucks this season. Free throws may not be an exciting aspect of basketball for many fans, but they are the most efficient method of scoring that exists in the NBA.
Free throws are hardly free–usually there's some real contact involved in getting to the line over and over again. Still, that contact is worth it when it produces highly efficient scoring opportunities. It's hard to get much easier than unguarded shots from so close to the rim.
The evidence is there that getting to the charity stripe often is good for the Bucks already this season. Milwaukee has yet to win a game where the team attempts less than 20 free throws. They're 0-8 in such games.
When the Bucks attempt at least 20 free throws, they're 11-4. That's the difference between victory and defeat for the Bucks right there. Milwaukee needs to draw contact and get to the line to have a shot to win games.
Nov 30, 2016; Chicago, IL, USA; Chicago Bulls forward Taj Gibson (22) reacts after making dunking the ball against the Los Angeles Lakers during the first half at the United Center. Mandatory Credit: Mike DiNovo-USA TODAY Sports
Major Key For Chicago: Dominate The Boards
The Chicago Bulls play big while playing small. That sounds weird, but it's true. Jimmy Butler has been a shooting guard for most of his career, but he's playing small forward this season now that the Bulls added Dwyane Wade to their team.
With Rajon Rondo serving as the starting point guard, that's three guard-ish players in the starting five. Chicago is countering that lack of size by starting two traditional bigs next to each other in Taj Gibson and Robin Lopez.
Those two have both been good this season, especially at rebounding. Lopez grabs 7.8 rebounds per game, while Gibson grabs 7.7. The Bulls size is a little decieving too, since Butler, Rondo and Wade are terrific rebounders.
Butler averages 6.8 rebounds per game, Rondo averages 6.6 and Wade gets 4.2 boards per game. That's over 33 rebounds per game just from the starting five! Rebounding has been a major key for Chicago this season.
The Bulls are 8-1 when the team grabs 50 or more rebounds in a game. With over 30 coming from the starters and bench players like Nikola Mirotic and Cristiano Felicio cleaning up the glass too, it might be hard for Milwaukee to stop Chicago from grabbing tons of rebounds on both ends.
Dec 6, 2016; Auburn Hills, MI, USA; Chicago Bulls forward Jimmy Butler (21) against the Detroit Pistons at The Palace of Auburn Hills. The Pistons won 102-91.Mandatory Credit: Aaron Doster-USA TODAY Sports
Player To Watch: Jimmy Butler
While Bucks fans make the case for the Greek Freak to start in the All-Star game for the Eastern Conference, Bulls fans are making the same effort for Jimmy Butler. He's certainly deserving of the recognition.
More from Behind the Buck Pass
Butler has stepped his game up in a huge way, despite a position change and lots of fluctuation around him. He's averaging 25.7 points, 6.8 rebounds, 4.2 assists and 1.8 steals per game, all fantastic numbers.
His three-point shooting is strong at 35.4 percent, and Butler is making a healthy 49.1 percent of his twos to go with that long-range scoring. A huge chunk of Butler's points come from the charity stripe too–Butler gets there for nearly 10 free throws per game, and he's making a career-best 89.1 percent of those freebies.
Butler already has six games with 30 or more points this season, including a 40 point game against the Los Angeles Lakers a few weeks ago. The former Marquette Golden Eagle has been amazing for the Bulls, and he'll certainly give the Bucks all they can handle on Thursday.
Apr 3, 2016; Milwaukee, WI, USA; Milwaukee Bucks forward Giannis Antetokounmpo (34) drives for the basket as Chicago Bulls guard Jimmy Butler (21) defends during the fourth quarter at BMO Harris Bradley Center. Chicago won 102-98. Mandatory Credit: Jeff Hanisch-USA TODAY Sports
Finale
This will not be an easy game for the Bucks to win. The Chicago Bulls are the closest thing the Bucks have to a true rival since their heated playoff series a few years ago, and Chicago is fighting just as hard for playoff position as Milwaukee, if not harder.
The Bulls lost their last game against the Timberwolves, but that might serve only to motivate them further for this contest. Butler and Wade form a fierce Marquette tandem in Chicago that has tons of savvy and experience.
Hopefully for the Bucks, Rajon Rondo gets healthy for these two games. The Bulls are slightly better with him off of the floor. It's odd that teams keep on signing Rondo despite his status as a net negative, but it could work in Milwaukee's favor on Thursday night.
Predictions and Leaderboard:
Adam Coffman: Bucks by 6 — 16-6, 226 point differential
Rohan Katti: Bucks by 3 — 16-6, 241 point differential
Tom Pheister: Bucks by 5 — 15-8, 252 point differential
Jordan Treske: Bucks by 10 — 15-8, 276 point differential
Adam McGee: Bucks by 8 — 14-9, 242 point differential
Ti Windisch: Bulls by 10 — 13-10, 218 point differential
Lukas Harkins: Bucks by 3 — 13-10, 244 point differential
Tim Wray: Bucks by 5 — 13-10, 260 point differential
The game is on Thursday night at 7:00 p.m. CT, and will be televised on TNT. I can't wait to hear Charles Barkley try to say Giannis Antetokounmpo!
---
---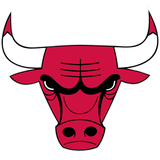 Get more from Chicago Bulls
Follow your favorites to get information about games, news and more
---