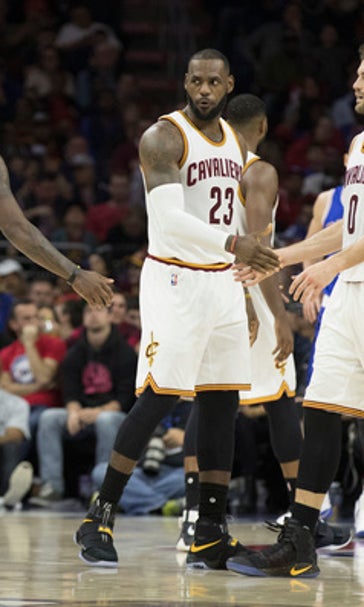 Love's knee injury 'concerning' for Cavs; 2nd opinion sought
February 13, 2017

INDEPENDENCE, Ohio (AP) Kevin Love's left knee injury has the Cavaliers concerned about the All-Star forward, who will get a second opinion while his teammates are in Minnesota.
Love has been ruled out of Tuesday's game against the Timberwolves, his former team, and there is a strong possibility he'll miss more time. The Cavs host Indiana on Wednesday in their final game before the All-Star break.
Love, who is averaging 20 points and 11.1 rebounds for the defending NBA champions, is scheduled to play for the Eastern Conference in the All-Star game Saturday at New Orleans.
The 28-year-old complained of soreness and had swelling following Saturday's win over Denver. He underwent an MRI on Sunday, and while the Cavs have not disclosed results of the procedure, the fact that Love will visit another doctor suggests that something was detected.
The new injury comes after Love had seemingly moved past a back issue. He missed several games with spasms but said he and the team had figured out a treatment program that has the problem under control.
It's not known when Love hurt his knee. He scored 16 points with nine rebounds and five assists in 34 minutes against the Nuggets.
Following Monday's practice, Cavs coach Tyronn Lue said he's anxious about Love's injury.
''Always concerned when guys are going down,'' Lue said. ''And we're already limited as it is. Definitely concerned, but gotta see how he feels. Just get evaluated tomorrow and see how he feels.''
Lue said doesn't know if Love's knee injury is connected with his lower back ailment or if he'll play in the All-Star game.
Channing Frye will start in Love's spot against the Timberwolves.
Love's injury complicates things for the Cavs, who seem to have found a rhythm following a 7-8 January. Cleveland has won five of six and leads the Eastern Conference by 2+ games over Boston.
However, the Cavs have yet to be at full strength as guard J.R. Smith continues to recover following thumb surgery. Guard Iman Shumpert is close to returning after missing three games with a sprained left ankle.
On Monday, Cleveland traded forward Chris ''Birdman'' Andersen and cash considerations to Charlotte for a protected 2017 second-round draft pick. The move creates a roster spot and gives the Cavs another asset to use in future deals.
Love's name has been floated in trade rumors for weeks, but those have finally dissipated after both the four-time All-Star and Lue dismissed the speculation about his future.
---
---