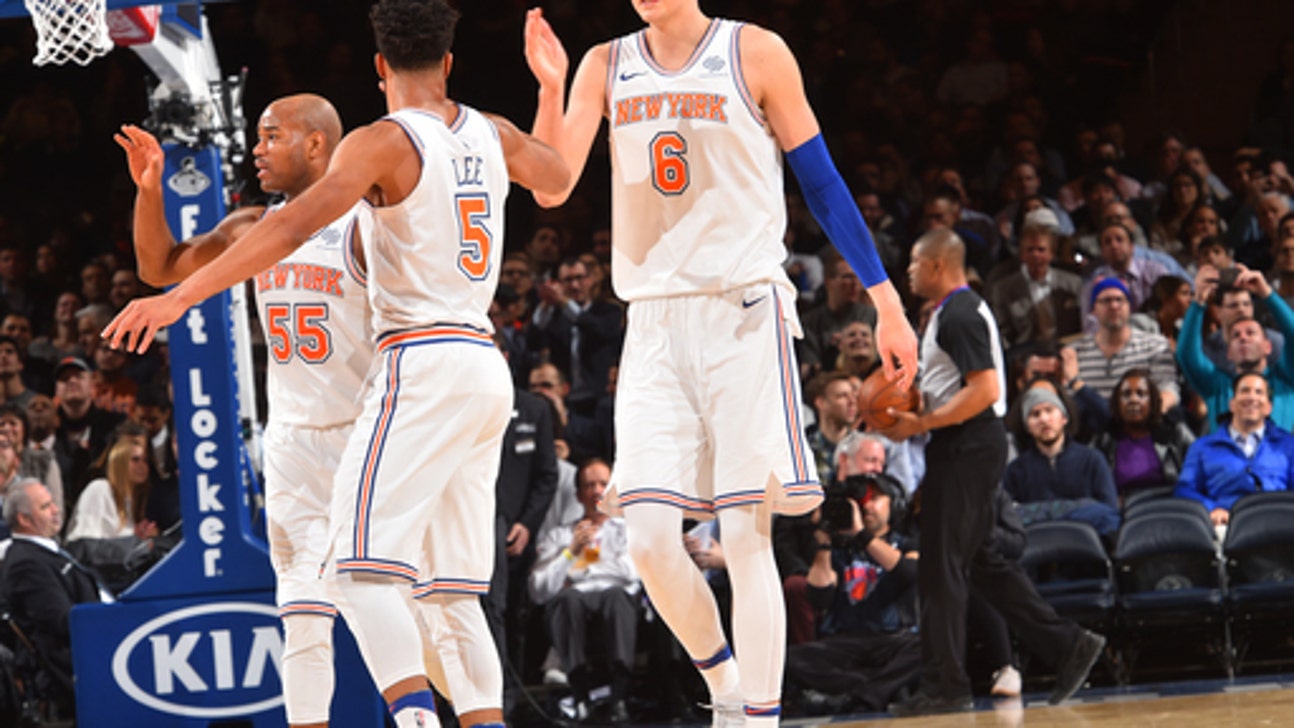 Lee, Porzingis lead Knicks past Grizzlies, 99-88 (Dec 06, 2017)
Updated
Mar. 4, 2020 4:17 p.m. ET

NEW YORK (AP) Tim Hardaway Jr. is still out and Kristaps Porzingis couldn't find a rhythm coming back, so the Knicks needed to find offense somewhere.
Courtney Lee provided it.
Lee scored 24 points, Porzingis had 18 after a slow start in his return to the lineup, and New York beat the Memphis Grizzlies 99-88 on Wednesday night.
Lee doesn't force his offense and coach Jeff Hornacek has told him not to pass up open shots. He certainly can't now, as Hornacek said Lee has to pick up a bulk of the missing shots with Hardaway's 17.8 points per game missing.
''Tim was shooting like 18, 20 shots a game, so I need to warm this arm up man, get ready, if he wants me to shoot that many times,'' Lee said. ''On top of my shots that's like 30 shots, if he wants me to do that.''
Moving from forward back to shooting guard in Hardaway's absence, Lee took 17 shots, about seven more than his season average. He fell just shy of his season high for points and was the catalyst in a big run to open the second half that largely determined the game.
Porzingis scored 12 after halftime as the Knicks rebounded from consecutive losses without their top two scorers that had dropped them under .500.
Porzingis came back from his sprained right ankle and illness, but the Knicks announced Tuesday that Hardaway had a stress injury in his lower left leg and had begun a treatment and rehabilitation plan. He will be re-evaluated in two weeks.
Marc Gasol had 17 points and eight rebounds for the Grizzlies, who were playing for the first time since ending their 11-game skid with a victory over Minnesota on Monday. Tyreke Evans added 15 points but was just 4 for 13 from the floor.
Porzingis was just 3 for 11 for six points in the first half, but the Knicks rallied to tie it at 49 going into the break on Lee's 3-pointer.
Porzingis then hit a deep 3 to open the third quarter and the Knicks took off from there. Lee had a pair of baskets and then consecutive 3s late in what became a 19-2 run that made it 68-51.
''We knew that second half was going to be different and you could already see that end of the first half we were turning up our defense and it was giving us results right away,'' Porzingis said. ''And that's what we did in the second half. We came out with a different mentality and we had that run.''
And the Grizzlies thought they made it easy for New York with selfish play.
''We stood around too much,'' Grizzlies interim coach J.B. Bickerstaff said. ''Offensively we got stagnant and watched one guy try to go 1-on-1.''
New York kept a safe lead from there and when Memphis trimmed it to 88-82 with about five minutes remaining, Lee scored in the lane and Porzingis followed with a basket and a 3-pointer to push it back to 95-82.
TIP-INS
Grizzlies: Gasol was fined $15,000 by the NBA for using a profanity during a live television interview after the victory Monday. ... Memphis has lost six straight road games.
Knicks: Enes Kanter finished with 12 points and 12 rebounds. ... Lee's season high is 26 points. ... The Knicks were 9 for 14 (64.3 percent) from 3-point range. ... Joakim Noah was activated so the Knicks had another big body to use against Gasol, but he did not play.
GASOL'S TROUBLES
Gasol said his right knee locked up on him during the game.
''I don't know exactly what happened. It just locked up,'' he said. ''Couldn't really extend it. I never had any knee issues. So it was a new feeling for me.''
MORE MEMPHIS MISERY
The Grizzlies fell to 0-7 against Eastern Conference teams. They had won eight of the previous 10 meetings.
UP NEXT
Grizzlies: Host Toronto on Friday.
Knicks: Visit Chicago on Saturday.
---
For more NBA coverage: https://apnews.com/tag/NBAbasketball
---
---