National Basketball Association
National Basketball Association
LeBron's 'slight' headache a big deal in the NBA Finals
Published
Jun. 12, 2015 12:42 p.m. ET

CLEVELAND (AP) LeBron James called it a ''slight'' headache, though nothing involving the game's best player is ever minor.
So when James got a cut on his head after falling into a TV camera during Game 4 of the NBA Finals, it led to questions about everything from how the NBA treats head injuries to whether someone taking pictures should be close enough to cause one.
The league tried to deal with both issues long before Thursday night.
Baseline photography and TV positions were already reduced last summer, and a concussion protocol was previously in place. But according to the league's policy, a cut on the head alone is not a trigger for it.
The protocol requires concussion evaluation when a player is suspected of having a concussion or exhibits signs or symptoms of one. Based on the player's response, teams make the clinical judgment call whether to evaluate.
James was bleeding but not showing concussion symptoms. He was thinking clearly, saying he was aware he needed to stay in the game to shoot his free throws after being fouled by Andrew Bogut, or he wouldn't have been able to re-enter, according to league rules.
''No, I didn't have to go through any concussion protocol. I had a slight headache, which I think every last one of you guys would probably have if you ran into a camera. You might have a little bit more than that,'' James said during his postgame news conference.
''But I didn't go through any protocol. I'm fine. Like I said, I got a few stitches and I got a little slight headache right now, but I'll be fine with that.''
The Warriors dealt with the concussion questions in their last series. Both Stephen Curry and Klay Thompson suffered head injuries in the Western Conference finals, with Thompson diagnosed with a concussion following their Game 5 victory over Houston and having to be cleared to play in the NBA Finals.
Commissioner Adam Silver said last week during his finals news conference that he was confident in the league's protocol and in the way it was followed with the Warriors.
''Right now we talked to the other leagues. We've talked to medical advisers everywhere about the best way to approach this,'' he said. ''As I said, we think the best way we're approaching it now is best in class in terms of medical and science information that's available to us. But we'll continue to look at it.''
The league had already been looking at player safety behind the baselines over the previous five years.
New rules last summer mandated an extra foot of open space on both sides of the basket stanchion. The ''escape lanes,'' the unoccupied area on either side of the stanchion to the closest photographer spot, increased from 3 to 4 feet, and only 20 camera positions, 10 on each baseline, remained, down from 24 in 2013-14 and 40 during the 2010-11 regular season.
Social media was already flooded with cries to move the photographers and TV cameramen further even before James' bleeding had stopped. But at least one person seems to believe enough space had already been created.
Bogut, adding insult to injury, indicated James' actions after the foul caused the injury.
''I think he jumped into the cameraman,'' Bogut said. ''I think he came down and took two steps and then fell on the cameraman.''
---
---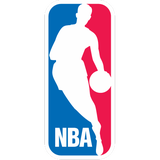 Get more from National Basketball Association
Follow your favorites to get information about games, news and more
---