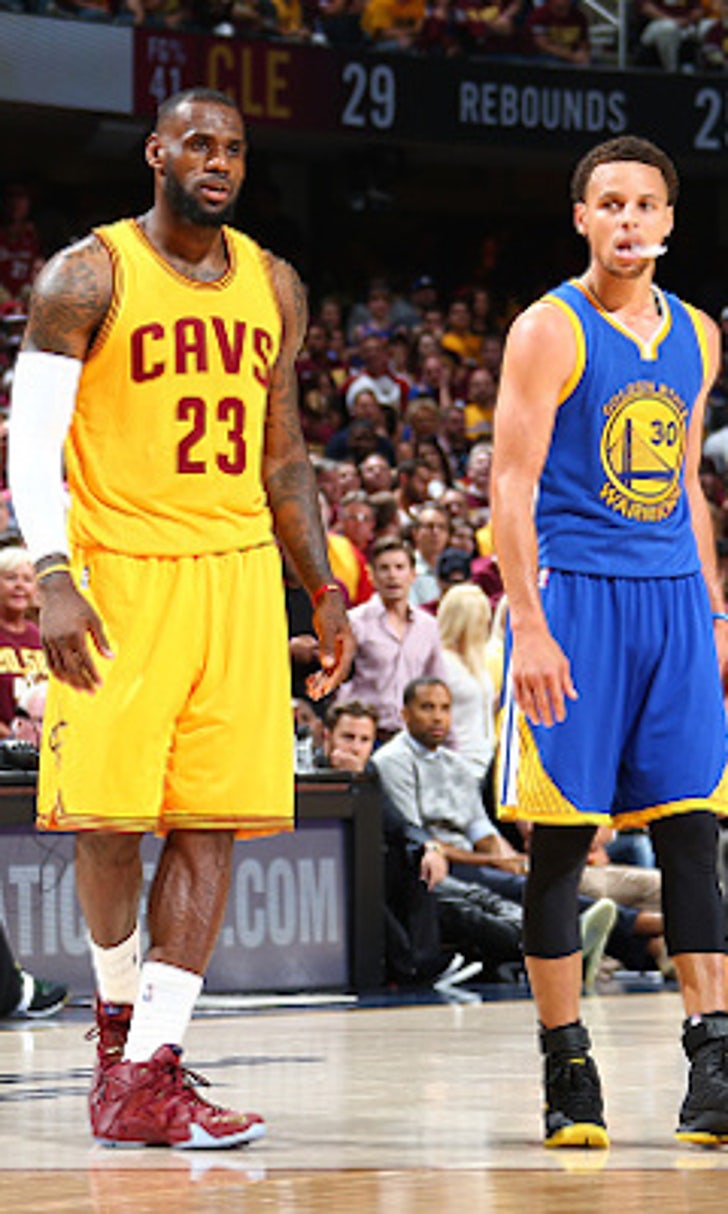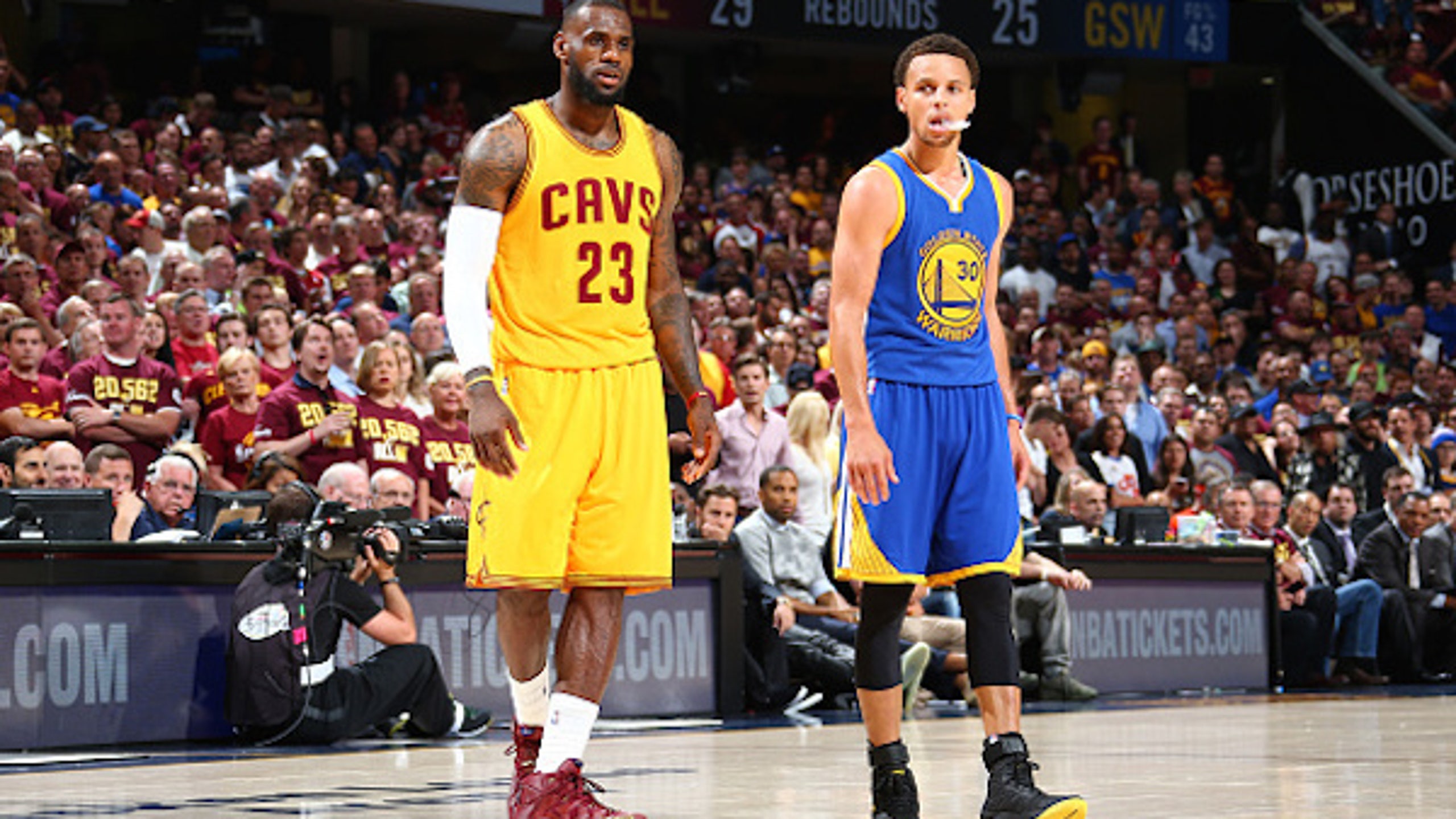 LeBron, Steph and the NBA's constant Darwinian struggle
BY foxsports • June 15, 2015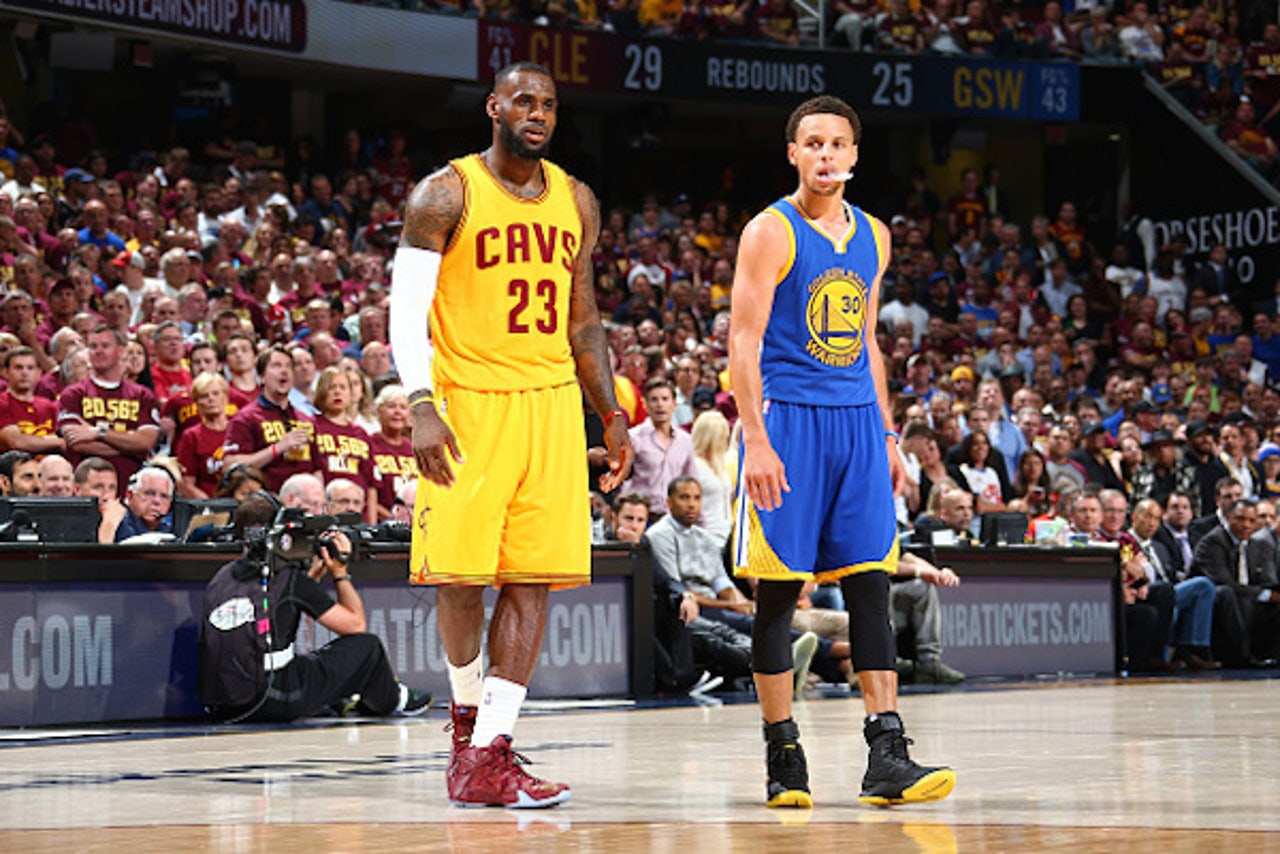 By Jonathan Tjarks
The game is crazy, more crazy than its ever been - Lil Wayne
Even for LeBron James, Game 5 of the NBA Finals was ridiculous. LeBron had 40 points, 14 rebounds and 11 assists, his third triple-double of the series. He was the Cleveland Cavaliers' leading scorer, rebounder and passer by significant margins and outside of a brief flurry of 3's from JR Smith in the first half, none of his teammates were giving him any help shouldering the offensive burden. LeBron was playing 1-on-5 against the No. 1 defense in the NBA and it was almost enough. Were it not for an explosion from Stephen Curry in the fourth quarter, LeBron's Game 5 could have gone down as one of the greatest performances in NBA Finals history.
The injuries to Kevin Love and Kyrie Irving have forced LeBron to return to the way he played his first time in Cleveland. The Cavs have been stripped down to the bone and all that's left are a bunch of players who have learned how to be extensions of LeBron's will on offense. There's really no one else the Warriors' defense is worried about - everyone in the rotation needs LeBron creating for them. Golden State has too many good 1-on-1 defenders and they are too well-equipped to defend the pick and roll for Cleveland's secondary options to initiate anything resembling efficient offense. LeBron scored or assisted on 77 percent of their baskets in Game 5.
None of his points are coming easy either. As the Finals have gone on, Steve Kerr has gone to Andre Iguodala more and more on LeBron. Instead of getting free runs at Harrison Barnes at the start of games, he has to deal with Iguodala pressing him on the ball, staying in front of him and contesting every shot he takes. LeBron has figured out how to leverage his size to score against the rest of the Warriors defenders so Kerr is mirroring Iguodala's substitution pattern with his so that they can be on the floor together for almost the entire game. Iguodala's minutes have increased every game in this series, from 32 to 36, 36, 39 and 42.
At 6'6 215 with a 6'11 wingspan, Iguodala doesn't have quite as much size as LeBron, but he's a long-armed and tenacious defender who can run with him step-for-step. What he does a great job of is never giving LeBron a lot of room to get a shot off. If he's getting a shot over Iguodala on the perimeter, LeBron is having to fade-away or go with the Dirk Nowitzki step-back. He has to take the ball right at the rim and Iguodala isn't giving him any easy driving lanes to do so. Just about every shot LeBron is taking is under extreme duress, which is all you can do as a defender.
The only time things came easy and the ball really flowed for Cleveland is when David Blatt went to LeBron at the 5 in the second quarter. Blatt took Steve Kerr's gambit in Game 4 to its logical conclusion, downsizing and taking all of his big men off the floor. If Draymond Green is going to be the C, LeBron is much bigger and much stronger than him. All the other perimeter players in Blatt's rotation - JR Smith, Iman Shumpert, Matthew Dellavedova and James Jones - were on the floor and LeBron was playing in an ocean of space. They got Iguodala off LeBron a few times and he was able to get a couple of easy buckets against Draymond at the rim.
It's hard to say how much Blatt will go to that five-out line-up in Game 6, given that using it would mean not playing either of their two big men and having Mike Miller as the only other wing in reserve. It is an interesting wild card for him to have, though, as it shifts the dynamic of the game. The Warriors' identity is based on being smaller than the other team and beating them with speed, shooting and switching ability. Going small is how they have been able to get back to playing their style of basketball after the Cavs dictated the action with Bully Ball in Games 2 and 3.
For as well as Timofey Mozgov and Tristan Thompson have played, taking all the big men off the floor would be the logical progression of events in the series. Both teams have been getting smaller and smaller as the Finals have gone on, in much the same way that the Miami Heat and San Antonio Spurs continually took turns downsizing in their 7-game series in 2013. The lack of that adjustment from the Oklahoma City Thunder in 2012, when Scott Brooks stubbornly stuck with Kendrick Perkins until the end, is why that series ended in such a disappointing fashion in five games.
If Kerr had stuck with Bogut when Golden State was down 2-1, this series might have gone the same way. LeBron and the Cavs had figured out the Warriors - they were controlling tempo, keeping the ball out of Curry's hands and letting Draymond and Bogut try to beat them. They had turned the NBA Finals into a cage-match that would be won or lost in the paint and at the front of the rim, where few players in league history have been more dominant than LeBron. By getting an extra shooter out there, Kerr opened up the game and introduced the great equalizer - space.
That's the kind of thing stars from previous eras didn't have to deal with. The Warriors spread you out, make you guard all 50 feet horizontally and they hoist 3's from anywhere. There isn't much anyone can do when Steph is taking step-backs from behind the three-point line and pull-ups from 30 feet. Basketball was played much more conventionally before the rule changes implemented in the middle of the 2000's - you couldn't play quasi-zones and most teams kept big men on the floor who did nothing but clog up the paint on offense.
Teams from previous eras wouldn't know how to deal with the versatility and explosiveness of modern offenses. Ever since LeBron went to Miami and started winning the Eastern Conference every season, the NBA Finals have become an exercise in spreading the floor and bombing away from 3. If you don't have five guys playing on a string and extending out 25+ feet from the basket, the best teams in the modern NBA are going to put up a lot of points really quickly on you.
That has been the challenge for LeBron over the last two seasons - the level of the team he is going up against is just so high that it's basically impossible for any player to beat them by himself, no matter how talented. The 2014 Spurs were 62-20 with a +7.7 point differential and they went 12-5 in the playoffs in an incredibly tough Western Conference. The 2015 Warriors are 67-15 with a +10.1 point differential and they went 12-3 through the West. They are deep teams stocked with talent at every position and they will ruthlessly attack any weak spot on either side of the ball.
What makes Golden State so dangerous is there's nowhere to hide a weak defender. Once they take out Bogut, they can initiate offense from any spot on the floor. For most of Game 5, they surrounded Steph with four 6'6+ wings who can create their own shot against smaller defenders. The end result is the opposing team has to leave their PG on the MVP of the league, no matter how poor a defender he is. In the last two rounds, Steph has gotten to play 1-on-1 against Jason Terry, a 37-year-old, and Dellavedova, an undrafted free agent.
If you put a smaller or slower defender on Curry over the course of a series, he's eventually going to figure it out. He has the ball on a string and then it becomes a matter of finding a spot to elevate over the top of the defender. After his 37-point explosion in Game 5, the Cavs are probably going to have to slide Shumpert over to him - leaving them back at their original dilemma when the Finals started about where to put Dellavedova and Irving on defense. It's hard for Delly to dictate anything to Steph since his trademark shot is the shot even the best defender is supposed to give up.
There's just no one in the history of the league who has ever played like Steph or LeBron before. There has never been a 6'9, 260-pound center with LeBron's athleticism and skill-set and there has never been a player with Steph's combination of shooting, ball-handling and passing and the green light he has to hoist shots from all over the floor. That was all I could think watching those two trade baskets in the fourth quarter of Game 5 - this is the future of the game unfolding in real time.
Being the best player in the modern NBA means being able to do things on that have never been done. The players are bigger, faster and more skilled than ever and everything they do on the court is measured, scrutinized and analyzed a hundred different ways. Steph has to be a lights-out shooter from 28+ feet because that's the only way a guy with his physical abilities can dominate NBA defenders. He has made more 3's this postseason than the entire league made in the playoffs the first year the three-point line was introduced. The strategies that worked 20, 15 or even 10 years ago aren't necessarily going to work today - life in the NBA is a constant Darwinian struggle. There's a reason the average career is only 4.5 seasons long.
The NBA of today is the end result of an evolutionary process 60+ years in the making. The league has benefitted from all that trial and error to produce as compelling an on-court product as possible. There has never been a player who can excel at as many aspects of the game as LeBron and it's still not close to enough to guarantee a championship. He has been to the last five NBA Finals because he's at the peak of his powers and it takes an almost flawless team to beat his team four times in seven games. The exciting thing about the NBA these days is that it is producing teams capable of doing just that.
That's what is really missed in all these endless arguments about LeBron vs. Michael Jordan. If you are the best player in the modern NBA you are probably the best player of all-time because basketball is being played at as high a level as ever. People who question whether modern players could survive in previous eras of the game have things exactly backwards. Most players from the 1980's and 1990's would have no chance of surviving in an era where just about everyone has to be able to knock down open 3's and where they have to be able to defend in space without hand-checking.
The problem with all these hypotheticals is that time machines don't actually exist. We are all a product of our environment and we all stand on the shoulders of giants. The only competition any athlete can have is against guys of their own era. Those are the guys who are going to test them, challenge them and stand in their way. The greatest players are always trying to add things to their game to stay relevant. If they don't, they will get left behind. The next all-time great player who emerges on the scene will be able to do things LeBron never could because part of being a great player is putting your own imprint on the game and forcing the league to adapt to you.
It's not about how you compare with other guys who wore the crown - it's about whether you wore it and how long you did. No one gets to wear it forever. Without Bird and Magic, there could be no Jordan. Without Jordan, there could be no LeBron. Without LeBron, there could be no Anthony Davis. Everyone borrows from each other and the game is always changing. If the Cavs end up losing this series and LeBron falls to 2-4 all-time in the Finals, that tells you the strength of the league he is going up against as much as anything else.
More from RealGM - NBA:
---
---