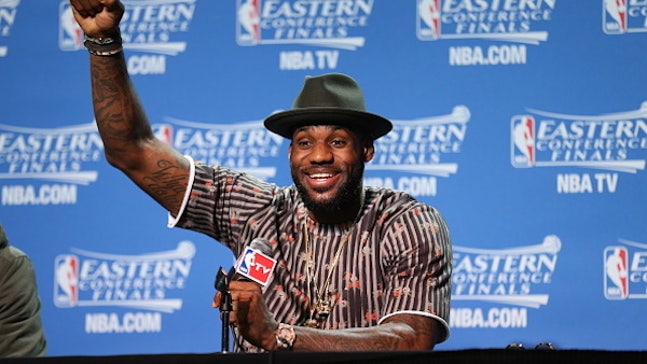 LeBron lifts Cavaliers to brink of Finals, but are they ready?
Published
May. 25, 2015 8:56 a.m. ET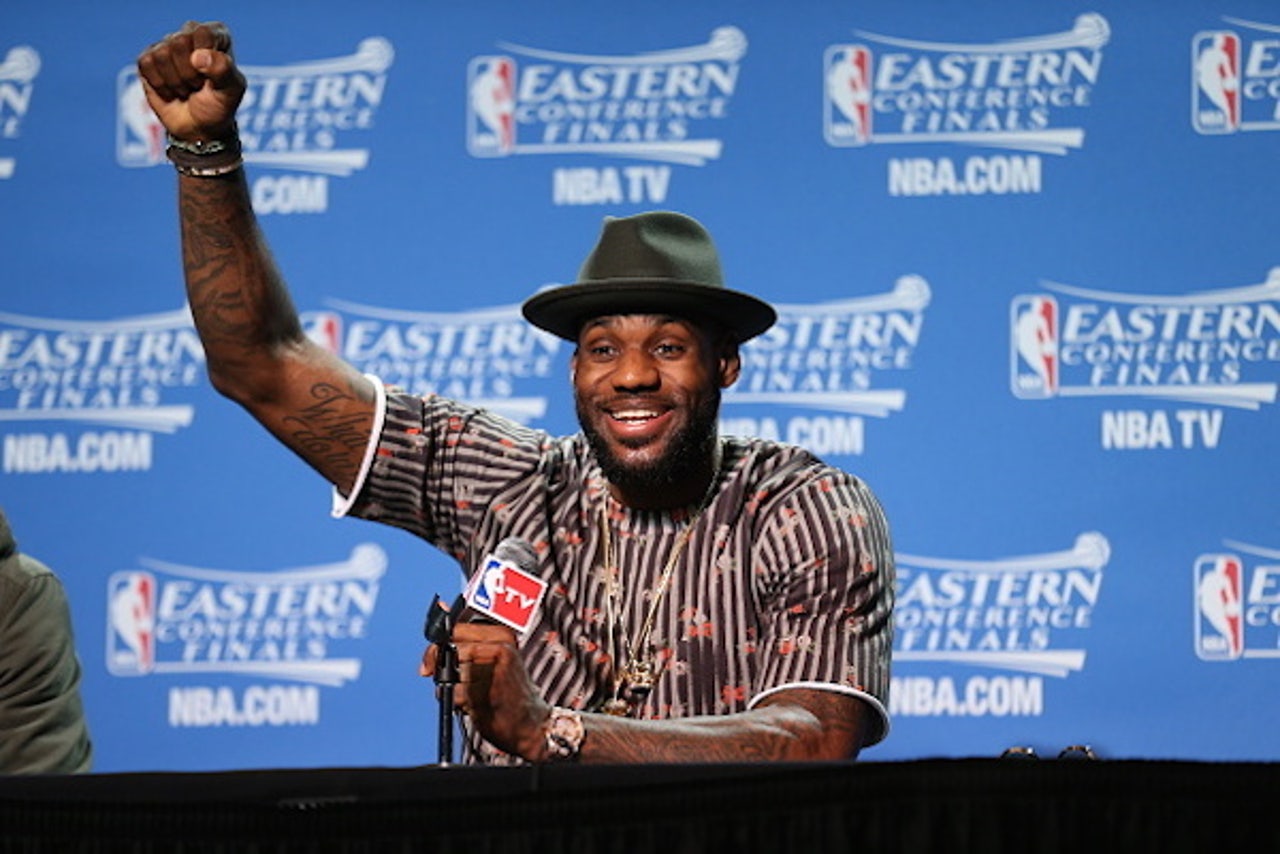 By Sean Woodley
In a game that epitomized everything that has gone wrong with the Eastern Conference playoffs, the best player in the world provided the type of unforgettable performance we've been hankering for all spring.
LeBron James' otherworldly 37-point, 18-rebound, 13-assist line in Game 3 of the Eastern Conference finals didn't come easily; quite the opposite in fact. Yet, despite missing his first ten shots, extending his playoff-long three-point drought, and battling a multitude of injuries, James pulled an Andy Dufresne and came out clean on the other side — another defining moment added to his sterling resumé.
This one should rank among the more impressive, too.
Similarly to the rest of the East's battered combatants, the impact of injuries continued to alter the Cleveland Cavaliers' ability to play their peak brand of basketball. With Kevin Love's continued absence, and Kyrie Irving seemingly resting for a Finals date with the Golden State Warriors, James took it upon his ailing body to carry his crew to a 3-0 series stranglehold.
His 0-for-9 first quarter dragged down the efficiency of his night — this is something he has struggled with in these playoffs (23.8 PER in playoffs, lowest since 2010-11). In this particular contest though, LeBron's performance neutralized those concerns for at least one night. As his almost comical 43.8 Usage Rate for the evening dictates, it was painstakingly obvious who was getting the ball on every critical Cavs possession. Atlanta simply could not stop the freight train.
Cavs fans can revel in the brilliance of their star for now. As is obligatory to mention at this juncture, no team has ever rebounded from a 3-0 hole to win a series, and it's impossible to imagine this depleted Hawks team mustering even a modest comeback, no matter how inefficient or bruised James is in the remaining game(s) of the series.
However, ISO-ball like this, which is already a hit-or-miss proposition, surely won't fly a week and a half from now:
Offensive "sets" like that, and this one from J.R. Smith in Sunday's first quarter, might work from time to time against a Hawks team with a lack of interior size, but Golden State will snuff them out with far more regularity. Klay Thompson, Andre Iguodala and company will simply need to funnel any hero-ball-playing Cavaliers towards their hulking, ball-swatting big man Andrew Bogut. Offensive ingenuity will be a must for Cleveland when the Finals roll around. Without it, the Warriors will cruise.
The burning question is: are the Cavaliers capable of running a sophisticated offense without Kevin Love? In these playoffs, James has isolated a league-high 128 times and managed a measly 0.70 points per possession in the process. Additionally, as a pick-and-roll ball handler, he's shooting just 40 percent and scoring just 0.74 on a per possession basis. Once again, giving the ball to the league's best player and letting him engage in a battle of dueling isolations with Jeff Teague isn't a terrible idea – especially with a one-legged DeMarre Carroll drawing the assignment for the Hawks most of the time. Golden State's coaching staff will have both the smarts and — most importantly — the healthy personnel to key in on James.
What has been working for Cleveland in nine games, though, has been James finding open looks for his teammates from three-point range. Since Love went down, the Cavs have been getting 10.5 three-point attempts per game off LeBron passes, knocking down 45.7 percent of them. James simply commands so much attention that there are inevitably going to be open shooters on the perimeter any time he drives:
Of course no amount of LeBron kick-outs or bone-jarring dunks will save the Cavs from being run out of the gym by Golden State if Irving can't regain his health before the Finals tip off on June 4. A seven-man Cleveland rotation featuring two very similar players in Tristan Thompson and Timofey Mozgov, the suddenly despised Matthew Dellavedova, and a pair of three-point specialists in Smith and James Jones will be utterly over-matched against the deep and positionally versatile Warriors.
An available Irving will help to diversify Cleveland's offensive attack, and help to alleviate James' insane minutes totals (he played 47 in Game 3). With the way the surviving Cavaliers have defended the once-lauded Hawks' offense in this Conference Finals series, there may yet be some hope for Cleveland if its All-Star point-guard can take advantage of a two-week rest period — and more than a puncher's chance if James can provide another signature game or two in the championship series.
Irving making a return for the Finals would be a small consolation prize for what has gone on in these playoffs as a result of injuries. We missed out on peak John Wall when he broke his wrist during the climax of his young career; clamored over Love's shoulder; and anguished when Atlanta lost its three-point marksman, Kyle Korver, for the remainder of the postseason. More than that, we've endured four games of whatever sport the Toronto Raptors were playing against the Wizards; witnessed the likely end of the Tom Thibodeau era in Chicago; and even seen chinks in James' once-impenetrable armor.
In short, it's been a rough go of things out east.
Here's hoping this flawed Cavs team can salvage it all against the juggernaut Warriors in the Finals. With a healthy Irving, a lively and blossoming frontcourt, and LeBron James showing that he's more than capable of recapturing his form of playoffs past, this Cavs team stands as good a chance as any.
More from Crossover Chronicles:
---
---