LeBron James responds to Draymond Green's claim he started NBA superteams
BY Andrew Lynch • June 16, 2017
The 2017 NBA Finals are over, but the (joking) war of words between Draymond Green and LeBron James shows no signs of letting up.

While Green was celebrating the Warriors' 2017 championship on Thursday, he couldn't resist taking a couple jabs at LeBron, who claimed he's never played on a superteam like the one Golden State put together this season. Green rejected that notion, saying that LeBron not only built superteams of his own, but also that the King is responsible for the whole trend.

On Friday, LeBron joined teammates Richard Jefferson and Channing Frye on their "Road Trippin' with RJ & Channing" podcast (warning: there's NSFW language aplenty on the pod) and explained that Green has his history wrong.

"No. No. I mean in 2003, the Lakers combined Karl Malone, Gary Payton, Shaq and Kobe. And in '96, when Jordan was retired, the Rockets joined Charles Barkley, Hakeem Olajuwon and Clyde Drexler all on the same team.
"But I don't look at it as — I definitely didn't start the superteam, if that's what he's trying to say. But I just feel like that it's great that on the day you're celebrating your championship, my likeness and my name is in your head. I love that."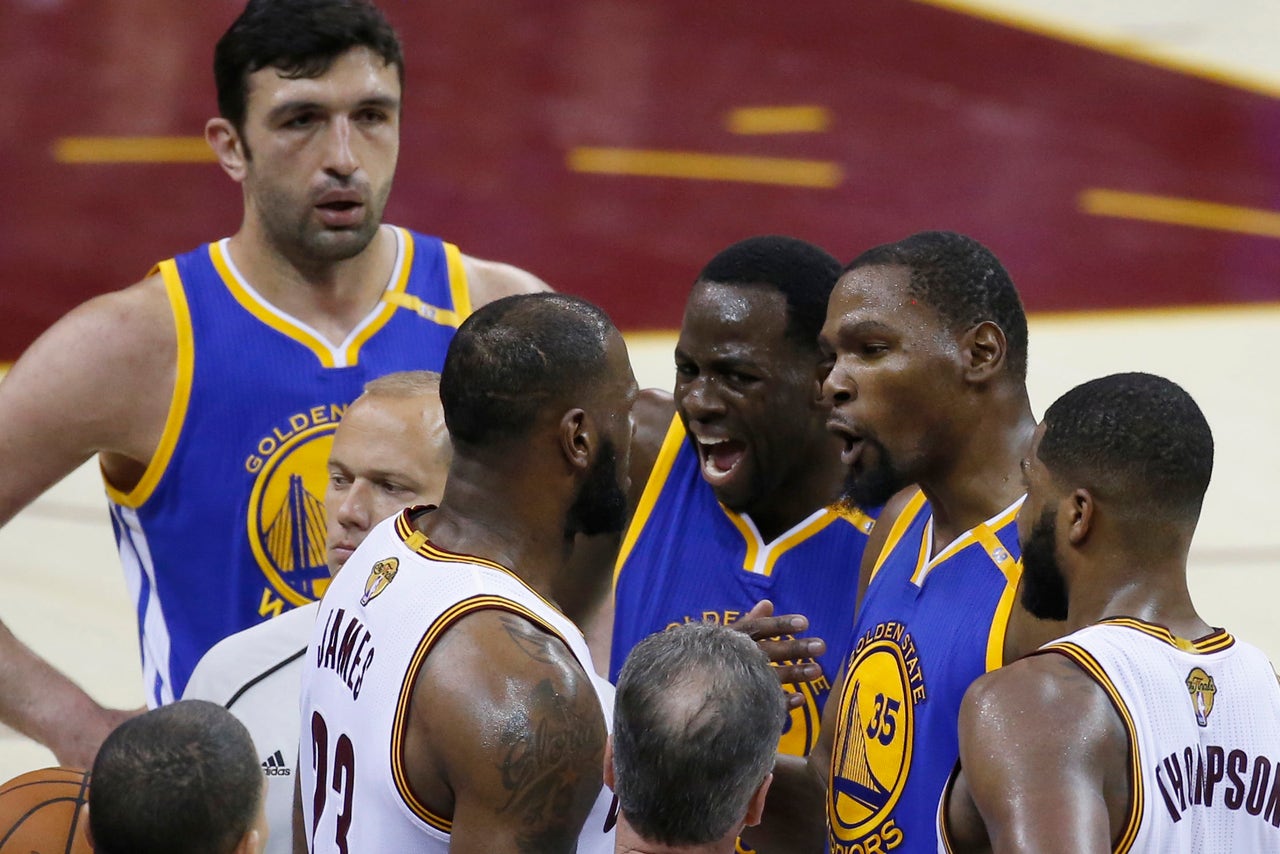 Keep in mind that the whole podcast had a very lighthearted, jovial tone. Jefferson and Frye made clear that there's no real animosity between the two teams; they're just having fun with a little bit of trash talk. Green and James are friends, after all, and the back-and-forth isn't limited to Green and the Warriors. LeBron talks about how awesome Dirk Nowitzki is while also poking fun at the fact that the Big German "took" one of his rings in the 2011 Finals.

In that vein, LeBron also had a tongue-in-cheek response to Frye's claim that he can score on LeBron in the post in practice:

LeBron: "There's only three people in this world that can score on me in the post: Shaquille O'Neal in his prime — who else was it? Oh, it's two. And Jesus Christ."
Frye: "What about the Dalai Lama?"
LeBron: "No. Only Jesus Christ and Shaquille O'Neal in they prime."
---
---