LeBron James
LeBron James
LeBron clear on championship goal but not feeling pressure
Published
Jun. 18, 2016 7:15 p.m. ET

OAKLAND, Calif. (AP) Right near the start Saturday, LeBron James faced a question about whether his legacy might be riding on Game 7 of these NBA Finals.
''No,'' he said, straight-faced.
He got asked, more than once, about carrying the burden of a championship-starved city in his native Northeast Ohio, and how he promised to bring a title to Cleveland when he came home two years ago following a successful four-year stint in Miami.
Nah, he can't have that on his mind in a moment of this magnitude.
''It's an opportunity for us to do something special,'' James said matter-of-factly.
The Cavaliers and all those people willing them to win just one more are counting on another spectacular, jaw-dropping outing by James in the winner-take-all Game 7 on Sunday night at Oracle Arena. They all expect it after consecutive 41-point performances by King James as Cleveland twice, improbably, staved off elimination and rallied from 3-1 down against Stephen Curry and the defending champion Warriors to even the series at 3 games apiece.
''We've got to slow him down tomorrow,'' Golden State's Klay Thompson said. ''It's nice to get it out of his hands, obviously, but when he doesn't have the ball, try to do everything you can to not let him get it back because he's so good at making the right play. So, we'll adjust. I can't tell you what our game plan is now, but if we just force him to beat us over the top, make tough shots, we can live with it.''
James has been so dominant the past two games, everybody can now envision the sweet end to 52 years of Cleveland sports heartbreak, and the city's first major championship since the Browns won a title in 1964.
''I came back for a reason, and that is to bring a championship to the city of Cleveland, to northeast Ohio and all of Ohio and all Cavaliers fans in the world,'' James said Saturday. ''That's been one of my goals. But I don't add too much pressure on it. I go out and trust what I've been able to do, the work I've put into it, my teammates have put into it. And you go out there and see what happens.''
After a pair of embarrassing blowout losses on Golden State's home floor to start the series, James vowed to himself to clean up his game, cut down on the costly turnovers and lead the Cavs back into this best-of-seven series - and, wow, has he ever done so in thrilling fashion. With spot-on passing to 3-point precision and driving, rim-rattling dunks, he made a transformation in a matter of days during these finals to put Cleveland on the cusp of a title at long last.
''I get used to it sometimes, but after you watch it on film you take in what he does out there on the court. He's everywhere,'' teammate J.R. Smith said. ''To be able to lead the finals in every statistical category is pretty much amazing. Nobody could have done that. I try not to get star struck and watch it.''
Now, James reiterated, what happens next is not all under his control. He could play his best game ever, and still lose.
That 1-2 punch of James and Kyrie Irving is one thing. They each scored 41 points to stun Golden State 112-97 at Oracle Arena in Game 5 last Monday night.
Getting shooting guard Smith and others involved might make the difference if the Cavs are going to hold off the deep, 73-win Warriors at home again. Smith had 14 points, four rebounds, three assists and three steals in a 115-101 Game 6 win Thursday.
''When we get that third scorer from J.R., we're tough to beat,'' coach Tyronn Lue said.
So far, the Warriors haven't had an answer for James and his talented supporting cast.
''They haven't made any adjustments yet to see what we can do differently. But just got to be prepared for everything,'' Lue said. ''LeBron is just LeBron being LeBron. We know he's very capable of being special every single night.''
Oh, and James also was invited Saturday to weigh in on whether he should be the MVP win or lose.
''Last time I answered a question about MVP, it didn't go that well for me,'' he said, finally let his guard down a bit and laughing, in reference to a scrutinized response about Curry's award last month. ''So, I'm not going to do it.''
---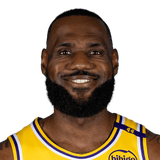 Get more from LeBron James
Follow your favorites to get information about games, news and more
---