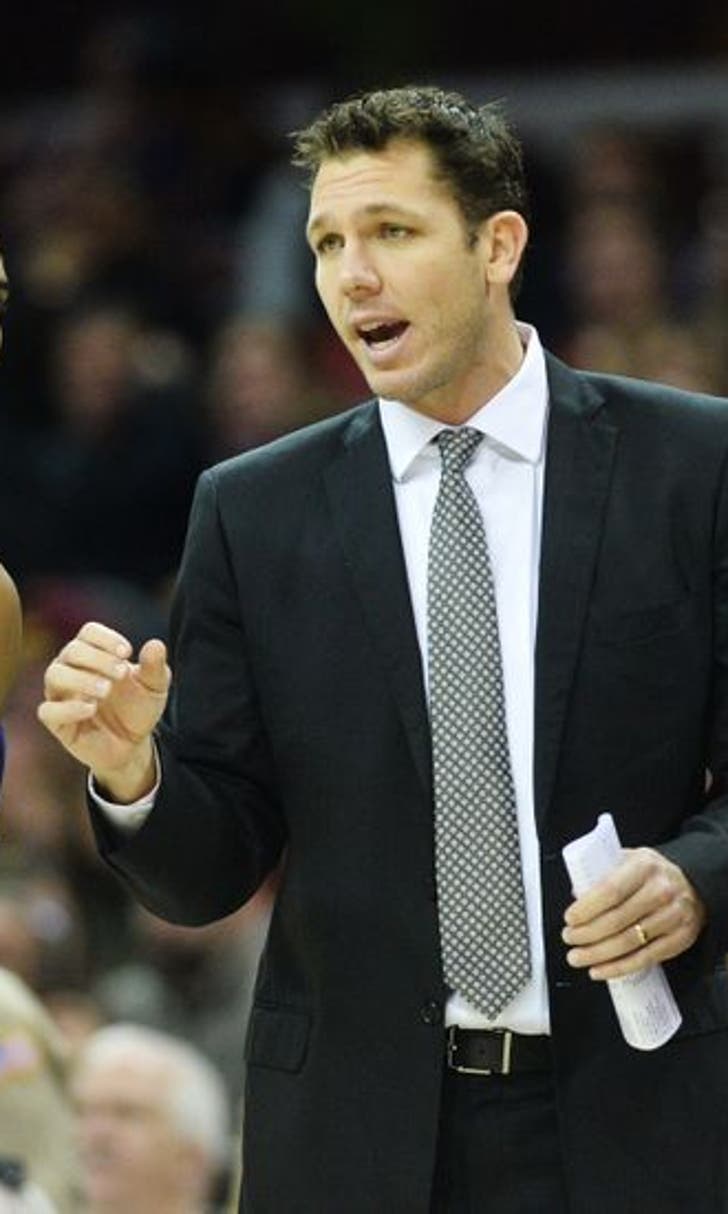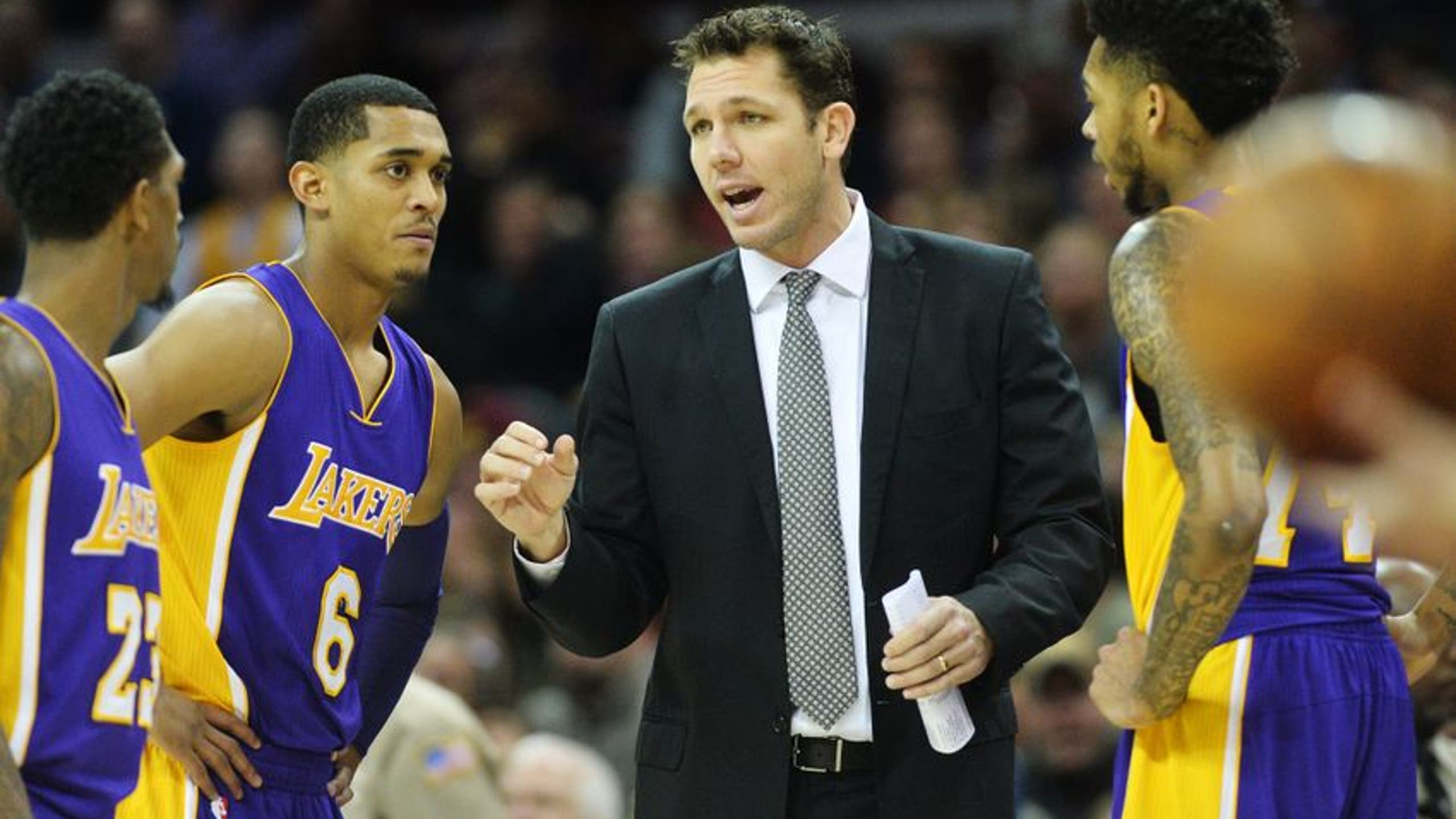 Lakers: Five Things On LA Fans' Christmas Wishlist
BY Fansided and Jonathan Fernandez/FanSided via Lake Show Life • December 25, 2016
Dec 17, 2016; Cleveland, OH, USA; Los Angeles Lakers head coach Luke Walton during the first half against the Cleveland Cavaliers at Quicken Loans Arena. The Cavs won 119-108. Mandatory Credit: Ken Blaze-USA TODAY Sports
It's finally Christmas and the Lakers have already exceeded expectations set for them prior to the season. They've slowed down since their initial fast start leaving plenty for fans to wish for.
The Purple and Gold are now 11-20 despite getting off to a very successful start. There have been flashes from the Baby Lakers but they are yet to put it all together on a consistent basis.
So far we've seen a revitalized Nick Young, a historic scoring outburst from Lou Williams, and the continued development of the teams younger players.
All of this being said, the team has struggled after jumping out of the gate strong. They went on an eight game losing streak and still haven't gotten back to early season form.
Because of this Laker fans have plenty to wish for as Christmas approaches. Here are five things we should all be wishing for.
Jan 19, 2015; Phoenix, AZ, USA; Los Angeles Lakers forward Tarik Black (28) reacts after suffering an injury against the Phoenix Suns at US Airways Center. The Suns defeated the Lakers 115-100. Mandatory Credit: Mark J. Rebilas-USA TODAY Sports
A Healthy Squad
When Los Angeles was able to be successful early on the whole team was healthy. However, LA started struggling when both D'Angelo Russell and Nick Young went down.
More from Lake Show Life
Heading into the new year, so far Russell and Young have missed a combined 20 of the 31 games. Both of these players were a huge part of the offensive powerhouse that the Purple and Gold were early on, so it's not hard to understand why the team is currently struggling.
D'Angelo is the floor general who runs the offense and he's the team leader in assists with 4.5. Julius Randle has added to this sentiment saying that they miss Russell when he's not on the floor because he gets them into their offense.
Young is best known for his offense and is averaging 14.5 points per game which is fourth on the team. Swaggy P is also arguably the best three point shooter on the team. In order for the team to recapture their early success they need their best players healthy.
Dec 23, 2016; Orlando, FL, USA; Orlando Magic forward Serge Ibaka (7) shoots over Los Angeles Lakers forward Luol Deng (9) during the second quarter at Amway Center. Mandatory Credit: Kim Klement-USA TODAY Sports
Defense
This Los Angeles team hasn't been great on the defensive end this season, or for the last few for that part. Many of their early season victories were due to offensive dominance and their overall hustle. So far, this season they are one of the worst defenses in the league and it is something that is easily noticed.
Often times teams have huge quarters against them scoring 37 in a quarter. Another thing that's been happening often this season on that end is opposing players having career nights again the Purple and Gold.
As I write this I remember Troy Daniels scoring 31 as the under manned Grizzlies beat the Lakers 103-100 just last week. For LA to return to prominence defense must be prioritized by Luke Walton and his coaching staff.
Dec 17, 2016; Cleveland, OH, USA; Los Angeles Lakers guard Louis Williams (23) loses the ball against Cleveland Cavaliers forward LeBron James (23) during the first half at Quicken Loans Arena. Mandatory Credit: Ken Blaze-USA TODAY Sports
Taking Better Care of the Basketball
This year Los Angeles has turned the ball over more than any other team in the Association. While this is to be expected from a young team who is running a new offense with a new coach, it's not what is expected from a playoff team.
This year the Lakers are averaging 16 turnovers per game. If they can learn to take care of the ball it can result in more shots which will give their explosive offense more opportunities to put the ball in the hoop.
Of course, it's easier said than done, but many of their turnovers are easily avoidable and it's these give aways that need to be eliminated completely.
Nov 4, 2016; Los Angeles, CA, USA; Los Angeles Lakers forward Larry Nance Jr. (7) dunks the ball on Golden State Warriors forward David West (3) during the second quarter at Staples Center. Mandatory Credit: Kelvin Kuo-USA TODAY Sports
Re-Capture the Early Season Intensity
This team captured the attention of NBA fans early on because of how hard they played. That was their identity.
The word around the league was that this team had heart and the played hard every night. They weren't going to beat themselves anymore because they gave it their all every night.
Somewhere along the way the team lost the amount of passion and effort they played with on a night to night basis. If they hope to make it back to .500 they need to rediscover this identity and play with that passion once more.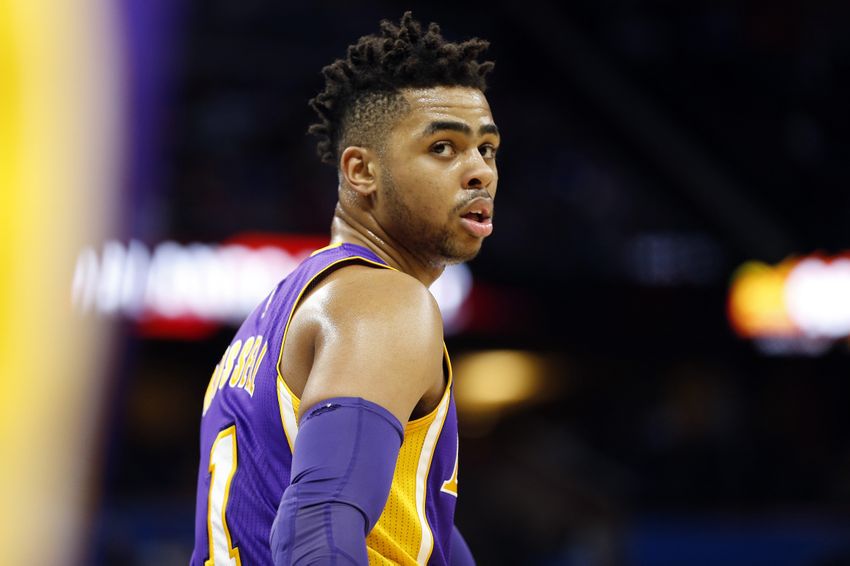 A Playoff Appearance
I know the Purple and Gold are already surpassing expectations. They only won 17 games last year and already have 11 in this young season.
I know they're a very young team who had no crazy expectations early on. However, because of their early season success we all have hope for a postseason birth. It was early season success but in that stretch they showed how good they can be despite their youth and inexperience.
They showed they can compete and beat any team in the league like when they dismantled the mighty Warriors, or when they beat Chicago on the road without many core players. On that note, if LA doesn't make a run it'd be somewhat of a disappointment.
---
---