Memphis Grizzlies
Memphis Grizzlies
Knicks-Grizzlies Preview
Updated
Mar. 4, 2020 7:07 p.m. ET

It'd be easy to look at the uncertain statuses of Carmelo Anthony, Kristaps Porzingis and Mike Conley to find some intrigue in a matchup between the New York Knicks and the Memphis Grizzlies.
Amazingly, the real drama lies between the Grizzlies' seventh-leading scorer and the Knicks' head coach.
Matt Barnes and Derek Fisher will be on the same floor for the first time since their bizarre offseason altercation as Memphis continues a six-game homestand Saturday night against New York.
Barnes has already served a two-game suspension for his role in an October brawl at the Los Angeles home of Barnes' estranged wife. Barnes told reporters that he drove 95 miles to the home after receiving text messages from his son, who was concerned that Fisher was visiting - and apparently dating - his mother.
Fisher has mostly avoided talking about the incident, but Barnes hasn't let it go. In November, he said Fisher should not have told police about what happened and that the former Lakers teammates should have handled it like "grown men." Barnes served his suspension in the Grizzlies' last game in December and first in January, and he wasn't ready to move on when asked about it Thursday.
''I know I've got to keep my mouth shut because (Fisher) will run and tell," Barnes said. "So we're focused on playing that team (the Knicks). And when I'm retired, him and I will cross paths again."
Barnes said he plans to avoid Fisher on Saturday, but the Knicks' coach will want to make sure his defenders aren't leaving Barnes alone. The 13-year veteran returned Thursday after missing a game with a thumb contusion and dropped 18 points off the bench - hitting all six of his 3-point attempts - in a 103-101 win over Detroit.
He's shooting 47.4 percent overall and 40.3 percent from 3 in his last 14 games after posting 37.4 and 29.9 percentages in his first 24 games with Memphis (22-19).
"It just took a little bit of time," Barnes said. "I'm 35, so it took a little time for me to get my legs underneath me, to get acquainted with this system, and now my teammates know where to find me."
The Grizzlies would have been headed to overtime if not for a jumper with 0.8 seconds left from Mario Chalmers, who had 25 points while starting a fourth straight game for Conley. It's unclear if Conley will be able to return Saturday with his sore left Achilles bothering him.
Porzingis hasn't missed a game all season but has been added to the injury report with a sore right shoulder. He's listed as questionable along with Anthony, who missed Wednesday's game against Brooklyn with a sprained right ankle. The Knicks (20-21) certainly missed him, as fill-in Lance Thomas shot 2 for 10 and was a minus-18 in a 110-104 loss.
Derrick Williams picked up some slack off the bench by matching a career high with 31 points, but it was Porzingis who perhaps took the loss the hardest and was looking forward after going 5 for 17 from the field.
''On nights like this when we don't have (Anthony), I can't have a shooting night like this,'' Porzingis said. ''I've got to step up. I've got to score the ball more.''
That came on the second night of a back-to-back, but for Porzingis, less rest hasn't been a bad thing. He's averaging 14.3 points and shooting 43.6 percent with no days or one day of down time, compared to 11.5 points and 34.4 percent with at least two days between games.
The Knicks have lost four straight in the series as the Grizzlies have had a 216-118 edge in paint points. Anthony missed both of last season's meetings.
---
---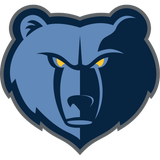 Get more from Memphis Grizzlies
Follow your favorites to get information about games, news and more
---