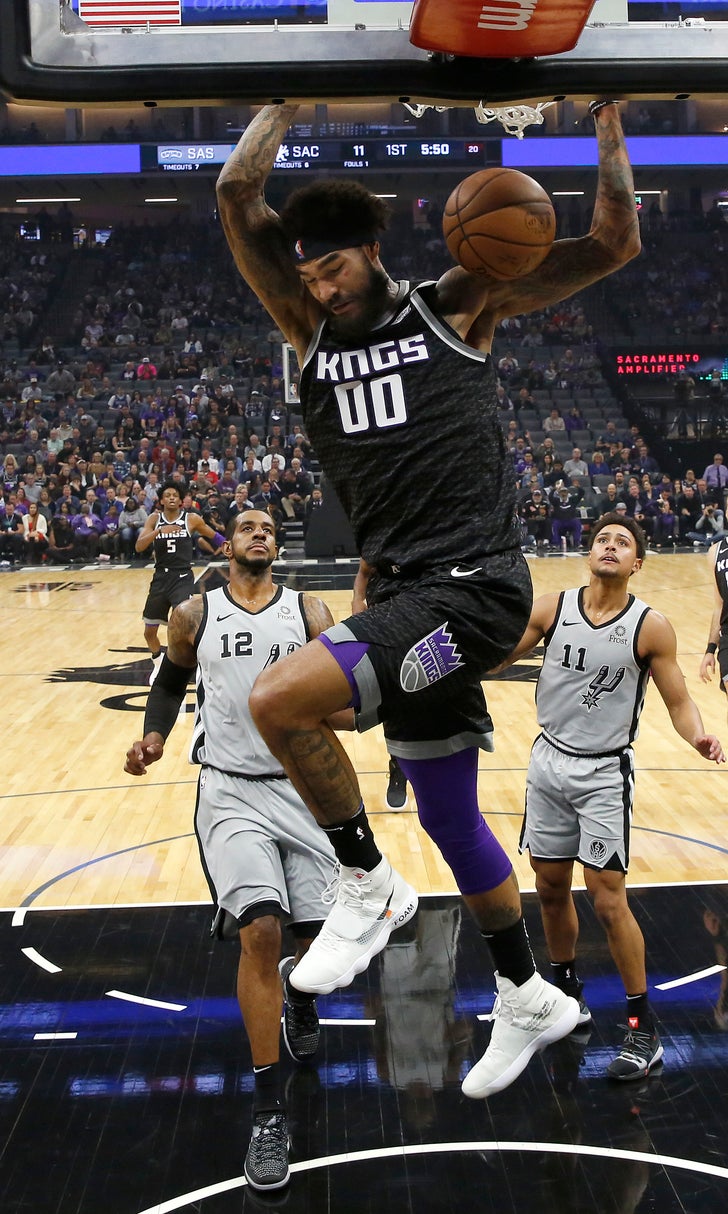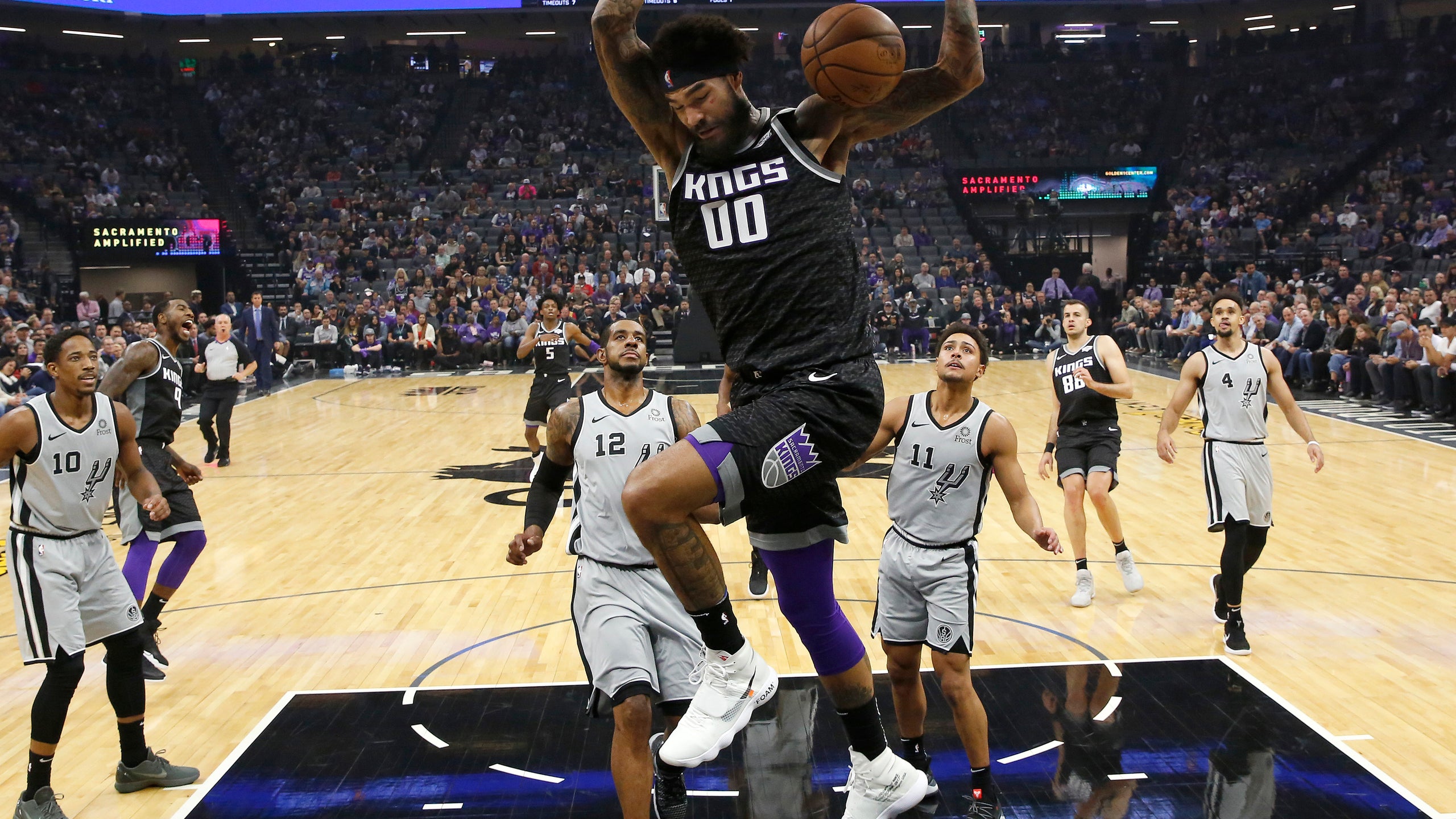 Kings hold on to end 14-game losing streak to Spurs
November 13, 2018
SACRAMENTO, Calif. (AP) — Ending a 14-game losing streak that spanned nearly four years to the San Antonio Spurs didn't mean as much to Sacramento as finishing its quick four-game homestand with an even record.
It's understandable, since many of these young Kings were still in high school the last time Sacramento beat the Spurs.
Iman Shumpert made a tiebreaking jumper with 4:05 remaining, De'Aaron Fox and Nemanja Bjelica followed with 3-pointers and the Kings pulled away for a 104-99 victory on Monday night.
"Man, I don't really care about the streak," Sacramento center Willie Cauley-Stein said. "More or less that was a must-win game. We have to defend home, you know? We slipped up and missed one last game so this one was a must-win mentality coming in. We got it."
The Kings had lost two of their three games on this homestand, including a 101-88 defeat to the Lakers on Saturday in the second half of a back-to-back.
Rested and back to its running ways, Sacramento took advantage of an injury-riddled Spurs team to beat San Antonio for the first time since Nov. 15, 2014.
It certainly left an impression on Spurs coach Gregg Popovich.
"Their culture is changing," Popovich said. "Guys are committed, guys are physical, taking some pride in defense. They look really good."
Fox finished with 19 points and seven assists. Cauley-Stein had 13 points and 13 rebounds, and Bogdan Bogdanovic scored 22 points for the Kings.
Sacramento led the entire third quarter but didn't shake San Antonio until late in the fourth.
DeMar DeRozan and LaMarcus Aldridge made back-to-back long jumpers to tie the score at 90-all with 5:11 remaining. The Spurs went cold after that and made three baskets down the stretch, all of them 3-pointers.
Shumpert broke the tie with his 16-foot jumper.
Aldridge had 14 points and 18 rebounds. DeRozan scored 23 points with eight assists, and Rudy Gay added 14 points and nine rebounds in his return to the Spurs lineup.
"There was just a bunch of miscommunication, switching, and a lot of things that caused us to collapse," DeRozan said. "They took an advantage of it and hit the three shots when they needed them. They exploited us and made us turn the ball over when we made a mistake."
Bogdanovic had 11 points off the bench in the first half while Fox hit a pair of 3-pointers to help give the Kings a 56-55 lead at the break after San Antonio made a late run.
Sacramento took advantage of the Spurs' cold shooting in the third to take control. San Antonio made more free throws (eight) than it did baskets (six) in the quarter.
TIP-INS
Spurs: Pau Gasol (left foot soreness) missed his third consecutive game. ... Gay, who spent three-plus seasons with the Kings before signing with San Antonio last year, missed the three previous games because of right heel soreness.
Kings: Two nights after having only nine assists in a loss to the Lakers, Sacramento dished out 27 against San Antonio. ... The Kings had a 45-32 advantage in bench points. . Kosta Koufos (right calf) did not play.
BOGEY'S BACK
The Kings are continuing to be cautious with Bogdanovic as he recovers from a pair of knee procedures in the offseason. Bogdanovic played nearly 25 minutes against the Spurs and shot 9 of 17 with three 3s.
"He's trying to find his rhythm a little bit and he's also playing with some guys that maybe he hasn't played with before," coach Dave Joerger said. "But I thought he was really feeling it and did a terrific job."
UP NEXT
Spurs: Play at Phoenix on Wednesday.
Kings: Play at Memphis on Friday.
__
More AP NBA: https://apnews.com/tag/NBA and https://twitter.com/AP_Sports
---
---