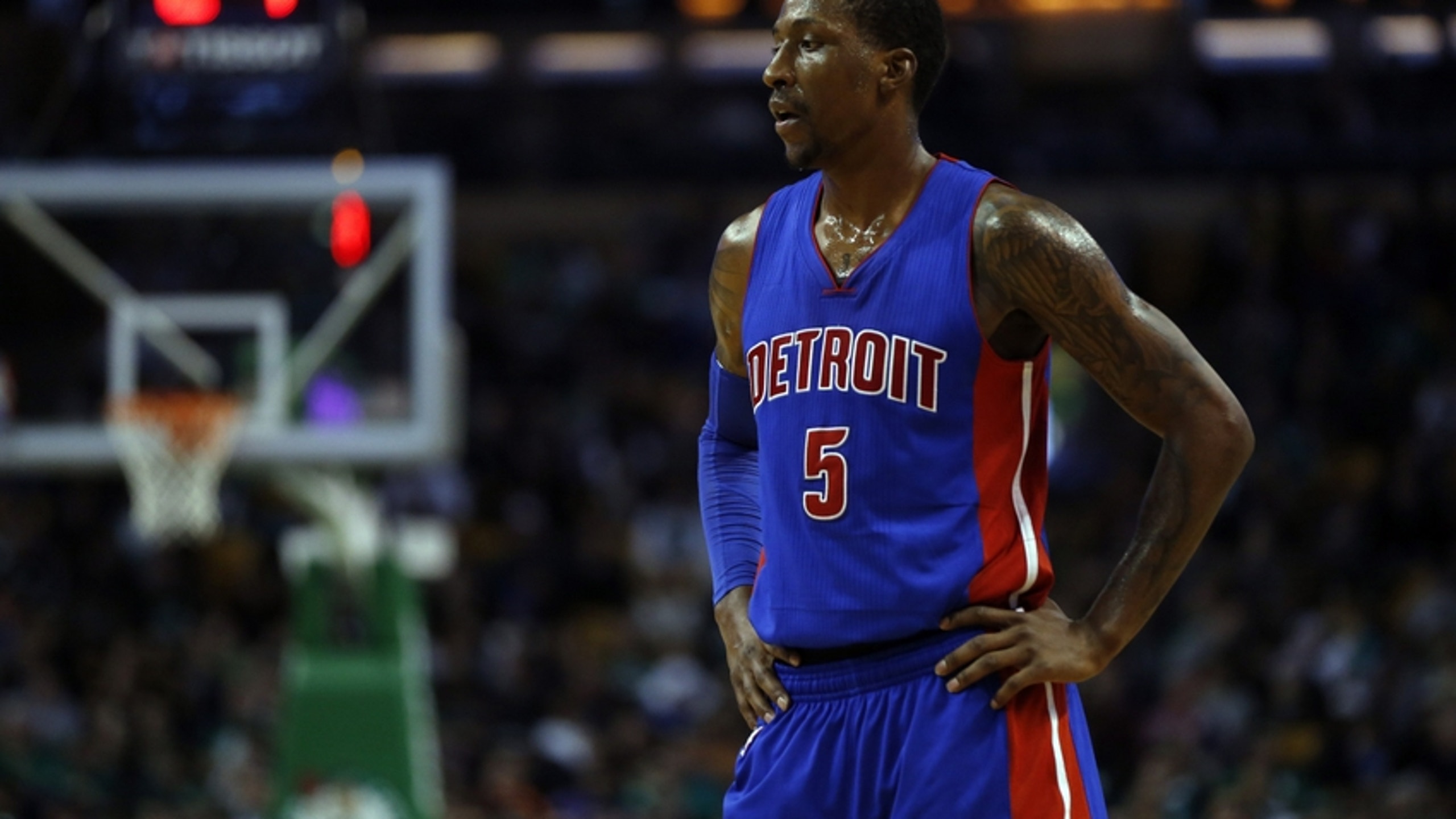 Kentavious Caldwell-Pope is the Pistons' Most Important Player
BY Fansided and Matthew Way/FanSided via PistonPowered • December 19, 2016
Kentavious Caldwell-Pope's outstanding defense and improved offense has made him the Detroit Pistons' most important player.
Leading into the 2016-17 regular season, the biggest question facing the Detroit Pistons' future was whether they should extend Kentavious Caldwell-Pope.  In his first three seasons, Caldwell-Pope has struggled to find consistency on a nightly basis.  That inconsistency caused many to be wary of paying Caldwell-Pope a lot of money to be nothing more than a role player.  Those concerns are slowly fading away, though.  Because through 29 games this season, Caldwell-Pope has evolved into a new role: the Pistons' most important player.
Caldwell-Pope has been the one positive constant in the starting lineup in an extremely inconsistent beginning to the season for the Pistons.  Through 29 games (28 of which Caldwell-Pope has appeared in), the Pistons have outscored their opponents by 3.4 points per 100 possessions with him on the floor.  That +3.4 number is 1.9 points higher than Marcus Morris, the next best Pistons starter.
Caldwell-Pope's value to the Pistons becomes even more clear when you look at the team's numbers when he's on the bench.  When Caldwell-Pope is off the court, the Pistons are being outscored by their opponents by 3.9 points per 100 possessions.  When any other Pistons starter (including both Ish Smith and Reggie Jackson) is off the court, the Pistons are outscoring their opponents.
Caldwell-Pope's value to the Pistons started to become evident in 2015-16, where he found his role as the team's premier wing defender.  Last year, he gradually gained national attention for his outstanding defense.  By the end of the year, Caldwell-Pope found his way onto 23 NBA All-Defensive Team ballots.
Caldwell-Pope made a name for himself last year by playing outstanding defense against some of the premier offensive players in the league.  By November 30th, he had held nine such opponents well-below their season averages.
So far this year, Caldwell-Pope has played good defense again, although he hasn't had quite the same impact that he did in 2015-16.  A large part of that is the absence of Reggie Jackson.  Caldwell-Pope has played a larger role in the offense without Jackson, which has certainly affected how much energy he can give on the defensive end.  The Pistons' adjustment for that has been to not always ask Caldwell-Pope to defend the opponent's best offensive wing.
With Caldwell-Pope often defending the second option, opponents have targeted Ish Smith whenever possible.  Russell Westbrook and James Harden struggled at times to find the room they're accustomed to when Caldwell-Pope was guarding them.  When Smith was defending them, however, Westbrook and Harden both attacked relentlessly and ended up with decent overall production.
Still, the Pistons defense has been 2.4 points better with Caldwell-Pope on the floor than without him.  Without Caldwell-Pope, the Pistons simply do not have a guard to defend the opponents' best offensive guard.  Smith, Jackson, and Darrun Hilliard are all limited defensively, while Morris is not quick enough.  Caldwell-Pope's ability to harass opposing wings and make penetration difficult is invaluable to the Pistons.
Caldwell-Pope's role in limiting penetration is especially important to the Pistons because of their defensive scheme.  Everything the Pistons do on defense is predicated on limiting penetration and forcing opponents to take inefficient shots.  It's a scheme that has been executed well and has led to the Pistons having a top-six defense.  Caldwell-Pope is a key factor in the successful execution of that scheme.
Caldwell-Pope's harassing, persistent defense has caused his counterparts to shoot the vast majority of their shots from outside of the paint.  Caldwell-Pope's counterparts have shot 66.7 percent of their two point field goal attempts from greater than 15 feet, a terrific rate for a defender.  By way of comparison, two of the top wing defenders in the league, Nicolas Batum and Tony Allen, have forced their opponents to rates of 62.5 and 63.2, respectively, on those type of shots.
On those two-pointers outside of 15 feet, Caldwell-Pope's counterparts have shot 6.9 percent  worse than their season averages.  When opponents aren't shooting long twos against Caldwell-Pope, they're generally settling for marginal three point attempts.  On three pointers against him, opponents are shooting a dismal 27.8 percent, a remarkable 10.2 percent worse than expectation.
Opponents are shooting about eight percentage points better than expectation on two-pointers inside six feet and two-pointers inside 10 feet, but they're shooting far more of the less efficient shots, and the Pistons are coming out well ahead as a result.
Caldwell-Pope may never be a great defender on shots in or near the paint, but if he can continue to limit penetration and thus the attempts that occur in or near the paint, he will continue to grade out as a very good defender.
More from PistonPowered
Caldwell-Pope's defensive success this year bears itself out in overall defensive metrics as well.  His defensive box score plus-minus is positive at +0.4, and Real Plus-Minus grades him as the third-best starting shooting guard in the league defensively, behind only Tony Allen and Danny Green.
For the Pistons, Caldwell-Pope's continued defensive success is extremely encouraging.  There was plenty of reason to believe Caldwell-Pope will be a strong defender, but 29 games of good defense is yet another data point that the Pistons' best wing defender is the real deal.
Even more encouraging than Caldwell-Pope's continued success defensively is the hugely positive impact that he has had this year offensively. Although Caldwell-Pope ranks sixth defensively at his position in Defensive Real Plus-Minus, he rates as the second-best shooting guard overall behind only James Harden. Of note, Harden is a point guard this season, which means that of true shooting guards, Caldwell-Pope has the best Real Plus-Minus in the NBA. That lofty ranking is because he also ranks fourth (fifth on the page, but again, Harden is not a shooting guard) among shooting guards in Offensive Real Plus-Minus.  Last year, Caldwell-Pope ranked 17th in that regard.
Caldwell-Pope's impact offensively can also be seen in the team's offensive ratings when he is on/off the court.  While the Pistons defensive rating is 2.4 points worse when he leaves the court, the offensive rating drop-off is more than two times worse.  With Caldwell-Pope on the court, the Pistons offense has scored 104.5 points per 100 possessions, the best production of any regular Pistons rotation player.  When he's off the court, the Pistons have scored just 99.5 points per 100 possessions, the worst production when any player on the team is off the court.
A large reason for Caldwell-Pope's importance to the offense is his ability to help even when he's not touching the ball.  On a team full of players who like to do most of their scoring in one-on-one situations, Caldwell-Pope is the one Piston starter who is constantly moving.  He covers the second most ground per game than anyone on the team despite touching the ball only eighth-most.
Caldwell-Pope's off-ball movement is critical for a Pistons offense that often finds itself standing around.  When defenders are chasing Caldwell-Pope off screens, they're using energy and they're also being forced to make decisions that could result in miscommunication.  And Caldwell-Pope is making those decisions much more difficult with his improved three point shooting this year.
Through 29 games, Caldwell-Pope is shooting a career-high 38.7 percent on three-point attempts.  Prior to this year, he's always been a well below-average shooter from behind the arc, so teams have been able to play him more conservatively coming across screens.  He saw plenty of that type of pick-and-roll coverage early in the year.
In an early win against the Nuggets, Caldwell-Pope was able to get an open look from three because the Nuggets played him very conservatively.  His main defender gave him a lot of space in the corner and gave him an easy path to a Jon Leuer screen.  Because of Caldwell-Pope's free path to the screen, his defender was late to come over the screen and Leuer's defender played way off, allowing Caldwell-Pope to take his time and make an in-rhythm three-pointer.
As Caldwell-Pope has proven himself a bit as a shooter, opposing defenses have become more aggressive in defending him.  And Caldwell-Pope has found other ways to make them pay.
Later in the year against Minnesota, Caldwell-Pope was defended a bit more aggressively.  He begins with a lot less space as Zach LaVine is crowding him.  LaVine went aggressively over the screen and Gorgui Dieng even provided some extra help because of Caldwell-Pope's threat as a shooter.  Caldwell-Pope recognized Dieng's extra help and threw a good pass for an easy Drummond dunk.
Too often in his first three years, Caldwell-Pope failed to recognize these situations when teams were over-playing towards him.  This year, he's shooting well and recognizing the increased attention he's getting, and it's led to his assist rate doubling.  With good pick-and-roll partners like Drummond and Harris, Caldwell-Pope could be a real threat in the pick-and-roll and add a different dimension to a Pistons offense that desperately needs it.
Caldwell-Pope's outside shooting has been great and his improved assist rate is encouraging, but he's also finding ways to create his own shot that he didn't previously.  In his rookie year, Caldwell-Pope was a poor ball handler and struggled mightily in creating his own shot.  He improved in that regard in both his second and third seasons, but he's taken that annual improvement to a new level this season.
Not only is Caldwell-Pope creating much more offense for himself this year, he's doing it while taking better care of the ball.  As Caldwell-Pope took on more ball handling responsibilities, his turnover rate rose in both year two and three.  In year four, that turnover rate (7.8 percent) has dropped down to its lowest point of the last three seasons.
His improved outside shooting is probably a factor in his improved play making as well.  Because teams are playing him more aggressively, he has more driving lanes when teams close out recklessly on potential outside shots.  But Caldwell-Pope has also become better at both recognizing and punishing those poor close outs.  Where Caldwell-Pope used to simply settle for a lot of bad three-pointers when teams closed out hard on him, this year he's taking opponents off the dribble on those same plays.
These takes off the dribble are critical to the Pistons offense.  The Pistons offense is very simple in scheme, and largely relies on penetration and/or simple passing along the perimeter to create shots.  Caldwell-Pope's ability to take opponents off the dribble from the perimeter is an important counter for that type of offense to be successful.  By punishing poor close outs, teams get less aggressive in closing out which opens up space for both Caldwell-Pope and his teammates.  Having more space makes things easier for the other Pistons, many of whom rely on that extra space for their one-on-one action.
While Kentavious Caldwell-Pope may have come into the league as a solid "3-and-D" type of prospect, he's developed into a lot more than that.  And, at age 23, he still has a lot of time and room to develop even more.  If he does that, he's going to be worth every penny that the Pistons may pay him, regardless of the price tag.
---
---