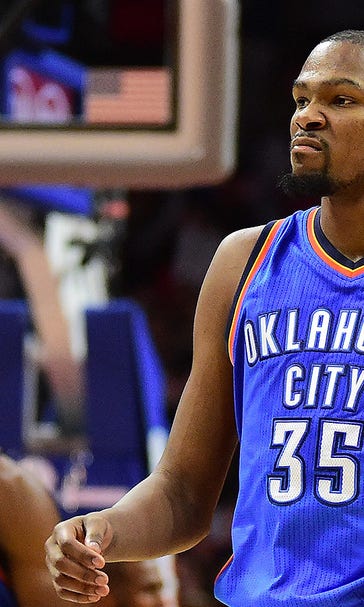 KD channels his inner Mike Trout to sink Clippers in SoCal
December 22, 2015

The Oklahoma City Thunder are in SoCal for a few days this week, so it's only fitting that Kevin Durant did his best Mike Trout impression on Monday night.
But unlike a thrilling summer night in Anaheim, the home fans didn't go home happy.
Struggling throughout much of the night, his team trailing the host Clippers almost the entire game, and still seeming to play second fiddle to Russell Westbrook as he continues his return from a foot injury, Durant did the basketball version what that fellow MVP who plays center field for the Angels has done so many times:
He hit the go-ahead home run before robbing someone else of one to seal the win.
With the Clippers up 99-98 and the Thunder reeling following Chris Paul's steal and go-ahead lay-up, Oklahoma City had the ball at half court with 10.9 seconds to play. The ball found its way into Durant's hands, and he calmly hit a pull-up jumper from 19 feet out with 5.8 to go. Those 14 misses earlier in the game? Ancient history.
But he wasn't done.
The 2014 NBA MVP showed why the Thunder is still his team, as he used his reach to quickly close on Paul, and swat away the point guard's 18-foot potential game-winner as time expired.
Offense and defense … most valuable player personified. But don't tell KD how great his defense is.
"As a kid, I dreamed about hitting the game-winner," Durant told the gathered media after the game. "No doubt, the block was good for our team. But as a kid, I wanted to hit the game-winner all the time. So I'll take the game-winner over the block."
-- The Associated Press contributed to this report
---
---