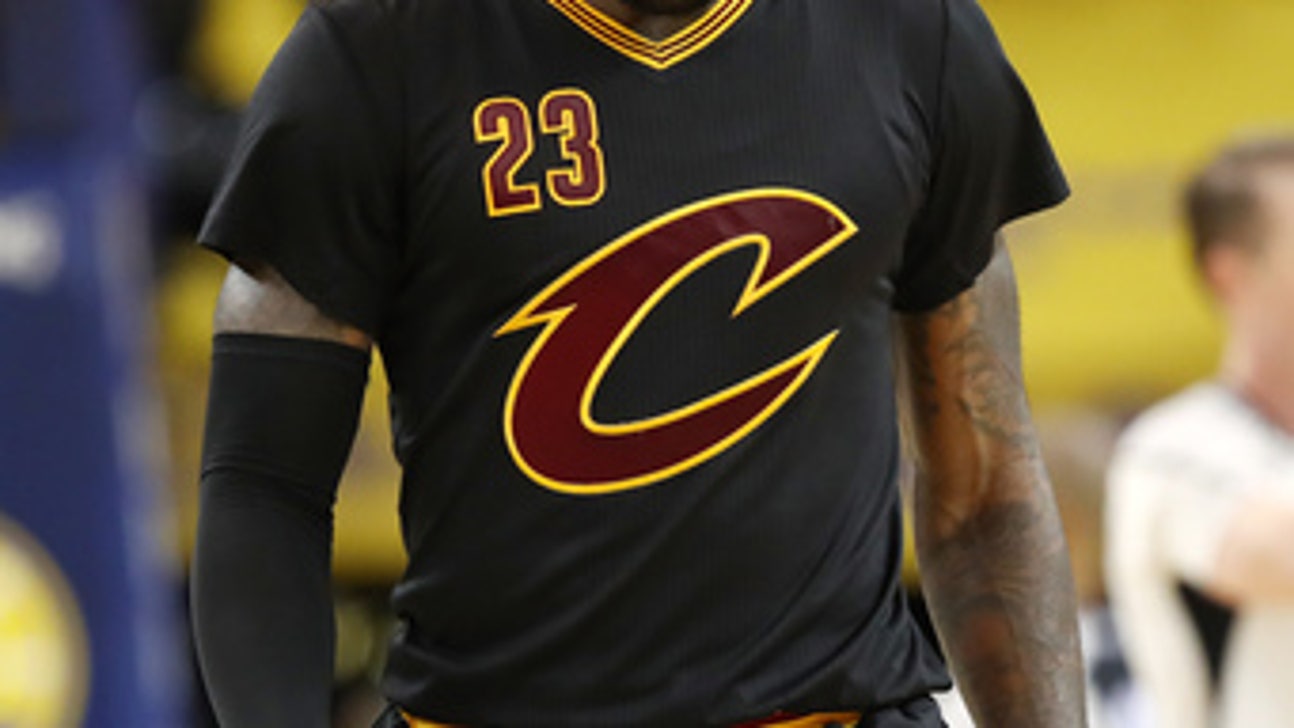 James spectacular again, but his efforts not enough for Cavs
Updated
Mar. 4, 2020 1:34 p.m. ET

OAKLAND, Calif. (AP) As confetti fell on the court, LeBron James gave Kevin Durant a long embrace and congratulatory words before walking off the court with his head held high despite a fifth career NBA Finals loss.
After averaging a triple-double over the five games, James knew there was little more he or his teammates could have done to beat a Golden State Warriors team that proved too talented this year with the addition of Finals MVP Durant.
''I have no reason to put my head down,'' James said. ''I have no reason to look back at what I could have done or what I shouldn't have done or what I could have done better for the team. I left everything I had out on the floor every single game for five games in this Finals, and you come up short.''
James had 41 points, 13 rebounds and eight assists and Kyrie Irving added 26 points but the Cavs never could dig out of a hole created by a second-quarter barrage and ended their season with a 129-120 loss to the Warriors in Game 5 of the NBA Finals on Monday night.
Cleveland has now lost two of the three showdowns in this Finals trilogy. Their one title came last year when the Cavs became the first NBA team to rally from a 3-1 Finals deficit to deliver the city its first major championship since 1964.
The Cavs managed to stave off elimination once in this series with a 137-116 win in Game 4 at home but couldn't pull off another improbable comeback this year.
''We were able to get them last year, and they went out and got one of the best players that this league has ever seen,'' James said. ''They did a great job, their front office and their players, by doing that recruiting, the things that they did in the summertime, and obviously it paid dividends.''
James had a spectacular series, averaging 33.6 points, 12 rebounds, and 10 assists but it wasn't enough. When it was over, James went straight to congratulate Durant, who got revenge for losing the title with Oklahoma City to James' Miami Heat five years ago.
''Some people would say that he's on the toe of - like he's on the line of greatness,'' Irving said. ''But that guy is way over. Man, he's freaking awesome.''
Cleveland got off to a fast start and built a 41-33 lead on a dunk by James early in the second quarter. Durant appeared to commit his third foul on the play, but the officials let it go and the game quickly turned.
The Warriors responded with a 28-4 run for a lead they never gave up after that. The Cavs offense stagnated during that stretch as Cleveland missed 9 of 11 shots from the field, turned the ball over three times and had two missed free throws from Kevin Love.
''You can't turn the basketball over, you can't take bad shots because you don't have floor balance,'' coach Tyronn Lue said. ''They're so fast, they get out in transition. It's tough to get back and get matched, especially with their speed.''
The game-changing spurt ended with a scuffle when Golden State's David West shoved Irving as he tried to grab the ball away. Thompson and Smith confronted West and all three of those players got technical fouls.
James hit a 3-pointer on the next possession and the Cavs didn't go away, cutting a 17-point deficit to three in the opening minute of the fourth quarter with help from Smith's 25 points.
But unlike last year's comeback when they took advantage of Harrison Barnes' offensive struggles, Durant answered every charge during a 39-point night and Cleveland will need to find new answers if these teams meet in a fourth straight Finals next season.
''Teams and franchises are going to be trying to figure out ways that they can put personnel together, the right group of guys together to be able to hopefully compete against this team,'' James said. ''They're assembled as good as you can assemble, and I played against some really, really good teams that was assembled perfectly, and they're right up there.''
---
More AP NBA: apnews.com/tag/NBAbasketball
---
---