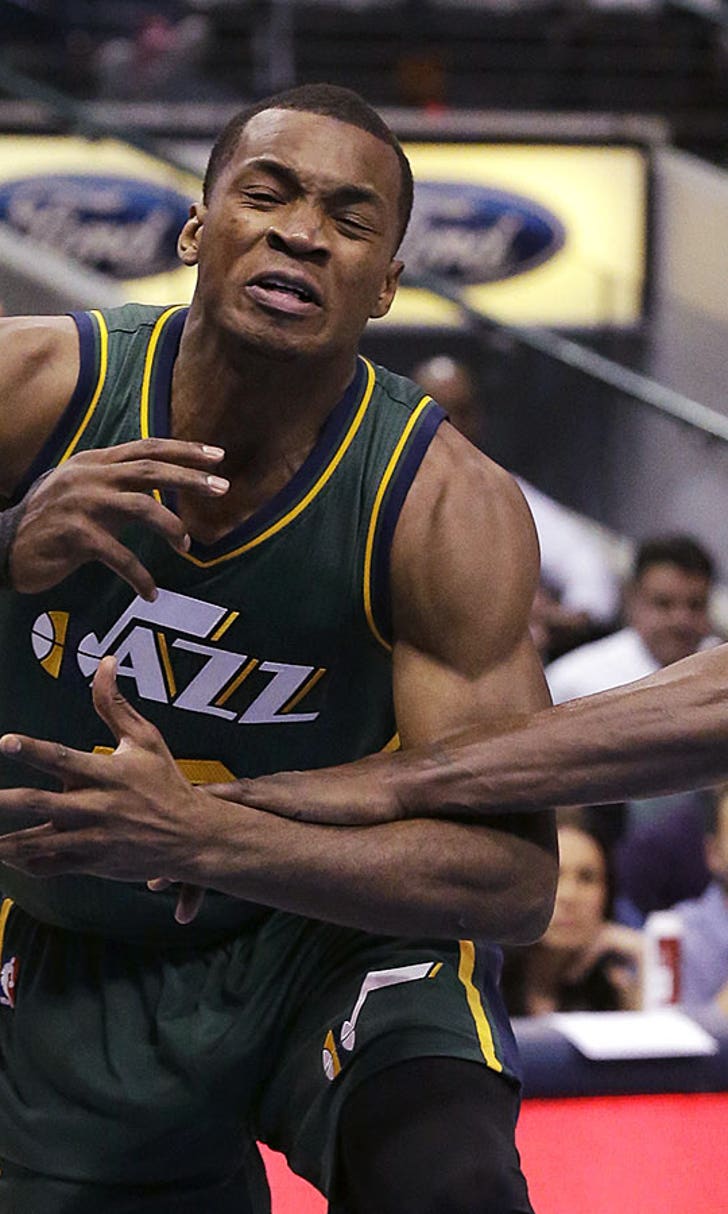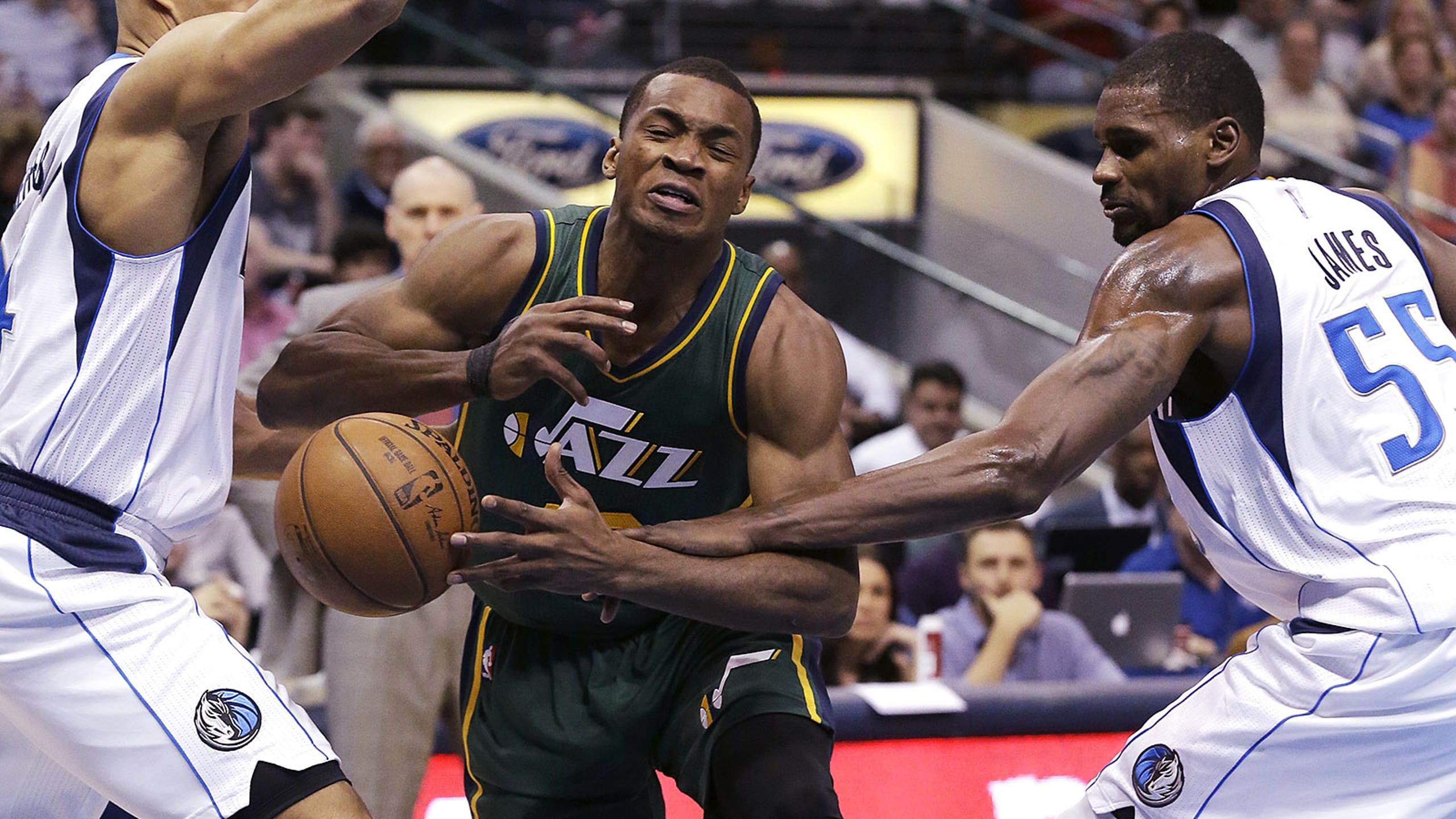 J.J. Barea scores 22 points for Mavericks in ragged win over Jazz
BY foxsports • February 12, 2015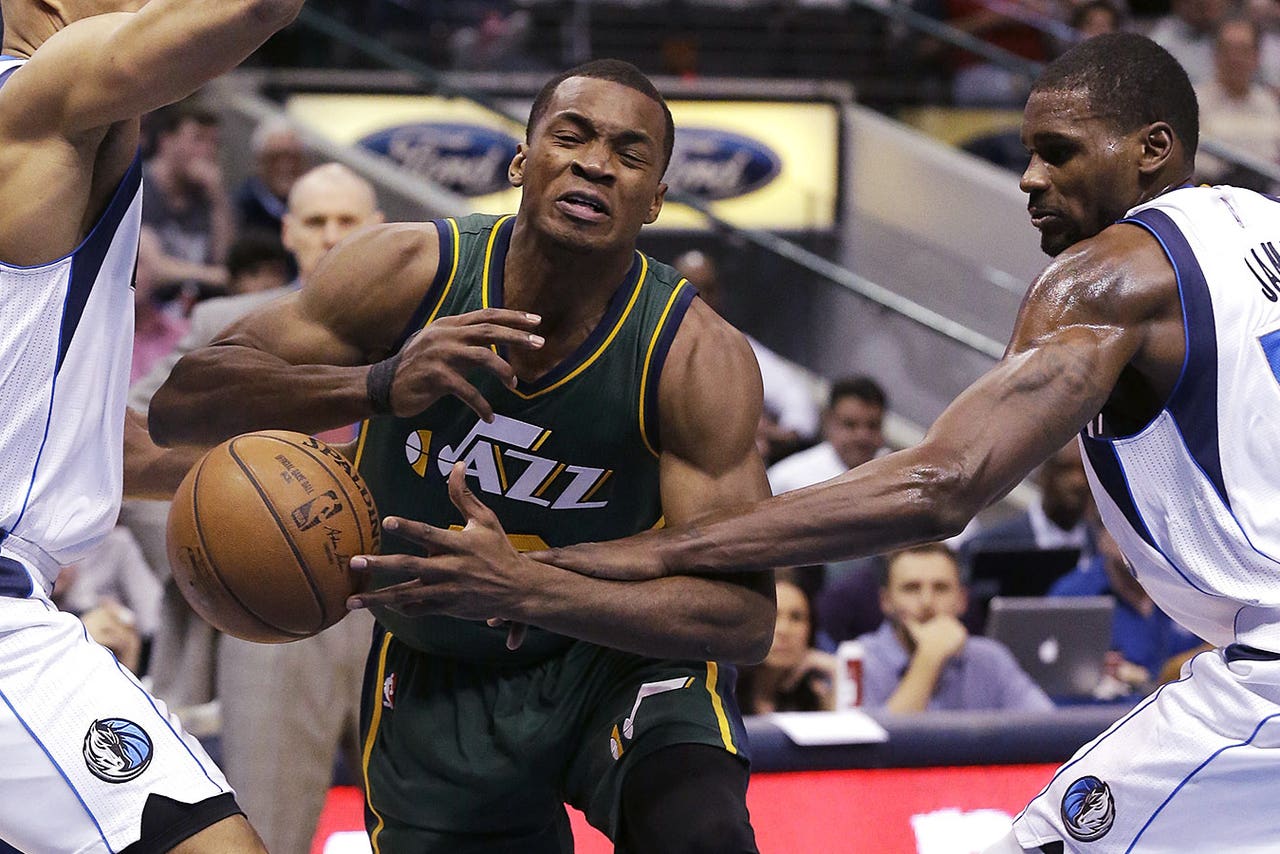 J.J. Barea enjoyed a pleasant surprise when Monta Ellis lined up beside him in the backcourt after it looked as if Dallas' leading scorer would have to sit with a left hip injury.
The diminutive guard from Puerto Rico took over offensively anyway.
Barea scored 15 of his season-high 22 points in the third quarter and the Mavericks went into the All-Star break by holding on for a ragged 87-82 victory against the Utah Jazz on Wednesday night.
"I knew we needed a little burst there," said the 6-foot Barea, who darted past defenders for layups and made four of seven 3-pointers. "Our defense was good, but we were struggling on offense."
Starting while Rajon Rondo recovers from a broken orbital bone, Barea was happy to see Ellis, and so were the rest of the Mavericks, even though he scored just seven points while taking just six shots.
That's because Dallas knew it would be without Rondo and center Tyson Chandler, who went out with a sprained left ankle 2 minutes before Ellis left early in the first quarter of a loss to the Los Angeles Clippers on Monday.
"Just even having him there helps," Barea said. "He wasn't him, but it shows a lot of him. He wants to be out there with us, helping us."
Gordon Hayward, coming off consecutive 30-point games in a pair of wins, was limited to 12 points for Utah and had two of his six turnovers in the closing minutes with the Jazz trying to rally for their first three-game winning streak in a year.
Trey Burke led Utah with 16 points.
"I think we just weren't tough," Jazz coach Quin Snyder said. "The game was a little more physical. It knocked us off."
Dallas' Dirk Nowitzki, named as an All-Star replacement for injured New Orleans forward Anthony Davis after the game, had 15 points and a season-high 14 rebounds.
The Mavericks were up three in the closing seconds when Ellis lost the ball to Hayward, who went for the easy two points on a dunk with 15.3 seconds left instead of pulling up for a potential tying 3-pointer.
Utah fouled Ellis on the inbounds play, and he pushed the lead back to three before Hayward threw a pass behind Derrick Favors that led to a Dallas breakaway. The Mavericks ran off all but the last half-second before the Jazz could get another foul.
"I just came off and I was kind of waiting for the play to develop," Hayward said. "At that point I should have just decided to shoot it, but it's not where we lost the game."
Chandler Parsons was the defensive star for Dallas without the 7-1 Chandler patrolling the middle. He helped hold Hayward to 5-of-14 shooting as the Jazz shot 38 percent and matched a season low with nine points in the first quarter.
Barea was the only Dallas scorer in double figures well into the fourth quarter after he had the last 13 points on a 15-3 run that turned a 43-42 Utah lead into a 57-46 advantage for the Mavericks, who shot 37 percent.
Steve Novak kept Utah close with a pair of 3-pointers in the fourth and finished with 12 points, and Favors had 14 points and three blocks.
SLEEPY SARGE
Bernard James, known as "Sarge" because he's a former Air Force staff sergeant, had nine points, three rebounds and all three Dallas blocks the same day he signed a 10-day contract to help fill the void without Chandler. He just finished playing in China after the Mavericks released him at the end of training camp. He spent his first two pro seasons in Dallas.
MISSING BURKE
The Utah guard said he thought the Jazz were going to get a 5-second call on the inbounds play on their last possession, and was out of position when Hayward had to make a decision on the bad pass. "It's all about executing," Burke said. "I told the team, my fault on that last one."
TIP-INS
Jazz: In the first quarter, the Jazz shot 20 percent and had more turnovers (five) than field goals (four). At one point in the second quarter, Utah had almost as many blocks (six) as buckets (eight). ... Utah's other nine-point quarter was in the fourth against Atlanta, a 100-97 loss on Nov. 12
Mavericks: Utah's nine points in the first quarter were the fewest Dallas has allowed in a quarter this season. The previous low was Philadelphia's 10 in the first quarter of the Mavericks' 123-70 win on Nov. 13. ... Barea and Nowitzki were the only players in double figures, but five others had at least seven points each. 
---
---