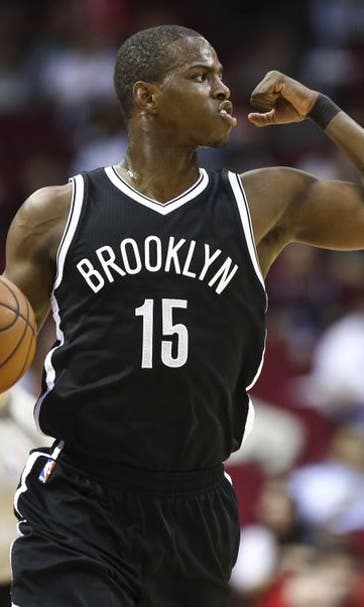 Isaiah Whitehead's Progress a Silver Lining Amid Brooklyn Nets Injuries
December 29, 2016

Fansided, Max Prinz/FanSided via Nothin' But Nets
Though Jeremy Lin's injuries have been difficult to swallow, they have offered Isaiah Whitehead a unique chance to jumpstart his development.
It can be hard to spot amid the dark clouds of injury woes, but Jeremy Lin's early season hamstring issues have contained a silver lining for the Brooklyn Nets.
Opportunity. It can be an incredibly valuable commodity to a young, rebuilding team. And, no player has had more early opportunities than Isaiah Whitehead.
Whitehead, selected with the 42nd overall pick by the Nets in last summer's draft, has been thrown into the fire this season. His Brooklyn ties have made him an easy fan-favorite. Considering where he was drafted, he's given both those in the stands and front office lots to be happy about this year.
RELATED STORY: Nets' Shocking Win Against Hornets Overshadowed By Jeremy Lin's Injury
A particular sequence against the Bulls Wednesday night showcased Whitehead's potential. On a Jimmy Butler drive, Whitehead retreated into the paint to help, before twirling back outside to intercept a pass. The steal and ensuing coast-to-coast layup were very impressive.
Whitehead has started in 17 of the 24 games he's played in so far this year thanks to Lin's injuries and has acquitted himself admirably. He's averaging 7.7 points, 3.4 assists and 26.5 minutes in those 17 games. 
His best game, a 14-point, four-steal outing in a 116-111 win over the Denver Nuggets, was one of the more encouraging moments of this young Nets season.
Granted, there are plenty of moments for frustration in Whitehead's game. He makes a ton of rookie mistakes on defense. He's far too prone to pump fakes and reacts a step too slow to rotate and help.
Similarly, he fails to truly command the offense in a way the league's best point guards do. Especially late in games, when the Nets tend to look in the direction of Sean Kilpatrick or Brook Lopez, he fades into the background of the offense.
But the energy and work ethic are encouraging. Whitehead has shown little fear, even when going up against marquee point guards like Chris Paul or Rajon Rondo. His 1.1 steals per 36 minutes show that the effort is there.
The most impressive stat for Whitehead thus far? He's played 137 fourth quarter minutes, good for 13th among fellow rookies and more than Joel "The Process" Embiid.
That kind of experience, so early on in a career, can be invaluable to a player. Given the Nets' bleak future outlook, their need for internal development is very high.
Without control of their own first-round picks the next two seasons, hitting on second-round picks could be the difference between a long, depressing rebuild and a slow, but promising one. They just need to take advantage of their opportunities.
More from Nothin' But Nets
This article originally appeared on
---
---