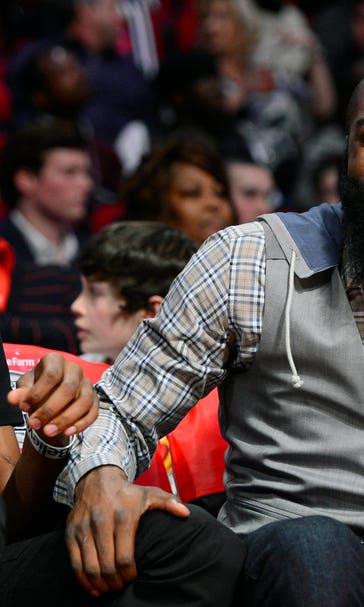 Houston, all our problems are solved? Harden to 'go all out' for KD
BY foxsports • February 5, 2016
The Houston Rockets are having a terrible season, but their fortunes can change overnight if James Harden convinces Oklahoma City forward Kevin Durant to join forces with him in Texas next year. 
The Rockets will have the cap space to make something happen, and their general manager, Daryl Morey, has a history of luring star talent in free agency. So ... maybe this will actually go down? (Via The Vertical):
The hook will be Harden, who is expected to go all out to recruit his ex-teammate to Houston, but Howard's presence could help. Howard and Durant have never been close – the two went nose to nose during a game in 2014, with Durant tossing around some colorful language to describe Howard as soft – but Durant understands that in the rugged Western Conference it will take more than just two elite scorers to unseat Golden State.
Competition for Durant will be extremely tough this summer. The Thunder are frontrunners, and if Oklahoma City wins the title this season there's all but no chance he leaves. The Golden State Warriors might be second on the list, and it's extremely difficult to envision a scenario where Durant chooses Houston over the opportunity to create what might be the best team in NBA history.
The Los Angeles Lakers, Boston Celtics, Miami Heat and Washington Wizards are all lurking on the sidelines, too. But crazier things have happened. Maybe deep down, Durant really misses playing beside Harden, a scorer who really knows how to pass. It's hard to say, but the world will get an answer soon enough.
---
---