Miami Heat
Miami Heat
Heat, Wizards meet coming off losses
Published
Nov. 10, 2018 1:01 a.m. ET
When the Washington Wizards visit the Miami Heat on Saturday night, it is likely that neither team will be in a good mood.
Both teams were defeated on Friday night, but Miami's home loss to the Indiana Pacers was particularly galling to Heat fans. Miami (5-6) led 102-98 with less than 90 seconds left in the game.
But the Pacers stormed back, closing with a 12-0 run to earn a 110-102 victory.
The Heat shot 0 for 4 with two turnovers in that stretch. Miami starting shooting guard Josh Richardson made both turnovers his team had down the stretch, and he also missed a 3-point shot. His teammate, Justise Winslow, missed two shots as the lead evaporated, including one that got blocked.
Meanwhile, a three-plus-hour car ride north from Miami, the Wizards (2-9) took a 117-108 loss on Friday night against the host Orlando Magic.
Washington, which has lost seven of its past eight games, entered this weekend with the second-worst record in the NBA.
The Wizards are just 1-6 on the road this season, and they have allowed 120.2 points per game this season, which gives them the most porous defense in the entire league.
Still, the Wizards have not given up, judging by what happened on Friday. The Wizards trailed by 25 points before rallying to within one point in the second half and then, ultimately, folding.
The strength of the Wizards is what it has been for the past several years -- a dynamic backcourt of John Wall at the point and Bradley Beal on the wing. Those two stars combined for 46 points, 18 assists,11 rebounds, four steals and two blocks in Friday's loss at Orlando. The rest of the Wizards roster combined to score just 62 points.
"Not everybody starts off the season great," Wall told the media this week. "I'm going to keep hooping."
Meanwhile, Miami has dealt with injuries and inconsistency all season.
Starting point guard Goran Dragic, an All-Star who leads Miami in assists, ranks second on the Heat in scoring but has missed the past two games due to a knee injury.
Heat shooting guard Dwyane Wade, who is now a reserve in his final NBA season, has missed two straight games after he and his wife welcomed a baby into the world.
It is uncertain if either player will be back in time to face the Wizards.
"Goran is feeling better," Heat coach Erik Spoelstra told the media. "He's getting treatment."
Spoelstra also said Wade can take as much time as he likes with his family before returning to the team.
In addition, Richardson, who leads Miami in scoring, has been inefficient all season in terms of his shooting percentage, and center Hassan Whiteside tends to follow monster games with contests in which he seems to disappear.
---
---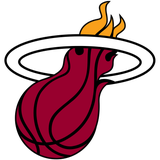 Get more from Miami Heat
Follow your favorites to get information about games, news and more
---