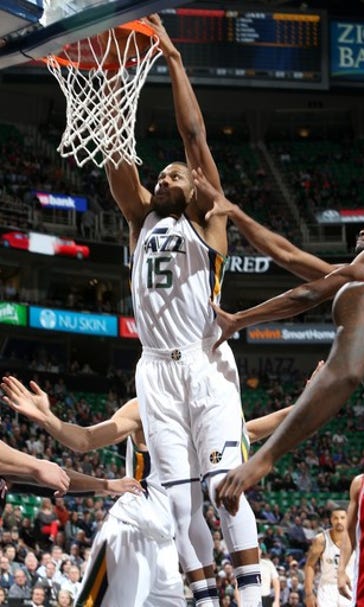 Hayward scores 22 as Jazz beat Trail Blazers 111-88 (Feb 15, 2017)
February 16, 2017

SALT LAKE CITY (AP) Gordon Hayward was presented with his All-Star jersey Wednesday night and will play in the game for the first time on Sunday. He had some unfinished business, though, before heading to New Orleans.
Hayward scored 22 points and George Hill added 19 as the Utah Jazz ended a three-game losing streak to the Portland Trail Blazers with a 111-88 victory.
The Jazz also ended a three-game overall losing streak heading into the All-Star break.
''We had a bad taste in our mouth and didn't want to go into the break losing four straight,'' Hayward said. ''This was one we needed to have and I think we played like that a little bit tonight. We need to be able to play like that more often.''
Utah used a 20-4 third-quarter run to take a 15-point lead after Hayward warmed up following a 2-for-9 first half. He scored 13 in the quarter.
Joe Ingles scored 18 for the Jazz, and Rudy Gobert had 13 points and 12 rebounds.
''I told (Hayward) don't you dare change anything you're doing after he had a really tough night against Boston,'' Jazz coach Quin Snyder said. ''It's just a question of him continuing to play his game. If the ball's not going in, he can think about other things he can do. Maybe get a more open shot, but not to ever stop attacking.
''That's who he is. That's who he's worked to become. That's the guy we have confidence in.''
Damian Lillard and CJ McCollum had torched Utah the six previous games against the Jazz, but were fairly contained most of the night. Lillard finished with 13 and McCollum had 18.
The Trail Blazers cut the lead to single digits in the third quarter, but never got closer than seven.
''I just could never get it going,'' Lillard said. ''I felt like even when I got looks that I know I should make, it felt like the ball was rolling around the rim and rattling in and out.
''We're in a tough place. I don't think we've ever been in this position. Even in my rookie year, we were at least playing good basketball. ... You got two options: You can either run from it or take this break and go rest up and do whatever we need to do and come back and man up. ... Period. That's what needs to happen.''
The Jazz led 40-37 at halftime despite continuing their shooting woes from the previous game. Utah shot a season-low 33 percent from the field in a loss to the Clippers on Monday.
Fortunately for the Jazz, their top-ranked defense held the Blazers to 32.5 percent shooting from the floor in the first 24 minutes. A 12-0 first-quarter run gave Utah a 10-point lead that it extended to 14 midway through the second quarter after a three-point play from Hill.
The Trail Blazers closed the half on an 11-0 stretch, including seven straight from McCollum.
''I didn't think we necessarily played that well offensively, but we were competing and at least kept it close until the (Jazz) 3-pointers came,'' Trail Blazers coach Terry Stotts said.
TIP-INS
Trail Blazers: Al-Farouq Aminu did not play due to a left knee sprain. ... Evan Turner missed his third straight game due to a right hand injury. ... Lillard has made a 3-pointer in a career-high 36 consecutive games, the third-longest streak in the NBA this season.
Jazz: Rodney Hood missed his seventh straight game due to a lateral collateral ligament sprain and right knee contusion and will be re-evaluated after the All-Star break. ... Hayward passed Deron Williams for No. 8 on the Jazz's career scoring list with 7,588.
DEBUT
Center Jusuf Nurkic made his debut with the Blazers after being traded from Denver on Jan. 29. The Nuggets sent Nurkic and a 2017 first-round pick for Mason Plumlee, a 2018 second-round pick and cash considerations.
Nurkic scored 13 points and had seven rebounds in 21 minutes off the bench.
UP NEXT
Trail Blazers: travel to face the Orlando Magic and newly acquired Terrence Ross on Feb. 23.
Jazz: travel to play the Milwaukee Bucks on Feb. 24.
---
---