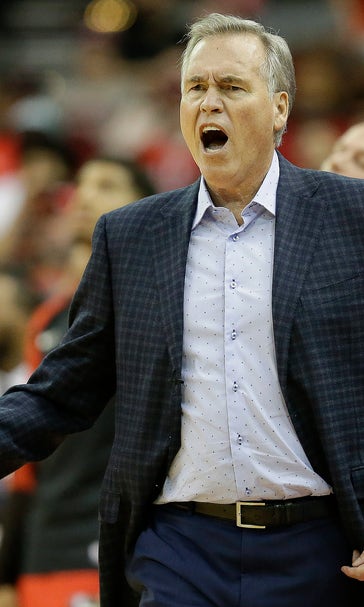 Harden scores 45, Rockets beat Celtics 127-113
December 28, 2018
HOUSTON (AP) — James Harden had 45 points and six assists, Clint Capela added 24 points and 18 rebounds, and the Houston Rockets beat the Boston Celtics 127-113 on Thursday night for their eighth win in nine games.
Harden, who was playing on a bruised left calf, had 17 points in the first quarter and finished 11 of 26 from the field, including 9 of 18 on 3-pointers. Eric Gordon scored 20 points for Houston, which shot 48 percent while improving to a season-high four games above .500. Houston finished 18 of 45 on 3-pointers.
Harden has scored at least 30 points in eight straight games, the longest such streak since Russell Westbrook had eight straight 30-point games in November 2016. Harden has scored at least 35 points in six straight games, the longest streak since Carmelo Anthony had six straight in April 2013.
Kyrie Irving had 23 points and 11 assists, Marcus Morris added 19 points before being ejected midway through the fourth quarter, and Jaylen Brown had 18 points off the bench for Boston, which shot 47 percent but was outrebounded 54-38.
SACRAMENTO, Calif. (AP) — Bogdan Bogdanovic made a 3-pointer at the buzzer and Sacramento rallied from 15 points down in the fourth quarter to beat Los Angeles in the Lakers' first game this season without LeBron James.
Bogdanovic finished with 23 points and De'Aaron Fox added 15 points, 12 assists and nine rebounds. Willie Cauley-Stein had 19 points and eight rebounds, while Iman Shumpert scored 18 points and matched his career high with six 3s.
James was held out with a groin injury, ending his consecutive games played streak at 156. The four-time MVP was injured during the Lakers' 127-101 victory over two-time defending NBA champion Golden State on Christmas when he slipped while going for a loose ball.
Kyle Kuzma had 34 points to help make up for James' absence, and Lonzo Ball added 20 points, 12 assists and nine rebounds. But the Lakers struggled down the stretch and lost their fourth in six games.
TRAIL BLAZERS 110, WARRIORS 109, OT
OAKLAND, Calif. (AP) — Damian Lillard hit a go-ahead 3-pointer with 6.3 seconds left in overtime and scored 21 points in his final regular-season game at home in Oakland, sending Portland past Golden State in a wild one.
Kevin Durant missed a 13-footer off the front rim as the final buzzer sounded but finished with his second triple-double of the season: 26 points, 11 assists and 10 rebounds.
Jusuf Nurkic had 27 points and 12 rebounds for the Blazers.
Durant hit a tying 3-pointer with 19 seconds left in regulation following a driving one-handed dunk the previous possession but the Warriors couldn't overcome a comedy of errors in losing a second straight at home. They took a 127-101 beating from the Lakers on Christmas night.
SALT LAKE CITY (AP) — JJ Redick scored 24 points and Joel Embiid had 23 points, 15 rebounds and five blocks to help Philadelphia cruise past Utah.
Ben Simmons, who was selected over Utah's Donovan Mitchell as Rookie of the Year last season, had his fifth triple-double of the season with 13 points, 14 rebounds and 12 assists.
Mitchell scored 23 points, Dante Exum added a season-high 20 and Rudy Gobert had 17 points and 15 rebounds for the Jazz.
Embiid, who has a league-leading 31 double-doubles, and Gobert both had bright moments in the post but the Jazz let Redick get loose for six 3-pointers. Jimmy Butler was also effective on the perimeter and drives for dunks as he scored 19 points.
MILWAUKEE (AP) — Giannis Antetokounmpo had 31 points and 14 rebounds, Khris Middleton added 25 points and Milwaukee beat New York for its sixth win in seven games.
The Bucks swept the home-and-home series, having won at New York 109-95 on Christmas.
Luke Kornet, making his first start of the season in place of Enes Kanter, tied a career high with 23 points, and Noah Vonleh added 15 points and 13 rebounds for the Knicks. New York, playing without leading scorer Tim Hardaway Jr. because of an illness, lost its sixth straight.
Kanter was ejected with 9:56 left in the fourth quarter after being assessed two technical fouls. Antetokounmpo drove to the basket and was knocked down by Kanter, although no foul was called. The two got into a brief altercation as Antetokounmpo ran back up the court. Each player was called for a technical, then Kanter was called for a second.
---
---