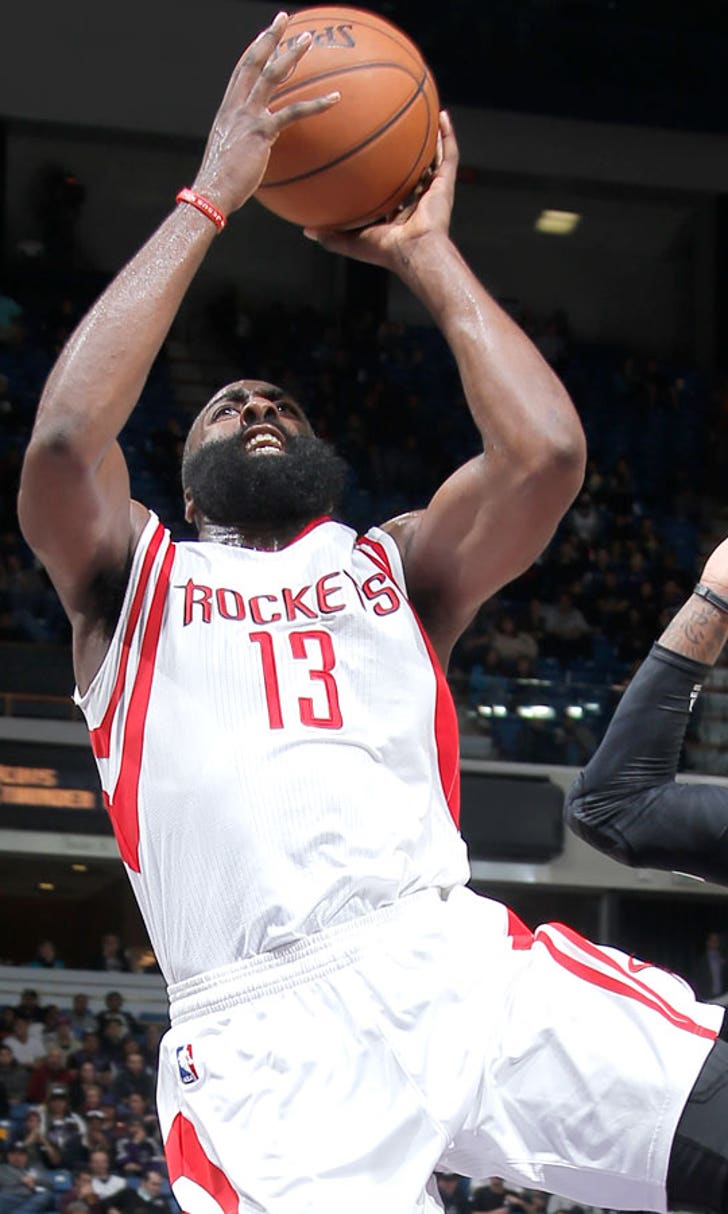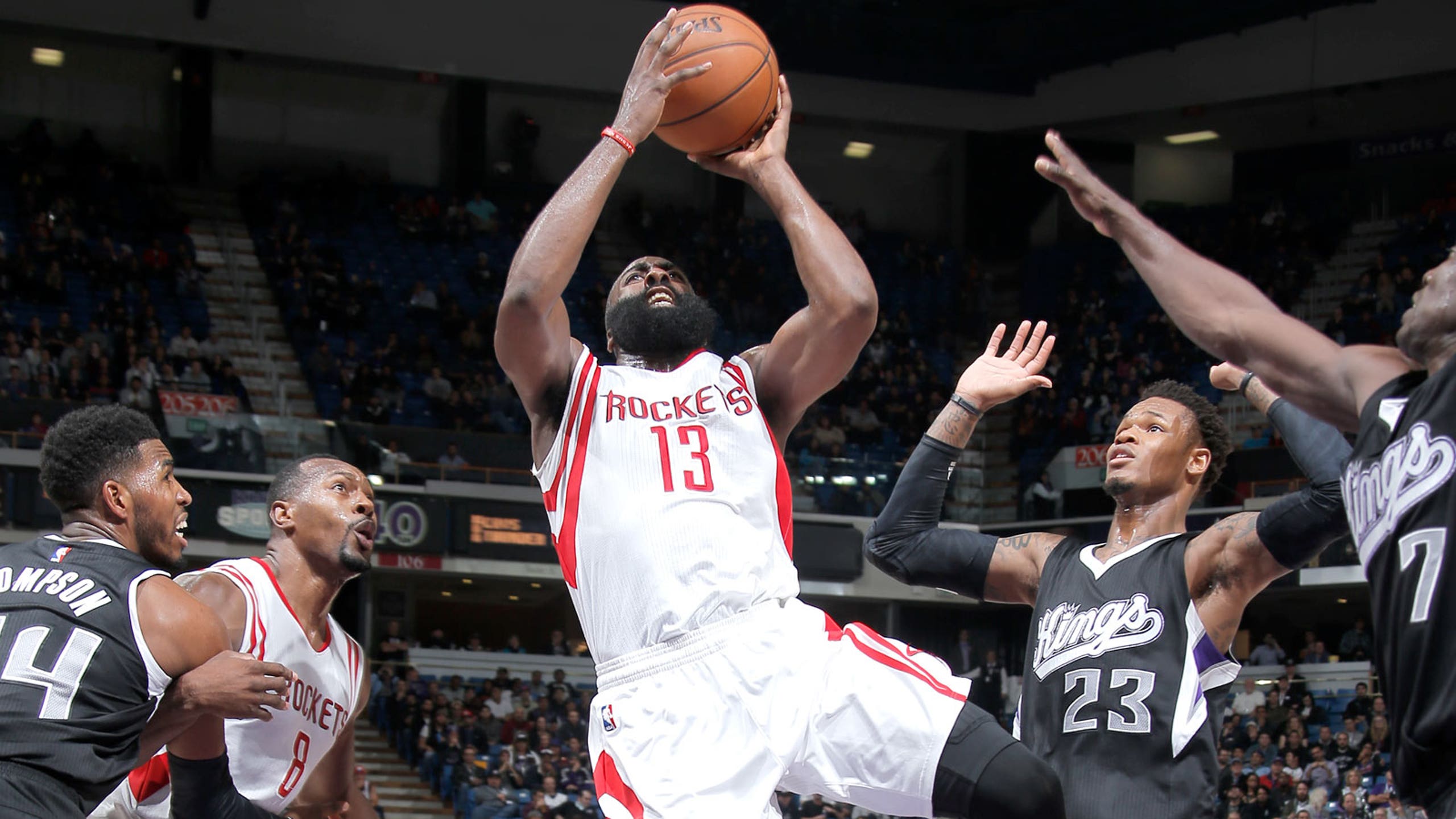 Harden scores 44 to lead Rockets to win over Kings in OT
BY foxsports • December 12, 2014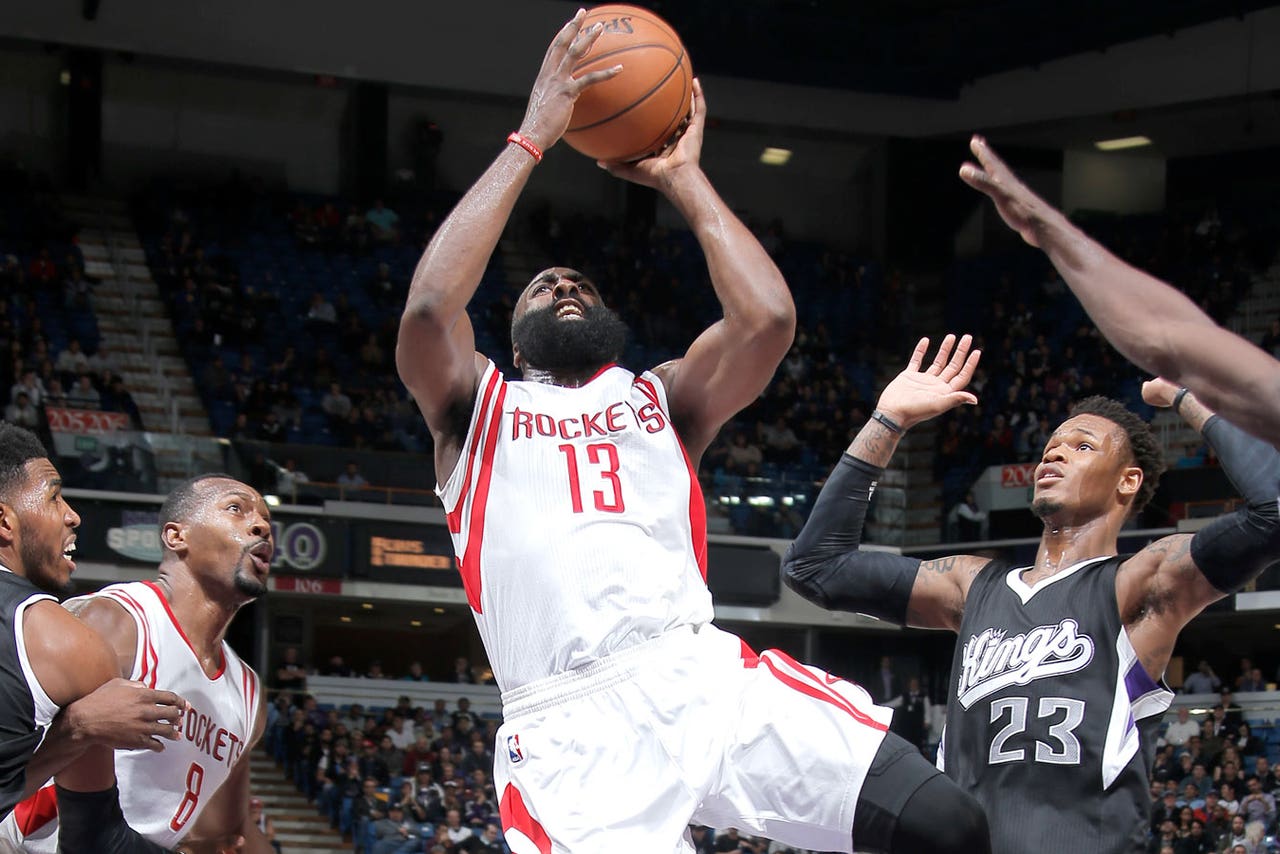 Although he struggled to hit shots in regulation, James Harden demonstrated in overtime why he's the NBA's leading scorer.
Harden scored a season-high 44 points, including 10 in the extra period, and also had eight assists to lead the Houston Rockets over the Sacramento Kings 113-109 on Thursday night.
After tying the game with a 3-pointer, Harden opened the extra period with seven unanswered points. The win was the fifth in six games for the Rockets, who are 9-3 on the road.
Harden missed 17 of 27 shots in regulation, then went 4 of 5 in OT and converted three of four free throws, leading the way as the Rockets outscored the Kings 18-14 in the extra period.
"He was rolling. In overtime he just took over," Houston coach Kevin McHale said.
Harden started overtime with a driving basket, hit a 3 and then added another basket to put the Rockets up 102-95. Collison's 3-pointer pulled the Kings within two, but Harden converted two free throws with 7.1 seconds left to seal the victory.
"I knew I had a lot left," said Harden, who shot 14 for 32 and made 13 of 15 free throws. "I just wanted to attack and create opportunities. I didn't shoot well in the first four quarters, but I wanted to come out aggressive in overtime."
Trevor Ariza scored 15 and Patrick Beverley had 15 points and 10 rebounds for the Rockets. Donatas Motiejunas added 14 points and Jason Terry 13.
Darren Collison scored 24 points and Ben McLemore added 21 for the Kings, who dropped their second straight and seventh in nine games. Derrick Williams scored 13 and Jason Thompson had 13 points and 15 rebounds.
The Kings, who led by as many as 12 points, committed 22 turnovers that led to 27 Houston points in dropping another tight game.
"These losses are tough. We have to find ways to finish," Thompson said. "We really have to know how to get leads and not worry about the scoreboard."
Two of the NBA's top centers sat out: Houston's Dwight Howard and Sacramento's DeMarcus Cousins.
The Rockets played their 11th straight game minus Howard, who has been out with a strained right knee. Houston is 8-3 without Howard, expected back in the lineup Saturday against visiting Denver.
Cousins has missed the last eight games with viral meningitis and there is no projected date for his return. The Kings are 2-6 without Cousins this season; 4-22 over the past three seasons.
Coming off an emotional loss Wednesday to Golden State, the Rockets appeared sluggish at times and struggled through three quarters, shooting 34 percent and trailing 69-61.
Houston shot 7 of 14 on 3s to fuel its fourth-quarter rally. The Rockets made two more 3s in overtime and finished 15 of 44 overall.
"We didn't do a good job in adjusting to James Harden. He kicked our butt tonight and got whatever he wanted," Kings coach Michael Malone said.
A FRUSTRATED KING
The Rockets double-teamed Rudy Gay frequently and it showed. Gay missed 14 of 18 shots and scored 13 points. His night also included an altercation with Beverley. He and Gay were given technical fouls after a shoving match midway through the third quarter underneath the Kings basket. After that, Sacramento held Houston scoreless for 3 1/2 minutes and ran off 10 unanswered points to build a 65-53 lead.
TIP-INS
Rockets: Terry was booed loudly every time he touched the ball, and fans derisively chanted his name throughout the game. Terry was traded to the Kings last season, but sat out the remainder of the schedule due to injury, then helped orchestrate an offseason trade to Houston because he wanted to play for a team with championship aspirations.
Kings: Sacramento is in the midst of a 14-game stretch (12 at home) in which it won't play outside the state of California until traveling to Brooklyn to begin a four-game trip Dec. 29. ... The entire team wore "I Can't Breathe" warmup shirts before the game.
UP NEXT
The Rockets meet Denver in a home game Saturday.
The Kings play visiting Detroit on Saturday.
---
---