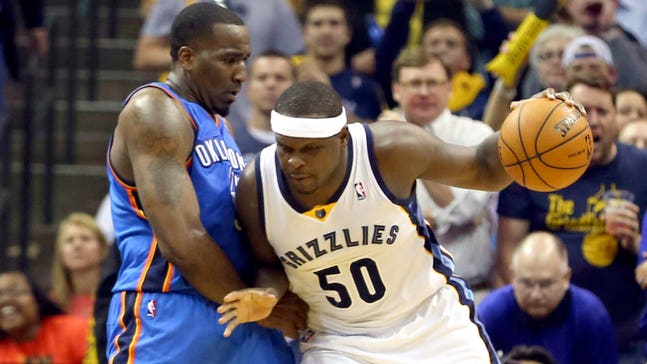 Grizzlies' Randolph suspended, Conley injured heading into Game 7
Published
May. 2, 2014 7:45 p.m. ET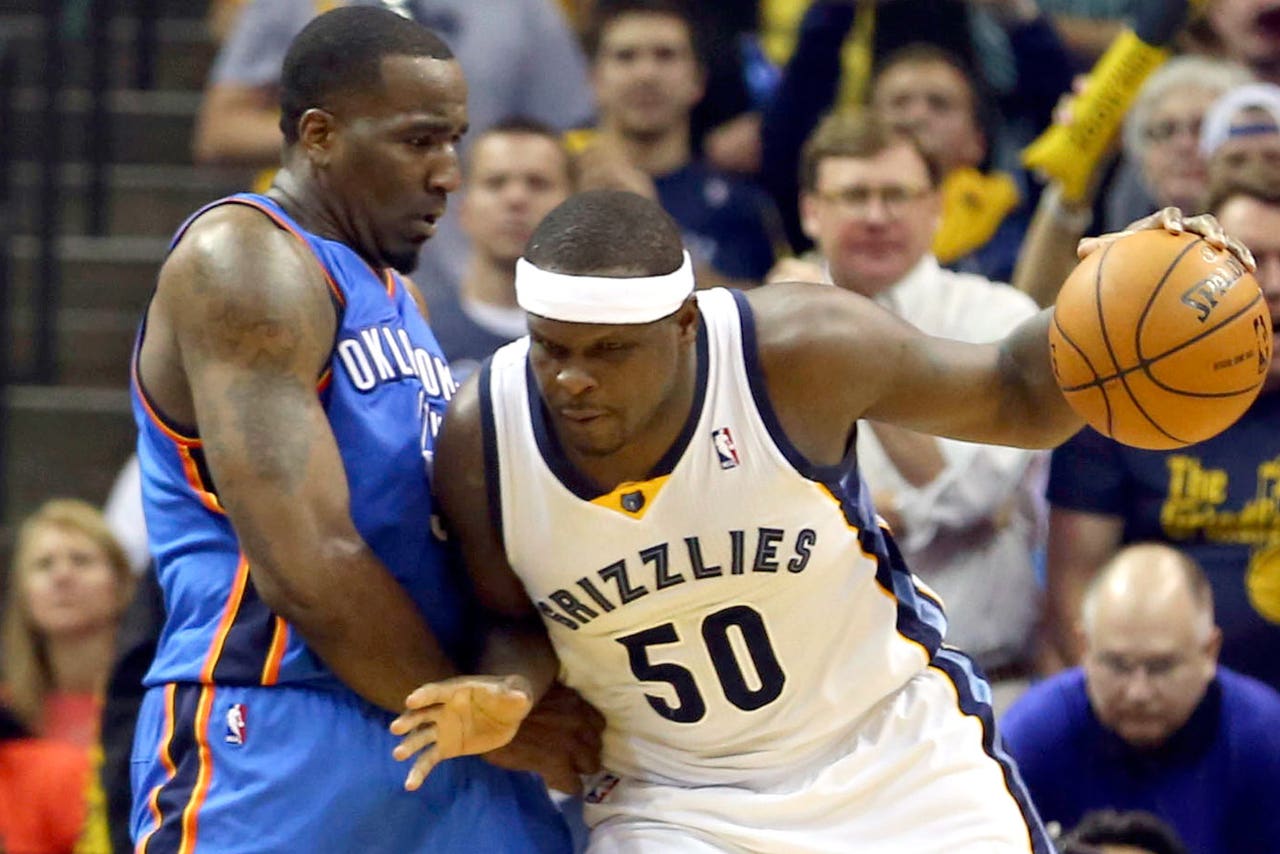 The Memphis Grizzlies might have all summer to think about their dismal effort Thursday night.
The Grizzlies could have closed out the Thunder at home, but Oklahoma City jumped on them from the start and rolled to a 20-point victory. Now, Memphis must play Game 7 on the road Saturday without scoring leader Zach Randolph and possibly point guard Mike Conley.
Randolph was suspended for punching Steven Adams in the jaw late in Game 6.
Conley strained his right hamstring in the loss and is struggling to recover. Memphis' backup point guard, Nick Calathes, is out for the series because of a drug suspension, meaning No. 3 point guard Beno Udrih will likely carry more responsibility against Russell Westbrook and Reggie Jackson, two of the quickest point guards in the NBA.
Conley said Friday that he plans to play, but he expects to be sore.
''Me being banged up, you're going to have to ask more out of different guys, see a lot of guys step up,'' he said. ''We're still excited and confident going into tomorrow's game, regardless of injuries and how last night's game went.''
Memphis coach Dave Joerger's team has faced injuries and lineup changes all season. Tony Allen missed 27 games this season, Marc Gasol 23 and Conley nine. Kosta Koufos and Ed Davis will likely fill Randolph's minutes.
''This is it,'' Joerger said. ''Whatever you want to say about the season, it's all come down to one game. Certainly, for us to have the best chance to win, we have to play better than we did last night.''
Even with the issues the Grizzlies face, nothing has been certain in this matchup. The home team has won just twice in a series that has featured four overtime games.
Thunder star Kevin Durant said Game 7 is like playing in the NCAA tournament.
''You don't have no other option but to win,'' he said. ''You can't get the game back. It's Game 7. You have to be ready to go.''
The teams have met in the playoffs three of the past four years. Oklahoma City beat Memphis in seven games in the 2011 Western Conference semifinals.
''I remember the feeling afterward, and I don't want to repeat that,'' Conley said.
If the Grizzlies can't control Westbrook, a repeat is possible. Westbrook, who at times has played recklessly in the series, scored an efficient 25 points on Thursday and engineered an offense that shot 49 percent. His willingness to set up his teammates helped Durant score 14 points in the first quarter.
''He was really mindful of looking for guys and finding guys early, picking and choosing his spots well,'' Durant said.
Durant bounced back from his recent struggles with 36 points and 10 rebounds in Game 6. He made 6 of 10 shots in the first quarter Thursday night to set the tone and went 11 for 23 from the field.
''Kevin just came out with a different kind of assertiveness last game,'' Oklahoma City guard Caron Butler said. ''He was just real precise and he was vocal.''
The Grizzlies said they can't allow Durant to get going like that again or their season might be over.
''We have to be better at finding him,'' Allen said. ''We understand what he wants to do. We've just got to be the aggressors on the defensive end. We understand coming into this series, he's going to be an MVP-type player, and we just have to be ready.''
Thunder coach Scott Brooks, who rarely makes lineup changes, started Butler at shooting guard over Thabo Sefolosha in Game 6. Butler, a better offensive threat than Sefolosha, helped space the floor and opened lanes for Durant and Westbrook. Brooks said Butler will remain in the starting lineup for Saturday's game.
Brooks also played Adams more than usual in Game 6, and he responded with five blocks in 21 minutes on Thursday. Brooks said Adams earned the increase in playing time with his hard work in practice and his improvement throughout the season.
The game could come down to tempo. In Games 1 and 6, the two matchups with a quicker pace, the Thunder won by double digits. Memphis turned the other four games into slower-paced, grind-it-out overtime battles and won three of them.
''It makes for great storylines, but it comes down to playing good basketball,'' Brooks said. ''Executing on both ends, making shots along the way, just continuing to play together and understanding that there's going to be some runs by either team that you have to stay focused and stay together through, and just being committed to what we want to do each possession.''
---
---